The technical term for it is cavus foot. This is when the foot has a very high arch. Someone might think it's better than flat feet. Some people will even intentionally give themselves an unnaturally high arch through special exercises. However, high arches come with their own set of problems. One of which is finding shoes that fit properly. And what if you like hiking?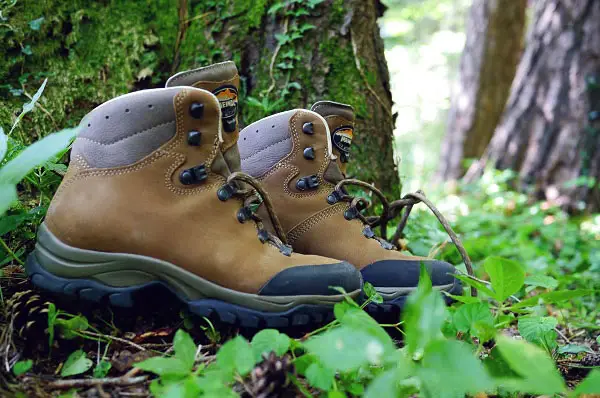 How Common Are High Arches?
Reportedly, highly arched feet are a congenital condition in 68% of women and 20% of men. It is typically genetic; however, it can be caused by a plethora of neurological disorders and various medical conditions.
Can You Hike With High Arched Feet?
Of course, but support insoles come highly recommended. High volume insoles are recommended for use in hiking boots, particularly for people with high arches. Remember to remove the insoles regularly to allow any trapped moisture to dry out. If you think they need it you can wash them by hand with a mild detergent and air dry. Replace them at the first sign of deterioration.
The Reviews:
Here is a list of the five boots that we believe will perform well with your high arches condition. Go through them and pick the one that you feel comfortable with.
1. Asolo Power Matic 200 GV Hiking Boot (Women / Men)


This is a very rugged and heavy-duty boot that can take a bit of a beating. Like any good boot, it has Gore-Tex lining and Full grain Italian leather but the main feature of this model is the micro pulley lacing system. The individual pullies keep the laces from becoming frayed and ensure a more stable and supportive fit.
Features and Benefits:
The boot is constructed out of durable materials including zinc-alloy, brass, steel, and zamac that all contribute to long-lasting durability. The Micro Pulley lacing system offers easy lacing with ultimate durability resulting in an overall improvement in performance, fit and comfort.
The innovative Asolo Power Matic sole is made up out of three different PU densities that have been co-injected and melded together. The Gore-Tex lining keeps the boot warm and dry.
What We Like:
The boots are very durable.
They are supportive.
They have great stability.
The traction is good.
The boots are waterproof.
What We Don't:
There is a rather long break-in period.
The boots are heavy and not best for long-distance hiking.
2. Vasque Breeze Gore-Tex Hiking Boot (Women / Men)


The Vasque® Breeze III GTX hiking boot helps you go on a fleet-footed hike in comfort, regardless of whatever the terrain flings in your path. These boots are just the right kind of hiking boot for day hiking plus long overnight trips and hiking on rail conditions that may be a bit varied.
Features and Benefits:
The mid-height uppers feature a resilient two-millimeter-thick nubuck leather plus airy nylon mesh panels for a performance that is rugged, flexible and lightweight. The gusseted, padded tongues prevent trail debris from getting in and relieve pressure from lacing across the insteps.
The Gore-Tex waterproof liners allow feet to breathe while guarding them against the elements thus keeping them both dry and comfortable. The wicking nylon mesh linings absorb extra moisture and disperse it so that it dries quickly.
The dual-density EVA footbeds and molded EVA midsoles absorb shock, deliver cushioning and return the energy back to feet for all-day comfort. The thermoplastic urethane plates embedded in the midsoles improves stability and support the strong Vibram Contact rubber outsoles improve stability and traction on the roughest of terrain.
What We Like:
They are incredibly comfortable right out of the box with very little break-in needed.
The roomy toe box gives the toes plenty of room to move.
The boot is lightweight.
The boots are comfortable.
The traction is excellent.
What We Don't:
The boots are not very breathable.
The seams are a bit loose.
3. Zamberlan Trail Lite EVO GTX Hiking Boot (Women / Men)


The 320 Trail Lite Evo GTX touts itself as the premium trail hiking and backpacking boot. It is indeed lightweight, supportive, and constructed using the best materials available. Handmade in Italy, the Trail Lite Evo has a firm configuration as well as a classic appearance, updated performance plus a myriad of helpful features.
Features and Benefits:
The solid nubuck leather uppers do the job of supporting and protecting your feet. The nylon linings wick away moisture to help feet stay dry and comfortable. The GORE-TEX® waterproof liners allow feet to breathe while guarding them against the elements and keeping them both dry and comfortable.
The padded ankle collars and the padded and gusseted tongues keep feet secure while preventing trail debris from getting in. The rubber toe rands aid in protecting the uppers and feet for extra longevity and comfort.
The durable polyurethane midsoles cushion the feet while nylon plates provide the support that is needed for rough and uneven walking surfaces. The hardy Vibram® rubber outsoles come with self-cleaning lugs, dual-density cushioning plus forefoot grooves for natural flex.
What We Like:
They are water-resistant.
They are very breathable.
What We Don't:
The boots are a little on the stiff side.
4. La Sportiva Pyramid GTX Hiking Boot (Women / Men)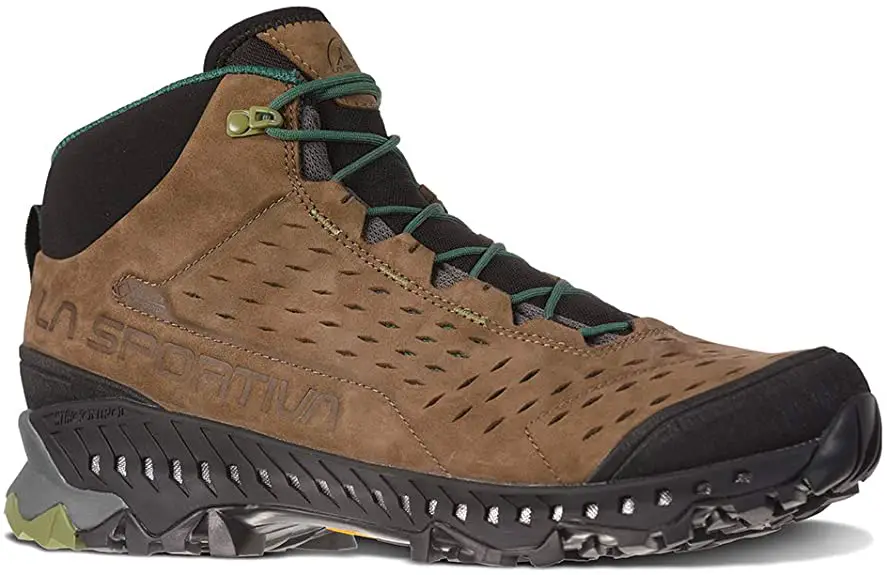 La Sportiva made the Pyramid GTX hiking boot especially as something that has a little bit of everything for everyone. This particular styling is a breathable and rugged boot that is stable enough to support reasonably sized loads. The weather might be unpredictable but these boots are perfectly reliable.
Features and Benefits:
The three layers of GORE-TEX® SURROUND® deliver all-around breathable waterproof protection and yet channels heat and moisture away from feet. The Nano Cell™ technology mingles with GORE-TEX SURROUND aeration channels in the footbeds and midsoles to improve breathability and comfort.
The STB control system offers not only stability but also a comfortable and snug fit. The abrasion-resistant nubuck leather uppers provide rugged protection. The Vibram® XS Trek outsoles featuring an Impact Brake System delivers solid traction.
What We Like:
The lacing system cinches up very nicely at the top.
It has a supportive, sturdy sole, sturdy.
The shoes are well-made with quality materials.
They are very lightweight.
The boots are waterproof.
What We Don't:
The ankle material is stiff.
They run narrow.
It takes a while to break in.
5. Salomon X Ultra 3 Mid GTX Hiking Boot (Women / Men)


The Salomon was born in 1947 in the heart of the French Alps. Francois Salomon and his son George were driven by a passion for the outdoors and engineered most of the first modern ski equipment. In the next sixty years, Salomon's commitment to imaginative design and love of mountain sports generated a wide range of brand-new concepts in boots.
Features and Benefits:
The Gore-Tex® waterproof bootie liners allow your feet to breathe while guarding them against the elements. The shoes are molded to keep your feet in one place and guards against slippage for a more stable descent. The modern chassis is surrounded by foam cushioning in order to provide comfort and directly connect to the soles to supply stabilization to your heels.
The soft textile lining wicks moisture away from feet. The mid-cut profile delivers ankle support and protection, offering all-day comfort on the trail. The tongue gussets keep debris from getting inside. The injection-molded EVA midsoles offer premium cushioning underfoot.
The Ortholite sock liners amalgamate a special Ortholite foam and contoured EVA heel cups for improved heel support. The mudguards and integrated rubber toe caps supply rugged protection from foreign objects.
The one of a kind outsole pattern features a mix of two kinds of rubber aids you in gripping terrain more firmly. The specifically placed lines on the outsoles enhance the shoes' flexibility which aids in decreasing foot fatigue.
What We Like:
The boots are supremely comfortable.
The soles are flexible.
The shoes are waterproof.
What We Don't:
The fit is not true to size. Go up one.
What Shoes Are Best For High Arched Feet?
Loafers have much more shock absorption than mules plus they don't bend as easily and have plenty of support around the ankle. If you must wear heels, go for slingbacks with a heel less than an inch and a half.
You could also opt for wedges if you really must have height. Birkenstocks and their knock-offs make comfortable sandals. A good old-fashioned sneaker works. Low heeled cowboy boots work as do ankle boots.
What Causes High Arches In Feet?
A neurologic disorder or other medical condition such as cerebral palsy can cause high arches. Other conditions that may be the root of an unusually high arch include Charcot-Marie-Tooth disease, spina bifida, polio, muscular dystrophy or stroke. Sometimes, it's just genetics being a crapshoot and coming up snake eyes. It's a good idea to find out what the cause of your high arches is so you can treat it.
What Problems Can High Arches Cause?
A high arch leads to an excessive amount of weight being put on the ball and heel of the foot whenever walking or standing. This can lead to pain and instability. Calluses and hammertoes are also likely to be caused by a highly arched foot. A few people who have cavus foot might also experience foot drop. This is a weakness in the muscles of the foot and ankle that leads to dragging the foot whenever taking a step.
Can High Arches Be Corrected?
There are orthotic devices that a person can wear in order to provide stability and cushioning. Modified shoes can also help. High-topped shoes provide support for the ankle. Also, shoes with heels that are a little bit wide on the bottom add more stability.
Some surgeons recommend using a brace to manage foot drop as well as keep the ankle and foot stable. If it is an underlying neurologic problem or nothing seems to improve pain or provide enough stability, surgery is a last-ditch option.
How Do You Strengthen Your High Arches?
There are a number of toe exercises can aid you in managing early-stage digital deformities plus relieve some of the pain from your cavus foot. Here are some basic exercises you can do in your own home:
Towel Stretch – Sit with your feet in front of you and loop a towel about the ball of your foot. Bend your foot then softly pull back on the towel using your hands to stretch out your toes.
Bent-Knee Wall Stretch – Stand just about a foot from a wall and place your palms flat against it. Keep your heels flat on the ground and flex both knees and then lean your whole body forward somewhat, utilizing the wall to keep your balance.
Toe Squeeze – Lace your fingers in between each of your toes. Squeeze your toes together as firmly as you can for a count of ten. You should then relax and repeat.
Toe Rolls – Keeping your feet flat on the ground, raise only your toes up. Gingerly lower your toes one by one so that they "roll" back down to the ground.
Golf Ball Pick-Up – Using only your toes, try and pick up a golf ball from the ground and put it in a bucket. If this to too difficult to start with, try using a washrag or marbles first.
Do Orthotics Help High Arches?
Orthotics can help by supporting the foot and reducing inflammation. Abnormally high arches can put a lot of stress on the muscles in the feet and go on to cause any of a number of conditions. Such ailments include knee pain, shin splints, and plantar fasciitis. Orthotics can aid in the prevention of a person's feet from rolling too much inward or outward.
What Are The Best Orthotics For High Arches?
Don't make the mistake of getting too soft inserts. They may feel good at first but they will quickly flatten and be unusable. You need to look for something that will give you firm support that will relieve the excessive pressure put upon the ball and heel of your foot. You need something that provides a perfect fit across the length of your arch and distributes your weight evenly. Your heel needs stabilization.
When To Use Custom Orthotics For High Arches?
If you are using ordinary orthotics and still feeling uncomfortable, then you might need to visit your podiatrist so that he can prescribe custom orthotics that fit your specific condition.
Conclusion
High arches are nothing to keep you from hiking. Just be smart and get the orthotics if you need them and do your exercises. Happy hiking!
References:
https://www.rei.com/learn/expert-advice/insoles.html
https://www.healthline.com/health/bone-health/orthotics
https://www.whowhatwear.com/best-shoes-for-high-arches
https://www.foothealthfacts.org/conditions/cavus-foot-(high-arched-foot)
https://orthopedicassociates.org/high-arch-feet-and-why-they-are-a-problem
https://www.silvesterfootclinic.com/blog/5-toe-exercises-to-rehab-high-arches
https://www.reddit.com/r/CampingGear/comments/6ebo3d/hiking_with_high_arches
https://treadlabs.com/blogs/insoles-reach-your-stride/best-insoles-flat-feet-high-arches