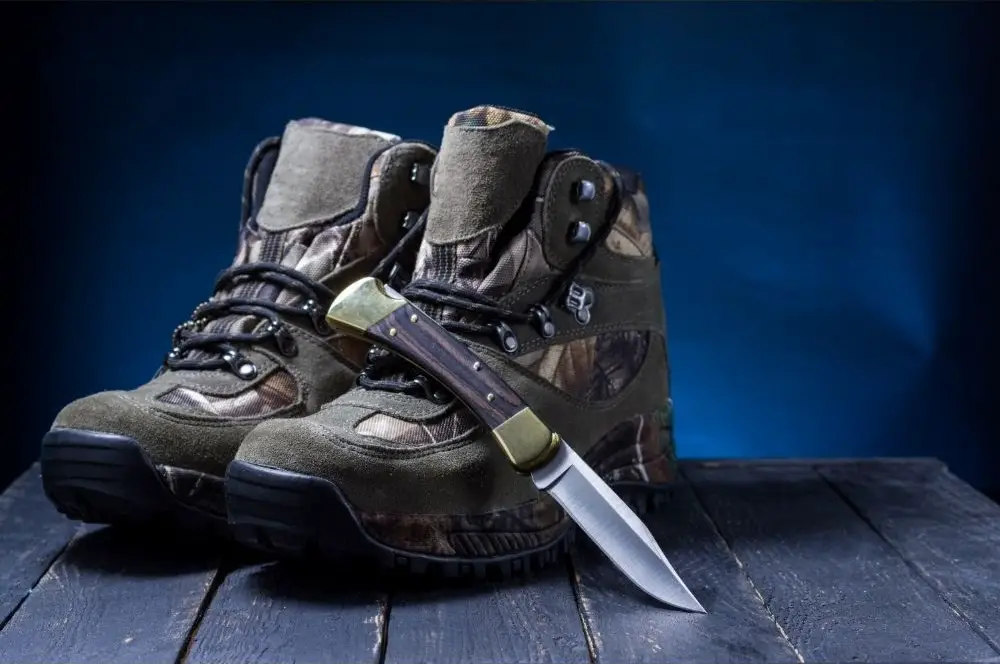 Hunting boots are one of, if not, the most essential bits of any hunter's gear. Without suitable footwear, we simply wouldn't be able to navigate the often challenging terrain inhabited by the animals we wish to hunt.
Not just any boots will do either, They need to fit perfectly, offer tons of support, and be season-appropriate. Anything less could lead to your hunt ending prematurely, or worse, a severe or possibly even fatal accident.
But I'm not going to let that happen. Having spent the last few weeks researching any and every hunting boot I could find, I've composed this definitive list of what I (and many others) believe are the best you can buy.
Best Hunting Boots – Reviews
With hunting season drawing ever closer, you'll need to get your new hunting boots soon in order to break them in, so without further ado, let's dive into some reviews.
Premium Pick
LaCrosse have been leading the hunting boot game for years now, and the Alphaburly Pro is their flagship offering.
With an outer crafted from hand-laid, scent-free rubber, they're completely waterproof and help to veil your scent trail as you stalk your way towards your prize target.
Their 18" height brings them up to just beneath the knee on most, making them a suitable choice for all sorts of wetland hunts.
Insulated with neoprene (the stuff they make wetsuits out of), no moisture will find its way in, and its elastic qualities alongside the adjustable rear gusset make for a snug and comfortable fit.
An EVA midsole cushions every step, which can be a lifesaver after a long day on hard terrain, and an embossed liner promotes better airflow and wicks sweat away.
Realtree edge camo allows you to fade discreetly into countless backdrops, and the aggressive tread pattern with chamfered edges keeps you on your toes in both mud and snow.
Pros
Traction – Suitable for all seasons.
Scent-Free Rubber – No scent to spook animals.
Neoprene Insulation – Waterproof and warm.
EVA Midsole – Ultimate comfort.
Natural Camo – Blends with scenery.
Cons
Price – Costly (but worth every cent).
LaCrosse Men's 376032 Alphaburly Pro 18" 1600G Waterproof Hunting Boot, Realtree Edge - 14 M
Hand-laid premium rubber over a 3. 5mm neoprene core for flexible, waterproof, scent-free comfort
Embossed liner increases air circulation inside the boot, wicks moisture and is quick drying
Active Fit with adjustable neoprene gusset for easy on/off and a secure, comfortable fit on foot
Multilayer rubber on the toe and heel plus a double-layer vamp for added support and durability
Best Mountain Hunting Pick
If you're looking to hit the mountainside in winter, boy do I have a treat for you. These XT-837 mountain boots from the folks over at Irish Setter are tough as nails, and the rugged, slip-resistant rubber soles can take you wherever you need to go.
While the Primaloft insulation weighs in at 1000 grams to keep you snug on a brisk winter hunt, RPM textile technology reduces the overall boot weight significantly, reducing fatigue.
The premium leather upper has been hand sewn to the sole to maximize durability and to provide a fantastic fit before you even break them in.
A Gore-Tex membrane lets moisture pass from within while keeping external water well away, and Irish Setter's proprietary ScentBan treatment kills odor-forming bacteria, keeping your presence in the wild strictly on the down-low!
Pros
Leather and Nylon Upper – Mountain ready.
ScentBan – Kills scent trail.
1000g Primaloft Insulation – Waterproof and warm in the winter.
Gore-Tex Membrane – Lets your feet breathe.
RPM Technology – More boot, less weight.
Cons
Fastening System – No metal reinforcing the eyelets.
Price – Don't come cheap, and I'm not surprised.
Best Uplands Hunting Pick
If I'm being honest, these boots are suitable for pretty much any terrain, but they're particularly suited to uplands hunting.
Much like the mountain hunting masterpieces we just spoke of, the Alsea features Gore-Tex lining that wicks sweat away from your skin but stops outside water in its tracks, keeping your feet dry and blister-free.
They also feature the same Primaloft insulation for extra water resistance and warmth when your favorite hunting grounds ice over.
The star of the Alsea show for me is the open-celled, polyurethane and rubber Ortholite footbed that provides a soft, yet supportive step and strong air circulation. Combined with the lock-in heel that aligns your foot, these boots can add hours or even days to your hunt.
Pros
Gore-Tex Lining – Comfortable over long usage.
Primaloft Insulation – Warm and water-resistant.
Plyolite Midsole – Shock absorbent and lightweight.
Secure Fit – Snug heels stabilize feet.
Cons
Price – You may have to smash your piggy bank for these bad boys.
Best Snake Boot Pick
The last thing we want when we're stalking on a hunt is to unknowingly become the hunted, so a quality snake boot should find a dedicated spot in all of our gear closets.
This quad-core design from LaCrosse offers four layers of neoprene insulation for keeping warm, dry, and comfortable, and of course to ensure even the longest fang never reaches our skin.
Sinking into the landscape, the Realtree camo makes it tough for prey and snakes to see them, let alone strike, and in the event that they did, the robust, non-woven rubber upper provides full snakebite protection.
Pros
Weather-Resistant Upper – Doesn't soften in heat or crack in cold.
Quad-Core Neoprene Insulation – Waterproof, warm, and comfortable.
Realtree Camo – Blends in with the environment.
Angled Lugs – Shed debris and keep you light on your feet.
Cons
Costly – But you can't put a price on safety. 
LaCrosse Men's 376121 4xAlpha 16" Waterproof Hunting Snake Boot, Realtree Xtra Green - 11
Flexible Snake Guard material for comfortable protection
Quad Core technology with four layers of cushion and support underfoot
Active Fit with adjustable rubber gusset for easy on/off and a secure, comfortable fit on foot
Multilayer rubber on the toe and heel plus a full shin guard for added durability and protection
Moisture-wicking and quick-drying polyester jersey liner
Best Budget Pick
The Hisea Apollo boot proves you don't need to spend your ammo money to snag a decent pair of hunting boots.
Despite their reasonable price tag, they have all the staples of an awesome stalking boot, including full waterproofing thanks to the scentless rubber outer and 5mm neoprene insulation, low visibility due to the high-fidelity camo, and a comfy fit down in part to the EVA midsole.
They also feature a breathable mesh liner that introduces fresh air to your skin, reducing excess sweat and keeping you feeling fresh and focused.
Granted, the Apollo is unlikely to last as long as any of the more expensive boots on the list, but if your hunting schedule is fairly light, they'll serve you well for years.
Pros
Rubber Construction – Robust and scent-free.
400g Neoprene Insulation – Waterproof and warm.
Real Camo – Blends right in.
EVA Midsole – Soft and supportive.
Price – Best value for money on the market.
Cons
Durability – Not on par with premium picks.
Bulk – Not exactly a streamlined profile.
HISEA Apollo Pro 400G Insulated Men's Hunting Boots Waterproof Rubber Mud Boots
HISEA Apollo Pro 16-1/2" hunting Boots were built simple and practical in our minds. They are our premium hunting boots and are now available in Truetimber camo patterns to complete your hunting gear system. Whether you are hunting or fishing outside, the Apollo Pro would keep your feet dry and warm in cold water or mud.
Waterproof & Keep Warm - Combining high quality, scent-free rubber with naturally insulating 5mm neoprene, the Apollo Pro fears nothing and keeps you dry. Quick drying and moisture wicking, our breathable air-mesh lining allows air to travel throughout boots, keeps your feet dryer than normal boots. 400G Insulation Style Boots, comfort rated from: -20°F/-30°C to 50°F/ 10°C.
Comfy & Rugged - Lightweight, cushioning EVA midsole softens every step to provide you all-day comfort. Podiatrist recommended removable Memory Foam Insole provides your feet extra arch support. And, the durable, neoprene gusset accommodates different calf sizes and makes it easy to slide the boot on and off.
User-friendly Designs – HISEA puts customers' needs in priority, Apollo Pro comes with a dream-team list of features starting with sealed rubber shell extends up to the topline for additional protection; exterior rubber heel cup, locks your heel in place and deliver a secure fit; scent-free breathable lining, wicks away sweat and odor-free; and, durable molded rubber outsole gives excellent stability and extra solid traction.
HISEA Apollo Pro Hunting Boots were designed to keep dry and warm, handle even the toughest situations. It is best for hunting, fishing adventures, or any messy situations. We love our buyers; the boots will come with one FREE water-proof phone case and One Year Quality Assurance backed by us!
Best Hunting Boots – Buyer's Guide
Finding the right pair of hunting boots isn't as easy as you might think. There are a lot of factors to consider. So, to steer you in the right direction, I've composed this brief buyer's guide.
Hunting Boot Types
Your first port of call should be to decide which of the four main types of hunting boots is right for your next hunting trip.
Upland Hunting Boots
These kinds of hunting boots provide excellent traction on even, grassy hunting grounds with slight inclines. They tend to have quite a high ankle that runs about a third of the way up your shin. They're not suitable for rocky, tiered terrains.
Mountain Hunting Boots
If you're looking for ultimate traction on rocky terrain, mountain hunting boots are the only way to go.
Their aggressive grip patterns and highly supportive structures make traversing mountainsides a breeze, and they'll normally be fitted with thick insulation to shield you from the cold experienced at altitudes.
Snake Boots
Snake boots are an incredibly long line design that reach almost all the way to the knee. They're meant for low-country hunting through swamps and other snake habitats. They're designed to offer as much protection against snake bites as possible.
Wading Boots
Wading boots are exactly what they sound like. They're basically large galoshes, optimized for hunting. Made of rubber, they run quite far up the leg, so you can wade through deep water on duck hunts without getting saturated.
Boot Size
The size of a hunting boot can make or break an entire trip. Too small and you'll be in agony within the hour, too big and your footing will be unstable, which could potentially lead to a fatal accident.
Unfortunately, hunting boot sizing isn't universal. Much like any other kind of shoe, sizing can fluctuate significantly from brand to brand, so it's important not to take it as a given that just because one boot fits you in your normal size, others will too.
Terrain – Traction and Support
Where do you like to go hunting? Your answer will play a huge role in the hunting boot decision-making process.
If you prefer to hunt on flat, grassy terrain for animals like antelope and foxes, you won't need quite as much support, so you can forgo the heavy-duty, rigid boots and choose something a little more lightweight and flexible.
You won't need much traction either, so something like an upland boot with a low ankle will do just fine.
For more mountainous terrain, you'll need something that's going to be far more spinal, offering tons of support to help you tackle the unforgiving rise and fall of the landscape.
Of course, mountain hunting boots should be a priority here, as they're built from the ground up to conquer steep inclines and jagged terrain.
If you plan on hunting in wetlands, such as your marshes and your swamps, you're better off choosing something that travels further up the leg like snake or wading boots.
Season – Weight and Insulation
There are such things as all-season boots, but you may prefer to tailor your boots to each season. The factors that determine which season a hunting boot is suitable for are the weight and amount of insulation.
As you've no doubt guessed, summer hunting boots are the lightest and have little to no insulation. It'll typically weigh something to the tune of 200 grams, possibly less depending on your shoe size.
Fall hunting boots have a moderate amount of insulation that weighs around 400 to 800 grams. They need to be breathable enough for temperate weather in the day, but warm enough to keep you cozy come nightfall.
Winter boots are the heaviest hunting boots of all. Packed with multiple layers of insulation to protect you from harsh temperatures and snowy environments, it typically weighs upward of 900 grams.
They also tend to feature more aggressive tread patterns in order to keep you on your feet when crossing icy and frosted terrain.
Waterproofing
No matter what season you're shopping for, all good hunting boots have one thing in common…effective waterproofing.
We can never truly predict the weather. We'll always be hit by curveball storms out of the blue, especially if you live in an area with unpredictable monsoon seasons. It's just the way of things. But when we're out on a hunt, getting wet feet simply isn't an option.
Get wet feet, and you'll get blisters. Get blisters, and you'll be in pain. Experience enough pain, and you won't be able to move. Can't move, then you'll be stranded out in the middle of nowhere.
Price-to-Use Ratio
If you're only hunting for, I don't know, say…7 days a year, you can probably get away with buying an affordable pair of boots. As long as they're suitable for the season and terrain, they'll last you upward of around 4 years.
On the other hand, if the hunt is your life, and you spend every moment out in the field that you possibly can, it'll be well worth your while forking out for a premium pair of hunting boots.
Best Hunting Boots – FAQ
Just to make sure I've covered all the necessary ground in this article, I've answered a few hunting boot FAQs. If the information you were looking for wasn't in the buyer's guide, there's a good chance you'll find your answers here.
Q: Are leather boots good for hunting?
A: Leather boots are certainly better for most types of hunting than sneakers, but they're not always a suitable option. Despite popular thinking, leather isn't waterproof.
It's only waterproof once it's been treated with special waxes, so you may end up with soggy socks if you take your normal leather boots out on a hunt.
Q: How long do hunting boots last?
A: How long a pair of hunting boots last depends on a number of variables, such as how often you hunt, the terrain, and the quality of the materials, design, and build.
If you're lucky, a high-quality pair can last as long as 10 years before they develop any serious issues, but cheaper boots may only last a year or two if you use them often.
Q: Should hunting boots be tight or loose?
A: Hunting boots should neither be tight nor loose. Rather, they should feel snug around the ankle and instep, and give you a fair amount of wiggle room in the toe box.
Q: Do I need boots for hunting?
A: I know of people that, in certain situations, may opt against wearing boots on a hunt, but I wouldn't recommend it. You're always better off with a solid pair of boots when you're exposed to the elements.
Q: How tall should hunting boots be?
A: How tall your hunting boots should be usually is determined by the terrain. If it's very flat and even, you won't need as much support, so low ankle boots will suffice.
A boot that travels further up the leg towards the knee will offer the support you need to master treacherous, rocky terrain with lots of different gradients.
Q: How do you maintain hunting boots?
A: There are three things you absolutely must do if you want to get the longest lifespan possible out of your hunting boots.
Cleaning – Before you can treat your boots to a spot of TLC, you need to remove all the dirt and debris, and if they get wet, make sure they dry out completely.
Conditioning – Leather is skin, and skin gets dry and cracks when exposed to harsh temperatures, so to bring a little healthy moisture back into the equation, you should use a leather conditioner on your boots.
Waterproof Treatments – Now that your boots are clean and rejuvenated, it's time to reapply some waterproof treatments to get them ready for the next hunting season.
Final Thoughts
A finer collection of hunting boots I never did see! Were there any that looked like they could handle your favorite hunting grounds?
In my opinion (and many others), the Lacrosse Alphaburly Pro is the greatest boot around, and best of all, it's suitable for all seasons.
However, they do cost a pretty penny, so they won't be everyone's first choice, especially for beginners looking to cut their teeth in the wilderness.
Not to worry, though, as, for the burgeoning hunters out there, I can't speak highly enough of the Hisea Apollo boots. They exist at an intersection between value and quality that just can't be beat!
Regarding the other three listed hunting boots, deciding between them is as simple as picking the ones suitable for the terrain you're going to cover. 
The Irish Setter XT-837, for instance, is a shoo-in for a tough mountain hunt, while the Danner Alsea are perfect for gentle inclines, even terrains, and grasslands. Then, finally, if there are snakes about, the LaCrosse 4xAlpha are a no-brainer.
Related Posts: