What is Peloton? It's one of those things that seems neither fish nor fowl. It's been around for eight years; too long to be a fad and too short to be a well-established company and far too expensive to be a household name. (I don't want to quote the prices. They may be subject to change.) Are they a tech company or a health and fitness company? Could they possibly be a little bit of both?
What Is Special About Peloton Bike?
Peloton isn't just another exercise bike. It uses streaming technology to get you in touch with a live instructor to motivate you to exercise harder. Because that's what you need, an annoying peppy person yelling at you to work harder. It also comes with some performance-tracking metrics if that's important to you.
Do You Need Special Shoes For Peloton bike?
Yes. Just as an ordinary spin class requires special clip-in shoes to wear to class so does Peloton Bike. The company's website suggests attaching toe cages to the pedals if you wear your own shoes. Sold separately, naturally.
Do You Really Need Peloton Brand Shoes?
Not really. Any cycling shoe that utilizes a three-bolt cleat mount (frequently listed as SPD-SL or LOOK Delta) will get the job done.
The Reviews:
Here is a list of the seven shoes that we believe will work well with the Peloton Bike. Comparison shop to find out which one is best for you.
1. Tommaso Pista Women's Spin Class Ready Cycling Shoes
Here is something that ladies just now getting into cycling will love. Though suited for the noobs, this is a durable and versatile shoe that will deliver more than just your basic cycling needs. It's exceedingly comfortable and compatible with many systems. For a little more power, there's a fiberglass sole.
Features and Benefits:
The dual cleat compatibility means that whatever pedal system your spin class has, the Pista will work with no problems. All features were specifically engineered to provide spin class riders the best performance possible.
The durable synthetic leather upper along with exactly the right amount of padding lets the shoe hug your foot for long-lasting comfort. The ventilated mesh parts aid in cooling your feet. The low-profile Velcro straps provide a precision ergonomic fit which adds comfort plus security to all of your rides.
What We Like:
There are six color choices.
It has a fiberglass-reinforced sole.
It is compatible with many cleat systems.
What We Don't:
The cleats stick out which may make walking uncomfortable.
They run on the small side.

2. Tommaso Strada Men's 100 Dual Cleat Compatible Cycling Shoes
This shoe for the gentleman user is perfect as a viable choice for wearing on a Peloton bike. The precision fit lets you wear these shoes for a very long time. You can wear these for long hours at a time with no discomfort or pain. Tommaso shoes provide riders what they require to get to that next level of performance and training.
Features and Benefits:
The durable synthetic leather upper clings to your foot for long-lasting comfort while the ventilated mesh portions aid in cooling your feet. The low-profile hook and lock Velcro straps provide a precise ergonomic fit that adds comfort and security to your ride.
The fiberglass-reinforced sole delivers premium stiffness and optimizes power transfer. This pair is compatible with all cleat types, providing the ideal platform no matter what pedals you ride.
What We Like:
The material is very high-quality.
There is a low-profile hook.
The cleat area is very compatible.
What We Don't:
The instructions are not clear.

3. Venzo Bicycle Men's or Women's Road Cycling Riding Shoes
Venzo provides bicycle riding shoes for both men and women that come with three Velcro straps to offer both superior fit and looks. The black, white, and red colorway is a stunning looking pattern that manages to be both sleek and modern. You will find that these shoes fit in and match most outfits effortlessly and complement your bike as well.
Features and Benefits:
The cleat area is compatible with all cleat types on the market for your convenience. The fast-drying, highly breathable mesh and synthetic upper all add to the comfort of the shoe. The textile lining comes with a removable sockliner for convenient ease of cleaning.
The low-cut construction makes for a light yet fast fit and feel. The flexible forefoot and beveled heel make cycling easy in this shoe. The cleats come with a nine-degree floating resistance which enables comfortable riding.
What We Like:
The synthetic material is quick-drying and breathable mesh.
It has a removable sock liner for convenience.
The low-cut construction brings a lightweight and fast performance.
What We Don't:
The straps aren't tight enough.

4. Shimano RP2W SPD-SL Women's Shoes
This is a comfort-focused road shoe that is perfect for beginners and enthusiasts alike. It has just the right amount of stiffness while still being comfortable. The design is largely unisex but this particular model was made with the female biker in mind. It is lightweight and fits the foot like a glove.
Features and Benefits:
Three durable hook and loop straps stretch tightening force along the top of the foot. The off-set strap relaxes tension on the highest part of the foot. The specific fit makes for a more natural and comfortable fit.
The super cushioned tongue brings additional comfort. The lightweight glass fiber reinforced nylon sole improves performance. The indoor cycling friendly SPD and SPD-SL is cleat compatible.
What We Like:
This shoe is compatible with both two and three-bolt cleat systems,
The fit is true to size.
The glass fiber sole is great for power transfer.
What We Don't:
It doesn't come with clips.
It runs a bit on the narrow side.

5. SHIMANO SH-R065 Men's All-Around Sport Shoes
The Shimano SH-R065 men's cycling shoes are ideal for pedaling comfortably. The fit and support are all excellent. In order to provide a reliable fit and to keep your feet secure, it comes with a dual hook and loop strap that you can easily adjust. You will find that this is an All-around performance road cycling shoe made with great attention to quality, comfort, and function.
Features and Benefits:
The dual hook and loop straps offer a reliable and secure fit. This shoe has a lightweight glass fiber reinforced nylon sole to make it supportive. It is indoor cycling-friendly plus SPD and SPD-SL cleat compatible. There is reflective print on the heel cup for better visibility. Also, it features flat insoles that offer comfort along with uniform lightweight cushioning underfoot.
What We Like:
They are easy to clean.
They are not only stylish but durable.
They work with or without the cleats.
What We Don't:
The material is not top quality.

6. Fizik R5 Road Cycling Shoes
The Tempo R5 Overcurve shoes deliver a high-end look and feel at a lower than expected price. That's quite the selling point to attract most riders. The heel cup provides superlative stability while the Boa IP-1 dial lets the wearer have an easy ready to go adjustment.
Features and Benefits:
Built with laser-perforated Microtex plus a reflective heel cup, a carbon-reinforced nylon outsole, and standardized with the acknowledged Boa IP1 closure system these shoes will fit easily while allowing you to optimize your effort to power forward. The amalgamation of materials enables these shoes to be so remarkably light you'll barely feel them.
The Boa IP1 closure system utilizes a system of steel lace, nylon guides plus a mechanical reel to best the performance of every other available closure system and provides a precise fit with uniform closure that leads to no pressure points.
What We Like:
The waterproofing is rather impressive.
The closure system is very reliable and snug.
The inside stays warm.
What We Don't:
The sole may not be stiff enough for everyone.
The high cuff can give a feeling of restriction.

7. Gavin Elite Road Cycling Shoes
Gavin Elite lives up to its name, being the pacesetter for other shoes. It's affordable for the noobs but more experienced riders will like it as well. The airflow vents and easy to adjust micro buckle make a shoe that is comfortable and breathable. These road cycling shoes are both light and durable and should have you pedaling with power in no time.
Features and Benefits:
The micro-adjustable buckle is fine-tuned for a great fit and super comfort. The Nylon fiberglass sole has air-flow vents so that the shoe is both strong and breathable. The synthetic microfiber leather has a breathable mesh for extra comfort. All in all, this shoe is designed to be as comfortable as possible.
What We Like:
They are compatible with Look, SPD, SPD-R, and SPD-SL cleats.
The fit is true to size.
They are easy to put on and take off.
What We Don't:
The ratchet strap is not durable

Who Makes Peloton Brand Shoes?
Peloton offers pedaling shoes for an extra price. For this price, they should be gold plated and do your taxes. However, the free shoes are only adequate. They have no discernable markings.
They are likely made by Peloton for Peloton. However, a jack of all trades is a master of none. They make a great bike. Their exercise programs are dependent on your tolerance for pep. Their shoes are not terrible but nothing really special.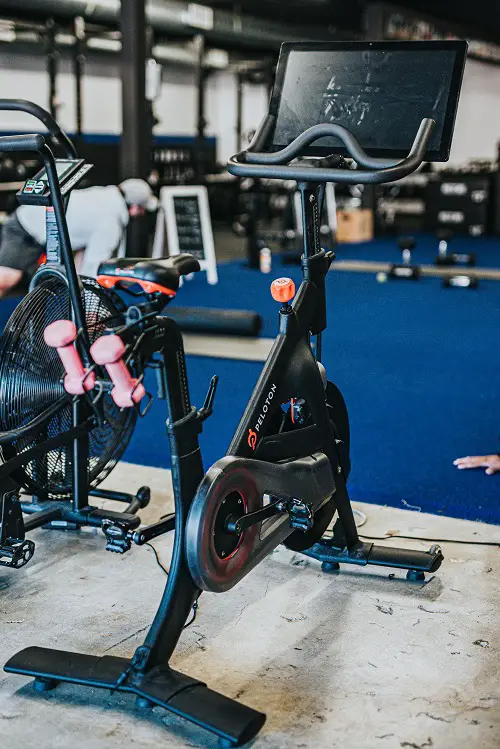 What Shoes Can You Use With Peloton Bike?
Some people who have unusually wide or narrow feet have found satisfaction with brands like Shimano, Sidi, Giro, Lake, Time, and Specialized.
Can You Ride Peloton With Regular Shoes?
It doesn't have to be a Peloton but it does have to be a cycling shoe with a three-bolt cleat mount.
Can You Ride Peloton With Sneakers?
If you do, you'll need the toe cages.
Can You Ride Peloton Without Shoes?
No. Just no.
Can You Ride Peloton Without Cleats?
It bears repeating. It has to be a cycling shoe with a three-bolt cleat mount.
Do Other Bike Shoes Work With Peloton?
The pedals on a Peloton bike are compatible with LOOK Delta, so any shoe that will work with a LOOK Delta cleat will work for a Peloton. You may be able to swap out the pedals if you don't have the right kind of shoes.
How Should Peloton Riding Shoes Fit?
They run true to size. The Peloton shoes are for the most part more comfortable than usual road cycling shoes.
How Often To Replace Peloton Riding Shoes?
Since they don't get as much impact as running shoes, cycling shoes don't have to be replaced as often. About a year or so is often enough. Do keep in mind that the big, triangle cleats wear out faster.
What Kind Of Pedals Does Peloton Use?
The Peloton Bike uses LOOK Delta clip-in pedals. This means that you' will require a pair of compatible cycling shoes to ride.
What Are Look Delta Cleats?
LOOK Delta cleats feature a three-hole arrangement that is adjustable for premium stability. TRIO® pedals encourage the use of Delta-style cleats.
How To Install Look Delta Cleats?
The pair of cleats will come with bolts and washers. Put the cleat on top of the sole lined up with the hole pattern.
Next, put the washer on top of the hole. If the washers do not fit snuggly you can adjust the position of the cleat later.
Put a bit of grease in the bolt and use an Allen wrench to thread the bolt inside the pre-drilled hole pattern of your shoes without tightening it up.
Next, figure the natural alignment of your feet while you are standing or sitting down to aid in determining the correct angle of the cleat.
The next step is to figure the lateral position of your cleat.
Adjust your cleats accordingly then tighten the bolts into the shoe.
What Are SPD SL Cleats?
The three-bolt system, called SPD-SL under the Shimano brand name, is typically used in road cycling. The system features a big plastic cleat that adheres to your shoe using three bolts. The clip-in mechanism that comes with the pedal has only one side. Because of this, you must see to it that the pedal is the right way up to clip in.
How To Install SPD SL Cleats?
Grease the threads on the captive nuts.
Fit the cleat hardware. This type of cleat has three oblong slotted washers and three domed head bolts.
Work them uptight, but not too tight.
Make adjustments as needed.
SPD SL Vs. Look Delta Cleats
The biggest advantage of SPD SL is that they are very comfortable and rather easy to walk in. It's also great for those who need a highly universal cleat that is compatible with many pedal designs.
The LOOK Delta lets the leg follow its innate range of motion with every pedal stroke. These are for higher-end road cyclists who would like high performance.
Do SPD Cleats Work On Peloton?
Peloton bikes for home use are fitted with LOOK Delta cleats as well as SPD SL cleats. Therefore, so long as you have spin shoes with the correct cleat, you're ready to go.
Can You Change Pedals On Peloton?
It is not recommended, but you can do it in about five or ten minutes. It would be easier to change your cleats than the pedals.
Conclusion
While Peloton does offer shoes, among other things, for sale with use for their products other shoe brands will work just as well. Find out which one is best for you!
References:
http://pelotonguide.com
https://spinning.com/guide-to-cycling-shoes
https://road.cc/content/feature/170333-how-set-shoe-cleats
https://www.retailmenot.com/blog/is-the-peloton-worth-it.html
https://guides.wiggle.co.uk/cycling-pedals-and-cleats-buying-guide
https://www.womenshealthmag.com/fitness/a19927398/cycling-shoes
https://medium.com/@JohnA/the-absolute-beginners-guide-to-peloton
https://www.housebeautiful.com/shopping/a21999767/peloton-bike-facts
https://indoorcyclingtips.com/how-to-install-cleats-on-indoor-cycling-shoes
https://www.sweat-smarter.com/home/2019/1/2/do-you-need-peloton-spin-shoes
https://www.reddit.com/r/pelotoncycle/comments/7crxte/peloton_shoe_size_run_true
https://completetri.com/cycling-cleats-and-pedal-basics-spd-vs-look-vs-speedplay-vs-spd-sl
https://bicycles.stackexchange.com/questions/51542/peloton-trainer-what-style-of-cleats-are-used
https://www.theverge.com/2017/4/25/15408338/bike-peloton-review-indoor-cycle-live-streaming-cycling
https://www.reddit.com/r/pelotoncycle/comments/934lix/spd_pedal_suggestions_is_it_easy_to_swap_the
https://www.reddit.com/r/pelotoncycle/comments/3zkqat/any_idea_who_makes_the_peloton_branded_shoes