Plyometrics, vernacularly known as Plyos, is also known as jump training. It comes from the Greek for "more length". The exercises done in plyometrics are meant to activate the quick response and elasticity of the major muscle groups.
It started with Soviet Olympians in the 1950s and caught on quickly. The exercises are a series of different types of jumps and are preferred by athletes in track and field but also basketball, squash, tennis, badminton, and volleyball.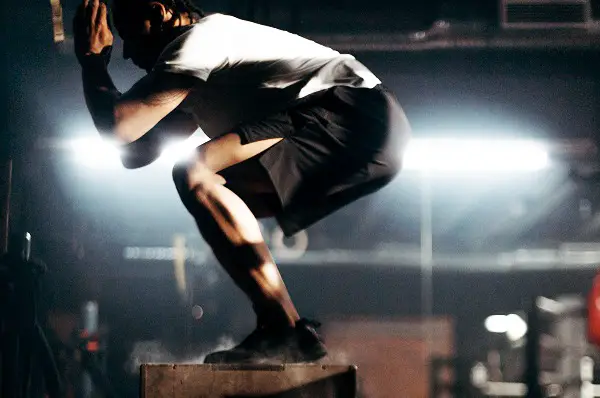 What Kind Of Shoes Should You Wear For Plyometrics?
Actually, it's preferred that you do this barefoot, particularly if trampolines are involved. If you must wear shoes, they should have very thin soles. Too much cushioning will just slow you down in this case as well as breed improper form. Just like Michael Jordan told Spike Lee, it's not the shoes. You got to make yourself a better jumper.
Can You Wear Running Shoes For Plyometrics?
It is very unlikely that you will be able to find a training shoe built specifically for plyometrics. However, you can make a selection from the myriad of athletic shoes on the market.
Tennis and running shoes have just the right amount of cushioning and arch support you need. What's more, the majority of them come up higher than a street shoe when it comes to cradling your ankle and aiding with stability.
Running Shoes Vs. Cross Training Shoes
Where running shoes are engineered to absorb the shock on your heels, cross-training shoes feature most of their cushioning in the forefoot. This protects your foot when you land on your toes.
They are firmer, which makes them more suited for weight training and making it easier to do exercises such as squats.
Can You Do Plyometrics Barefoot?
Some recommend that you do it either barefooted or at least in minimalist footwear. If you decide to do it that way then the Vibram KSO EVO Cross Training Shoe will be an excellent choice. However, if you choose to do it wearing shoes, then take a look at our list below.

Our Picks:
Here is a list of the five shoes that we believe will be appropriate for plyometric training. Comparison shop to find out which one is best for you.
1. NOBULL Training Shoe (Men / Women)
Unlike Nike, NOBULL doesn't claim that it's the shoes (Odd coincidence: Jordan played for a team called the Bulls.) but that doesn't mean they don't try to give you a little lift. The lug pattern gives you the perfect amount of flexibility and grip while the functional canvas (Not leather, literally no bull!) keeps you looking and feeling good.
Features and Benefits:
The upper of the shoe is made up of a seamless one-piece construction of SuperFabric, making the shoe very durable, breathable plus abrasion-resistant.
The SuperFabric guard plates are affixed on a super-flexible mesh base layer that creates a 360-degree shield from any obstacle.
The outsole lug pattern was engineered for multi-environment usage, leading to an easy transition between inside and outside with just the right mix of flexibility, traction, and support.
The high carbon lateral and medial guards provide extra protection on the sidewalls.
What We Like:
The shoes are quite breathable.
They are supportive yet flexible.
The shoes are abrasion-resistant.
What We Don't:
It runs smaller than expected.
2. Inov-8 F-Lite 235 V3 – Cross-Trainer Shoe (Men / Women)


At the end of the day, the Inov-8 F-Lite 235 v3 cross-training shoe has shown some splendidly impressive results. it is a high-performance shoe that is both flexible and stable. It is a comfortable shoe with a natural feel to it. As the logo suggests, this shoe is almost like doing a barefoot workout.
Features and Benefits:
These sneakers come with performance outsole technology that enhances natural foot movement for an unsurpassed ground feel that lets the wearer move through the workouts easily.
The snug fit of the midfoot delivers stability while the wide toe section offers ample room to spread out the toes for the maximum base when lifting.
These stylish shoes come with rope guard technology that moves up onto the shoe uppers plus a welded toe bumper for a shoe that is durable enough to handle any sort of work out.
It is minimally constructed though the supremely durable upper utilizes elastic mesh liners to surround the foot for extra comfort and support, providing one of the more comfortable and breathable exercise shoes on the market.
This superbly versatile shoe is ideal for lifting, high-intensity workouts, and short runs.
What We Like:
What We Don't:
It's a little on the tight side.
3. New Balance Minimus 20 V7 Cross Trainer (Men / Women)


For what they cost, the New Balance Minimus 20v7 should leave you more than impressed with what you receive. they are the ideal choice for the barefoot exercise enthusiast on the lookout for a safe and secure as well as snug and comfortable option. It has that reliable traction and ground feel perfect for strength training.
Features and Benefits:
The rubber sole is flexible and grippy with good traction.
The supportive and flexible upper is built with nylon-infused yarn engineered to deliver lateral support without skimping on flexibility for a natural foot movement.
The one-piece Vibram outsole offers an incredible grip to aid in maintaining a natural stance while strength training.
The REVlite midsole offers superior lightweight cushioning for a comfortable underfoot feel that also delivers an improved ground feel.
These exercise shoes also feature a molded foam asymmetrical collar to deliver a more natural fit.
The mono mesh windows provide ventilation and additional comfort.
What We Like:
The shoes are very comfortable.
The sole is thin and the overall design is minimalist.
The shoes are lightweight.
What We Don't:
The sole comes off too easily.
4. Nike Metcon 5 Training Shoe (Men / Women)

For the most part, Metcon 5 is an incredibly comfortable, supportive, lightweight example of footwear with great traction. It is perfect for workouts of all sorts. Nike says "Just do it" and the Metcon just does it.
Features and Benefits:
The haptic chain-link pattern on the upper is excellent for withstanding anything thrown at it.
The tongue has ample cushioning for improved support and lock-down.
A directional pattern on the rope wrap allows for a smoother slide during descents.
The wide heel increases stability while doing a variety of exercises.
A Nike Hyperlift insert delivers extra lift to further increase stability.
The dual-density drop-in midsole is soft and quite flexible in the forefoot for improved comfort and protection while doing high impact moves.
What We Like:
The drop-in mid-sole delivers extra support in both the sole and heel areas.
The sticky forefoot rubber and molded flex grooves offer a supremely solid design plus high flexibility.
The heel is very supportive.
What We Don't:
The laces are slick and come undone very easily.
5. Reebok Nano 9 Cross Trainer (Men / Women)


The Reebok CrossFit Nano 9 lets you be you, only more comfortable! It features the innovative seamless STRETCH Flexweave to encase the foot in something firm fitting yet comfortable. You don't get good by standing still and Reebok designed this shoe with that in mind.
Features and Benefits:
The patented STRETCH FlexWeave Upper provides a good deal of flexibility.
The seamless design offers superb comfort and an overall more comfortable fit.
Additional cushioning in the forefoot delivers great run ability and comfort.
The soft rubber midsole protection wrap offers long-lasting durability.
It features a specifically revolutionized CrossFit outsole design for the purpose of better return and shock absorption.
The patented MetaSplit grooves deliver improved grip and great traction.
What We Like:
The shoes are comfortable.
The minimal drop makes it stable.
It works great for a variety of exercises.
What We Don't:
The soles come off too easily.
Why Should You Perform Plyometrics?
Plyometric movements are intended to improve coordination and bring together strength and speed. These exercises are the ideal amalgamation of mobility, stability, power, strength, and dynamic balance and are utilized in order to increase jump height, agility, and sprint as well as better your ability to coordinate your movements.
Is Plyometrics A HIIT?
It is among some of the better ways to build up strength in your legs without the use of equipment or machines. One of the better ways to burn a large number of calories in a short bit of time is HIIT (High-Intensity Interval Training).
Is Crossfit A Plyometric?
Plyometric jump training is among the best and most effective ways of developing the physical skills suggested in the CrossFit methodology, particularly strength and power.
What Are Plyometric Exercises Good For?
Plyometric exercises can aid in the improvement of athletic performance for regular athletes and boost physical fitness in less active people. Plyometrics develops speed, power, and fleetness. The exercises utilize a good deal of force and need an appreciable amount of mobility, strength, and flexibility.
Who Can Benefit From Plyometric Training?
Pretty much anyone can benefit from plyometric training. Both professional and amateur athletes will appreciate enhanced strength and speed, they will also reap the benefits of increased endurance.
Anyone just looking to burn a few calories might look into plyometric training as would anyone wanting to develop stronger bones. Very minimal equipment is necessary so it's good for people who want a simple, inexpensive workout.
Can Plyometrics Build Muscle?
It can if you're looking to build up the fast-twitch fibers, which are the strongest and longest fibers in the body. Plyometric training zeros in on boosting the strength and efficiency of the fast-twitch fibers.
Interpreting this to the weight room for your heavy sets results in a more massive involvement of your muscles' strongest fibers for your lifts. This can lead to gains in both speed and strength.
What Muscles Does Plyometrics Work?
They bring strength, mobility, and flexibility to the ankles, knees, and hips. The lower back, core, and leg strength are also improved by plyometrics. It should be kept in mind that most plyometric exercises are full-body exercises.
They aid in toning the body by engaging various different muscles. The connective tissue is made stronger and you can improve both the resiliency and elasticity of your muscles.
Can Plyometrics Burn Fat?
It can, due to the fact that it burns a lot of calories which can lead to fat loss. During plyometrics, the body undergoes anaerobic exercise and burns through glycogen. This exerts changes in strength and muscle throughout the body. This can lead to a greater overall fat burn.
Does Plyometrics Increase Vertical Jump?
The purpose of performing plyometrics is to proliferate the possibility to propel perpendicularly plus parallelly. (Say that three times real fast!) The muscles develop a better ability to generate explosive force and enable the athlete to jump both higher and farther.
Is Plyometrics Bad For Knees?
Plyometric jumps call for the use of quick and powerful movements in order to get the best results. Though you mostly depend on your thigh and hip muscles to finish off the jumping moves, the stress and strain you place on your knees when you take off and land can cause them to be damaged. Do some strength training first as a precaution.
How Often Should You Train Plyometrics?
As you gradually ease onto training, it is recommended that you do plyometrics a few times a week. At least twice per week but preferably three times per week would be the way to go.
Conclusion
Plyometrics is an exercise many people prefer to do barefoot or in a minimalist shoe. If that is not an option for you, hopefully, one of these shoes will be right for you.
References:
https://en.wikipedia.org/wiki/Plyometrics
https://thetech.com/2012/03/23/fan-v132-n14
https://www.freeletics.com/en/blog/posts/plyometrics
https://www.fusionsport.com/blog/plyometrics-in-crossfit
https://thewiredrunner.com/cross-training-shoes-vs-running-shoes
https://blog.mapmyrun.com/should-you-do-plyometrics-with-every-run
https://www.healthline.com/health/exercise-fitness/plyometric-exercises
https://www.sportsrec.com/468141-shoes-for-plyometric-workouts.html
https://bodycomplete.co.uk/plyometrics-will-build-muscle-its-hard-but-worth-it
https://www.livestrong.com/article/211913-plyometric-exercises-to-increase-vertical-leap
https://www.8thdayperformance.com/blog/2017/2/1/5-main-benefits-of-plyometric-exercise
https://noyeskneeinstitute.com/beginners-plyometric-jumps-how-can-they-injure-your-knees
https://www.issaonline.com/blog/index.cfm/2020/your-guide-to-creating-a-plyometrics-workout-to-burn-fat
https://www.fitnessblender.com/videos/plyometric-and-cardio-hiit-for-legs-functional-plyometrics-for-endurance