Let's start by breaking down the intimidating word "sesamoiditis". The "-itis" is a medical-related suffix that means "swelling of". The sesamoid is a bone roughly the size and shape of a sesame seed (where it gets the name) that can be found over joints. The kneecap is an unusually large sesamoid, but the ones on your feet are roughly the size of a jelly bean.
Its purpose is to act as a pulley, giving the tendons a smooth surface to slide over thus providing the tendon with the ability to transmit more muscular force. Sesamoids are the only bones in the body not attached to any other bone. They are found in muscles and tendons. Sesamoiditis is an inflammation of the sesamoid bones just under the first joint of the big toe.
Also wearing high heeled shoes are one of the most common factors contributing to sesamoiditis, women are the most likely patients with this ailment. However, anything that causes repetitive impacts can irritate the sesamoids. Various sports such as tennis, badminton, running, golf, football, and basketball are also contributing risks.
It's a condition just as likely to bring down a hockey player as a figure skater. For this reason, both men and women's shoes will be reviewed later in this article. Both shoes in each style will have mostly the same basic features, just different sizes and perhaps color choices.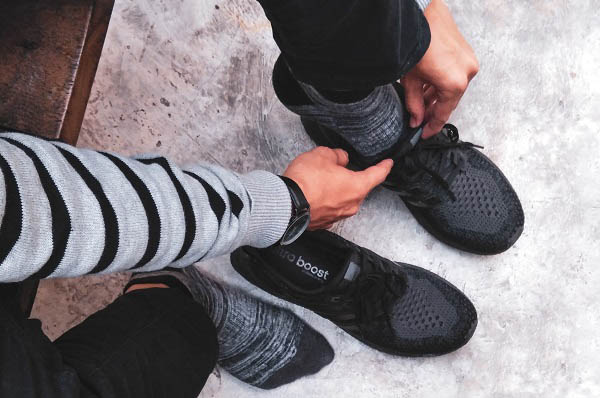 What Should I Look For in a Shoe if I Have Sesamoiditis?
Most often, sesamoiditis is caused by having the wrong kind of shoes. Clogs and high heels are the worst. If you take part in sports (A sport is any activity you can't do while drinking a beer.) wear the proper shoes for that sport, be that ballet slippers or cleats. Otherwise, you need a minimalist type of shoe that allows your feet to move into a more natural alignment. Breaking into these kinds of shoes can be difficult if you're not used to them, but it will be worth it.
A good eighty percent of sesamoiditis treatment leans on the right type of shoes. That seems like a simple solution on the surface. However, since shoes come in a nearly infinite variety of styles in the market in this modern era, they also can throw you in an uneasy feeling of confusion. As a result, this embarrassment of riches could endanger your decision power.
Factors such as the right sole and heel or the type of cushioning alone could upset your search for the correct pair. With your condition in mind, the very last thing that you need is to have is the improper type of footwear. When looking for shoes to wear for other occasions, keep the following in mind.
Wide Toe Boxes The toe box should not force your toes into an unnatural position. Those stiletto shaped toes need to be permanently last season. The toe box should be fairly wide and anatomically shaped so your toes can spread out comfortably.
No Heel to Toe Drop There should be absolutely no heel to toe drop. That way, your feet are aligned from the ball to the heel and no undue pressure is put on the ball of the foot.
No Toe Spring No springs, my friend! No springs! The short film Spring Fever may have made you think springs indispensable, but your shoes don't need them. If you want the natural layer of fatty tissue under the balls of your feet to stay intact, skip the spring.
If you still have pain even after switching shoes, you can always select the maximalist and transition shoes. These shoes offer all that the minimalist and the conventional shoes can provide as well.
As it already is, these shoes have special features that may allow you the user to smoothly make the transition from the traditionally confining footwear down to shoes that feature the possibility of letting your feet move in immediately with a gait that nature intended.
The Reviews:
Most of these are casual sneakers. They are suitable for running or tennis or simple casual wear. Take the opportunity to comparison shop and determine which one is best for you.
1. Hoka One One Clifton 4 Running Shoe (Men / Women)


The smooth and sweet ride on this shoe could be just what the doctor ordered. The Hoka One One Clifton 4 running shoe provides supreme cushioned comfort. They're great for speed work, casual runs or just wearing around town. This is a shoe that is responsive, versatile and lightweight. The Clifton design has become a favorite among athletes since its introduction in 2014.
What made it stand out was its surprisingly lightweight and smooth ride. The Clifton 4 utilizes resilient foam for a more adaptive fit. The adaptive forefoot is a recent improvement as is the increased rebound. The 3D puff print further distinguishes the modern model from others in Hoka's Clifton line.
Features and Benefits:
The wide fitting forefoot promotes enhanced comfort. The mesh is lightweight and breathable with thin synthetic overlays. The super lightweight and seamless SpeedFrame construction reduce the probability of any forefoot irritation.
The breathable fabric lining provides in-shoe comfort. The rubber sole absorbs shock. The wide curved sole distributes stress evenly across the foot. Stretchable laces mean the shoe will remain comfortable even if your feet swell up a little.
Pros:
They are cushioned and very comfortable.
The shoe is lightweight with no pressure points.
There is ample room in the toe box.
They come in several attractive color schemes. (The ombré look seems to be sticking around, but there are solid options.)
The fit is snug and the midsole is responsive.
They have maximum cushioning with a minimum drop.
Cons:
The soles are not very durable.
The sizing is a bit off; you may have to order a half size larger than you normally would.
2. New Balance Fresh Foam Running Shoe (Men 1080v7 / Women 1080v8)


In version 7 and 8 of this series, this Fresh Foam 1080 keeps on delivering the maximum use of foam in a plush and completely stable ride. New Balance has it all put together with an engineered mesh forefoot, the cushiest of materials and carefully constructed midfoot support.
New Balance continues in their dedication to aiding athletes in the achievement of their goals as it has been for more than a century. There is a good reason why they don't spend tons of money on celebrity endorsements. They would rather be invested in research and development.
New Balance does not design their products to fit an image. They are designed to fit. New Balance is dedicated to making superior shoes for the same reason athletes put them on. There is nothing better than achieving the very best.
Features and Benefits:
The rubber sole absorbs shock. The shoes have plenty of cushioning for a comfortable fit. No-sew overlays mean nothing to irritate your foot. The mesh upper is breathable.
Pros:
The insole is removable.
The fit is comfortable.
The heel is snug and the toes are roomy.
The size is what it is.
It is suitable for marathon running.
The shoes are attractive as well.
The shoe is adequately responsive.
Cons:
The men's color selection is only half of what's available for women. (Then again, men tend not to be as picky about shoe color.)
The tongue seam is uncomfortable.
The sole is not as durable as it could be.
3. Orthofeet Orthopedic Athletic Sneakers (Men / Women)


Orthofeet sneakers come with anatomical arch support for a non-binding relaxed fit plus maximum protection against pressure points. The first-rate orthotic insoles plus the cushioning sole cause a soften step to better enhance stability and make natural foot motion easier.
These shoes are often recommended for those who have any of a number of foot problems. They are also specially designed with one-of-a-kind bio-mechanical features to ease foot pain.
Orthofeet acknowledges that it can be exhausting to find the right pair of shoes when you suffer from a foot ailment. This is why they employ the brightest of biomedical engineers to construct new footwear products that alleviate the most debilitating of foot problems.
Features and Benefits:
The non-binding upper along with the extra depth design plus the deep and wide toe box allows the foot a natural spread and relaxation. Gel padding under the heel reduces pressure. The contoured orthotic insole with anatomical arch support softens every step while the ergonomic sole with air cushioning puts a little spring in that step. The orthotic insoles are great for pain relief and provide excellent arch support. The patented Poly-U foam wicks away sweat.
Pros:
The fabric is antimicrobial, which means less chance for odors to build up.
They fit well and are well padded.
The shoes are very lightweight and they look good.
They have an easy gait and are non-binding.
The fit is adjustable.
Cons:
The color choice for both men and women is fairly narrow.
They are a bit slippery on wet surfaces.
They run a bit on the small side.
4. Apex V Last Walking Shoes (Men / Women)


Men's Sana in corpore sana, as the Romans said. The V854 Walker from Apex supports a balanced mind and body. At one time an Aetrex style, this style of walking shoe is manufactured and engineered with breathable leather and mesh upper. A rigid Carboplast footbridge is implemented with the midsole for better motion control.
The removable Apex Orthotic is made with numerous layers of anatomical cushioning. The shock-absorbing PRS Insole of the Apex V854 Lace Walker is entirely personalized to better provide for your unique athletic sole.
Foot health is Apex's bread and butter. For nearly fifty years they have been creating some of the most health-conscious footwear possible. They make delight a guarantee.
Features and Benefits:
The rubber sole absorbs shock. Two removable layers provide a flexible fit. The medial support pod minimizes over-pronation. For water resistance, the shoes are Scotchguarded.
Pros:
They are so comfortable they mold to your foot.
They are very supportive and true to size.
The toe box is good and wide.
Cons:
They are a little heavy.
The name change from Aetrex leads to confusion. (Particularly if you are trying to do research.)
5. Dr. Comfort Athletic Shoes (Men / Women)


The Dr. Comfort athletic shoe is a stalwart light-weight cross-trainer that provides a one-of-a-kind arch stabilizer for more enhanced support. This shoe is ideal for the active athlete who is in need of a shoe that can withstand premium performance requirements.
You can stay active in comfort with the lightweight and stylish athletic footwear that Dr. Comfort's Athletic Collection has made available for both men as the Performance model and women as the Refresh model. They bring comfort to wearers with any of a number of foot conditions.
The classic craftsmanship plus the cosmopolitan style of Dr. Comfort are wanted by anyone on the lookout for the finest quality in a comfort shoe. Engineered as a therapeutic shoe, Dr. Comfort also provides many desirable protective and comfortable features for everyone.
Features and Benefits:
The seamless and padded lining adds to comfort. The arch stabilizer makes for enhanced support. A wide toe box gives the toes room to move. A padded tongue adds to comfort.
Pros:
Every pair of Refresh model comes with a free pair of Gel Plus insoles.
The shoes are very comfortable and will ease any pain you have.
They are rugged and long-lasting.
Cons:
Some people don't care about the slide lacing system.
What Can Lead to Sesamoiditis?
Commonly, it results from sports that require a lot of jumping around such as track, cheerleading, basketball, figure skating and anything that requires a racket. When taking part in these sports, remember to wear proper athletic shoes geared to that activity.
While their sport doesn't call for a lot of jumping or running, baseball catchers run the risk of sesamoiditis by constantly squatting in a manner that puts pressure on the balls of their feet. Direct injury from piercing or impact can also do it. Wearing shoes with too high a heel or too thin a sole can also cause sesamoiditis.
Other risk factors include:
High Arches When a person has high arches, the weight of their body is born by the ball of their foot more frequently than in somebody with a lower arch. This can mean that those sesamoids on the ball of the foot are overtaxed.
Pronated Feet If your feet tend to roll towards the outside of your ankle, you tend to walk more on the ball of your foot. This can cause sesamoiditis.
Enlargement of the Sesamoids Where sesamoids in the foot are concerned, bigger is in no way better. The bigger sesamoids mean more bodyweight being placed on them. This leads to irritation causing sesamoiditis.
Misaligned Big Toe When the big toe is tilted downwards, the first thing that hits the ground when you walk is the sesamoid. Each step becomes an opportunity for them to become inflamed and even start to completely erode.
What are the Symptoms of Sesamoiditis?
Do you feel pain when bearing weight on one foot more than the other? Does the pain come with a feeling of pressure on the joint of your big toe? Does pulling back on the big toe make the pain worse? Is there visible swelling, bruising, inflammation and/or stiffness? Does it hurt to bend or straighten the toe? It could be sesamoiditis, or it could be gout or hallux rigidis. A doctor will be required to make a full diagnosis, which may call for an x-ray.
Because the sesamoid is so small, an MRI or bone scan may be more effective. Was the pain immediately or did it build gradually? Sesamoiditis is signaled by gradual pain. Immediate pain means a fracture. Your doctor may want to x-ray both feet for comparison.
Fortunately, sesamoiditis is generally not serious and is simply the result of overuse. The hardest part of the treatment is waiting until you can get back on your feet again and back to playing your favorite sports. Fracture dislocation of the sesamoids and sesamoidal apparatus is not common at all. It is usually the result of a high-impact force like a fall or repeated impacts.
Landing wrong while doing gymnastics, getting off a ladder, skating (whether on ice, roller or board), dancing, dismounting a horse, skydiving or skiing could be contributing factors. While running, a force greater than half the weight-bearing travels all through the big toe. Forces of more than three times the athlete's body weight can travel across the sesamoids. All this stress and pressure can lead to severe pain.
What is the Best Treatment for Sesamoiditis?
Start by alternating your footwear. You need more cushioning to reduce pressure. You can use custom orthotics or special inserts to reduce stress on your toe joints. Rest, ice application and anti-inflammatory medications (without steroids) are all acceptable measures of treatment. Sometimes a warm footbath helps. Try alternating cold and heat.
The doctor may prescribe something, but simple over-the-counter ibuprofen may do the job. The inflammation can be reduced by electrotherapy treatment like ultrasound therapy. You may hear your podiatrist use the word "dorsiflex". This means "To bend backward". It's fun to build your vocabulary!
Placing padding underneath the foot can be utilized to remove pressure from the painful spot on the bones. As well, an insole designed for shock absorbing and cushioning might be utilized to reduce the pressure around the painful area. Most likely causes of the condition, overpronation being an example, could be corrected by the use of insoles plus changing the technique if needed in certain sports.
Corticosteroid injections may be implemented if all else fails. Splinting or casting may be necessary. A foot orthotic may be recommended. Depending on the severity, full recovery could take place after three to six months. Surgery should be considered a very last resort.
Can I Treat my Sesamoiditis with Exercise?
Rest is really the best cure for sesamoiditis. However, once the pain and inflammation have subsided and your doctor has given you the go-ahead, here are some exercises you can do to recondition your foot to be ready to return to your pre-injury state. The "no pain no gain" proverb is bunk. If you are in pain that is your body's way of telling you to stop before you make things worse. Listen to it.
Toe Crunches This will restore movement to the big toe. Sit in a chair or sofa that allows your feet to touch the ground. Place a small hand towel on the floor next to your foot. Try to pick the towel up using only your foot. Some people have enough dexterity in their feet to rival an ape or monkey (very handy in the bathtub or while gathering laundry), but some are less gifted. Either way, this is a good exercise for toes that have been out of commission. Stop doing it if it causes you pain. Try to do it ten to twenty times a day or as recommended by a doctor.
Range of Motion Inflammation can lead to a loss of range of motion. A simple toe stretch can bring back some mobility. Sit as you normally would and stretch out the leg of your afflicted foot. Use only your foot muscles to curl your big toe under then pull it back towards yourself. Start out with slight motions and work your way up to more exaggerated motions. Stop if you are in any pain. Do this exercise ten to twenty times every day or as recommended by your doctor.
Foot Raises Here is a more demanding exercise that should only be attempted when the pain and inflammation have completely subsided and you have gotten the all-clear from your doctor. It's basically bench presses for your feet. Stand upright and get on tiptoe for two seconds and back down. Do ten to fifteen reps daily or as recommended by your doctor.
Conclusion
Sesamoiditis is a painful condition most often experienced by athletes, but it can also affect people who wear improper shoes. It is easy to prevent and easy to cure. Usually, rest will do the trick. However, rest can be an onus on a dedicated athlete who wants nothing more than to get back on the field.
Or stage, rink, court or whatever their designated venue is. It is for the best to wear shoes that will not lead to or exacerbate sesamoiditis. Use this article as a guide and you will be able to comparison shop and discover what's just right for you.
References:
https://www.verywellhealth.com/sesamoiditis-2549927
https://www.sportsinjuryclinic.net/sport-injuries/foot/forefoot/sesamoiditis
https://www.podiatrytoday.com/article/184
https://www.livestrong.com/article/532240-exercises-for-sesamoiditis
https://www.theinsolestore.com/blog/save-your-sesamoids-eliminate-sesamoiditis-heres-how
https://orthoinfo.aaos.org/en/diseases–conditions/sesamoiditis
https://www.runningshoesguru.com/sesamoiditis-and-shoes-a-quick-guide-to-finding-the-right-pair
https://en.wikipedia.org/wiki/Sesamoid_bone
Related Posts: