So, your job requires you to be on your feet a lot. Don't worry! This sedentary writer will not judge you! The author has paid dues in the retail and foodservice industries without the benefit of a car to know what you're going through. Standing on your feet all day can be tough.
Repetitive strain injury of the ligament leading to the sole of the foot can lead to plantar fasciitis, resulting in debilitating pain in the heel and arch. Excessive walking or running combined with insufficient footgear and/or landing wrong while jumping can lead to a bad case of plantar fasciitis. Standing on hard surfaces for long periods of time can also do damage.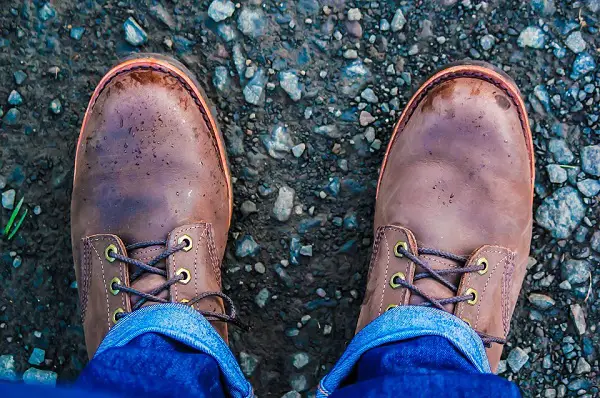 What Should A Plantar Fasciitis Patient Look For In A Work Boot?
Here are the four main things to look for in a work boot if your plantar fascia gives you trouble.
Flexibility It is not helpful if you have a very stiff boot. With every step, you take your foot makes a rolling motion. Thus, you need a boot that easily bends along with your foot. Some work boots need a breaking in period. You need one with little to no breaking in period.
Adequate cushioning and a low, even platform You do not want anything with a too high toe or heel. An even platform and a good cushioning system will absorb shock and support your arches. You would be surprised what a well-padded collar could do.
A deep heel cup You need to protect your heel bone. It is best if the cushioning here is adjustable. For greater stability, you need that deep heel cup to align your hips, knees, and ankles and absorb shock.
A proper fit If your shoes are too loose that can give you an irregular stride that puts a strain on your arches. If they are too tight your toes could curl, putting undue pressure on the heel and ball of the foot. Measure your feet regularly to ensure that you get the correct fit.
The Reviews:
If you are suffering from plantar fasciitis don't worry, we have compiled a list of the five boots that we believe will help you feel more comfortable yet secure through your workday. These boots have proved to be supportive, durable and comfortable.
1. Wolverine Men's W02421 Raider Boot
Wolverine Men's W02419 Raider Boot, Brown, 13 XW US
Multishock shock absorbing compression pads molded in the outsole. Lightweight PU midsole
Moisture managing mesh linings
Wolverine multishox contour welt construction
Removable full cushion footbed
Nylon shank
Wolverine, the iconic American boot, gives use this pure leather with a rubber sole and nylon shank number with a shaft that measures approximately five and a half inches from the arch and a heel that measures about one and a quarter inch.
The sensible platform measures only three-quarters of an inch.
This boot is not only attractive with a classic look but comfortable and durable.
Here is something that is tough as a work boot but flexible as a sneaker.
The cushioned collar keeps your foot comfy and the leather cleans up nicely.
Pros:
The upper build is full-grain leather.
The CK mesh lining is comfortable and breathes easily.
The outsole is slip and oil resistant.
The whole boot flexes and bends with you.
The boot feels buffered, brisk and bolstering thanks to the dual ContourWelt and Multishox build.
They can get a good grip on damp concrete and slippery surfaces with the rugged, abrasion and slip-resistant rubber outsole.
They only take a day or so to get broken in and are extremely comfortable.
They are especially supportive for people with plantar fasciitis.
The Wolverine Multishox insole gives you full day relief and support and is removable and fully cushioned.
On the whole, this is a very pliable and satisfactory boot.
Cons:
It feels like a sneaker, but it makes squeaky noises like one too.
This is a shoe better suited for warm weather as it's rather lacking in insulation.
The reason for pliability is a lack of steel toe, so don't drop anything on it.
The laces are a bit flimsy, but you can easily replace them.
The soles are great on concrete but not recommended for construction or roofing work.
They run a bit on the roomy side so people with narrow feet may feel a bit of slippage.
This boot is not waterproof but can be made so with boot wax, if you don't mind a darker color.
Made in China.
It only comes in brown.

2. KEEN Utility Men's Flint Mid Work Boot
KEEN Utility Men's Flint Mid Steel Toe Work Boot
Ankle-cut work boot with removable footbed and non-marking sole
Padded tongue and collar. To treat day to day wear and tear, especially on lighter color leathers, it is recommended to use a leather cleaner and conditioner
Breathable mesh panels
Here's an ankle cut work boot of one hundred percent leather with a non-marking rubber sole and removable footbed.
The tongue and collar are well padded and the mesh panels are breathable.
This is a light-duty boot with side cutouts for ventilation.
The dual-density midsole provides padding and the stability shank adds on the support you require for long stretches of time on your feet.
KEEN Utility boots come with asymmetrical toe protection to guard all your toes.
It features a more natural, close fit in the heel plus a much roomier, intuitive toe box, creating a supremely unique type of work shoe.
For the best in arch support, enjoy the internal support mechanism with precise anatomical engineering.
It comes in Slate Black and Burnt Henna.
Pros:
It blends the best of a hiking boot and a work boot.
It is quite breathable.
Not only it's good looking, but also the ankle cut makes it suitable for hiking.
The biggest boon for people suffering from plantar fasciitis is the metatomical footbed design that should ease out any heel pain you may be feeling.
For a steel toe, it is actually rather light with plenty of support on the bottom.
The shoelaces are made well so that they stay tied.
They have a few notches in them to give a better grip.
It will not slip loose after long hours of work; thus, you definitely will not find yourself needing to retie them every few minutes.
Cons:
The boot is not at all waterproof.
You can try making them more waterproof with the boot wax, but the ventilation on the sides may make this difficult.
The top plastic tabs also tend to stick out a bit and could prove to be a tripping hazard.
The plastic eyelets are not very sturdy.
This is not the most durable work boots.
It is probably better suited for work that is done indoors.

3. Carhartt Men's CMF6366 6 Inch Composite Toe Boot
Carhartt Men's CMF6366 6 Inch Composite Toe Boot
Rugged Flex - Carhartt's unique Rugged Flex technology moves and stretches with you throughout the day so that whatever you're doing, it's easier to do because you need gear that helps you move not gear that holds you back
Rubber Sole - shock absorbing traction In any environment. Perfect for indoors or outdoors. Whether it's a casual stroll through the neighborhood or a cold muddy day on the job site, this versatile work boot keeps your feet supported and protected
Durable & Versatile - Cement constructed Carhartt Rugged Flex outsole makes for a durable long lasting men's boot, great as work or casual wear. Go seamlessly from work to woods in this well constructed supportive boot. Comfortable - Generously padded tongue and collar plus a lightweight EVA midsole and OrthoLite insole give you multiple layers of cushioning for all day comfort
Leather - Full grain leather offers water resistance and ensures safe and protected ankles on and off the job site. Plus string tie boot laces that are strong and sturdy to keep your boot tied and your shoes intact. These boots meet ASTM 2413-11 EH. Brown, oil-tanned leather; Cement construction.
Resistant - Oil resistant, slip resistant and chemical resistant. No matter the job, you can always count on these shoes to get the job done. Pair with your favorite Carhartt pants, jackets, shirts, bibs and overalls for head-to-toe work wear that will keep your body protected and allow you to get the job done right
One of the most durable and versatile boots on the market today, these Carhartt boots are not only moisture-wicking but waterproof and slip-resistant.
Carhartt has been making premium work clothes since 1889. They are well renowned for superlative durability.
The same standards and quality are invested in their reliable footwear products.
Whether you need your toes to be well protected or just want your feet to be comfortable while you work, their rugged boots are available in safety-toe and non-safety toe to suit any working conditions.
The Carhartt 6 inch Rugged Flex Composite Toe Work Boot was fabricated to be your trusty, standby, everyday boot.
These boots are designed with foot safety first and foremost in design without submitting on the flexible comfort and support you rely on.
You can stay in your budget without risking your feet with these boots!
You work hard, so you need boots that work even harder. You never know what may happen on the job, after all.
These composite toe boots from Carhartt will keep your toes from getting hurt without backing down on flexible comfort and support.
The uppers are full-grain leather and the outsole is abrasion-resistant rubber with gripping lugs and ladder lock channels.
The composite toe is extra wide to better provide your toes with an ample amount of room to move around.
What's more, these boots have Strobel comfort cushioning plus a dual-density footbed.
The patented OrthoLite top layer is there to reduce foot fatigue.
There's even a full-length EVA insert with steel shank.
Do you work around electricity? These boots provide electrical hazard protection as well.
Features:
The outer part is made up of a patented Storm Defender Membrane.
The lining is a moisture-wicking mesh fabric.
The composite toe adheres to all safety standards.
The outsoles are shock absorbent.
The stylish premium leather construction bestows chemical resistance.
Benefits:
This is a boot that is breathable plus keeps water from coming inside the boot.
The padding is comfortable and the orthotic insoles provide ingenious arch support.
The composite toe sees to it that your feet are always protected from blows by heavy objects.
Thanks to the excellent traction, you may not fall easily in slippery environments.
Neither solvents nor acids nor cleaning agents will damage these boots.
Pros:
The soles are durable and will not wear out easily.
Most steel toes can be uncomfortable, but this composite toe seems to be at least bearable.
The traction is great and so is the arch support.
The ankle support is pretty good too.
The insulation against electrical hazards may literally be a lifesaver.
Cons:
Some people think that the toe is a little too roomy, of course, some other people may think that's like complaining about having too much money.
Being lightweight can be a pro or a con, depending on where you work and what exactly you do.
They are perhaps more water-resistant than waterproof.

4. Bates Men's Enforcer 5 Inch Nylon Leather Uniform Boot
Bates is the company trusted by the United States Marine Corps to make their combat boots.
This classical lightweight design is not only permeable, but it will give you comfort all day long.
These shoes are constructed from durable leather and 1680 denier ballistic nylon on the upper half.
A mesh lining provides additional breathability.
The cushioned and easily removable insert adds even more to the comfort level.
You will also get a slip-resistant rubber outsole for that extra traction you might need.
This boot was made using a supple athletic construction plus that simple yet elegant styling everyone loves.
Pros:
It looks like the perfect thing to wear with a uniform.
The insole is detachable and cushioned and can be easily replaced.
The shoe comes with shock-absorbing pads.
The anti-slip outsole will make your feet feel secure.
The bottom has a good grip and the whole thing is very waterproof.
It comes in extra wide sizes.
They break in easily and have a side zipper.
The treadwear on this shoe is tough and rugged plus the material is very hardy.
You may not notice any seam tears until they have been worn for a very long amount of time.
Cons:
It looks like the perfect thing to wear with a uniform. (Yes, the author is aware that was already listed under pros.)
It is very difficult to get to the laces with the two plastic clasps at the ankle.
This can make lacing up in general an effort.
It is not recommended that you use the top series of eyelets as the laces may cut into your ankles while you walk.
There is not a lot of cushioning on the footbed so you may need some extra inserts if you plan to be on your feet for several hours.

5. Timberland PRO Valor Men's McClellan 6″ Soft Toe Work Boot
Timberland PRO Valor Men's McClellan 6" Soft-Toe Work Boot
Soft-toe work boot in waterproof leather featuring lightweight non-metallic hardware, breathable mesh lining, and logo-embossed tongue
Padded collar
Shock-absorbing Anti-Fatigue technology
Slip-resistant traction outsole
30 day comfort guarantee
The Timberland PRO Valor series is manufactured to meet the singular requirements of professional first responders.
The full-grain leather is waterproof and easy to polish to ensure both dry feet and abrasion resistance.
It is fabricated with cement construction for greater pliability and low break-in time. For athletic performance, nothing beats the lightweight midsole.
The hardware is non-metallic and lightweight.
The rubber outsole guarantees that ever welcome Timberland exclusive Vibram performance.
The mesh lining is treated with antimicrobials for control of undesirable odors and comfortable feet.
To ward off stains, these boots have been treated with Scotchgard protector by 3M.
The interior of the shank is fiberglass for better arch support.
Pros:
The anti-fatigue technology is exactly what the doctor ordered, perhaps literally! If you have plantar fasciitis, this could ease pain significantly.
It comes with a thirty-day comfort guarantee and Timberland has reportedly good customer service.
Scotchgard will make these shoes very stain resistant.
The soft toe means flexibility.
The one of a kind Anti-Fatigue Technology comfort system absorbs shock and puts all that energy back into the foot in all the important areas which delivers extra strength and stamina.
It comes with a contoured insole that will give you supreme support at the most essential pressure points and impact zones such as the ball of the foot and the heel.
No break-in period is required.
Cons:
The gusset is just a bit thick.
The soft toe means not a lot of protection from dropped objects.
The eyelet hooks are a bit fragile, so you might have to use that warranty.
They are on the heavy side and do not breathe well at all.
The anti-microbial treatment is short-lived.
These shoes are probably better suited for cold environments as they get hot very quickly.
This means they are not good for roofing.

Other Things To Look For
It's a buyer's market out there. You have a lot to select from. Start by inspecting the steel midsole as well as the steel toecap of the pairs that you are thinking about purchasing. They are factors of the utmost importance when it comes to the decision that you are supposed to make. These are basic components that will aid in protecting your toes from getting smashed by falling debris and miscellaneous objects.
You, of course, want a shoe that will defend your feet against falling objects such as wood, concrete, and steel. Look for something that will make it easier for your feet to be better guarded against the likelihood of being injured by nails, spikes, glass and any other sharp objects that may be lying around.
You must also think about the grip of the pair that you are purchasing as well. You will without a doubt need to find out how strong is the true grip of the pair that you are thinking about is. You have to keep in mind that workplaces can be very slippery.
There are incidents when some misadventure may be the culprit of the setting being slippery as well. Should this happen, then you have to see to it that you are capable of wearing a pair of boots that will aid in preventing you from slipping and sliding across the floor.
Do not forget to consider the support of the boot you have in mind as well. Keep in mind that you will also take notice of how comfortable you feel when you are wearing the pair. This is vital so you are reassured that you will effectively wear the pair around work or home while being on task and focused.
It is because of this that you are confident that you are not only wearing the correct protective footwear, you are also wearing something that fits well and is comfortable while you get the job done.
Due to all the advancements in today's modern technology, you have no need to choose between comfort and safety anymore. You can and need to have both. Keep looking until you find that perfect boot of your dreams. There is an excellent pair out there for everyone and you owe it to yourself to find that pair.
You in no way do not want to suffer a life with chronic foot pain. If you are starting to feel the ill effects of a foot condition right now, then it would certainly behoove you to take action right away. You will rue it for the rest of your life if you don't.
What The Plantar Fascia Is
The plantar fascia is the tissue that runs from the heel of the foot to the ball just under the toes. It is this region that is the part of the foot where you bear the most of your weight on. The suffix "itis" in medical terms means swelling or inflammation. Thus, plantar fasciitis, also known as "policeman's heel", is swelling and inflammation of the tissues in the sole of your foot.
A proper diagnosis of this condition is made based on the patient's medical history and a physical examination. During this exam, your doctor will search for areas of soreness in your foot. It is exactly where your pain is located that can help in determining its cause.
How To Treat Plantar Fasciitis
Sometimes rest, ice, arch support, and a little stretching are enough to ease a mild case of plantar fasciitis. Chronic cases can last years and may need medical intervention. Plantar fasciitis is to this day a riddle to the medical community.
The truth is, many health care professionals just do are not cognizant of what the most recent research says, and thus cannot offer patients the best advice possible. Massage therapy has no long term benefits but may result in temporary relief. A physical therapist might be able to give you the most help for severe cases.
Questions And Answers
Here are some questions that many people may have about plantar fasciitis and what could best be done about it. Hopefully, you will be led to the solution that is right for you.
Could it be bone spurs?
Let's just say bone spurs are not as huge a problem as some people would lead you to believe. Bone spurs are an extremely scant calcification of the plantar fascia. They are brittle and thin. Most people do not even notice if they have them. There is some compelling evidence that suggests foot pain is not caused by the bone spur itself but the entire of the plantar fascia or other structures made of soft tissues.
Surgical removal of a bone spur is not only useless but futile as they have a tendency to grow back. Bone spurs are basically minuscule little deposits of calcium that form on the underside of the heel. These calcium deposits are most often made after a long period of severe physical stress or injury.
Could it be flat feet?
This is something entirely different. Flat feet is also known as fallen arches. A simple look at a print made by your barefoot should be enough to tell you if you have flat feet or not. The very opposite of flat feet, high arches, can be a bigger factor in plantar fasciitis. If you suffer from flat feet, there are boots that cater to this problem as well.
Could it be too tight calves?
That is a possibility. The gastrocnemius and soleus muscles can put enormous strain on your plantar fascia. A too-tight calf can severely limit the range of motion in your foot and ankle's range of motion. It can also pull on your Achilles tendon and create even more tension in your plantar fascia. A too-tight calf muscle is often caused by foot drop (a difficulty in lifting the front part of your foot due to weak or paralyzed muscles) or a weakness in the anterior tibialis muscle.
What can I do if my calf muscles are too tight?
There are easy stretching exercises you can do for your calves. The runner's stretch is easiest. Stand one foot from a wall, facing it. Extend one leg behind you and keep both of your feet flat on the floor with the rear knee straight. Lean forward and support yourself against the wall until you feel the tension in the extended leg.
Hold for ten seconds, then repeat with the other leg. The seated calf stretch can be done on the floor, requires some level of flexibility and may crunch those abs as well. Sit with your legs straight in front of you. Lean forward and grab your feet by the arches. Pull your toes toward yourself until you feel a stretch in your calves.
Hold ten seconds and repeat. If you are not flexible enough for the seated calf stretch, you may try the towel calf stretch. It's the same principle as the seated calf stretch only you can use a towel or other strap as a stirrup to extend your grasp.
Can I cure or treat plantar fasciitis effectively?
Most patients with plantar fasciitis are treated with only non-surgical methods. Your doctor will suggest that you do some stretching before exercising. You may also try putting your foot on the ice for a small amount of time, in order to greatly reduce the level of inflammation.
You will also need to give your foot ample time to rest in order to speed up recovery. However, you are also going to need to start wearing only the best work shoes for plantar fasciitis that you can find for yourself. In chronic cases, the doctor may have to administer injections. Surgery is always a last-ditch effort.
When looking for shoes to purchase, look for something with a low to moderate heel, superior arch support, and shock absorbency. Replace shoes as soon as they start showing signs of wear and tear. The best most shoes can take is 400 to 500 miles.
You should not go anywhere barefoot, particularly on hard surfaces. It may be unlikely that you can change what you do for a living, but you can change what you do as an exercise. Try something low impact like swimming or biking. It may also be a good idea to keep your weight at a sensible level as obesity can only make matters worse.
Could a splint help?
You should talk this over with your doctor or foot specialist, but yes, there is a very good chance that a splint could help. You may only need to wear it at night while you sleep. Get something with a non-skid pad, just in case you have to get up in the middle of the night to do something. The fit should be comfortable yet secure. If you wear one and feel no pain in the morning, then you have something to hold on to.
Should I look into compression socks?
If you have problems with swelling and want to improve your circulation while relieving your foot pain, compression socks could be what you are looking for. You need to get more blood flow to the tissues so that stretching exercises will be more effective. Wear them during the day under your work boots. As compression socks tend to be of thin material with open toes you may want to wear a thicker sock over them in cold weather or if you need your boots to fit more snugly.
What about customized orthotics?
There is no substitute customized orthotics. However, if you are going to opt for standard insoles that can be inserted, then you are still able to get very adequate support. For example, take a look at Ortholite. This is a company that uses a technology that they call 'Open Cell Slow Recovery Foam'. This is a kind of foam that after some amount of time molds itself to the shape of your foot and then remains in that unique form.
Would you prefer to get a customized fit with little hassle? You can do that from the comfort of your own home utilizing kits that are available on the market. They come with a moldable gel, which you stand on to get an impression of your feet. What you do next is send the molds to a lab, where they will create your own personalized orthotic insoles, ready to be inserted into any shoe or boot. They are wholly customized to your own feet for a perfect, one of a kind fit.
What should the right boots for workers consist of?
The correct protection and safety standards for metatarsal injuries should always come first. The upper boot should have protection, either in the form of a metal flap that lies over the boot's laces or with a gel that can be placed in the upper compartment that is used to absorb shock. An interior slip constructed of a high-grade composite or metal would also be acceptable. Metatarsal work boots are fabricated from the hardest wearing full-grain leather and have soles that are made out of rubber and fiberglass.
Conclusion
The celebrated English poet Rudyard Kipling wrote a poem called "Boots" back in 1903. An excerpt from this poem reads "Try- try- try- try- to think o' something different/ Oh- my- God- keep- me from going' lunatic!" The poem describes the horrors of war, but could just as easily describe debilitating foot pain.
Don't let the pain caused by plantar fasciitis make you go lunatic! You can find the perfect boot that suits your needs. Just remember these key points. You want something flexible that moves with you. There should be plenty of padding and the platform should be fairly low.
You need something with a deep heel cup to keep your feet and legs properly aligned. You need something that fits just right. Do not forget the other safety factors you would look for in any work boot. Plantar fasciitis can be painful, but it can certainly be ameliorated by wearing the right boots.
Related Posts: