If you're looking for a classic, casual, comfortable, street-style shoe, then you can't go wrong with a pair of Vans. This shoe manufacturer has been around for years and continues to crank out stylish, quality products to this day.
Typically, the best way to go about choosing your perfect pair of Vans is to try them on in-store, but these days a lot of people are avoiding the old brick-and-mortar stores and are instead going online.
There are certainly many options available in online stores, but the product descriptions don't always give you everything you need to really make an informed purchase. In the case of shoes, for example, descriptions rarely, if ever, include the shoe's weight.
While many people may not even think about it, there is a lot of value to knowing the weight of a pair of shoes before you officially make the purchase. You may find shoes that have the right look and fit like a dream, but if they are too heavy or too light, they may not be ideal for certain purposes.
So, if you have your eyes on a pair of Vans, you may be wondering just how heavy are Vans shoes? Let's take a look.
What Makes Up a Shoe's Weight?
Before we specifically discuss Vans, let's talk about what goes into a shoe's weight in general. It pretty much comes down to two factors: materials used and size.
Materials
Shoes are typically made up of different kinds of material, and the type and amount certainly contribute to their overall weight.
One of the heaviest parts of a shoe is probably the rubber. Multiple types of rubber may be used to make a shoe, and it's often applied in different amounts. For example, if you check out the sole of a shoe, you'll notice that the ones with shock-absorbing features tend to have a thicker coat of rubber than those without. Vans aren't exactly known for their shock absorption, so the rubber sole shouldn't be weighing you down too much for most pairs.
The padding or cushioning on a shoe is also designed to help absorb impact and make the shoes more comfortable. You'll often find that basketball shoes like Air Jordans have a fair amount of cushioning to help protect the wearer's feet when playing sports. On the other hand, Vans tend to have less padding, making them weigh significantly less than basketball shoes.
Finally, the materials used on the upper part of the shoe also play a role in their weight, with some being quite a bit heavier than others. For example, shoes made with leather tend to weigh more than those made up of cottons and synthetics.
Vans are often made with canvas, which is fairly lightweight, but you can also get them in various other materials. Shoe materials often show up in the product description online, so be sure to give it a read-through to help give you a better idea about their weight.
Size
A bigger shoe uses more material, so it will weigh more overall. However, you won't necessarily notice that extra weight if you happen to have a larger shoe size. This is due to how the weight is distributed over the shoe. For example, a size 6 shoe on someone with size 6 feet should feel roughly the same amount of weight as a size 11 shoe on size 11 feet.
How Heavy Are Vans Shoes?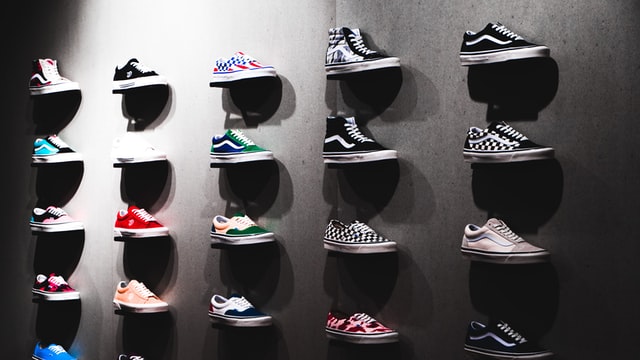 Photo by Artiom Vallat on Unsplash
Now that we've looked at the different factors that make up a shoe's weight, let's get into the weight of s Vans skate shoe. Remember, Vans are often made with different types and amounts of materials, so the following weights are really just average guidelines.
The following weights are based on a men's size 12 shoe.
How Heavy Are Vans Authentic Lows?
The Authentic Lows are a great example of a classic low-top Vans shoe. With their simplistic design, these shoes each weigh about 1 pound or 0.45 kilograms.
How Heavy Are Vans Slip-On Shoes?
Vans slip-ons are another classic style! At about 1 pound or 0.45 kilograms, each of these shoes weighs about the same as the low-tops.
How Heavy Are Vans Old Skool Shoes?
The Old Skool shoes are comparable to the other low-tops above in terms of weight, as each shoe is just over a pound or 0.45 kilograms.
How Heavy Are Vans UltraRange EXO?
This UltraRange EXO is almost like a lightweight running shoe, with each shoe coming in at about 0.63 pounds or 0.29 kilograms.
How Heavy Are Vans EVDNT shoes?
The casual EVDNT shoes are fairly lightweight, as one shoe is roughly 0.87 pounds or 0.39 kilograms.
How Heavy Are Vans Sk8-Hi shoes?
Now onto the high-tops! High-tops contain more material than the low-top models, but the weight difference isn't too substantial: they're only about 1.15 pounds or 0.52 kilograms per shoe.
Are Vans Shoes Heavier Than Other Types of Casual Shoes?
The weight of Vans shoes is pretty comparable to that of other casual shoes. The average sneaker weighs about a pound, so the Vans shoes we've looked at seem to be right in line with the others on the market today.
The Verdict: Vans Shoes Are Fairly Lightweight
With perhaps the exception of Vans UltraRange EXO shoes, just about all of the Vans shoes that we've looked at each weigh about a pound. Therefore, if you're looking for an especially lightweight shoe, check out the Vans UltraRange EXO shoes. On the other hand, if you like your shoes to have a bit more heft, pick up a pair of Vans high-tops like the Sk8-Hi shoes.
Overall, though, Vans offer a casual, comfortable shoe choice that is easy to wear, making them the perfect choice for everyday use. In addition, their simplistic designs and lightweight materials mean that they're not going to wear you down, even if you do decide to go with their slightly heavier high-tops.