Described by Encyclopedia as the leading retailer of athletic footwear in the US, it would be next to impossible for this multinational company to sell fake shoes.
With over three thousand retail stores in the world, Footlocker has established a great reputation for its brand ever since it launched its first store in 1974.
At Footlocker, you can find all types of shoes from companies such as Nike, Adidas, Reebok, Converse, Vans, Puma, and other popular shoe brands. There are shoes for men, women, and kids. All shoes sold at Footlocker are AUTHENTIC.
If you are under the impression that Footlocker sells fake shoes, or perhaps you read somewhere or were told by someone that the shoes sold at this chain store are not legit. Well, this article is specifically written to clear up this matter.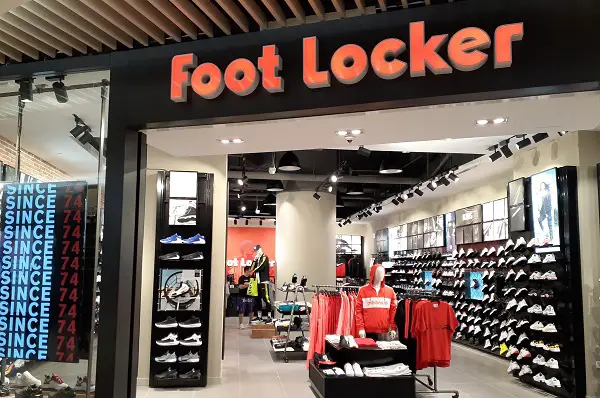 First, What is Footlocker?
Knowing more about this company can help you understand better how it is not possible for them to sell fake shoes. Before we go any further with describing who they are, you should know that Footlocker isn't your average shoe retailer.
With thousands of chain stores all over the world, this is a company that understands business ethics and takes its operations quite seriously.
Their shoes are directly sourced from official shoe brands. As a result, the odds of buying a fake pair from one of their stores is next to zero.
Footlocker is more than just a store chain. It is a brand that deals in specialty footwear and apparel. Other than shoes, they also sell accessories for men, women, and kids.
It is a flagship store of the Venator Group which was once known as Woolworth Corporation. As of 1997, Venator Group had made sales worth $6.6 billion.
And at the moment, this corporation is in charge of Footlocker, Lady Footlocker, Kids Footlocker, Sports Authority, and Champs. All these stores make up more than 40% of the US athletic footwear market.
Some of its competitors include Nordstrom, Niketown, Footaction, and Herman's Sporting Goods. Out of all these other stores, Footlocker remains to be the most popular. Can you see where I am going with all this?
Footlocker has been in the limelight ever since I was born. They were the first official retailer of the famous UEFA Champions League.
The brand has sponsored major soccer, baseball, and football leagues. They are also associated with the National Basketball Association.
These partnerships aren't just marketing strategies but are also a form of accreditation. There is no way a company would associate itself with such reputable organizations, only for it to sell fake shoes.
Footlocker is expanding to all markets. Recently, they entered the Asian market and opened three stores in Malaysia, Hong Kong, and Singapore.
They also partnered with Alibaba's Tmall as a means to reach the Chinese market, this is according to a post on Forbes.
The company is always very keen when entering foreign markets and tailors each of their stores to meet the tastes and preferences of the locals.
Footlocker understands the different cultures and that's why they would stock more on a certain shoe brand because it is popular with the locals. But they wouldn't sell fake shoes.
Reasons Why Footlocker Wouldn't Risk Selling Fake Shoes
Now that you already know what kind of company Footlocker is and the level they have attained over their years of operation, let's look at the reasons why this company wouldn't even dream of selling counterfeit shoes.
They would lose a lot of customers
For a company that has worked so hard to be present in nearly every market, it would be unwise for them to sell fake shoes.
The first effect of doing this is that a lot of their customers would avoid the brand. No one wants to wear fake Jordan's.
And to make matters worse, we don't want to pay the original price for a fake product. In the long run, selling fake shoes would make them lose lots of customers.
It would ruin their reputation forever
With at least two decades of building a good brand image, selling fake shoes would ruin this image. If their reputation is tainted then there is no way of beating customers.
Shoe brands would pull out of partnerships with them
Do you wonder why Footlocker has nearly all shoe brands and designs on their shelves? It's because they are in some form of partnership.
They get shoes directly from shoemakers such as Gucci and Adidas. And then sell these shoes at retail prices.
If found selling counterfeits, most of these shoe brands won't want to be associated with this store and would pull out of the partnership with them.
Footlocker would lose trust with everyone in the shoe industry
In the shoe industry, relations keep the world moving. Once counterfeits come into the picture, all these relationships are spoilt. Both manufacturers and consumers would lose trust in Footlocker and that would be the end of their era.
Lawsuits would bring them to their knees
The last thing that would finally bring them down is lawsuits. If you happen to unknowingly buy a pair of counterfeit shoes from a retailer, you have a right to sue them for fraud.
For a big company such as Footlocker, lawsuits would waste a lot of their time and money.
So, with all that in mind, do you think Richard Johnson, the CEO of Footlocker, the management team, and board of directors would think of introducing counterfeit shoes in their stores?
How to Spot Fake Shoes?
Be as it may, we can't fully 'trust' that Footlocker will always sell authentic footwear. After all, it is a business like the rest and there is room for error.
Should they have in stock counterfeit shoes in their stores, would you be able to differentiate between an authentic and a fake shoe?
Here are some tips that will help you spot fake shoes easily. So that even if you are not buying your shoes from Footlocker, you can see the difference and save yourself from buying an imitation.
If the seller isn't authorized, then that should raise some red flags. All Footlocker stores feature the same branding and design. Beware of unethical vendors that may name their stores feetlocker or anything that resembles this brand.
Never go for shoes that are abnormally cheaper than the original price.
Does the box or packaging look unusual? Proceed with caution.
Always know the style of shoe you want to buy. Before entering any footlocker outlet, visit the brands' website and familiarize yourself with the shoe design. At the store, should the shoe look different then it's a fake.
Look for authentic labels. Popular brands such as Nike and Gucci always have labels written on their shoes with their signature logo. Analyze these two and confirm whether they match the original label name and logo. If possible, identify the shoe's serial number.
Feel the quality of the materials used. Just by looking and touching a shoe, you can know whether it's genuine or not. Most fake shoes will comprise of low-quality materials. There will be plenty of flaws with the stitching.
Always check the weight. Because of the use of low-quality materials, fake shoes will always be heavier and more rigid than authentic ones. Confirm that before paying.
Look at the insole and outsole. If they both look cheap, then those are a pair of knockoffs.
What If You are Shopping for Footwear Online?
Because Footlocker also sells shoes online, here are some tips that will ensure you get authentic shoes.
Similar to when buying shoes from a physical footlocker store, when buying online, confirm the legitimacy of the seller. In this case, footlocker has its own website where you can place orders and have them delivered. Ensure that you are on the actual Footlocker website.
If it is another vendor, do some background search, read reviews and learn more about them. Scammers are always easily identified if you look further into their mode of operation.
Check on the pricing. It should be reasonable and not extremely affordable.
If a shoe is already available for sale even before the release date then it's a fake. Avoid it.
When delivered, confirm if the shoes are authentic using the steps provided above. If they are fake, return them right away and ask for a refund.
Because we are living in an era where consumers are smarter and more aware of their surroundings, unethical business persons have crafted ways on how to make it harder to spot counterfeits.
Gone are the days when counterfeit shoes were of poor quality. Nowadays, the production of counterfeits has been enhanced and the quality has been significantly improved.
The packaging has also been improved immensely and that's why so many cases of counterfeits are going unreported. So we all need to be careful when shopping for footwear.
What to Do If You Find/Buy Fake Shoes at Footlocker?
Should you ever find yourself in such a situation, here is what you need to do. At Footlocker stores, there are managers who are responsible for handling such scenarios.
Bring all your receipts and the shoe itself, prove that it is fake and ask for a refund. Footlocker has been known to have a good return policy.
If you had placed your order online, apply for a refund and report the matter. Don't forget to post a detailed review online so that you can protect other innocent buyers from buying fake shoes.