The EMT, or Emergency Medical Technician, is without a doubt an essential worker. They are first responders, the ones who are there on site for a medical emergency. They are trained in basic medical knowledge so that they may deliver immediate medical care to patients in an emergency.
The EMT's job is to get to the patient, patch them up, and keep them stable until they get to the hospital. Often this is in an ambulance, but it may sometimes be in a helicopter.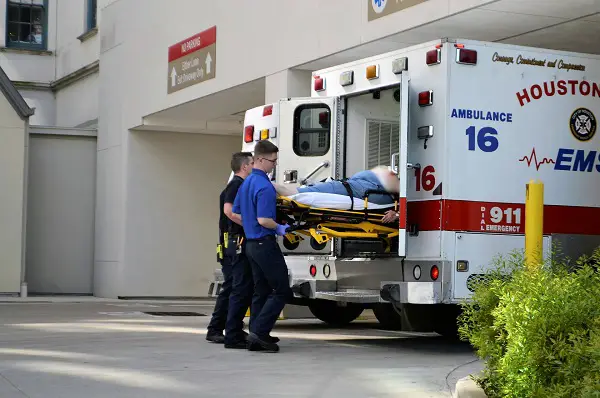 What Boots Should EMTs Wear?
An EMT needs to be able to go anywhere because accidents can happen anywhere. The accident could be on a city street in any kind of weather. It could be a sandy beach, out in the desert, a mountain valley, deep in the woods, or a rockbound lake. It could be inside someone's house, school, or workplace, or what's left of it.
An EMT's shoes have to be that rare blend of waterproof and breathable. Considering that EMT's regularly work with people with open wounds or contagious illness, the boots have to be pathogen proof. They have to fit well, be comfortable, and be fastened by a side zip.
Do EMTs Need To Wear Steel-Toed Boots?
It is a very good idea. It would be for the best if an EMT got a steel toe boot or at least work shoes that support safety feet as those work shoes are able to guard the toes or feet from heavy, falling objects that could harm the feet while working. Certain manufacturers and local EMS councils will require steel-toed shoes. If you are an EMT, see to it that you select a good pair that is both comfortable and safe.
Our Picks:
Here is a list of the five boots that we believe will be of good help to EMTs and paramedics while performing their challenging job duties. Comparison shop to find out which one is best for you.
1. Thorogood Men's Gen-flex2 Series 8″ Tactical Side-Zip Jump Boot
These boots are a good deal for their price. Though the boots are somewhat on the hefty side, you will find that they are sturdy, dependable, supportive, and quite comfortable. They are very durable so you may find that it will be a while before you need another pair. They're a good pair of shoes with a number of lovely features.
Features and Benefits:
The rubber sole is flexible and grippy.
The shoe is made with full-grain leather with a high-shine polishable toe cap and heel counter.
The single-density polyurethane footbed is removable for convenience.
A composite shank provides support without too much weight.
The GEN-flex2 outsole keeps the shoe flexible enough to be worn in any situation.
The Goodyear Storm Welt construction keeps the boot durable enough to last a long time.
What We Like:
The boots are long-lasting.
The removable footbed is very comfortable.
It is made with high-quality leather using Goodyear storm welt construction.
The shoes come with a gel heel insert.
It has excellent support.
What We Don't:
They take some time to break in.
The boots are a bit heavy.
They are not waterproof.

2. Bates Men's 8″ Ultralite Tactical Sport Side Zip Military Boot
This boot is a little pricy but comes with lots of bells and whistles. It has, to start with, a well-made shaft that provides good protection to the ankle. This is extremely crucial particularly in an unpredictable line of work. This boot is quite lightweight due to its design. This makes it very easy to move in.
Features and Benefits:
The rubber sole is flexible and grippy.
The full-grain leather makes a shoe that is durable and protective.
The side zipper makes the boots easy to fasten and kept fastened.
The soft toe is quite comfortable
What We Like:
The shoes are very lightweight.
They are made of pure leather.
They can be shined very easily and nicely.
It is a waterproof boot.
It is a breathable boot.
What We Don't:
They are on the pricy side.

3. Danner Men's Acadia 8″ Boot
Danner are craftsmen who pay attention to details. They are truly artisanal boots, made in small amounts so that they can be made with the utmost quality and care. The longevity of this particular Danner model is unbeatable, making the high price worth it in the long run. They do a good job of keeping the feet warm and dry.
Features and Benefits:
The Vibram sole provides quality, durability, comfort, and traction.
The boots are totally waterproof and yet breathable due to a Gore-Tex liner designed to keep the feet dry and comfortable even in the most extreme of conditions.
Two hundred grams of Thinsulate insulation provide lightweight warmth for those that need protection in the coldest of climates.
Full-grain leather can be polished easily and is the top choice of those in uniform because of its durability and the ability to be cleaned quickly.
The Denier nylon upper material is very resistant to abrasions, tears, and scuffs. Plus, it betters the breathability and dries fast.
The lace-to-toe fastening provides a secure fit.
What We Like:
The shoe has good ankle support.
They have excellent traction.
The boots are very sturdy.
They are durable and long-lasting.
The boots are waterproof and yet still breathable.
It has a tight and supportive fit.
It has a non-metallic protective toe.
What We Don't:
They are rather heavy.
There is a bit of a break-in period.
The laces are weak.

4. Smith & Wesson Men's Breach 2.0 Tactical Size Zip Boot
The Breach 2.0 boot provides not only great durability but the reliability you would usually expect from tactical footwear associated with the Smith & Wesson name. They're more than just strong, though. These boots are also exceedingly comfortable for daily wear, no matter what your everyday struggles are.
Features and Benefits:
The leather and nylon upper provides extra protection and comfort.
The PU Collar is both supportive and easy to clean.
A foam-padded collar and tongue delivers great protection and better breathability.
The gusseted tongue keeps dirt and debris out.
The EVA Midsole provides both lightweight comfort and cradled support.
The steel shank delivers superior support.
The board-lasted construction offers torsional rigidity which reduces foot fatigue during long working shifts.
The boots are slip-resistant, non-marking rubber outsole
What We Like:
The boots have sturdy construction.
They feature a gusseted tongue.
They provide comfortable ankle support.
The traction is excellent.
They have easy side zipper access.
What We Don't:
They are not entirely waterproof.
They have no safety toe.

5. Maelstrom Men's Tac Force Military Tactical Work Boot
These tactical boots come with polishable full-grain leather and nylon uppers. They also feature a side zipper design and a waterproof membrane. The breathable moisture-wicking inner linings prevent moisture from getting to the feet while the removable shock-absorbing cushioned inserts bring all-day comfort to the table. This is a budget-friendly pair that is more than worth the price.
Features and Benefits:
The full-grain leather and nylon uppers make a shoe durable and waterproof plus they look professional.
The inner linings are breathable and moisture-wicking.
The padded tongue and collar make for a more comfortable shoe.
The rubber outsoles are durable, grippy, and flexible.
The shock-absorbent cushion insert provides all-day comfort and is removable for convenience.
The semi-rigid heel and toe reinforcement aid in retaining the shape of the boot.
What We Like:
The boots are well-made and durable.
There is no break-in period.
They can keep feet dry all day.
They are oil and slip-resistant.
They generally run true to size.
What We Don't:
The soles fall apart easily.

What Equipment Do EMTs Use?
A stethoscope, thermometers, and a sphygmomanometer are the most basic of equipment needed to assess a patient's vitals.
Tweezers and forceps to remove debris.
Penlights can both assist with magnification and check to see if the patient's eyeballs are responding as they should.
One important life-saving device is an Automated External Defibrillator, a device that checks on heart rhythm and is able to send a small electric shock to "jumpstart" the heart.
There are splints, backboards, and other first-aid equipment since EMT's are trained to administer a wide range of emergency medicines.
Of course, Latex gloves and surgical masks are a must.
There's also cleaning equipment, burn treatment, and IV supplies.
Where Do EMTs Work?
They can work for fire departments, private ambulance services, hospitals, or other rescue services.
How Many Hours A Week Do EMTs Work?
Most paid EMTs and paramedics are full-time workers. Some work more than forty hours a week. As EMTs and paramedics need to be available to work in emergencies, they might work overnight and on weekends. Usually, EMTs and paramedics might work shifts in twelve or twenty-four-hour increments.
What Does An EMT Make A Year?
This is something that varies from one state to another. The national average is $29,924 per year. Washington State pays the highest at $34,617 per year. North Carolina pays the lowest at $21,823 per year.
What Are The Duties And Responsibilities Of An EMT?
The list of duties and responsibilities of an EMT is a mile long. Their first responsibility is to respond to calls for emergency assistance. As they are the first ones to respond to a medical emergency, an EMT has to be able to assess a situation and determine what the proper action is.
They are trained to give medical exams and give first aid including CPR and defibrillation. If the patient is in labor, the EMT may have to deliver a baby. They have to keep the patient's airway open and make sure the patient is getting enough oxygen.
They have to be able to transport the patient into the ambulance. Some EMT's drive the ambulance. A patient and their family are certainly going to be upset over the situation so it's helpful if an EMT knows how to calm someone down.
When they get the patient to the hospital, they have to tell the receiving physicians about the patient's status and what treatments they administered. Once the patient is being taken care of, there's paperwork to do. The ambulance interior and equipment need to be sterilized. Not just clean, sterilized. And this is all just the tip of the iceberg.
What Skills Does An EMT Need?
An EMT needs to know how to work as part of a team. Along with other EMTs, they may work with the police of firefighters. An EMT is often in a challenging, life or death situation that must be navigated.
Often, an unexpected turn of events comes up and the EMT must be able to think on their feet. Situations can get pretty gross, so it calls for a very strong stomach. An EMT must be prepared for anything as the situations tend to be unpredictable.
How To Become An EMT?
Formal training is offered to qualified applicants by community colleges, technical institutes, and other facilities that specialize in offering training for emergency care. There are three progressive levels of training. Each one calls for extra coursework, hands-on training, and certification.
These levels are EMT-B (basic level), EMT-I (intermediate level), and advanced level training for Paramedics (EMT-P.) People who are designated as EMTs possess levels of training up to an EMT intermediate level.
For the most part, EMT-Bs must have at least one hundred and ten hours of classroom training. Comparatively, an EMT-Is has two hundred to four hundred hours of training.
An EMT who has bed trained at these levels is prepped to attend to patients at the scene of an accident plus assess a patient's condition and handle respiratory, cardiac, and trauma emergencies. Additional clinical and field experience is called for as well.
EMT Vs. Paramedic
The most fundamental difference between EMTs and paramedics is based on their level of education and the sorts of procedures they are permitted to perform.
What Can Paramedics Do That EMTs Cannot?
While EMTs are able to administer CPR, glucose, and oxygen, paramedics are able to perform even more complex procedures such as administering drugs, inserting IV lines, or applying pacemakers.
Conclusion
Not many people think about the shoes an EMT wears, but they are almost as important as the gloves and mask. An EMT needs shoes that can handle any terrain and any gross stuff that might get spilled on them. (At some point, an EMT will run into blood and/or vomit. It's just going to happen.)
It's rare that an EMT ever deals with heavy objects, but they do handle sharps and have to be prepared for anything. These are essential boots for essential workers.
References:
https://www.hoodmwr.com/best-ems-boots
https://emttrainingstation.com/best-ems-boots
https://www.citycollege.edu/intro-emt-equipment
https://healthcaresalaryworld.com/emt-job-description
https://www.bls.gov/ooh/healthcare/emts-and-paramedics.htm
https://www.medicaltechnologyschools.com/emt/emt-vs-paramedic
https://en.wikipedia.org/wiki/List_of_emergency_telephone_numbers
https://www.indeed.com/career-advice/career-development/what-is-an-emt
https://www.ziprecruiter.com/Salaries/What-Is-the-Average-EMT-Salary-by-State
https://explorehealthcareers.org/career/allied-health-professions/emergency-medical-technician-paramedic
https://www.northwell.edu/center-for-emergency-medical-services/news/five-essential-skills-of-paramedics-and-emts