Heigh-ho, it's off to work we go! Real mining isn't quite as easy as the Seven Dwarves make it look. Pickaxes have gone the way of the horse and buggy and the score is not already cut and polished diamonds.
With people wanting clean energy, coal mining isn't as high in demand as it once was but copper, iron and other metals will always be necessary as are plain stone and sand. It's a hazardous job. Ventilation, noise, cave-ins, and methane ignition are among the many risks. Foot safety is often overlooked, but it shouldn't!
What Boots Are Best For Mining Industry?
Mining is one of the most dangerous jobs in the world. Everything a miner takes down with him has to be with personal safety in mind. An ankle roll is just a painful inconvenience on the surface. In the mines, it could mean death.
Ankle support, torsion control, and traction are more important than ever. They need to fit well and not be too heavy. Safety toes and met-guards are more crucial than ever. Insulation, waterproofing and puncture resistance are also requirements.
The Reviews:
Here is a list of the five boots that we believe will suit your needs as a miner. Comparison shop to find out which one is best for you.
1. Oliver 65 Series 10″ Leather Waterproof Men's Steel Toe Mining Boots
Here is a pair of mining boots up to the challenge of the rocky and damp environment of mines. They are tough enough to withstand the rigors of mining while keeping the feel safe. Its biggest selling point is the fact that it is puncture resistant. It can take anything thrown at it.
Features and Abilities:
The liquid-resistant leather upper with TPU SAFETYcell reinforcement provides protection from oils and minerals plus cuts and abrasions. The SympaTex waterproof membrane keeps the feet dry. The All-Terrain Dual Density Soling Technology puts together a soft, shock-absorbing Dual Density PU midsole with a high-density, durable rubber outsole to create a shoe that is both durable and protective.
The All-Terrain outsole is both slip-resistant and heat-resistant up to 572 °F (300 °C) as well as resistant to mineral oils, acids, alkalis, animal fats, and oils. The boots conform to ASTM F2413-11 M I/75 C/75 Mt/75 PR SD standards.
The Qflex Zero provides non-metallic puncture protection so that the foot will not be injured. The XRD Metatarsal Guard, NATUREform steel toe provides impact protection.
What We Like:
The boots have a padded collar and are very comfortable.
They are lightweight.
There is no discomfort in the met-guard.
The Nomex stitching keeps the feet cool.
The insole is puncture-proof.
What We Don't:
More water-resistant than waterproof.
The laces are not secure.
They're a little heavy.

2. Timberland PRO Men's Gravel Pit 10″ Steel Toe Waterproof Boots
Timberland has quite the reputation for putting together reliable and durable work boots that get the job done. They work for construction workers and farmers, now they can work for miners. One thing a lot of people like about Timberland is that their boots are available in half sizes so you can always have a good fit.
Features and Abilities:
The boots are made out of high-quality leather and constructed for heavy-duty use. The boots are made for use in heavy weather conditions. The waterproof membrane and waterproof leather work simultaneously to wick away moisture. The boots provide abrasion protection plus a contoured internal metatarsal guard to provide safety.
The boots feature a steel toe protector so that if a heavy object drops on your toes, the boots will protect them. The Dryz Intellitemp X-Static footbed delivers extra comfort so you can wear them for a longer time. The boots wick moisture away to keep feet fresh and dry.
The boots come with antimicrobial properties to prevent odors. The rubber flex rocker outsole serves as a shock absorber so that they are easy to walk in for long periods.
What We Like:
The leather quality is very good.
The boots are waterproof.
They are easy on the feet.
The boots are easy to put on and take off.
What We Don't:
They are not very durable.
The heels are rather thin.

3. LaCrosse Men's 10″ Longwall Leather Mining Boots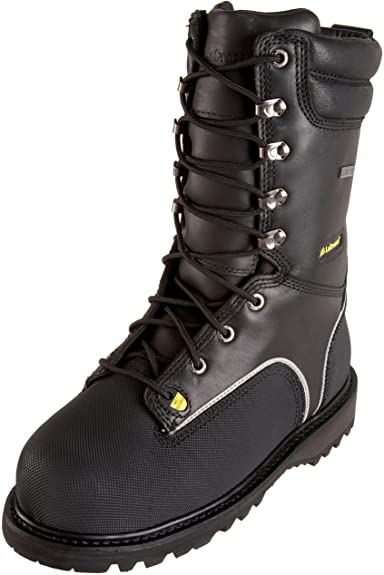 Honestly, these boots were hard to research. Trying to find any info on these boots outside of their Amazon page was like talking to a caveman. "Ugh. Boot good. You buy." Fortunately, the customer reviews on Amazon are reasonably articulate. The fit is as expected and will get the job done.
Features and Abilities:
The boots are pure leather to provide warmth and durability. The rubber sole is flexible. The breathable Gore-Tex liner provides complete waterproof protection while keeping the feet cool. The non-metallic toe is not too heavy and is easy to walk in though protective.
The Flex Shield II Midsole and floating MetFlex Metatarsal guard conforms to ASTM F 2413 M I/75 C/75 Mt/75 EH PR standards. The fiberglass shank makes the boot supportive. The protective rubber rand delivers abrasion resistance so that the boots can last a long time.
What We Like:
The boots are comfortable.
The boots are lightweight.
What We Don't:
There are issues with the waterproofing.
They take a while to break in.

4. Georgia G9330 Waterproof Insulated Men's Leather Work Boots
This streamlined boot comes highly recommended. As work boots go, the price on these is very affordable. Another feature customers seem to like is the fact that these boots are not simply water-resistant but waterproof, meaning no water will get past these. The one complaint is that streamlined shoes require streamlined feet.
Features and Abilities:
The boots are lined with four hundred grams of 3M™ Thinsulate™ Ultra Insulation to make for a warm and comfortable boot. The Electrical Hazard Protection conforms to ASTM standards making it safe to wear around electricity.
The Georgia waterproof system will keep the feet dry. A steel shank provides support. The oil and slip-resistant outsole contributes to the safety of the wearer. Abrasion-resistant toe and heel guards protect the foot and make the boot last longer.
A protective toe keeps the toes from being crushed. The soft ANTImpact internal Met-Guard keeps the middle of the foot from being injured. The boots are puncture-resistant to make them even safer.
What We Like:
They are very comfortable.
The fit is true to size.
They are waterproof and well insulated.
They are very durable.
What We Don't:
The calves are narrow.
It's a bit tight around the toes.

5. Matterhorn MT901 Men's Mining Boots
Here is an innovative and tough boot made to provide protection even under the most difficult of situations. These boots are made with safety foremost in mind, but comfort is not far behind. These high-performance boots are an example of why Matterhorn is one of the most trusted brands of work boots.
Features and Abilities:
A steel internal met-guard keeps the middle of the foot safe. The removable polyurethane cushioned insert is both convenient and comfortable. The puncture-resistant stainless-steel bottom plate keeps sharp objects from penetrating the sole. The breathable mesh lining keeps the foot cool and comfortable.
The Kevlar internal lining keeps the wearer's foot safe from any impact. The GORE-TEX breathable waterproof membrane keeps the feet dry without suffocating them. The boot is Electrical Hazard Rated so that they are safe to wear around electricity. The steel safety toe cap prevents the toes from being crushed.
What We Like:
The boots are waterproof.
The soles are rugged.
What We Don't:
They take a while to break in.

What Are The Duties Of A Miner?
A miner mines. They go underground and dig up the ore, rocks, and coal needed for world industries. Because going underground is easier said than done, miners must also engineer and construct supportive entryways to use as transportation to and from the mines.
Explosives such as dynamite are often used on the job. Mining equipment has to be driven and operated. And once the goods have been dug up, they need to be brought up to the surface.
What Skills Do You Need To Be A Miner?
This is largely thought of as a very physical job but it also calls for problem-solving and analytical skills. Technical skills and teamwork must also be put to use. While teamwork is important, a miner must also be able to think and work independently.
A miner is often thought of as being messy and dirty but in reality, they have to be organized and efficient. It is indeed a physical job that requires manual dexterity and good hearing and vision.
What Is The Safety Equipment Used By Miners?
The Mining Health and Safety Administration (MSHA) has some rather strict rules when it comes to mining safety. When you consider what a risky operation this is, one can hardly blame them.
For usual tunneling operations, the MHSA requirement is a minimum illumination intensity of five foot-candles, though ten foot-candles should be available for shaft heading while drilling, mucking and scaling. Hazard signage must be legible. Communication equipment must be functional.
Harnesses and belts are required in spaces where falling could be a hazard. Alarms and sensors tell the miners if there's too much CO or other toxic gases, so no more canaries need to die. Protective gear such as helmets and high visibility jackets are necessary as are industrial footwear.
What Problems Do Miners Face?
Even with modern technology and a ton of precautions miners do experience several problems. Dust, radon and welding fumes top the list as does the risk of mercury poisoning. There's also exposure to loud noises and heavy loads. This makes safety equipment crucial.
How Long Do Miners Work For?
A miner's shift can be a long one, about twelve hours a day for anywhere from ten to fourteen days. Some mining operations require miners to stay at a nearby camp for a few months.
How Do I Get A Job As A Miner?
You must first finish formal training through a Mine Safety and Health Administration-approved program. While apprenticeship necessities vary from state to state, finishing an apprenticeship after the program provides you an opportunity to obtain experience with a seasoned miner. When your apprenticeship is over, you need to pass miner certification exams and go through first aid training.
What Types Of Jobs Are In Mining?
This is not just a physical job. This is actually a scientific field. Geologists, geochemists, and geophysicists all have a role in mining. This is also a job for engineers of all sorts. The pickaxes are regulated to history and fairy tales but the mechanical equipment can't operate by themselves.
Someone has to build the entryways, tracks, and elevators so there are jobs for carpenters, welders, surveyors, and electricians. There's even room for white collars such as lawyers and accountants.
How Much Do Miners Make?
In the United States, the average salary of an Underground Miner is $22.09 per hour. The tenure is rather short, only a year or three. Miners in Alaska make the most, averaging $96,996 per year.
What Are The 4 Types Of Mining?
The four types of mining are underground, open surface, placer and in-situ. Underground miners go under the ground to reach the deepest deposits. Surface miners, also known as pit miners, go for more shallow deposits.
Placer miners sift valuable metals from beach sands and river channels. In-situ mining calls for dissolving the mineral resource on location then processing it at the surface without taking rock from the ground. This is usually done in uranium mining.
Why Safety Is Important In The Mining Industry?
This is important in any workplace and is everybody's responsibility. Mines are particularly hazardous. Anything that could minimize the danger of any sort is a wise idea. All measures must be taken to ensure the safety and health of miners. Due to the fact that mining touches every aspect of the economy, miners fall under the description of an essential worker.
Mining Hazards And Safety Measures
Fire is a major risk in mining. The danger can be minimized by fire suppressant measures. Flooding can happen if proper maintenance is not followed. Collapse is also a tragedy that can be avoided by making sure supports are properly in place and care in the use of explosives. Ventilation prevents toxic contamination.
How To Prevent Mining Accidents?
Safety needs to be the major priority. All people involved in the mining industry need to be educated on how to prevent accidents. You never can have too much training. All hazards must be detected and reported. The sooner a small problem is located, the more easily it can be fixed.
Conclusion
Mining is an important yet risky profession. To get into it and stay safe you need to be equipped with the right protective gear from masks and helmets to boots. In fact, safety boots are among the most important items you need to take into account when getting ready for your job. Finally, we hope that our buying guide helps you get the right boot that truly fits your needs.
References:
http://minesmagazine.com/8749
https://en.wikipedia.org/wiki/Mining
https://en.wikipedia.org/wiki/Mine_safety
https://work.chron.com/miner-salaries-1463.html
https://www.ziprecruiter.com/e/How-to-Become-a-Miner
https://www.bcjobs.ca/blog/careers-in-the-mining-industry
https://www.indeed.com/salaries/underground-miners-Salaries
https://work.chron.com/job-skills-needed-miners-13454.html
https://www.grainger.com/content/safety-underground-mine-safety
https://www.indeed.com/career-advice/careers/what-does-a-miner-do
https://saguaroconveyor.com/the-importance-of-proper-mine-safety-and-how-its-done
https://www.miningsafety.co.za/dynamiccontent/81/prevent-repeat-accidents-at-mines
https://www.americangeosciences.org/critical-issues/faq/what-are-main-mining-methods
https://www.mining-technology.com/news/miners-deemed-essential-to-us-covid-19-response
https://www.thebalancesmb.com/specific-and-non-specific-hazards-in-underground-mines-2367338
https://www.familyfootwearcenter.com/blog/best-mining-boots-expert-guide-to-the-best-boots-for-miners
https://www.thebalancecareers.com/what-you-should-know-before-searching-for-a-mining-job-2367457