A painter needs shoes that will not only protect the feet but grip onto slick surfaces and can be cleaned easily. They have to disperse weight and support the arches while lowering stress. The boots have to be comfortable because the painter may be standing on concrete for a long time. They also have to be flexible to be suitable for climbing ladders.
Precautions To Be Observed When Painting
Use safety equipment to make your work safer and easier.
Get the right paint for the job, be it latex, oil-based, or natural.
Don't eat, drink or smoke while painting.
Keep children and pets away.
Make sure there is plenty of ventilation.
And of course, be safe while using ladders.
Our List:
Here is a list of the five boots and shoes that we believe will perform well for painters. Comparison shop to find out which one is best for you.
1. Carhartt Men's CMF6366 6 Inch Composite Toe Boots
Carhartt Footwear inspires innovation using an old concept, i.e. quality work footwear. This footwear is constructing utilizing the most premium standards in design, components, and construction to make sure that this product holds up to the task that needs doing. Everything works together to help you!
Features and Benefits:
Carhartt's singular Rugged Flex technology moves and stretches as needed throughout the day to make getting the job done more easily. The shock-absorbing rubber sole has traction that is great in any environment.
The cement constructed Carhartt Rugged Flex outsole makes for a versatile and durable men's boot that lasts a long time. These boots are 0il resistant, slip-resistant, and chemical resistant to make them safer.
What We Like:
The outsole is slip and oil resistant.
The shock-absorbing insoles are removable.
The clamshell lacing and metal eyelets make the fit easy to adjust.
What We Don't:
They're a bit squeaky.
They need some time to break in.

2. KEEN Utility Men's Detroit Mid Steel Toe Work Boots
The KEEN Utility is known for having lots of features to take care of your feet while you work. The Detroit mid steel work boots come with waterproof Nubuck leather uppers plus chunky rubber soles. The asymmetrical steel toes protect your feet from workplace hazards and comply with usual uniform standards.
Features and Benefits:
The KEEN DRY waterproof breathable membrane keeps the feet dry without smothering them. The Torsional Stability Shank (TSS) gives support to the midfoot. The dry-lex footwear lining comes with hydrophobic/hydrophilic two-zone comfort technology to make the shoes both comfortable and dry.
The oil- and slip-resistant non-marking outsole makes the shoes safe to walk in. The reflective webbing provides additional safety and visibility. The CleanSport NXT(TM) delivers natural odor protection.
What We Like:
The torsional stability shank keeps the boots stable.
The removable EVA footbed is both convenient and clean.
The boots have odor protection.
The anatomical steel toes protect the toes without being uncomfortable.
What We Don't:
They are not as waterproof as can be.
The eyelets break easily.

3. Georgia Giant Men's Romeo Slip-On Work Shoes
The iconic Georgia Giant Romeo is a best-selling shoe for a good reason. The upper has been fabricated using durable and soft full-grain leather. This is the kind of thing that looks sharp irrespective of whether you are on the worksite or out on the town. What's more, these boots feet as good as they look!
Features and Benefits:
The full-grain leather upper makes the shoes durable so that they will last a long time. The Nylon pull loops and stretchable side gore panels make it easy to take them on and off.
The high-performance lining keeps the feet warm, dry, and comfortable. The Goodyear® welt construction means shoes that are well built and stay that way. A solid steel shank provides arch support.
What We Like:
The cushioning is good.
They breathe well.
The shoes are durable.
The shoes are comfortable and stable.
What We Don't:
They are a little on the heavy side.

4. Thorogood Men's American Heritage 6″ MAXwear Work Boots
The Thorogood is a popular US brand of boots for many reasons. The technology and materials used are selected from the highest quality available. This particular model is built with a large variety of safety features making them the ideal thing to wear in any construction work environment.
Features and Benefits:
The removable Ultimate Shock Absorption footbed on Poron comfort cushion insole keeps the foot safe and comfortable. The fiberglass shank brings support. The MAXWear Wedge slip-resistant outsole makes the shoes safe.
What We Like:
The boots are durable and have a stylish design.
The boots stretch nicely for a smooth break-in.
The EVA midsole brings great comfort.
The boots are lightweight.
What We Don't:
The sole comes off easily.
Not enough cushioning.

5. Timberland PRO Men's Titan 6″ Safety-Toe Work Boots
Timberland is one of the first-class work boot makers on the market. They have introduced the world to a plethora of marvelous work boots, the Timberland Pro Men Titan 6" is one of them. The Pro Titan series delivers a lightweight yet durable protection for a wide array of uses.
Features and Benefits:
The real durable and resistant rubber compound has great torsion, traction and is resistant to oil, abrasion, and slips. Extra treatment of the leather helps keep it from absorbing moisture even when immersed up to four inches.
The X-Static silver fiber keeps the body temperature in check, prevent microbial infection, and prevent odor while helping the feet stay dry. The PowerFit™ Comfort System is meant to deliver optimal comfort all day long due to their ergonomic design.
What We Like:
The leather is waterproof.
The construction is both lightweight and durable.
The Titan alloy safety toe can protect toes.
They are highly comfortable.
What We Don't:
They could stand to be more durable.

What Clothes Do Painters Wear?
Traditionally, painters wear white even though at the end of the day the pristine white may end up looking like something by Jackson Pollock. At any rate, they have to be comfortable and durable. The bottom part must have a relaxed fit that sits just below the waist. Cotton is light and breathable so it is good for painting in hot weather.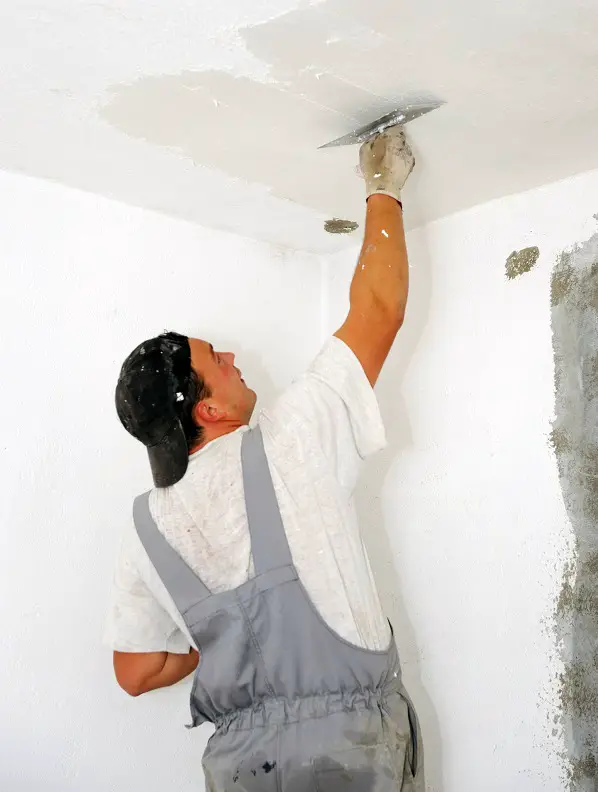 Why Do Painters Wear White Clothes?
Even after Labor Day! Well, there are many reasons why painters wear clothes but it just so happens one of them is connected to Labor Day. In the early twentieth century, white was adopted by union workers to set them apart from nonunion workers.
Another reason may be the same reason milkmen wore white. People were more willing to let strangers in the house if they looked clean. In the days when everyone wanted their house painted white, white paint wouldn't show.
In the old days, painters also worked with white lead powder (now realized as toxic) and would wear white so the dust wouldn't stain them. Today, it's a good color to wear on a hot day and they're easier to replace.
What PPE Is Required For Painting?
While no power tools are used in painting, there are some dangerous chemicals involved. Fortunately, lead in household paints has been banned since 1978. Turpentine and other chemicals in thinners, glazes, and paints are generally only toxic if you're foolish enough to drink it.
Wash your hands before eating after handling such things or wear gloves. They'll also protect your hands while sanding.
Goggles will keep paint and other chemicals out of your eyes. (Useful especially when painting ceilings.)
If you are doing spray painting you may need a respirator mask.
A hard hat is necessary for construction sites.
You may want a fall arrest system if you're going above the first floor.
Since paint thinner is highly flammable, it's a good idea to have a fire extinguisher nearby.
You can get covers for your shoes if you don't want to get paint on them.
What Are The Duties Of A Painter?
The primary duty of a painter is to, of course, paint. This means applying paint to surfaces that include walls, floors, doors, and cabinets. They also are in charge of mixing, matching, and applying varnish, shellac, enamel, and other finishes.
Before any painting takes place, it is the painter's job to scrape, sandpaper, prime or seal the intended surfaces. Even before that, they may have to see that the walls are clean to assure adherence and fill any holes with putty.
What Skills Are Needed To Be A Painter?
A painter needs communication skills in order to better serve the client's needs. Because the whole purpose of a paint job is to look good, an aesthetic sense is necessary. The painter must be detail-oriented and familiar with the tools and materials. A painter must also have manual dexterity and a sense of balance.
What Are The Hazards Of Painting?
Working with heights is always a falling hazard, whether you're Michelangelo painting the Sistine Chapel or just some dumb shmuck painting the ceiling in the storage room of a gardening supply store.
If the house that's being painted has fallen into disrepair there's mold, fungi, and vermin to deal with. There are chemicals that need to be handled safely and equipment that must be arranged so as not to be a tripping hazard.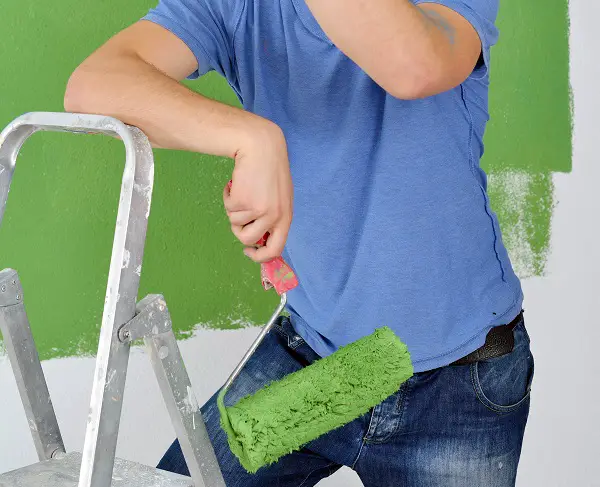 How Should You Safely Use Ladder When Painting?
First of all, get the right kind of ladder for the job. Make sure the ladder is in good condition. It must be set on dry, level ground and at an angle of one foot out for every four feet of ladder height. The base and top must be secured.
Use a tool belt or a hoist to bring your paint and tools with you so you can have both hands free to climb. Do not overreach. The ladder may have some warnings printed on it. Heed them.
How Do You Put A Paint Tray On A Ladder?
Step ladders usually have tray holders but many people find themselves pushing paint off the edge. The new way to solve this problem is the PLUS system This stands for Professional Ladder Utility System.
This system is simply a kit that makes the use of a paint tray on a ladder a no-mess, no-spill job plus being a safe method of using a roller and tray on any kind of ladder.
How To Hold Paint While On Ladder?
What you need are some clamps. One should be big enough to fit around a party cup and the other should be able to fit around the horizontal rung of your ladder. You can link these together to make a cup holder for your paint.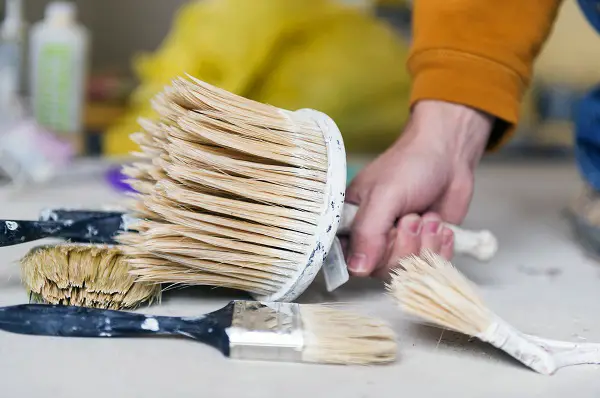 How To Clean Paint Brushes And Rollers?
Use only clean water for this. Wash your brush in soapy water and rinse in clear water. If they're a bit stubborn you can use mineral spirits or lacquer thinner, followed by warm soapy water and a clear water rinse. A paintbrush comb will make your brushes last longer.
Where To Wash Paint Brushes?
If the house you're working in is on a public sewer system, you may clean the brushes in the sink. (If it's not your sink, be nice and clean the sink when you're done.) Just be mindful as to not dispose of paint in any area where it may seep into the groundwater.
How To Clean Paint Tray?
Run cold water over the paint tray until you rinse away the majority of the paint. Utilize a scrub brush to get rid of the rest of the paint. Brush around in a circle. Rinse the tray one last time after all the paint is removed and dry off the container with an old cloth.
How To Dispose Of Paint Waste Water?
First of all, don't leave it where animals or small children can get to it. Even an unwary adult might mistake it for Kool-Aid if it's brightly colored. Some people get rid of the water by allowing it to evaporate and peeling off the paint and throwing it away.
This is time-consuming and it can be hard to put it in a place inaccessible to wildlife. What you can do is set the rinse water bucket to the side and let the paint solids settle in the bottom of the bucket.
Next, carefully tip the clear water at the top of the bucket into a flat, grassy area a good deal away from sewer and storm drains plus other waterways and wells. Let the liquids dry to a solid form and throw them away in a trash bag.
How To Get Dried Paint Out Of Clothes?
Most house paint is water-based latex paint. Even dry, this is fairly easy to clean. You will need a spoon or dull knife, warm water, a clean rag or paper towel, detergent, stain remover, non-acetone nail polish remover, hairspray or rubbing alcohol, and a washing machine.
Scrape as much paint as you can off with the knife or spoon.
Run warm water over the back of the stain. Blot with a paper towel or cloth.
Soak the stain with a mix of half detergent, half warm water. Blot vigorously. Rinse and repeat as necessary.
Put on stain remover and wash as recommended on the label.
If the paint remains, blot it with nail polish remover, hairspray or rubbing alcohol and wash again.
How Do You Wash Painters Clothes?
The above instructions should get rid of most paint stains. If your painter's clothes are pure cotton wash them in the delicate cycle on cold so they don't shrink. Turn them inside out before washing or drying. Non-chlorine bleach will keep them white.
Is Being A Painter A Good Career?
If you're committed to learning the trade it can be. As construction jobs go, it's not bad.
What Education Do You Need To Be A Painter?
No formal education is required. Some people get into an apprenticeship and learn on the job.
Do Painters Get Paid Well?
According to the Department of Labor, the median annual income for painters is $37,960. Like everything money-related, this can fluctuate, of course.
Do Painters Work On Weekends?
A lot of painters are self-employed and work whenever it's convenient for them. They may work on a weekend if bad weather has kept them from the job or they particularly like a certain client.
Conclusion
Painting is a job that should be done with care. Messes will be made, but accidents need not happen. Wear safe, comfortable shoes and use your head to get the job done.
References:
https://www.dickies.com/painter-wear
https://en.wikipedia.org/wiki/Lead_paint
https://repaintnow.com/painters-work-boots
https://cf-t.com/blog/proper-ppe-painting-jobs
https://money.usnews.com/careers/best-jobs/painter
https://www.painttalk.com/f2/working-weekends-136
https://www.thebalancecareers.com/painter-skills-list-2062448
https://www.ccohs.ca/oshanswers/occup_workplace/painter.html
https://www.instructables.com/id/Convenient-paint-holder-for-a-ladder
https://www.esppainting.com/how-to-clean-a-paint-roller-tray-and-roller
https://www.cottonmill.com/how-do-i-care-for-my-100-cotton-clothes
https://work.chron.com/much-interior-painter-make-per-hour-19464.html
https://www.purdy.com/painting-resources/painting-faqs/paint-care-and-cleanup
https://www.multibriefs.com/briefs/exclusive/why_do_painters_wear_white.html
http://mattandshari.com/how-to/paint-and-paper/good-advice-when-working-with-ladders
https://www.americasjobexchange.com/painter-construction-and-maintenance-job-description
https://www.whirlpool.com/blog/washers-and-dryers/how-to-get-dried-paint-out-of-clothes.html
https://workbootsguru.com/the-6-best-work-boots-for-painters-and-paperhangers-you-should-get
https://paintersandrefinishers.com/precautions-and-necessary-measures-to-take-when-painting-a-house
https://www.diynetwork.com/how-to/skills-and-know-how/painting/cleaning-brushes-can-be-quick-and-easy
https://stopconstructionfalls.com/wp-content/uploads/2014/02/Ladder-Safety-for-Painters-prep-before-you-step.pdf