The poet Joyce Kilmer said, "I think that I shall never see A poem lovely as a tree." Trees may be a result of nature, but sometimes they need human hands to help them along. The United States has lost 75% of its virgin forests since 1600. About a third of the country is woodland. Trees are important to reduce Co2 in the atmosphere. Trees get cut down for use to make paper and timber and need to be replaced.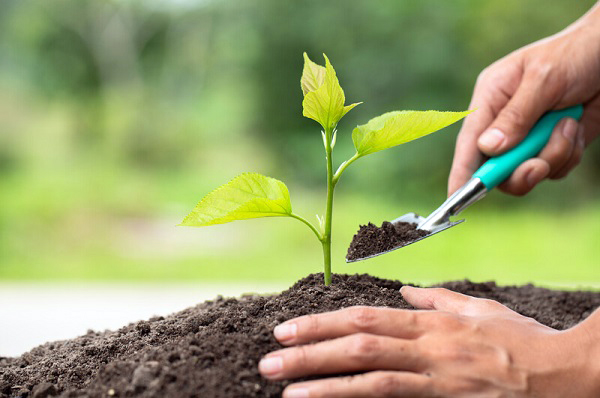 What Does A Tree Planter Do?
As the name suggests, they plant trees. According to Lin-Manuel Miranda, a legacy is "planting seeds in a garden you never get to see". Considering that many trees can live for centuries, this is an extreme example.
Tree planters not only plant the seedlings that will become trees but also prepare the site for tree planting. Any debris that may be lying around needs to be cleared off with a shovel. The seedling must be watered.
Very young seedlings may need to be strapped or staked to grow properly. When a camp is set up to plant trees, there's grunt work to be done like unloading trucks, washing dishes, pitching tents, and getting meals ready along with other survival basics.
Types Of Tree Planting Boots
There are many different types of boots you could wear for tree planting and below we will discuss the most popular ones. Make sure they're broken in properly before you get them out to the woods.
Rubber Boots If you wear these, wear hefty ones; not the little duckies your kid sister wears. Rubber boots are not breathable and have no support but they're good to have around the camp if things get swampy.
Caulk Boots Caulks are heavy-duty boots; however, they are not that breathable. They are tough which will suit uneven terrains and waterproof which will be of good benefit if you are working in rainy areas or with wet logs. Some claimed that they don't last that long and others found them uncomfortable especially for the fast ground.
Backpacking & Mountaineering Boots After a lot of research we have found that many tree planters recommend backpacking and mountaineering boots since they are comfortable, versatile, can withstand harsh weather conditions, and would suit most tree planting jobs unless your employer has specific requirements with regards to footwear. You also want something that is lightweight with good ankle support which most of these boots offer. If you are not required to have steel toes or leather caulks these are a good choice. Remember that you get what you pay for. Boots that cost a little extra will last longer.
Our Picks:
Here is a list of the five backpacking and mountaineering boots that we believe will perform well for you as a tree planter. Comparison shop to find out which one is best for you.
1. Scarpa Kinesis Pro GTX Boots
The Scarpa Kinesis Pro GTX Boot for men is a tough as nails boot. It is both durable and waterproof, making it suitable for hikers who like to go off-trail. That makes them perfect for tree planters.
Features and Benefits:
It has a full rubber rand for flexibility. The waterproof GORE-TEX lining is sure to keep feet dry and comfortable. The dual-density PU midsole is durable enough to last a long time. The no-friction micro-pulley hardware plus the dynamic TPU shank make a boot that is hardy with plenty of support.
What We Like:
The fit and material are comfortable.
The boots are very durable.
There is very little break-in time.
The micro-pully lacing makes for customizable control.
What We Don't:
The laces are not strong.
The Vibram soles show wear over time.

2. Zamberlan 996 Vioz GT Boots (Men / Women)

The Zamberlan 996 Vioz GT Hiking Boot is a flexible and waterproof boot that has a treat suited to a vast range of surfaces. The Italians are famous for making fashionable shoes but they can make practical ones too.
Features and Benefits:
The Zamberlan Hydrobloc full-grain leather upper features an effective and straight-forward and design that sits on top of an exclusive Zamberlan Vibram 3D outsole that provides an excellent grip. The Zamberlan Vibram 3D soles are resoleable making them easy to repair.
The Gore-Tex Performance Comfort membranes offer protection from dampness and supreme breathability. The Microtex moisture-wicking nylon collar lining aids in controlling excess moisture around the ankle
What We Like:
They will keep your feet dry.
They are comfortable.
They are very durable.
What We Don't:
These are heavy and stiff boots.
3. La Sportiva Glacier WLF Boots
This is a heavy-duty boot favored by woodland firefighters. It is a mountaineering boot that is relatively lightweight. The traction, support, and overall feel are fantastic.
Features and Benefits:
This mountaineering style work boot is durable enough for the wildlands. The lightweight materials keep breathability without sacrificing dependability. The half steel shank will protect your feet from sharp objects. The Vibram ice sole provides great traction needed in rough conditions.
What We Like:
The boots are comfortable.
The traction is awesome.
The boot provides good ankle support.
The boots are very stable.
What We Don't:
They are not very breathable, too warm for summer.
There is a bit of a break-in period.
4. Asolo TPS 520 GV Boots (Men / Women)

The Asolo TPS 520 GV Boots are very comfortable and should be able to keep the feet dry, safe, and comfortable in a variety of environments. The rubber toe will give you the protection of a steel toe without the discomfort.
Features and Benefits:
The GORE-TEX® lining with Extended Comfort Footwear technology provides waterproof protection to make sure that the feet stay dry and comfortable. A rubber toe cap protects the toes without making the boots too heavy. The simple lace-up design delivers a more custom fit. Lite 2 footbed is made with an anatomic construction in order to provide excellent underfoot comfort.
What We Like:
The boots are fully waterproof.
They provide great ankle support.
While they are for wide feet, they run true to size.
What We Don't:
Some users claim that the soles wear out quickly despite minimal use.
Some stated that they are a bit heavy.
5. Vasque St. Elias Gore-Tex Boots (Men / Women)


These are a dependable pair of boots that will keep your feet safe, dry, and comfortable in any conditions. The layered sole will keep the foot safe from punctures and overall the whole thing will keep you dry.
Features and Benefits:
The GORE-TEX waterproof construction with Performance Comfort Technology makes for a boot that is not only waterproof but comfortable. The Waterproof Nubuck leather upper keeps the foot dry and the ankle supported. The Dual Density EVA footbed with rubber outsole keeps the foot safe from punctures while staying flexible. The Vibram leather midsole provides great traction.
What We Like:
These boots are extremely durable.
They are very water-resistant.
The fit is comfortable.
What We Don't:
The boots are not very light.
Tree Planting Gear List
You may want to pack light, but not so light you're missing essentials. Here are the ten most important things you will want to bring on a tree planting expedition.
Planting Bags The seedlings can't walk. You need something to carry them around in.
Shovel This is almost a "well, duh". You need something to dig a hole to plant the seedlings in. (It's also useful for building a latrine.)
Boots Did you think we were going to forget these? Get yourself something durable yet lightweight.
Raincoat If it starts raining, a raincoat will keep you both warm and dry.
Tent This will keep you dry and bug-free at night. A good one will last a long time.
Sleeping Bag You are going to want to get the best quality you can get. You want to be warm and well-rested at night.
Sponge Foam Some people like to bring an air mattress camping, but they puncture easily. If you like something soft to lay on, bring a large piece of sponge foam. You may want to wrap in in something waterproof like a garbage bag.
Water Jugs You can reuse rinsed out milk and juice cartons for this. The trees need water and so do you. Under normal conditions, a person should drink an ounce of water for every pound of body weight. If exert yourself in warm conditions you may need more.
Bug Spray You want to keep mosquitos, gnats and black flies away. Look for something with diethyltoluamide or picaridin and permethrin.
Cell Phone Who doesn't have one of these anymore? It's not just a fancy luxury. It's a flashlight, alarm clock, and information source in one tool. Plus, you might want to use it to take and send pictures of the most amazing trees to your Instagram and play Candy Crush in your downtime. Rumor has it you can also use it as a communications device.
How Many Trees Can A Tree Planter Plant In A Day?
It really depends on the terrain. For example, the terrain in central and eastern Canada is perfect for tree planting so a lot of work can be done here in a day. On average, many planters can get 2,500 seedlings in the ground in a day.
Experienced persons may get more done, as many as 5000. Of course, these are only the reported numbers. If a tree is planted in a forest and no one's around, does it make a sound?
How Do You Choose A Good Place To Plant A Tree?
First, pick a species that is native to the area. Consider that different species will have different needs regarding drainage, soil, light, and space. You must also figure out if you are legally allowed to plant a tree in that area.
Take into consideration how far the roots of this tree will eventually spread. You may have to think decades in advance in this situation. How far will the branches spread out eventually?
You don't want the tree to interfere with power lines, someone's property, or the growth of another tree. The tree should be at least twenty-five feet away from any man-made structure. If you are planting in a residential area, call 811 before digging so you'll know where it's safe to dig.
How Long Does It Take To Plant A Tree?
Typically, a young sapling can be planted in fifteen or thirty minutes. A larger tree might take a little longer.
Is Tree Planting An Essential Service?
As of now, the TCIA and ISA regard the removal of trees (and even then, only if it's an emergency or a possible hazard) more essential than planting. Pruning dead limbs and pest removal are not things to be put off. Planting, irrigation, routine pruning, and fertilization have to be put off for now. Until further notice, the trees are left to the forces of Nature. It often finds a way.
Is Tree Planting Hard Work?
It is a difficult job, with a workday often lasting ten hours a day. And then there are the little chores necessary to keep the camp going. It's very physical work that calls for carrying fifty pounds over uneven terrain.
There are the typical stress injuries, blisters, and abrasions you get working with shovels. The weather doesn't always co-operate. Off hours are spent roughing it at a camp. And then there are the bugs to deal with.
How Hard Is It To Plant Trees For A Living?
It is not only a physically demanding job but it is one that requires a strong work ethic. Tree planting is generally piecework. The planter gets paid by the tree. There are also the forces of Nature to deal with such as fickle weather and annoying insects.
What Makes A Good Tree Planter?
A tree planter has to be patient with a sense of foresight. They must be tenacious and optimistic enough to stay and work in difficult conditions. The planter has to be observant in order to have the tree planted properly and to avoid accidents. This is a job that often attracts independent adventurers. They have to be driven to get the job done and adaptable enough to accept sudden changes.
Can You Make Money Planting Trees?
An experienced tree planter can stand to make more than $300 a day. A rare few can make up to $500 a day. Those just starting out may only make $100 or $200 a day until they learn to do their jobs more efficiently.
How Much Money Can You Make Planting Trees?
A planter should set a goal to plant between 12,000 and 15,000 trees per week. The average pay per week can be $750. This can be $12,000 in a summer. For students, there may be scholarships available.
How Much Do Tree Planters Get Paid Per Tree?
Every seedling can cost between six cents to a dollar. The more seedlings planted, the more money the planter makes.
How To Become A Tree Planter?
For the interview, you need to show a strong desire to work in the great outdoors. While you think they'd be obsessed with all your forest expertise, a high school diploma may be enough.
The company will be more interested in your hands-on experience than any theoretical classes. They do prefer someone with experience in camping, even if only recreationally.
Most hiring will be done in January and February so that they'll have enough planters to go out in the spring. They may offer some training. There is room for advancement, with experienced planters leading the new ones.
How To Start A Tree Planting Business?
Forestry companies cut down thousands of trees every year and those trees have to be replanted. After all, if you harvest a field of corn it makes sense to save a few ears to plant seeds and be able to harvest again next year. Usually, the job of replanting the trees is given to subcontractors.
A good place to start in this industry is to put together a list of all of the local forestry companies and start getting in touch with them in order to ask about upcoming tenders and the status of their typical tree planting services.
Is Tree Planting Worth It?
Some people like some alone time. Some people like the opportunity to see real bears…from a distance. The food is actually pretty good at most camps and you will be encouraged to eat a lot of it as tree planting does burn up a lot of calories. It's a good way to make some money while meeting new people.
Conclusion
An old Greek proverb goes "A society grows great when old men plant trees whose shade they know they shall never sit in." Tree planters tend to be young people because it's such a physically demanding task, but they still have to be people who can think twenty or even fifty years down the road when the seedling may be a large tree with wide branches and sprawling roots. It's a task that's put on hold for now but eventually, new trees will need to be planted.
References:
https://en.wikipedia.org/wiki/Tree_planting
https://www.eco.ca/career-profiles/tree-planter
https://www.businessinsider.com/best-bug-spray
https://www.tree-planter.com/2014/10/footwear
https://www.careeraddict.com/become-a-tree-planter
https://altitude-blog.com/en/what-bring-tree-planting-gear-guide
https://www.webmd.com/diet/features/water-for-weight-loss-diet
https://www.entrepreneur.com/businessideas/tree-planting-service
https://www.jeremyfcohen.com/what-tree-planting-boots-should-i-buy
https://www.reddit.com/r/treeplanting/comments/30zayd/boot_advice
https://www.tentree.com/blogs/posts/ten-things-to-buy-for-tree-planting
https://irvingwoodlands.com/jdi-woodlands-careers-tree-planting-faq.aspx
https://www.tentree.com/blogs/posts/ten-personality-traits-of-a-tree-planter
https://storymaps.arcgis.com/stories/918884869ef94d9da9a11edc8a805a4b
https://careerlinkbc.wordpress.com/2014/04/23/want-to-plant-trees-for-a-living
https://www.tcia.org/TCIAPdfs/TCIA-ISA-Joint-Statement-of-Essential-Services.pdf
https://www.tentree.com/blogs/posts/the-5-best-things-about-getting-a-tree-planting-job
https://www.engledow.com/green-scene/2014/05/choosing-the-right-location-for-planting-trees
https://blog.davey.com/2016/09/plant-any-tree-step-by-step-burlap-wrapped-potted-and-seedlings