There's going to be some first-hand knowledge in the article. The author personally knows two big guys who have done construction work. Currently, one is spending most of his days helping an elderly father and the other recently got work in a furniture store but they are still good references to personal experience.
Construction sites prefer to hire big guys because they tend to be strong enough to heft heavy tools and loads. Warehouses and places that sell heavy objects like to hire someone who can lift. Thing is, big men have very big feet.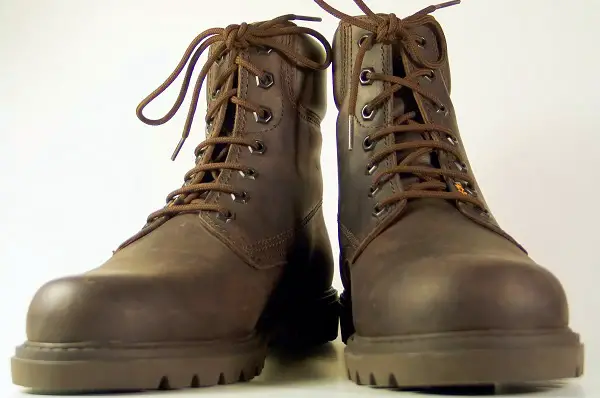 What Shoes Do Big Guys Need?
First and foremost, you need durability. Big guys are hard on shoes, so those shoes need to be able to stay together for a good long time.
Stay away from synthetic leathers. It's one hundred percent full-grain all the way.
You will need stitched soles because glued ones come apart too easily.
Replaceable heels are a definite plus.
Even then, get a few pairs of shoes and rotate them to make them last longer.
Of course, the shoes should not only be durable; they should also fit.
Our Picks:
Here is a list of the five boots that we believe will perform well for big guys. Comparison shop to find out which one is best for you.
1. Wolverine Men's W04821 Buccaneer Work Boot
Why did the pirate buy the corn? It was a buccaneer! These waterproof boots with excellent traction would be appropriate for swabbing the deck with. More likely, it will be used for getting stuff moved around. It is made to move in all sorts of conditions. It's a comfortable boot, so you'll be able to keep moving long after you've clocked out.
Features and Benefits:
It is made of pure leather, which is necessary for longevity and durability.
The rubber sole is flexible and has great traction.
The boots are waterproof to keep the feet dry and comfortable.
The Wolverine Contour Welt construction delivers extreme flexibility and durability.
The Wave Mesh moisture-wicking lining keeps moisture away from the foot.
The full-cushion footbed is removable for convenience.
The sole is oil, water, abrasion, chemical, heat, and slip-resistant.
What We Like:
The boots are waterproof.
They are well insulated.
The support is excellent.
They are comfortable enough to wear for a very long time.
What We Don't:
There is a bit of a break-in period.
The laces break easily.

2. KEEN Utility Men's Pittsburgh 6″ Steel Toe Work Boot
This boots from Keen are named after the Steel City for a reason. They are as tough as steel and as the people who work with it. The boots come equipped with a myriad of features that include a waterproof breathable membrane, slip-resistant outer sole, plus the lining that is both waterproof and weatherproof. This is a boot that will get the job done.
Features and Benefits:
This internal support mechanism is designed to offer great arch support by cradling the foot's natural contours.
The locking metal lace hooks keep the shoes securely tied.
The metatomical dual density Eva footbed is removable for convenience.
The dual-density compression-molded Eva and PU midsole provides great support.
The left and right asymmetrical steel toes are designed to be more comfortable.
What We Like:
They are comfortable and good at keeping the feet dry.
They are durable enough to stand up to the harshest conditions.
They are lighter than most other boots.
What We Don't:
The soles are hard and inflexible.

3. Red Wing Men's Iron Ranger 6″ Boot
The Red Wing is the first choice for many workers. This particular model is not recommended for construction work but should service for other tasks that include a lot of walking in unpredictable conditions. They do take a while to break in, but once they're broken in, they feel supremely comfortable. They will be well worth the effort.
Features and Benefits:
It is made of pure leather, which is necessary for longevity and durability.
The nitrile cork sole is durable and lightweight.
The welt construction makes for a durable boot that will stay together for a long time.
The boots are both oil and water-resistant.
What We Like:
The boots are low maintenance and easy to buff out scuffs.
The boots are waterproof.
They are very durable.
What We Don't:
There is something of a break-in period.
They scratch easily.

4. Timberland PRO Men's Titan 6″ Safety-Toe Work Boot
The comfort and style that comes with these boots mean that they can be worn both at home and at work. Wear them anywhere! Timberland is a well-respected boot manufacturer for a good reason.
These boots are lightweight and good for use in a variety of environments. Most importantly, they'll be so comfortable you won't be in a hurry to take them off at the end of the day.
Features and Benefits:
The synthetic sole had good traction.
Soft, full-grain leather makes up the shoe adding to quality and comfort.
This standard TiTAN work boot is comfortable, dependable, and prepared to protect and cushion your feet all day long on the job.
The PowerFit comfort system is used to ensure that the boots are supremely comfortable to wear.
The boots have supreme traction due to alloy safety toes, cement construction, and low-profile outsoles.
It features a comfort system that utilizes ergonomically designed elements that supply movement and deliver critical support for comfort that lasts a long time.
The boots are specially engineered to offer the wearer enhanced job performance every day.
The overall quality of the build of these boots delivers comfort, durability, and protection.
The anti-fatigue insoles will prevent the feet from being overtired even after a long day of work.
The cement construction provides appreciable flexibility with reduced break-in time.
The boots come with electrical hazard protection to make them safe to work around open circuits.
The Timberland Pro rubber outsole is oil, heat, slip, and abrasion-resistant to make them safe to walk in a variety of surfaces.
The mesh lining is treated with antimicrobial so that objectionable odors can be brought under control.
What We Like:
The boots are waterproof.
The construction is lightweight.
A TiTan alloy safety toe is utilized to protect the toes.
They are highly comfortable.
What We Don't:
They are not very durable.

5. Caterpillar Men's Diagnostic Waterproof Steel-Toe Work Boot
For the longest time, Caterpillar has been well regarded for designing some of top of the line heavy equipment for tough jobs. More recently, they have been putting their abilities to use in constructing boots that can withstand just about any environment. Caterpillar Men's Diagnostic is one of the best work boots available in the market due to traction, durability, and comfort.
Features and Benefits:
The rubber sole is flexible and has great traction.
It is made of pure leather, which is necessary for longevity and durability.
The work boot is well insulated with waterproof leather and antiqued lacing hardware featuring a contrast tone at the toe and collar to make it more comfortable to wear.
Two hundred grams of Thinsulate insulation is sure to keep the feet nicely warm.
The steel toe keeps the toe safe from impact injuries.
The EVA foam insert with gel technology not only brings great comfort but is removable for convenience.
The tongue opens extra wide to make the boots easy to slip on and off.
The nylon mesh lining keeps away moisture from the foot, keeping it dry.
The electric hazard rating makes the boot safe to wear around the open current.
What We Like:
The boots are comfortable.
They are very durable.
They are lightweight.
The boots are low maintenance and easy to clean.
The heel support is the best.
What We Don't:
The tread comes off easily.
The boots cease to be waterproof after a couple of months.

Average Shoe Size For Men
Among men in the United States, the average shoe size is around ten and a half. Worldwide, the average is somewhere between nine and twelve. Tall men, of course, have a tendency to have larger feet than average-sized men do.
What Is Considered A Big Shoe Size?
Since ten and a half is average, twelve is considered a large size. It is also interesting to note that the average male shoe size has been getting bigger over the years. What's average now may be on the small side in a decade or so.
What Is The Biggest Size In Men's Shoes?
Most ordinary shoes sell sizes as high as 13. Many work boots go up as high as 18. Nike and Adidas go up as high as 21 and 22. The biggest shoes ever made to be worn were size 37AA, custom made for Robert Wadlow, the tallest person who ever lived.
Wadlow was eight feet and eleven inches tall at the time of his death. His feet were long but somewhat narrow. Unfortunately, the condition that caused Wadlow to be unusually tall meant he couldn't feel his feet very well. He needed braces to walk and he died at twenty-two from an infected blister on his ankle.
How Should Work Boots Fit?
Work boots should give your feet some breathing room, but not too much. There should be some resistance but not much. Your heel should stay put and your toes should not cramp. The fit should also be very secure.
Your foot should be sufficiently secured so that each foot strike on the walking surface plants your foot securely to the ground. This will give you great traction and secure footing. If the shoes bend at the arch, they will not give you the support you need.
How To Make Work Boots More Comfortable?
The answer is arch support, arch support, and arch support. Arch support will relieve pressure on the ligaments, spread out the impact, and correct alignment issues. Put some supportive insoles in your boots to give yourself more arch support. Soft ones may feel great at first but it won't correct the problems you have.
Wear short boots if you can at all get away with it. Lightweight boots are the way to go. You will also want to make sure you wear the right socks under your boots. Cotton is no good. Go for polyester or wool. These will keep your feet dry and comfortable.
N.B. You can check these articles for more details:
How Long Should A Pair Of Work Boots Last?
The majority of work boots are in need of replacement after one year of use or when there is evidence of physical damage, whichever comes first. However, there are a few ways you can lengthen that lifespan. Get more than one pair and rotate them. Only wear them while working. Keep your boots clean and well maintained.
Challenges Big Guys Face In The Work Place
Fitting into small places like attics can be a problem, especially if it wasn't built to code. Sometimes a large hand or forearm may not be able to get inside to manipulate bolts in a tight space. Still, the job has to be done.
Does the job come with a uniform? Some places may not have a uniform in a big person's size. They may have to have one made. Big guys who join the police or military may not be able to button up all the way as per regulations. (Though many police precincts relax rules on the top button needing to be fastened.)
If customer service is part of the job, a big guy can look intimidating even when he doesn't mean to. Being intimidating may work for a bouncer or a security guard, not so much for a salesman.
Conclusion
It can be hard to find shoes when you have an unusually large shoe size. Many stores either don't carry the larger sizes or only carry a few pairs in that size. Fortunately, some places that sell shoes will use their online store to special order your size, if they carry it at all.
Still, a little annoying to have to wait a few days for your shoes. If you have wide feet, remember to get something that doesn't constrict the toes and are very flexible with an adjustable closure system.
References:
https://designbigger.com/the-5-best-shoes-for-fat-guys
https://www.healthline.com/health/average-shoe-size-for-men
https://bellatory.com/clothing/How-Long-Do-Work-Boots-Last
https://footwearnews.com/feature/average-shoe-size-men-1202752232
https://www.hixmagazine.com/how-often-should-you-replace-work-shoes
https://www.orthofeet.com/blogs/news/5-tips-for-shoe-buyers-with-wide-feet
https://treadlabs.com/blogs/insoles-reach-your-stride/comfortable-work-boots
https://www.gq-magazine.co.uk/fashion/article/best-shoes-for-men-with-big-feet
https://nicksboots.com/blog/post/how-should-work-boots-be-fit-very-tight-or-loose
https://shihyenshoes.wordpress.com/2013/01/01/robert-wadlow-and-really-big-feet
https://www.quora.com/From-what-shoe-size-is-it-considered-a-large-or-above-average-for-me