The best thing about being a lineman is everyone looks up to you. Puns aside, it really is an important job that few people could do. The world is dependent on electricity just to go on about one's day. Think about all you've done today and whether electricity played even a small role. Without electricity, you wouldn't be able to have fresh food to eat, do your laundry, or even read this article.
The lineman's job is to go up to the very top of the poles the electrical wires are suspended from and make sure they're working and fix them if they're not. It's a job that requires not only electrical know-how but ahead for dizzying heights. This is also a dangerous job. The worker's attention is split between repairing or monitoring the wires and trying not to fall or be electrocuted.
Ever wonder why birds don't get electrocuted when they perch on wires? It's because they're not grounded. Now, if the bird spread its wings and touched something that was grounded or a wire with a different voltage, then it's bye-bye birdie.
If you find a dead squirrel near a utility pole that doesn't appear to be mauled, it may have made the mistake of touching a transformer with the back feet still on the wire. (Poor squirrely. If only boots came is size 0.005.) A lineman has to be careful to use insulated safety equipment. Even with all the safety precautions, being a lineman is still one of the most dangerous jobs in the world.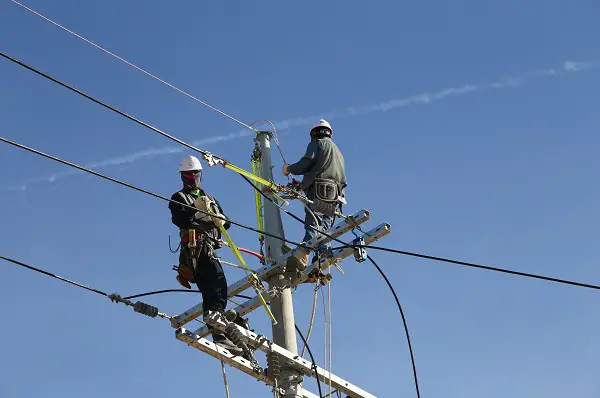 What To Look For In A Pair Of Lineman Boots
Standard work boots will not do for a lineman. They may look tough enough, and maybe for a groundworker they are. But someone working upon the lines just needs something extra. The lineman runs into different hazards than the average ground worker.
They may not do a lot of walking, but they do climb which has its own unique hazards. A lineman needs protection from electrical shock and cold or wet conditions. They also need thick heels and solid outsoles. The boots must not only be water-resistant but resistant to slips as well. Traction is key. The boots must be lightweight yet sturdy- a rare combination to come across.
The tongue should be extra wide and sewn that the boot is watertight. Whether the lineman works on steel or wood towers is an important factor. And then there's OSHA compliance to think about. As with all footwear, price, comfort, and durability are all to be taken into consideration. Here is what a lineman specifically needs in a pair of work boots.
Electrical Protection Look for that EH mark. It may be in the shape of the Greek letter omega. The only way to keep from being electrocuted is to stay ungrounded. This means shoes insulated with rubber. Exposed metal should not be a feature.
Waterproofing It is in bad weather that the lineman is most often sent up because that's what causes many power line failures. And nothing is more disheartening than climbing down after a successful repair mission only to land in an ankle-deep puddle.
Solid Outsoles This is vital. The rungs on a utility pole are hazardous as they are small and slippery. The outsoles of your boots will without a doubt be the thing that provides you stability as you climb up. You need to find balance, no pun intended. The boot must be neither too soft nor too hard.
Thick Heels Originally, the purpose of a thick heel on a boot was so someone riding a horse could keep their foot in the stirrup. Today, lineman finds a thick heel convenient for climbing the rungs on a utility pole.
Comfort This is an important consideration for purchasing any type of footwear. With everything else you have to think about for at least eight hours (perhaps closer to ten or fifteen) every day, your aching feet should not be added to the list.
The Reviews:
Here are five boot brands that best meet the requirements for being suitable for a lineman. They are all hearty boots that can get the job done. Do some comparison shopping to determine which one is right for you.
1. Wesco Highliner 10″ Brown Lineman Boots BR9710100
Wesco is a dedicated family business that uses the best materials and the most skillful craftsmanship. They never compromise or leave anything to chance just as you wouldn't on your job. Other boot makers might use plastic, but the use of steel. Other boot makers may use cork but it is top quality, full-grain leather all the way with them.
Wesco are boot makers of integrity who construct the most tenacious of boots available on the market. They built boots for Oregon lumberjacks in 1918 and today, they'll build a pair of boots for you! The Highliner 10″ Brown Lineman Boots are built to protect linemen's feet from the roughest conditions.
Features and Benefits
The steel shank is non-corrosive, ribbed, and slightly arched for comfort and premium support. There is a leather half-slip for additional support in the arch. A recessed metal heel breastplate provides protection from climbing spurs.
The false tongue is removable for convenience. The side flap, as well as the body of the shoe, are all made with full-grain leather. The heavy stitching means extra strength. The studs and eyelets are solid brass.
What We Like:
The boots are comfortable and are true to size.
They are ergonomically designed for the foot.
They are light in weight.
D and E widths are available.
The steel shaft makes the boot comfortable and supportive.
What We Don't:
The boots are not suitable for groundwork.
Climbing on steel will severely damage the boots.

2. Chippewa Men's 9″ Waterproof Insulated Steel-Toe EH Logger Boot
Nothing is getting through this tough boot from Chippewa. The leather design is waterproof in order to keep the wearer dry and protected from the dampest of weather conditions. The thickly treaded rubber outsole gives this boot maximum traction and durability.
The tailoring of this boot was inspired by the demanding conditions of loggers in the Pacific Northwest. Chippewa uses premium quality materials, classic frame design, and superior handcrafting techniques to create super boots that can withstand the most difficult of environmental conditions.
Features and Benefits
The outsole keeps physical properties in cold weather and traction on all sorts of terrain. Thinsulate insulation provides great warmth and comfort while remaining slim enough to allow the wearer total freedom of movement. The lining system is completely breathable and quick drying.
The Chip-A-Tex waterproof membrane system is rather breathable while still keeping the foot comfortably dry. The steel safety toe cap complies with ASTM F2413-05 standards regarding impact and compression. It is an electrical hazard boot that will keep the wearer safe from electrical shock.
What We Like:
The toe box is made of steel.
The boots are lightweight.
The construction is premium Goodyear leather welt.
They are resistant to electrical shock.
They are waterproof
The insole facilities are removable.
All over, the boot is thoroughly durable and of good quality.
What We Don't:
The lining on the interior has some issues.
The toe box is on the narrow side.

3. La Sportiva Men's Makalu Mountaineering Boot
These boots were made for mountaineering and heavy backpacking but they'll serve a purpose for working as well. The La Sportiva Men's Makalu Mountaineering Boot is perfect for trekking through damp and snowy conditions. Waterproof though it is, it still manages to be breathable. If it can take on the highest mountain, it can take on a comparatively small electric pylon!
Features and Benefits
Rollerball hardware and a locking D-ring make for an independent fit in both the lower and upper portions of the boot. The patented Dry-Best® lining allows for water-resistance. One interesting feature is a Mountaineering Performance Evolution sole that provides a dual-density SBR design, an SBR Aircushion, self-cleaning lugs as well as automatic crampon compatibility.
It is also crampon compatible, deep lugged, and strong as old hickory for many years of service to come in the harshest of environments. The three-millimeter Idro-Perwanger leather comes with a rubber toe rand for better durability and protection in any and all mountaineering applications. The boot comes with an eight-millimeter Mtnflex insole with a one and a half millimeter Dacromet-coated full steel shank. The honeycomb heel grid flexes upon impact.
What We Like:
There is plenty of cushioning to keep feet comfortable for hours.
While soft and comfortable on the inside, these boots are tough on the outside making them very durable.
What We Don't:
It tends to run small. Order a half size larger than you usually would.

4. Georgia Boot Men's Loggers G7313 Work Boot
Your feet are sure to stay warm and dry while you wear this Logger. Manufactured with a Goodyear welt construction, this eight-inch waterproof and insulated Logger is rugged and built to endure. The company had to be tough. They got their start in 1937 when the nation was in a severe recession.
They worked hard to make strong boots for people willing to work hard. For years now hunters, hikers and farmers have depended on Georgia Boot to help them put in a day's work. But working hard shouldn't mean being hard on the feet! Georgia's Comfort Core technology keeps the wearer up and going as long as they need to be.
Features and Benefits
The boot has a full-grain leather upper along with heavily secured solid stud hardware. The Goodyear welt method never fails. The steel toes meet the standards of ASTM F2413-11 regarding the protection and electrical hazard protection. The sole is abrasion-resistant. The lining keeps the boots warm. The waterproof system keeps the interior dry. The eyelets and hooks are solid.
What We Like:
The insulation is excellent.
The boots are fairly lightweight.
They are extremely comfortable.
The sole is non-conducting.
The steel toe does its job.
The boot is thoroughly waterproof.
What We Don't:
They take a while to break in. Mink oil is recommended.

5. ARIAT Men's Powerline H2O Composite Toe Boot
The Powerline Waterproof Composite Toe Work Boot from ARIAT is specially designed for lineman and loggers. As their logo with the three horseshoes suggests, they are primarily dedicated to making boots for the equestrian but they have branched out to make boots for line work as well.
They do list innovation at the top of their list of creeds, after all. Ariat strives to reshape and redesign their image to fit this ever-changing world without straying from their core traditions and values. This is a company that's keeping it real in every sense.
Features and Benefits
These boots include an extra-wide shank for stability in climbing and comfort features for long workdays. Also featured is waterproof construction with impermeable full-grain leathers to ensure long-lasting protection. It also comes with a lightly padded protective collar.
That always desirable Goodyear leather welt is present. The boots also come with a molded external heel protector and a heavy-duty shank in tempered steel. The shock-absorbing PU midsole inserts Vibram outsole with the patented Ariat design. The outdoor traction lugs have debris-releasing tread. The safety toe is ASTM F2413-11 M/1/75 C/75 EH rated.
What We Like:
No heel slippage.
They are great for climbing steel towers.
The boots are extremely comfortable.
They are slip-resistant.
The break-in time is quick.
They are electrical hazard compliant.
They are tough and durable.
What We Don't:
The boots are a little hard to get on.
Really only suitable for steel towers.

How To Take Care Of Your Boots
Taking care of your boots is like waxing your car or feeding premium food to your dog or laminating an important paper. It's a little extra effort, but it will keep something special in good shape for a very long time. If you put a little care into the upkeep of your boots you will add extra years to their life.
You will likely run into the mud a lot on the job. It is mud that does the most damage to boots. Never allow mud to dry on leather. This will let the oils seep out. Dry leather cracks easily especially at hinge points. Rinse mud off your boots with clean water as soon as you can. Do not use any soap. Water will usually be enough but baking soda may help.
Once you have rinsed off all the water, dry the boots with a towel and stuff them with newspaper. Next, you may apply a protective wax made with the purpose of treating leather. Be sure to coat the seams liberally. The heel and sole must be covered as well. Rub the wax well into the surface. The first time you do this, the finish may have a flat matte look to it. Repeat until you get a smooth luster.
Waxing your leather boots not only makes them look good but keeps them waterproof and makes the overall boot more flexible and thus more comfortable. Always clean the mud off your boots and wax them often.
Conclusion
The boots worn by linemen are not simply for show. They are very important safety equipment. The soles have to be thick, insulated, and with good traction and yet somehow also manage to be lightweight. It can be difficult to find the perfect pair of boots for this line of work. (Didn't mean to pun this time! I swear!) Difficult as it is, it is crucial. It is not impossible. Do a little research and you are sure to find a pair of boots just right for the job. Keep your feet going so you can keep the lights going, in your house, and everyone else's!
Related Postss: