Moc toe or round toe boots? Which should I get? Well, this is a tough decision, especially when you consider the fact that both these types of boots are quite classy and functional.
There is no much difference between these two boots except for the design. And what matters is your taste and needs. The thing about moc is that it's generally more casual than round toe boots.
However, if you distaste the chunky wedge sole found on moc toe boots, then the round ones maybe your best option. In my opinion, the wedge sole grows on you with time.
On the other hand, round toe boots are perfect for walking for longer distances, and the style is pretty much laid back. Also, these pair of boots are suitable for individuals with wider feet or those that prefer to have an extra toe room.
With the round toe boots, the latter can be a pro and a con depending on your idea of comfort. There are some people who hate shoes that aren't a perfect fit.
As you can see, moc toe and round toe boots are both great boot options. However, depending on your preference and boot requirements, you will need to analyze both and pick one which suits you better.
In this moc toe vs round toe boots review, we are going to evaluate both of these boot styles and help you make an informed purchase.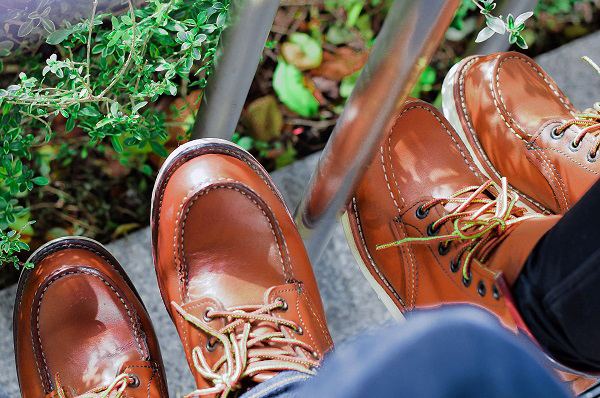 What are Moc Toe Boots?
Nowadays, the word 'moc' is a short form for moccasins, a popular shoe style. Moc toe boots embrace the moccasin style.
You can easily identify a moc toe boot from the shape of the toe area and stitching. Moc toe boots tend to have a narrow toe design.
Because of their style, moc boots, as mentioned earlier are perfect for casual wear and work. I wouldn't recommend these boots for riding.
According to Heddels, the history of moc toes originates from Native American footwear which was made from buffalo skin.
The Indian moccasin style featured shoes that were quiet, comfy, and lightweight. These features have been retained to date and that's why moc toe boots are so popular.
Popular boot brands such as the red wings have embraced this style. And in some boots, you will find the seams going around the toe box area.
And one feature that makes it more aesthetically pleasing than the round toe is having two or more panels of leather stretching around the toe box.
Because of their style and stitching design, moc toe boots are quite flexible, especially in the toes area.
And that's why this is the only boot style that your feet can spend hours in without feeling discomfort. Plus, the vintage look makes it blend well with casual outfits.
What are Round Toe Boots?
If we look at the history of boots, it was compulsory for these shoes to have a tapered foot that rounds off at the toe end.
This is a tradition that has made it to the 21st century and these shoes remain to be quite popular to date.
Despite retaining the classic design of boots, modern round toe boots incorporate a lot of functionality and versatility. This is the kind of boot that you can go to work with and comfortably ride in it.
This is all thanks to the angled heel that is an inch higher. The shorter heels on round toes allow you to spend more time on outdoor activities.
One key factor that distinguishes round toe boots from their counterparts is the comfort aspect. These boots feature a lot of space at the front this allowing toes to spread out.
Though it may not sound like much, this extra wiggle room comes in quite handy for men and women who spend a lot of time outdoors or at the ranch.
Round toe boots feature a single piece of leather paneling. And even though this design may seem simple, these boots boast true craftsmanship and take us back in time with their classic look.
What are The Differences?
The look of a shoe plays a significant role when making a purchase. And because of that reason, you need to weigh out the difference in appearance between moc and round toe boots.
Moc toes are more casual and will blend easily with outfits. Round toe boots on the other hand have a stylish and traditional look. You just have to look at both and identify which meets your style requirements more.
When it comes to comfort, round toe boots are the best. The presence of wiggle room for your toes allows you to put on this boot from morning to evening without feeling constrained. A narrow toe design may not be so comfortable when you have wide feet.
What are The Similarities?
From this review, you will realize other than toes design and overall style of shoe, there aren't many differences between these two boots. Here are some features that they share;
Both round and moc toe boots, if taken proper care of, can serve you for a considerable amount of time. Both these shoes are built to be tough and last for the longest time possible.
Even though round toe boots are more versatile (that is can be used for riding or formal wear), both these boots were created for outdoor use.
Moc toes are perfect for ranch work and you can rock a pair of round toe boots for outdoor jobs.
Due to the overall design of these boots, they are quite easy to clean. So don't be afraid to take them out during winter or rain.
Same Level of Waterproofing Capabilities
Provided your round or moc toe is made from leather, you can enjoy your shoe waterproofing capabilities.
From the differences and similarities, you can clearly see that both these boots are stylish, feature a practical design, and are both made for the outdoors.
Your ideal choice will depend on your taste. And if you are torn in between the two, you can get them both and am sure you will realize the usefulness of these two pair of boots.
What's Better about Moc Toe Boots?
Even though moc toe boots differ in style from the traditional round toe boots, they are quite similar.
The only aspect that makes it better is that this is the kind of shoe you can comfortably wear when going to work and at the same time when you are running errands on your farm or ranch.
It's sturdy, comfy, and looks stylish.
What's Better about Round Toe Boots?
There are two areas that round toe boots excel better than moc toe boots. The first is regarding the comfort associated with round toe boots. I can't emphasize enough how important it is for your toes to be free.
Having worn both pointed, moc, and rounded boots, I can testify that round toe boots give you a lot of wiggle room down there. That makes wearing boots fun and comfy.
Secondly, not everyone may be of this opinion but round toe boots feature a classic, timeless and elegant shape.
Who Should Get Moc Toe Boots?
Do you crave a rough yet elegant pair of boots that you can confidently walk on any terrain irrespective of the season? Moc toe boots are exactly what you are looking for.
This is the type of boot that you can wear at your job site or when running outdoor errands.
The impressive moccasin-style stitching at the toe is designed to enhance functionality as well as make a fashion statement.
You should only get moc toe boots if;
You want a pair of stylish boots that you can match with casual clothing
You want a durable shoe to wear at work
You want to get immediate comfort when you slide into your boots
How to Wear a Moc Toe Boot?
Though rugged in design, a moc toe boot has many outfit options. Please be informed that they come in different designs, so it's crucial to evaluate the style of your brand and match it accordingly to your outfit.
Moc toe boots look great when paired with some jeans and a t-shirt or denim jacket.
Who Should Get Round Toe Boots?
I understand that buying a new pair of boots is challenging. But, what do you look for most in a pair of boots? Is it style? Comfort? Elegance? Or functionality?
When you buy a pair of round toe boots, you are getting all these and much more. Having been around for centuries, this design is there to stay.
Round toe boots are the kind of shoes you will wear at your ranch and later clean, polish, and put them on when heading to town.
You should get round toe boots if;
You have been going through a hard time with other toe style boots
You love having space to wiggle your toes in your boots
You prefer a versatile boot with a classic style
How to Wear a Round Toe Boot?
Jeans look fantastic when worn with round toe boots. And this doesn't only apply to men but also to women.
If you are looking for an even more classic look then get a cowboy hat to protect you from the scorching sun if you will be working at the farm.