There is an old song by the Johnson brothers that goes "Toe bone connected to the foot bone, Foot bone connected to the heel bone, Heel bone connected to the ankle bone". It is true that the bones are connected, but not, as the song suggests, as "dry bones". They are connected by tendons. The tendons that attach the toes to the foot and allows them to straighten are called extensor tendons.
The skin on the instep of the foot is very thin. The extensor tendons have little in the way of fat or muscle to protect them. This combined with the fact that these tendons are in an often-used part of the body makes them very vulnerable to injury. When these tendons are inflamed, that is extensor tendonitis.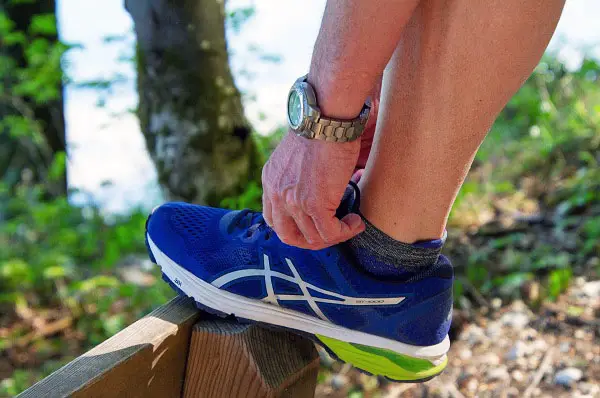 What Shoes Are Good For Extensor Tendonitis?
The shoes must be comfortable and not too tight. Wearing the proper shoes can aid in keeping your body from being injured. Runners should retire their shoes and get a new pair every four hundred to five hundred miles, or about every six months. Even if your shoes still feel alright after this amount of time, they no longer have the ability to support your feet as they should.
How Do You Lace Running Shoes For Extensor Tendonitis?
Tying your laces too tightly puts excessive pressure on the extensor tendons. Because of this, you should loosen them up and give your tendons a bit of room to breathe. You may want to consider attempting a new lacing pattern with your shoelaces that lets them have a bit more extension across the top of the foot.
The Reviews:
Here is a list of the five running shoes that we believe will suit your extensor tendonitis condition. Comparison shop to find out which one is best for you.
1. ASICS Gel-Cumulus 18 Running Shoe (Women / Men)


This is a shoe full of cushioning. Some runners don't like it very much because the cushioning reduces the ground feedback. However, if you are making a comeback from extensor tendonitis or other foot ailments, this may be just what you need.
Features and Benefits:
The rubber sole is flexible and sturdy. The Impact Guidance System enhances the foot's natural gait from heel-strike to toe-off. The FluidRide technology delivers the optimal combination of responsiveness and cushioning properties along with low weight and superb durability.
The rearfoot and forefoot GEL cushioning systems attenuate shock upon impact and toe-off phases which allows movement on several planes as the foot transitions all through the gait cycle. The Guidance Trusstic System mingles Guidance Line construction for improved gait efficiency while enabling midfoot structural integrity.
What We Like:
It has a snug fit in the midfoot and collar.
The rubber outsole is durable and flexible.
The shoes are lightweight.
They are breathable.
What We Don't:
The toe box is narrow.
The mid-section wears out easily.
2. Brooks Adrenaline GTS 19 Running Shoe (Women / Men)


A lot of people who like Brooks may very well love this new and improved shoe. Only those who absolutely hate the idea of change at all will dislike all the great new injury prevention features on this model.
Features and Benefits:
The new Guiderail Support System is perfect for runners with arches in need support plus the prevent injury by keeping excess movement in check. The soft interior of these shoes offers just the right amount of cushioning in every step to let you run and walk without any problems at all.
The BioMoGo DNA and DNA LOFT cushioning work together to deliver the ideal underfoot softness without sacrificing responsiveness and durability and still feel as light as ever.
What We Like:
This shoe enables a comfortable and stable ride.
The sole gets a complete overhaul due to Guide Rails that provide a cupping effect.
It has a sturdy and durable construction.
The heel is comfortable and won't slip.
What We Don't:
It takes a while to break in.
3. New Balance Fresh Foam Zantev2 Running Shoe (Women / Men)


The New Balance Fresh Foam Zante v2 is an excellent shoe with great performance and efficient design. While not a great shoe for racers, it can get the job done for tempo runs, training, and work out routines.
Features and Benefits:
This is a lace-up running shoe that features a breathable no-sew upper with high-energizing cushioning so that you can adjust the fit and be comfortable and energized enough to run for a long time.
The molded footbed conforms to the shape of your foot for maximum comfort and is removable for convenience. The fresh foam midsole adds to the comfort level. The blown rubber outsole keeps the shoe flexible and responsive.
What We Like:
A decent amount of padding around the heel adds to the comfort.
The plush insole is soft and comfortable.
It provides a great barefoot-like running experience while maintaining a good underfoot cushioning.
The seamless and irritation-free upper enables a comfortable feel.
What We Don't:
This is not technically built for racing.
The mid-foot wrap is rather tight and can cause blisters.
4. Saucony Kinvara 8 Running Shoe (Women / Men)


This lightweight, no-nonsense shoe is perfect for those who just want to get out there and run. It is designed with the purpose to make the wearer feel more energized so they can concentrate on their workout.
Features and Benefits:
The rubber sole is flexible and provides great traction. The EVERUN Topsole delivers continuous cushioning for comfortable wear. The internal strap system adheres to the midfoot providing support. The lightweight FLEXFILM overlays deliver both structure and support.
The four-millimeter heel-to-toe offset offers a quite natural ride that lets your feet and body do more work without relying too much on the shoes' cushioning and stability features. It is constructed from Flexfilm to be lightweight, flexible, and seamless.
What We Like:
The shoes are very lightweight.
The interior cushioning is soft and comfortable.
The ride is quite responsive.
What We Don't:
The pro-lock midfoot technology is on the constricting side.
The laces are thin and flimsy.
5. Orthofeet Athletic Shoe (Women / Men)


People with diabetes, neuropathy, arthritis, and other ailments can find relief in this comfortably cushioned shoe. Orthofeet engineered this to be the ideal sneaker for people who suffer from any of a number of foot ailments.
Features and Benefits:
These stretchable sneakers are built with fabric upper without seams for a comfortable fit. While comfortable, it is also non-binding which lessens pain on the big toe and bunions. In addition, this comfortable sneaker is engineered with an orthotic insole to reduce foot pain. It is also extra deep to provide movement for the toes.
It has slip-resistance, plenty of cushioning and a breathable upper so that it is still comfortable after a long period of wear. The anatomical arch support guards the feet against pressure points, enhancing alignment and aiding in easing heel pain. Gel padding under the heel absorbs shock and adds spring to the step.
What We Like:
The shoes are soft and lightweight and have great flexibility.
They have strong arch support.
These are snug fitting sneakers that deliver comfort as you walk.
What We Don't:
They run a bit on the large side.
What Causes Extensor Tendonitis?
The major cause of extensor tendonitis is the overuse of the muscles, bones, and tendons in the feet. If you spend a lot of time on your feet, wear your shoes too tight, or wearing the wrong kind of shoes for a sport or other activity this can damage the bones, muscles, and tendons.
Is Extensor Tendonitis Serious?
It can be if it is not treated. If the tendons are allowed to weaken it can affect your ability to move your toes. You may find it difficult to push off from your toes whenever you do something like jump, dance, or run.
Running or just being on your feet for a very long period of time might make the pain even worse. It isn't quite as serious as compartment syndrome. This is accompanied by numbness.
How Do I Know If I Have Extensor Tendonitis?
The first symptom is pain on the top of the foot. Usually, only one foot is affected. If doing activity makes it worse it could be extensor tendonitis. If it makes a cracking noise, there is something very wrong.
If the joints are stiff and you don't have your usual range of motion accompanied by redness, a strange warmth, or swelling it could be extensor tendonitis. Either extensor tendonitis or compartment syndrome requires an orthopedist for diagnosis. This may require MRI or X-Ray to see if it's one of those or a stress fracture.
Extensor Tendonitis Vs. Stress Fracture
A stress fracture would be a crack in the bone. Like extensor tendonitis, it may be accompanied by swelling and pain. However, where extensor tendonitis might be accompanied by redness a stress fracture might look more like a bruise.
Another big difference is whether the pain worsens or improves with rest. Extensor tendonitis is not felt when the feet are in use and gets worse while at rest. When the foot hurts whenever it is made to bear weight, it is more likely a stress fracture.
Is It OK To Walk And Run With Extensor Tendonitis?
It's generally quite safe to run with foot extensor tendonitis if it is mild pain and it does not affect your gait. Should you find that running is too painful, even after changing the way you lace your shoes, take a break from running for a couple of days before you try it again.
Can I Exercise With Extensor Tendonitis?
There are stretching exercises you can do to relieve extensor tendonitis. Other than these stretching exercises you should rest from exercising until you are no longer in pain. Remember to start those stretching exercises gently and stop if you are in any pain. Otherwise, you are to just rest your foot and keep it elevated.
Is Compression Good For Extensor Tendonitis?
You might want to try applying an ACE wrap or other ankle support. An ankle brace will give you support with compression. There are even therapy wraps that can be heated or frozen as you need. Don't forget the rest of the RICE! Rest, ice and elevation should also be utilized here.
How Should You Wrap Your Foot For Extensor Tendonitis?
This should not fully prevent movement but should restrict it enough to promote healing:
First, see to it that the bandage is tightly rolled up.
Next, bend the ankle backwards until it is at a ninety-degree right angle.
You must always begin at the spot where your toes meet the rest of your foot. Do not wrap from the top towards the bottom.
Wrap all around the foot, holding the loose end tightly in place with your other hand. Go over the loose end twice so as to make sure that it stays where it should. Gently pull the bandage until it is taut but you should not pull so tightly that it will cause an arch-like bend in the foot.
Move upwards and backwards in a circular motion. When you get to the ankle, start wrapping around the bottom of the shin. Then form a figure eight by circling around the lower shin and the foot.
Secure the ankle with the bandage while still maintaining the ninety-degree angle. You'll see that as you wrap in the form of figure eight, the heel gets overlooked. This is intentional. As the heel is round and curved, the bandage is apt to slip off it and so it is not wrapped.
Attach the last bit at the thickest part of the bandage with the fastener that comes along with it. Do not put the fastener on the underside of the foot since it may prick the sole while you stand or walk. (Skip this if you have Velcro fasteners.)
Try not to walk about very much with the bandage. It will loosen and in time come off. It is better to keep your foot in an elevated position.
Is There A Brace For Extensor Tendonitis?
Quite a few, actually. As mentioned before, there are braces that offer support and there are some that can be heated or frozen for temperature therapy. A compression sock can fit easily into most shoes.
Is Heat Good For Extensor Tendonitis?
You want to start out with the ice. It reduces swelling and lowers the pain. It is recommended that you apply an ice pack to the affected area for five to eight minutes. You should apply it every six hours to get optimal results and repeat this procedure for two to three days. If your condition is chronic, you may want to use heat. It will dilate the blood vessels and relax the muscles.
How Long Does It Take For Extensor Tendonitis To Heal?
This can take some time, anywhere from a few weeks to months. It really depends on how severe the individual case is to start with.
What Can I Do For Extensor Tendonitis?
The RICE treatment of rest, ice, compression, and elevation is the primary self-care method in this case. To reduce pain and swelling you may also take anti-inflammatory medicines such as ibuprofen. If nothing seems to be working or if it just gets worse you should see a doctor. X-rays or an MRI will help to figure out what exactly is wrong.
Extensor Tendonitis Stretches
When the pain starts to subside, you can help your foot get back in shape by doing these stretches. Remember not to do too much at once and gradually increase the activity.
Kneel down with the feet pointing backward in order to stretch the extensor muscles.
Flatten the ankles to the floor in order to stretch the extensor muscles.
You should feel a slight stretch at the front of your ankle if you are doing this right.
A more advanced method is to lift the knees up and increasing the stretch. Hold this stretch for ten to fifteen seconds. After you relax, repeat once or twice more.
Stretching must be done at least once daily and depending on your individual needs, as much as three times daily may be recommended.
Extensor Tendonitis Taping
KT tape is good to use in this situation. Start with a clean foot and point your toes away from your skin. Apply the middle part of a half strip of tape over the point of pain with an eighty percent stretch. Lay the ends down without stretching.
Repeat this with another half strip just above the first one. Without stretching, anchor a full strip behind the toes. Apply the tape up the foot to the shin with a fifty percent stretch. Apply the last two inches without stretching at all.
Extensor Tendonitis Massage
In chronic conditions, a gentle massage across the top of the foot might aid in the reduction of pain. Gentle massage increases the blood flow to the affected area and may help the chronic tendinitis heal better. This also helps to decrease the pain.
Conclusion
If you have extensor tendonitis, please wait until you are better before you do any running. When you are ready to run again one of these shoe models are sure to prevent a resurgence.
References:
https://www.medicalnewstoday.com/articles/317785
https://www.foot.com/extensor-tendonitis-explained
https://www.healthline.com/health/extensor-tendonitis
https://activewrap.com/blogs/news/how-to-wrap-an-ankle
https://share.baptisthealth.com/foot-pain-vs-stress-fracture
https://www.footsolutions.ie/blog/coping-extensor-tendonitis
https://www.wellnessfacts.net/extensor-tendonitis-foot-brace
http://almawiclinic.com/2017/05/08/what-is-extensor-tendonitis
https://www.directorthocare.com/tips-to-treat-extensor-tendonitis
https://www.verywellhealth.com/tendonitis-of-the-foot-and-ankle-1337639
https://www.healthguideline.net/2019/10/extensor-tendonitis-foot-brace.html
https://www.sportsinjuryclinic.net/sport-injuries/foot/midfoot-pain/extensor-tendonitis
https://www.verywellfit.com/how-runners-can-prevent-avoid-top-of-foot-pain-4023628
https://www.kttape.com/pub/media/plumtree_video/video/file/k/t/kt-tape-top-of-foot.pdf