The Nike Roshe shoe is a popular style offering plush comfort for an affordable price.
These shoes are extremely lightweight thanks to the injected foam midsole, while the pressure-mapped outsole provides grip and support in the areas most prone to shock. The high sidewall and nested, wrap-around heel counter add flexible stability and rotational support, while the mesh material offers comfort and breathability. 
On paper, these all sound like good features for a running shoe, right?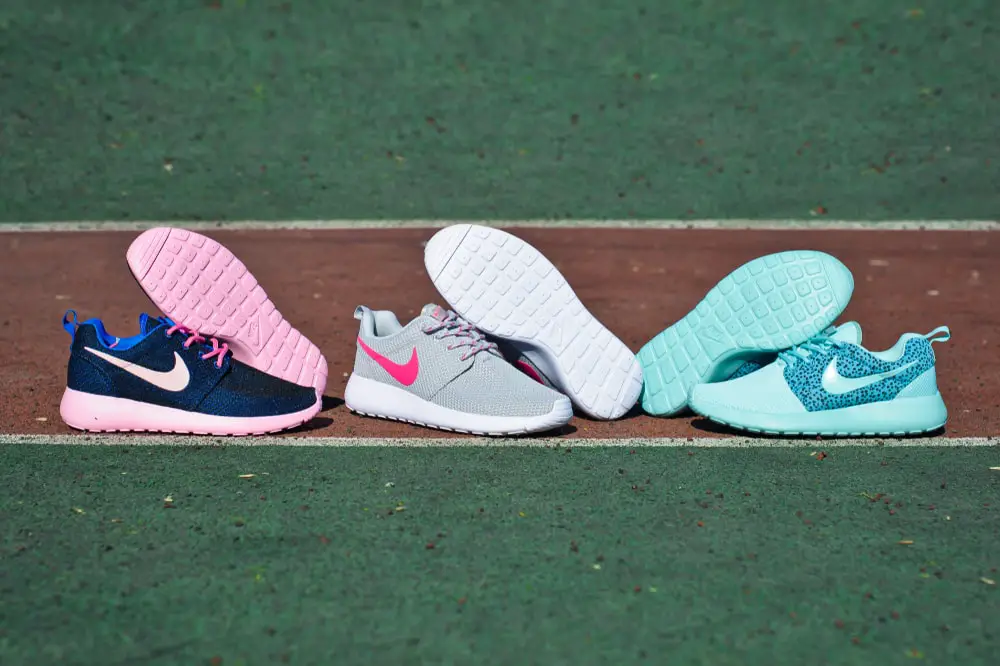 But are Roshes intended for running?
In this article, we'll be discussing whether or not this popular Nike shoe is suitable for running in. 
First up though, what makes a good running shoe? 
Usually, running shoes contain some or all of the following:
Superior cushioning

Flexibility in the right places

Stability or motion control 

Traction for road or trails

Stability – stiff in the proper areas

Breathability 
Comfort 
The Roshe run shoes offer great comfort when you first slip them on, and they feel like you're walking on clouds.
This is down to the special Ethylene Vinyl Acetate (EVA) midsole and outsole, providing a plush, springy feel. The lightweight feel of the shoe is another bonus – Roshes weigh just 10 ounces! 
The mesh outer is great for providing breathability, and the sock liner is lightweight and plush.
While the EVA midsole provides lightweight cushioning, overall the lack of support is a bit of an issue, which we'll get onto in a moment. More cushioning is needed for this shoe to be classed as a running shoe.
As an everyday shoe, Roshes offer great comfort, though. 
Durability 
When a professional runner tried wearing Roshes to run in, he reported back that to his surprise, there was no visible wear and tear on the shoes after two weeks. 
He expected that the mesh toe box would have shown signs of being exclusively utilized by this point, as his running routine consisted of sprints on an Olympic track and artificial turf. 
Therefore, Roshes offer pretty good durability considering the price point. However, while mesh is great for lightweight breathability and comfort, in time these will lack durability for regular and serious runners – particularly if you're covering long distances. 
Support 
This is a minimalist shoe that lacks support for serious runners. It provides heel and quarter support, but professional runners have also reported slight foot sliding while running.
While you could reduce the risk of this by going a half size down, the mesh toe box could be easily torn if you're a regular runner. 
Roshes have a high sidewall and nested, wrap-around heel counter which provides some stability and rotational support, however, they lack adequate shock absorption and support for running, especially on sidewalks and roads where the concrete causes maximum impact to the foot. 
Nike also uses miniature round laces on the Roshe Run, which isn't a good idea, seeing as they come undone easily which will of course loosen the fit of the shoe, and could potentially lead to injury. 
Why Do People Think Roshes are for Running?
You can easily understand why people think Roshes are running shoes, particularly because the name – Nike Roshe Run – gives this impression. 
Roshes are also lightweight and have a pressure mapped outsole which provides traction in the necessary places – so at first glance these seem like a good running shoe.
Though Roshes take inspiration from the silhouette of running shoes, they lack the support and cushioning required to protect your feet while you run. 
What are Roshes good for? 
So if these shoes resemble running shoes, but aren't actually good for running, what are they good for?  
Roshe Runs are a great everyday shoe as their best feature is the comfort they provide. 
If you're somebody who is on their feet all day, for example, working in a hospital, retail, or hospitality, then Roshes are great for this.
They have a lightweight feel with a plush EVA midsole which most people will find comfortable. They're also great for walking to and from work. 
Roshes may be suitable for some activities, for example, they're fine for a general workout at the gym, or for classes such as aerobics where there's less pressure on your joints and you don't need the same support and cushioning required for running. 
They may also be a good option for sports such as volleyball or tennis due to their lightweight support and gentle bounce, which enables you to pivot or move to reach the ball. 
These are also great casual shoes thanks to their aesthetic appeal and the wide range of colors available.
The great thing about Roshes is that they offer the comfort of a running shoe but with the appeal of a fashion shoe. They look good and will go with a host of different outfits. 
While they're a great shoe for everyday walking, commuting, or shopping, they're less ideal for hiking on rough terrain as they lack adequate support and cushioning for long distances, and the fabric is lightweight and not too durable. 
Final Verdict 
The Nike Roshe Run sits somewhere between functional and fashionable. However, whether or not it's a running shoe is up for debate. 
While the silhouette mimics a running shoe, this is not a running shoe for serious runners. This shoe is comfortable for everyday wear and walking, but it won't provide the support necessary for long-distance runs. 
Therefore, the "run" after Roshe is a little deceiving.
This is an ultra-lightweight shoe with a breathable mesh outer and EVA midsole, however, according to professional runners who have tried training in Roshes, they don't provide enough support for serious runners. 
It's a great shoe for a workout at the gym or for a game of tennis, and if you're a casual runner – or you're using your Roshes temporarily as you don't have access to your usual running shoes – then they might hold up temporarily, but these shoes aren't built to provide the maximum shock absorption and cushioning that most runners need, and appropriate running shoes are essential for minimizing shock to your joints.