There are some occupations that do not require any special footwear. The writer, for example, can do her job in socks if she works from home. You would think the lifeguard doesn't need shoes. After all, they spend most of their time sitting down and when it's time for them to go into action they need to be able to swim and swim quickly.
Still, they may need to wear something on their feet once in a while. Concrete and sand can get blisteringly hot under the sun. Even when they're not that hot, sand is coarse and gets into everything. (Just ask Anakin.) Walking on hard concrete can lead to back and joint problems.
And did you know that cleaning bathrooms and showers are also part of a lifeguard's job? It's not all running in slow-mo while looking hot like Baywatch makes it look like. Fortunately, there are shoes that can protect the feet from germs and hot surfaces that you can even swim in.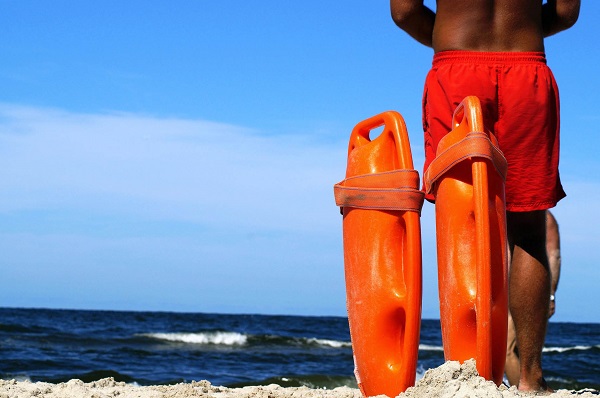 What Type of Shoes a Lifeguard Should Wear
Some lifeguards will just use run of the mill flip flops, which are notoriously lacking in support and break easily, depending on quality. They also have next to no traction and are terrible for running in. Just how puncture resistant they are can vary.
And they leave the most stubborn tan lines on your feet. The shoes need to be breathable as a lifeguard works on the hottest days of the year. They must be either very easy to take off (no more than a second.) or prove no hindrance to swimming.
The Reviews:
The shoes for a lifeguard would be more varied than you would expect. They will not only protect feet from hot surfaces, punctures, and microbes that cause warts and other infections but some can even be worn while swimming. Almost none of these shoes have any arch support, but that has to be sacrificed for maximum flexibility. Comparison shop the following.
1. Vibram Fivefingers Men's Signa Water Shoes
These shoes are like wearing nothing at all…. nothing at all…nothing at all! (Stupid sexy feet!) These are unique shoes in that they conform so much to your foot it has separate compartments for each toe like a glove. It fits like one too! They will give you all the flexibility of running around barefoot with none of the pain. They were originally developed for running but they can be used in water as well.
Features and Benefits:
The XS Trek performance rubber sole is flexible, grippy and puncture-proof. The upper part is stretchy and resistant to abrasion so it is easy to put on and does not mar easily. The Velcro closure makes for a secure fit.
What We Like:
These shoes are super lightweight. There are probably socks heavier than these.
They can be machine washed easily. (Air drying is recommended.)
The fit is snug but not constricting.
They provide all the comfort of being barefoot with none of the pain.
The traction is near perfect.
The shoes are breathable.
What We Don't:
Getting the right size is tricky. You have to use the company's guide.
They're not for people with polydactylism or other foot deformities.

2. Keen Women's Venice H2 Water Shoes
This sandal keeps going even in the water. This is one of the most popular water sandals made by Keen. It is lightweight yet rugged in design. These are the favored shoes of kayakers but should suit a lifeguard just as well.
Features and Benefits:
Breathable mesh windows allow in airflow.  The lace-capture system makes for a secure fit. The ESS shank provides lightweight support. The adjustable heel strap allows a custom fit. The patented Cleansport NXT™ offers natural odor control.  
The shoe is treated with a PFC-free durable water repellent. The compression-molded EVA midsole has ample cushioning. The footbed conforms to the foot. The rubber outsole is flexible and non-marking.
What We Like:
They can be machine washed easily. (Air drying is recommended.)
The fit is easily adjustable.
The sandals are very supportive.
They are breathable.
The shoes are lightweight.
They are durable enough to stand exposure to sand and saltwater.
What We Don't:
The sizing is off. They run a bit small.
The strap in the back is hard to keep in position.
They are not slip-resistant. Better for beaches than pools.

3. Speedo Women's Zipwalker 4.0 Water Shoes
Speedo makes more than just teeny tiny bathing suits! They also make water shoes that can be worn while swimming. It goes from sea to shore with perfect comfort. It's got a sporty style to it and can be worn all day. This innovative style from Speedo can be worn anywhere but is most effective in places where your feet are going to get wet.
Features and Benefits:
The quick-adjusting zip closure and durable four-way stretch upper makes it easy to take the shoes on and off. The S-TRAC rubber outsoles provide water management and dispersion traits while offering maximum traction. The material dries quickly and is breathable. The zipper closure makes for a secure fit.
What We Like:
The traction is excellent.
The stretch upper dries quickly.
The shoes are breathable.
The zipper closure makes them stay on.
What We Don't:

4. Sockwa Playa Hi Beach Socks
Sockwa saw what Vibram was up to and decided to see if they could do one better. This shoe, as the name suggests, is more like a sock than a glove for the foot. perhaps it's more of a mitten? Well, you don't build sandcastles with your feet! Sockwa is first and foremost a people company that focuses on technological innovations and simplicity of construction, form, and function.
Features and Benefits:
The secure ankle closure keeps the socks in one place. The two-millimeter neoprene sides and toe area provide warmth and protection. The Lycra tongue adds breathability and flexibility.
The outer sole of braided fabric offers abrasion resistance. The inner sole is lined with thin fleece for additional comfort. The Velcro flap keeps out debris while making the sock easy to put on and take off.
What We Like:
They are lightweight.
They are comfortable.
The stretchy fit makes them snug but not too tight.
They are easy to clean.
All the comfort of walking around in socks with none of the pain.
What We Don't:
It is not designed to be worn on concrete.
The stitching needs work.

5. Ryka Women's Hydro Sport 2 Water Shoes
Here is a hybrid water shoe that combines all of the ease and style of a sneaker with the amphibiousness and lightweight of the typical beach shoe. They're sporty but not afraid of a little water. With nine color patterns to choose from you are sure to find something that fits your taste.
Features and Benefits:
The insole is removable for convenience. The rubber outsole has good traction along with drainage ports. The molded EVA midsole also has drainage ports. The webbing on the midfoot cage offers lateral and medial support.
The lace and toggle system is adjustable yet secure for a good fit. The padded tongue and collar add to the comfort. The rubber sole is very flexible and shock absorbing.
What We Like:
The traction is great.
The shoes are lightweight.
The fit is true to size.
There is plenty of cushioning.
The shoes are durable.
What We Don't:
Small rocks tend to stick to the sole.

What a Lifeguard Does
The lifeguard's principal job is to supervise swimmers, make sure everyone is following the rules and aiding anyone in distress. They also take turns running the concession stand, cleaning the pool, teaching swim classes and water safety courses and, as mentioned before, cleaning the restrooms, locker rooms, and showers. This is where footwear becomes more important.
Plantar warts are the result of an HPV infection on the bottom of the feet. This virus thrives best in warm and moist environments. That means pool decks, locker rooms, and shower floors. If the lifeguard doesn't want a bad case of warts or athlete's foot, wearing shoes while taking care of this, ahem, duty is a good idea.
How To Become a Lifeguard
It is not difficult, but it's not as easy as flipping burgers. Some teenagers may learn to do this as a summer job with fifteen being the minimal age. (Fourteen years old can take a lifeguard class if they will have their fifteenth birthday by the last day of class.)
The lifeguard, of course, must be a good swimmer. The Red Cross requires a certified lifeguard to have passed a thirty plus-hour course on CPR, first aid and rescue skills along with both a written and physical final exam. Some may be taught to use an AED.
What You Need To Become a Lifeguard
The lifeguard must be vigilant, scanning the area repeatedly from front to back. Lifeguards at water parks need to make sure only one person at a time is going down the waterslide. Because they are often telling people what to do for their own good, an air of authority is essential. The lifeguard must be polite yet firm.
Those that work near oceans or large bodies of water may find a boating skill useful. Don't think this is a job for a dummy! As injuries and incidents need to be reported in writing some degree of literacy is required. If the place is frequented by foreign tourists or immigrants another language skill is helpful. Almost as important as the ability to swim is the ability to stay calm and know what to do in a bad situation.
Communication and the Lifeguard
Lifeguards can and sometimes do use a bullhorn to make it known what they have to say, but they have other methods of communication. These methods are attention-getting and can be understood even by people who cannot speak or read the local language.
The whistle is the best-known means of non-verbal communication. It's certainly loud enough to get someone's attention. The protocol may vary from one facility to another, but generally, the translation will go like this.
One short blast – "Swimmer! Pay attention to me!"
Two short blasts – "I need some help!"
Three short blasts – "Another lifeguard is taking action. Stand back."
One long blast – "Everybody out of the pool!" (Only applies at pools, of course.)
One long blast – "I'm going in!" (Used in oceans and other open waters.)
Two long blows – Can either mean "You don't have to go home but you can't stay here." or "There's an emergency going on! Get out!"
Another form of communication lifeguards uses is flags. Like signs at ski resorts, they are universal and communicate in colors and patterns so even a foreign tourist can understand them. A red and yellow flag means the lifeguard is on duty.
A red flag means no swimming. A green flag means it's safe to swim. A black and white checked flag means that the area is reserved for surfing. A blue and white swallowtail pennant means diving is in progress.
Conclusion
The lifeguard serves an essential purpose in making sure people are being safe while having fun. If you are not a lifeguard, please cooperate with them and make their job as easy as you can. This means paying attention to basic safety rules and keeping an eye on your children.
If you are a lifeguard, then it is hoped that we've made your job a little easier by both informing the public and letting you know what the best shoes for your profession would be. If you'd like something more serviceable than those foam flip-flops you got at the dollar store, something here is sure to suit you. Your job is harder than it looks and you need shoes that will last until pau hana. A hui hou!