Admittedly, piloting is not a job that requires being on your feet a lot. The pilot's job is to fly a plane, a job done sitting in a well-padded seat. It's not even like driving a car where the brake, accelerator, and clutch are operated by foot pedals. The pilot may have to look neat, of course. In many airlines, the pilot greets the passengers as they come on board and it puts the passengers at ease if the pilot is dressed sharp.
What Kind of Shoes Does a Pilot Need?
First, the pilot has to see what kind of shoes the airline will let their employees get away with. Many airlines will call for something with a professional look to it. Polished black leather may be de rigueur with airlines that wish to keep a posh appearance. Not to worry! You can wear dressy shoes and still be comfortable if you get the right pair.
Some airlines will accept boots, but only if they can fit under the trouser leg. Shoes with a sleek and streamlined build will probably work better than boots. Clunky boots will make it difficult for you to get a feel of your feet and where they should go. They're particularly hazardous in planes with pedal-controlled rudders.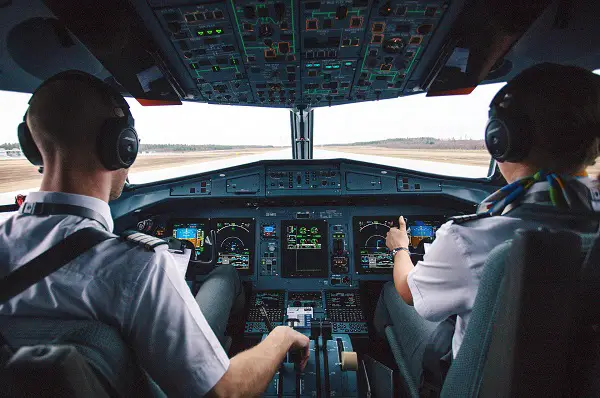 Back on the subject of polished leather, there are many practical reasons for a pilot to wear leather beyond looks. It's breathable, so no one will reach for the gas mask because you slipped your shoe off. Leather is more durable and better fitting than synthetics. Leather is easy to clean and economical. Naturally treated leather is safe for all skin types. Leather shoes are also more protective, so if you spill hot coffee on your shoes, you might not feel it.
Another thing that's helpful for pilots is having shoes with no metal components. Even pilots have to go through the metal detectors in security. That means handing over your phone, pins, tie tack, jewelry, watch, St. Joseph medal, wallet and anything else on your person that might contain metal or even metallic traces. If you wear shoes with no metal components, that's one less item to worry about.
The Reviews:
It is difficult (but not impossible) to find good piloting shoes on Amazon. It may be easier to go to a specialized online store for pilots and flight attendants. There are some shoes not specifically for pilots that should prove serviceable. If you live in a major metropolitan area, you may be able to find a brick-and-mortar store where you can try before you buy.
1. ECCO Men's Helsinki Plain Toe Dress Oxford
For a look that's refined yet up to date, the ECCO Helsinki is ready for action. These are shoes for a working man who still has to be conscientious about his appearance. It's dressy and classy but still comfortable enough for long term use.
Features and Benefits:
The rubber sole is flexible and absorbs shock. The squared toe is roomy enough to let toes stretch out. The lining is anti-fungal and moisture absorbent which will keep feet healthy. The leather insert is removable for convenience. The PU outsole has shock points.
What We Like:
No metal parts.
The shoes are comfortable.
The shoes are lightweight.
The traction is better than expected.
What We Don't:
There is a bit of a break-in period.

2. Allen Edmonds Men's Park Avenue Cap-Toe Oxford
This show is straightforward and simple but not without a touch of elegance. It not only looks luxurious but the feel is luxurious. This Oxford will provide a debonair look to any uniform.
Features and Benefits:
The Goodyear welted manufacture provides both support and durability. The cork footbed conforms to the foot over time for a one of a kind fit. The leather makes the shoe breathable and flexible yet gives the foot needed protection. The laces provide a custom fit.
What We Like:
No metal parts.
The fit is often true to size.
They reduce foot fatigue.
The shoes look good.
What We Don't:
Watch out for sellers who try to pass off second hand as new.
They crease easily.

3. The Rockport Leader 2 Bike Slip-On
Here's something that was touted in many pilot forums as being the favored shoe. The Rockport Leader 2 Bike Slip-On is also favored by people who have to do a lot of standing due to their supreme comfort. It doesn't hurt that they have that elegant and classy polished black leather look.
Features and Benefits:
The footbed is durable and cushioned for extra support. The soft, genuine leather brings both quality and comfort. The memory foam insoles conform to the shape of the feet. Anti-microbial linings cut down on foot odor.
Moisture-wicking materials keep the feet dry and cool. The shoe is flexible, giving the foot room to move. An EVA outsole offers lightweight shock absorption and aids in the reduction of foot fatigue. The slip-on design means no laces to tie and re-tie.
What We Like:
The shoe has great traction and stability.
The toe box has ample space.
The shoes are very comfortable.
The shoes are lightweight.
They are shock absorbent.
They look very nice. Feels casual, looks formal.
What We Don't:
The fit is not always true to size.

4. Aerosoles Women's Allowance Ankle Boot
And now, here's something for the lady to bring out her inner Amelia Earhart. This ankle boot from Aerosole is supportive, yet flexible. The wedge heel gives you the graceful posture of a high heel but with far more support and comfort.
Features and Benefits:
The Memory Foam footbed will conform to the shape of the foot for supreme comfort. The diamond flex soles are both durable and flexible. The rubber composition soles with a one of a kind diamond pattern are constructed with the purpose of dispersing friction away from the foot. The zipper closure makes it easy to take the boot on and off.
What We Like:
They fit well even if the feet swell up a bit.
They are breathable yet water-resistant.
The lining is soft and comfortable to leave feet blister-free.
The thin sole makes it easy to control pedals.
What We Don't:
They run a bit on the narrow side.
The sole is a bit too thin. You may have to put in an insert to make walking more comfortable.
The zipper may be metal, but it may not be enough to set off a metal detector.

5. Merrell Men's Chameleon 7 Stretch Hiking Shoe
Though initially designed as a hiking boot the Men's Chameleon 7 Stretch is a favorite among many pilots. Like the reptile it was named after, the Chameleon is adaptable to any situation. It has protection, stability, and an ultra-lightweight build all in one.
Features and Benefits:
The Nubuck leather and mesh upper make a durable, comfortable and breathable shoe. The Kinetic Fit Base contoured insole makes for flexible support and is removable for convenience. The closure is an elastic cord lock lacing system for a customizable fit.
The stretch collar will be handy if your feet swell. A protective rubber toe cap keeps the toes safe. A Kinetic Fit base brings additional insole support. The patented Merrell Air Cushion is incorporated in the heel for more shock absorption and additional stability.
What We Like:
The shoes are very comfortable and supportive.
The shoes are available in five different earth tones.
The shoes are durable and well made.
There does not seem to be any metal in the construction.
What We Don't:
They run half a size large.
They tend to make the feet a bit warm.

Other Considerations a Pilot Might Make
While a commercial jetliner may not make any sudden, sharp turns there is still gravitational edema to think about. The blood pooling in your feet will be too gradual to make you pass out but it can still make your feet swell a bit.
One solution to that problem is to get up and take a short walk. This is what co-pilots are for! Another more effective solution is to wear shoes that fit right. They must be neither too tight nor too loose. Socks are a must. Not only do they keep your feet warm but compression socks are good for circulation.
In fact, bring an extra pair just in case. After Chesley Sullenberger made his famous landing on the Hudson the first thing he wanted was to talk to his family and get a dry pair of socks. Just remember not to get socks that are too warm. They must be breathable as well.
Just as anyone else would, the pilot needs shoes with ample arch support and a roomy toe box. Remember that you eventually have to come down. That means walking around in a rather crowded airport to get to your next stop. Perhaps running to catch a shuttle. It may be a brief part of your day, but it is a part that can make a huge difference in the comfort of your feet.
Conclusion
While The Few didn't have to worry about foot pedals on their fighter planes, modern airplanes do have foot pedals for rudder control, steering, and braking. (On the ground. Airplanes only brake in midair if Bugs Bunny is piloting.) You don't want to suffer uncomfortable shoes while trying to make the plane do what it's supposed to do!
Look for leather, a lack of metal, arch support, a good fit, streamlined design, and a roomy toe box. And it doesn't hurt if they look nice. Just keep in mind that professionalism and performance must come comfort. Remember that if your feet are not comfortable the rest of you will be uncomfortable as well.