You were probably wearing OshKosh B'gosh sneakers when you learned to ride a bike. Some of us were inflating our Reeboks Pumps before getting on our bikes and riding. Some of us had to be told jellies and flip flops were not great for bike riding. Most of us kept wearing sneakers to ride bicycles.
However, shoes specifically for riding bicycles have been made since at least the Twenties. Think they're only for people taking part in Tour de France? Think again. Any bicyclist can benefit from a good pair of cycling shoes.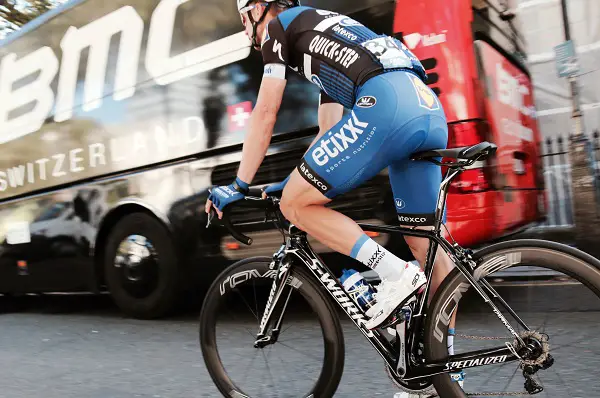 What Is Special About Cycling Shoes?
Sneakers and tennis shoes are known for their flexible rubber soles. Cycling shoes have stiff soles that will apply more force in pedaling. This will help you burn more calories and use more muscle groups.
The rigidness of the cycling shoe may look uncomfortable but it actually protects the foot from the stress of pedaling. Not only the feet but the knees can benefit from less stress due to cycling shoes. Wearing cycling shoes can also help you maintain control of the bike.
Do Cycling Shoes Make A Difference?
Cycling shoes slip into place and do not slip a millimeter out of place. This keeps you aligned and can help you avoid injuries. Not only does avoiding long term injury make you more comfortable, but cycling shoes can bring comfort in the short term as well.
Wearing cycling shoes makes you use the ball of your foot to work the pedals instead of your toes. This can bring a lot of relief to your feet if you cycle a lot.
Will Cycling Shoes Make Me Faster?
Is it the shoes? Well, shoes will make it easier for you to accelerate faster. They will help you get over hills more quickly. However, the shoes are built for comfort than speed. On the other hand, being comfortable while riding helps you concentrate on your speed and endurance.
How Do You Choose Cycling Shoes?
Consider when, where, and how you do your biking. Do you drive on the road or in the mountains? Do you ride casually or for sport? Do you prefer laces, Velcro or buckle fasteners? The fit should also be comfortable.
How Much Toe Room In Cycling Shoes?
There should be just enough room so that your toes can wiggle just slightly. There shouldn't be more than half an inch of space from the big toe to the end of the shoe.
How Much Room Should Be In Cycling Shoes?
The shoe should feet fitted to the foot though mild slippage at the heel is to be expected.
How Do You Measure For Cycling Shoes?
First, measure your feet to determine your shoe size. Find the matching shoe size in your favored brand. You may want to keep the width in mind. When you order your shoes, remember your cleats.
Do Cycling Shoes Run True To Size?
They should be true to size, snug but not too tight. Your toes should not touch the toe cap.
What Size Cycling Shoe Do I Need?
As many cycling shoes are engineered to fit snug, you may want to go down a half to a full size.
How To Size Cycling Shoes?
Make a tracing of your foot. Measure the tracing in centimeters. You should do this with both feet and go with the largest size.
Should Cycling Shoes Be Tight Or Loose?
The shoe should provide a firm fit in the heel area. You should not be able to slip out of the shoe when walking. Neither should the shoe be pinchy or cause any pain. When the heel is seated correctly the heel should not move in the shoe.
How Tight Should Cycling Shoes Be?
They should feel comfortably snug with no lateral movements. You should not feel any pressure between your toe and the front end of the shoe.
Do Cycling Shoes Stretch?
Do not expect them to stretch out with time.
How Do You Break In Cycling Shoes?
If they aren't leather, they will probably be good to go right away. If they are leather, you may try wearing them in the shower (no cleats) and drying them with a hairdryer.
How To Make Cycling Shoes More Comfortable?
First, make sure you have the right size. If you do have the right size, maybe you need a more supportive insole. Wear thin socks and don't adjust the fit to be too tough. If all else fails, it could be your cleats are just in the wrong position.
Do You Wear Socks With Cycling Shoes?
You should always wear cycling socks or any very thin socks with your shoes. They should be thin so that they don't adjust the fit.
Why Do Cyclists Wear Long Socks?
A major benefit of wearing long length socks is increased temperature regulation. They also provide some ankle protection.
Can You Wear Running Shoes For Cycling?
They are not meant for serious bicycling. The truth is that running shoes are engineered specifically for running. They are flexible and have cushioned soles. Bicycle shoes are engineered to let your foot apply maximum force on a relatively small area that is the pedal. Because of this, they are rather stiff.
Can You Walk In Cycling Shoes?
The kind of shoes typically worn by mountain bikers and commuters, such as SPD shoes and pedals, comes with recessed cleats which makes them easier to walk in.
Some of the more casual styles are designed to make them even easier to walk in due to more flexible soles. What's more, these choices are usually engineered to be somewhat more stylish as well.
Are Cross Training Shoes Good For Cycling?
They can be used for casual cycling.
Do You Need Special Pedals For Cycling Shoes?
You may want to try clipless pedals. Clipless pedals are really a system made up of unique pedals and cleats. It includes devices with pedals that can attach to the soles of clipless cycling shoes. Because of this, you are required to choose pedals and shoes so that you can upgrade to a clipless system.
Can You Use Cycling Shoes Without Cleats?
Most people who make use of the shoes without a cleat use flat pedals. These shoes known as 'flatties' look much like a standard pedal; however, they have raised pins to give additional grip.
Can You Use Regular Cycling Shoes For Spin Class?
If you switch from athletic shoes or sneakers to cycling shoes for spinning you will have a ride that is a more comfortable, efficient, and safer ride. You will experience an increase in power and because the shoe is so breathable your feet may even be less sweaty.
Can You Use Regular Spin Shoes On Peloton?
The pedals of the Peloton bike are compatible with Look Delta cleats, so really any shoe that will fit with a Look Delta cleat will do the job. It should be noted that the bike no longer comes equipped with one set of cleats.
You will require one set for each pair of shoes that you plan on using. Should you already have cycling shoes that you utilize at a gym or local exercise studio, it is highly probable that they are SPDs.
You can replace the cleats with Look Deltas on some shoes but maybe not others. If you are unsure, the best place to go is a local bike shop. Many may even install the cleats for you.
Do Peloton Shoes Run Small?
Shoes of the Peloton brand should fit true to size. If you have ordinary or somewhat narrow feet you might have to go a size up or down. They come in both men's and women's sizes.
How To Put On Peloton Shoes?
Start by standing on your right foot while sitting on the Peloton bike. Hold on to the handlebars and put your right foot in. Next, you twist the pedal to the six o'clock position. Point your toe down and carefully put your foot in the pedal and lay down some pressure afterward.
Keep pressing until you see that the toe is set for attaching. Once that is attached you then press down your right foot on the pedal through your heel. It should have a nice, secure fit. Repeat with the left foot.
How To Loosen Peloton Shoes?
First, make sure that your pedal is standing in mid-section. Follow the next step only after you see that your right and left shoes are positioned in the center. Put some pressure on the pedals. This should guide the pedals to detach the cleats that are locked and secure.
You should then press the knob resistance on the peloton bike. You may then slide your toe so that a foot is removed. You may want to do a smooth twist as the pedals detach. Try loosening your pedal bolts if this does not work. Repeat for the other foot.
How Long Do Cycling Shoes Last?
That really depends on maintenance and how the shoes were used. Lightweight shoes may not last very long particularly in gravel and other harsh conditions. A good pair of cycling shoes should last many seasons if properly maintained and kept away from abrasive surfaces.
If you go mountain biking, get shoes that are appropriate for this environment. The closures are usually the first things to go, but they can be easily repaired or replaced. When the sole starts to wear out, it's time for a new pair.
If you store your shoes in a cool, dry area and completely dry them out after every use (stuffing them with newspaper helps) your cycling shoes should last a long time.
Are Cycling Shoes Worth It?
You could just stick to your reliable old tennies, but it would be like trying to cut a potato into julienne fries using a butter knife and a ceramic plate. You're much better off with a French knife and cutting board. Cycling shoes will bring more force into your pedaling and save your feet.
Conclusion
Cycling shoes are the best kind of shoes to wear while riding a bike. They should fit a bit snug but not to the point of being painful. The inflexible sole may take some getting used to but it really is the best for pedaling.
References:
http://pelotonguide.com
https://bicyclelab.com/358
https://reynolds-england.com/about
https://en.wikipedia.org/wiki/Cycling_shoe
https://spinning.com/guide-to-cycling-shoes
https://gearmashers.com/cycling-shoe-size-guide
https://bikerkits.com/how-to-put-on-peloton-shoes
https://bikerkits.com/how-to-take-off-peloton-shoes
https://thegamerchoice.com/peloton-shoes-true-to-size
https://www.cyclingnews.com/features/best-cycling-shoes
https://ilovebicycling.com/are-cycling-shoes-worth-the-leap
https://www.rei.com/learn/expert-advice/cycling-shoes.html
https://shoeadviser.com/articles/how-should-cycling-shoes-fit
https://solestar.com/pages/5-tips-to-find-the-right-cycling-shoe
https://www.quora.com/Can-you-wear-running-shoes-for-cycling
https://www.mantel.com/blog/en/cycling-shoe-size-recommendation
https://www.womenshealthmag.com/fitness/a19962556/cycling-shoes-0
https://www.edinburghbicycle.com/info/guide-to-cycling-pedals-and-shoes
https://www.livestrong.com/article/420952-how-to-fit-cycling-shoes-properly
https://www.bikeexchange.com/blog/the-science-of-cycling-socks-six-things-to-know
https://thewiredrunner.com/what-are-cross-training-shoes-used-for-a-beginners-guide
https://cycleupvalencia.com/blog/2014/07/10/top-5-reasons-why-you-need-cycling-shoes
https://forum.bikeradar.com/discussion/12940993/are-cycling-shoes-really-faster-than-trainers
https://www.bikeconnection.net/articles/buyers-guide-to-clipless-pedals-and-cycling-shoes-pg167.htm
https://totalwomenscycling.com/commuting/8-pairs-of-stylish-spd-cycling-shoes-you-can-actually-walk-in
https://www.bikeforums.net/fifty-plus-50/787528-do-cycling-shoes-improve-your-avg-speed-least1mph.html
https://forum.slowtwitch.com/forum/Slowtwitch_Forums_C1/Triathlon_Forum_F1/Break_in_new_cycling_shoes_fast!!_P4770715