While you might be practical, there's no denying that your shoe collection can quickly spiral out of control. Granted, you have sneakers. However, do you have appropriate footwear for a wedding, going to the beach, work, a black-tie event, or a beach wedding? Most people acquire a ton of shoes that can be a real pain to store. After all, they are clunky and plentiful.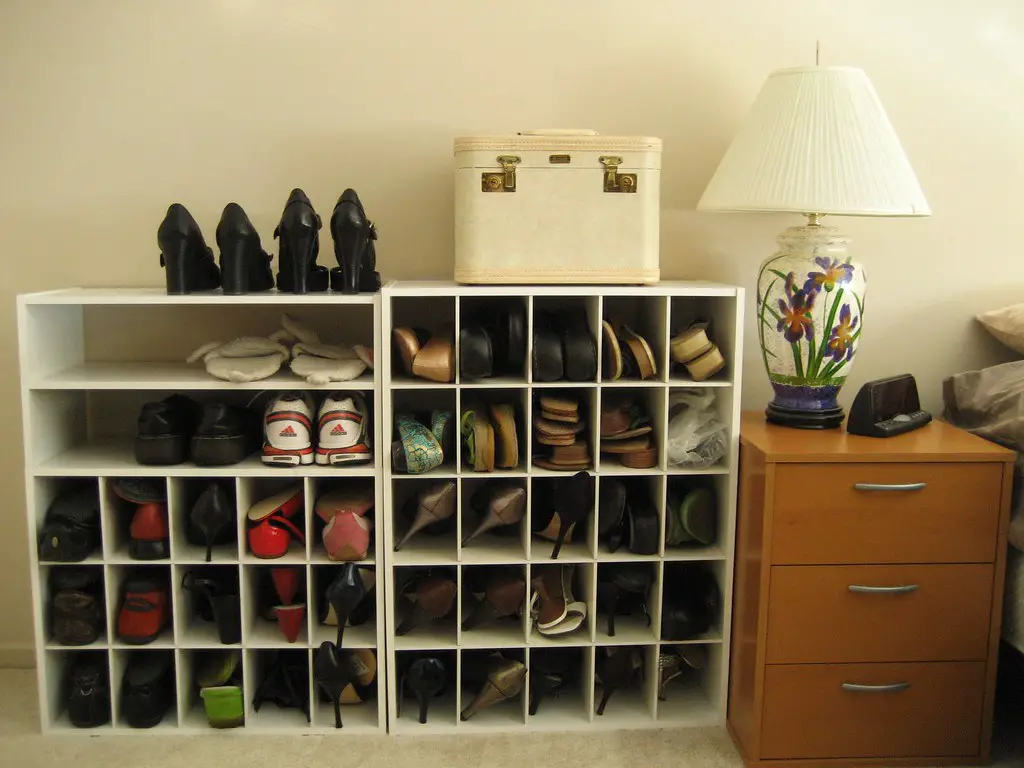 Furthermore, storing shoes can get trickier because they hold sentimental value, so we hold on to them even when they're a size too small. With that being said, this guide delves into a few tips on how to organize your stackable shoe storage and take control of your life, one pair at a time.
1. Get Rid of Shoes You Don't Wear Anymore
The first step to organizing your stackable shoe storage is to take inventory of all your pairs. If you're a hoarder like most of us, you might discover bags and bins of shoes tucked away in every corner or closet of your home. While it's a daunting process that can take hours on end, it will pay off in the end when your space is de-cluttered.
By color-coding and categorizing your shoes, you can easily spot the duplicate styles, the pairs that are out of style and worn out, allowing you to solely keep what you need. After all, less is more.
By getting rid of the shoes you don't wear anymore, you might be pleasantly surprised that you've cut out up to 50% of your entire shoe collection. Moreover, doing so keeps your closet or shoe cabinet filled with the shoes you wear that spark a smile while paving the way for guilt-free splurging on a few new pairs.
2. Categorize Your Shoes
Now that you've de-cluttered your shoe collection, it's time to categorize your shoes into:
The pairs you wear more than once every week
The pairs you wear less frequently
Those you wear less frequently, such as snow boots or stilettos, should be neatly tucked away at the top of your shoe cabinet. Now, it's time to subdivide the shoes you wear more often. Start by clustering similar styles together. Then, cluster your work shoes together. Your dinner shoes or those you wear to formal events should be in a 3rd group.
Lastly, put your walking or running shoes in a 4th cluster. By doing so, when it's time to head out for work, a run, or a wedding, you know right where to find the appropriate pair to wear without turning your stackable shoe storage space upside down.
3. Clear Stackable Shoe Boxes Are Your Friend
In addition to shelving, investing in container shoe boxes will keep everything organized. They typically remain in excellent condition when handled properly, even when you move homes. With front-opening doors, a shoe storage box allows you to quickly access the pair you'll wear without the hassle of rearranging the rest of the shoes after they accidentally topple over.
Available in different sizes and designed with durability in mind, these container shoe boxes can fit sneakers, heels, flats, sandals, and boots perfectly. If you've used a generic stackable shoe rack in the past, you know that it can feel messy when storing heels and doesn't accommodate as many pairs as you'd like. If this is the case, you'll appreciate a container shoebox for extra shoe storage.
Furthermore, their transparent, closed, and stackable nature means you can store this stackable shoebox under a clothing rack or in a closet organizer without knocking things over and still maximizing space.
4. Store Boots on the Top of Your Stackable Shoe Storage
Depending on the amount of storage space you require for your shoe storage solution, stackable shoe storage can be hard to reach. Therefore, we recommend storing your boots at the top of your stackable shoe storage, given that you don't wear them as frequently as heels, and typically they won't fit properly in the clear container boxes you recently got from the container store.
Depending on their length, boots typically flop over, taking up immense, unnecessary space. They also lose shape easily. Therefore, to keep them in shape, you can use rolled-up magazines, newspapers, plastic bottles, or boot shapers. Once your boots are standing at attention, storing them is a breeze. If you prefer not to store them at the top of your stackable shoe storage, you can neatly tuck them away in clear shoe bins or boot boxes, which make great extra shoe storage.
As a tip, to avoid cluttering your stackable shoe storage in your closet, keep a handful of the boots you wear year-round. For seasonal boots such as grunge boots, cowboy boots, snow boots, or winter boots, you can store them in shoe storage containers in your garage, attic, or unused guest bedroom and only access them when need be. Storing them away during off-season is also a great way to clear that entryway of runaway shoes you might have.
5. Color-Coordinate Your Shoes
It's a no-brainer that a color-coordinated closet is aesthetically pleasing in addition to making it easier to find the shoes you want to wear for a particular occasion than if they got lost in a sea of colors. Nonetheless, if you don't fancy storing your shoes by color, you have free rein to arrange them in your shoe storage cabinet by type, ranging from casual heels, dressy heels, sneakers, sandals, and ankle boots to knee-high boots.
6. Use Clear Stackable Containers
It's a no-brainer that picking out shoes from a stack of boxes is harder when you don't know what you're looking at. Therefore, when you're organizing your shoes, keep them as visible as possible by using see-through storage bins instead of the shoebox they came in. Some shoe boxes also come equipped with ventilation holes, helping to keep your shoes in great condition while also making it easier to peek at what is inside each shoe holder.   
If you're getting a shoe organizer, opt for options with clear slots. If you're angling at saving extra bucks by reusing some of the shoeboxes lying around in your home, label the box with the type of shoes.
What's even better is that you can stick a picture of the shoes on each box. Although it's a tedious process, easy visual aids will jog your memory every time, saving you the hassle of tearing your closet apart every time for every outfit option.
The Bottom Line
The key to maintaining a clean home and freeing up floor space is ensuring every space is organized efficiently, including your stackable shoe storage. When everything has its place, the chances of making a mess are slim to none. With these tips, you can now create an aesthetically pleasing and organized closet space.
Related Posts: