Leather is loaded with natural fats and oils that keep it flexible, water-resistant, and supple like your skin. However, after a while, these natural oils evaporate, leaving the leather on your boots brittle, dry, and susceptible to developing unsightly cracks.
Here's where an excellent leather conditioner for boots comes into play. In this guide, we'll discuss everything you need to know to pick the best option for your footwear.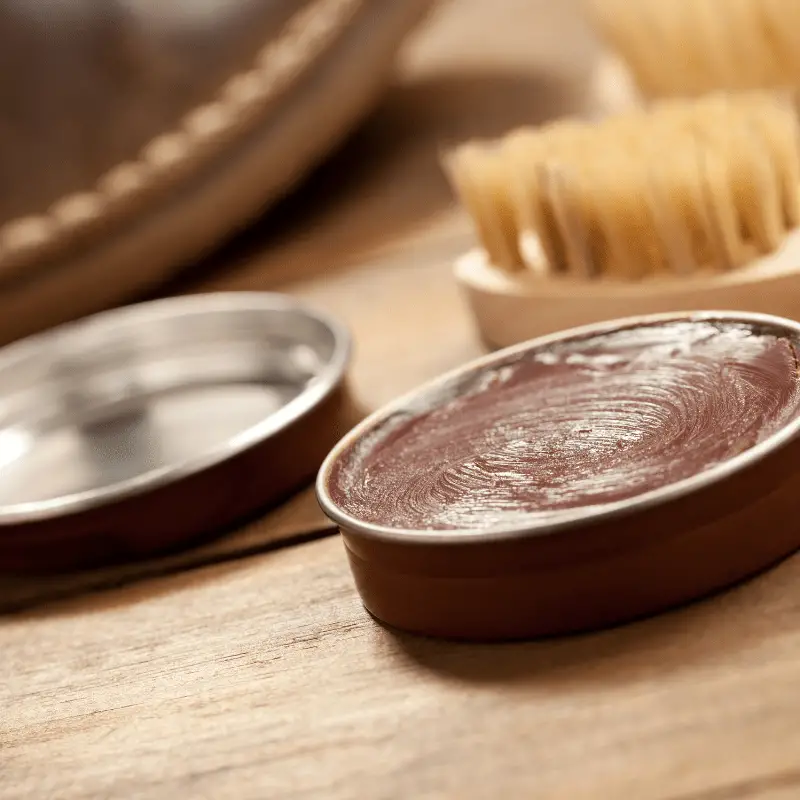 What Is a Leather Boot Conditioner?
It's a product that replenishes the moisture, allowing the leather to remain supple and soft. A great leather conditioner for boots has the uncanny ability to replenish the natural shine, form a waterproof barrier for enhanced durability, and fill in minor scratches and scuff marks.
If you're on the quest for a foolproof way to breathe life into those old leather boots tucked away in your closet, thorough leather conditioning is your best bet.
How Frequently Should You Condition Leather Boots?
The most opportune time to condition your boots is after thoroughly cleaning them. The frequency of conditioning is based on the type of leather they are crafted from and how often you wear them.
Hardwearing or work boots that are worn in harsh weather should be conditioned after 3 to 4 weeks. Contrarily, dress boots, for instance, that are worn less frequently can be conditioned every 2 to 4 months. As a rule of thumb, you'll know your boots are due for conditioning when:
The leather looks and feels dry to the touch
They've come into excessive contact with salt or water
The leather begins exhibiting signs of flaking, superficial cracking, or scuffing
After a thorough cleaning with strong agents that might leave the leather dry
Avoid Over-Conditioning Leather Boots
You don't want to condition your boots every week or less than two weeks. Doing so over-saturates the leather, causing it to lose its natural breathability. The symptoms of over-conditioning range from excessive wrinkles and loss of color to leather separation.
Features to Look for in the Best Leather Conditioners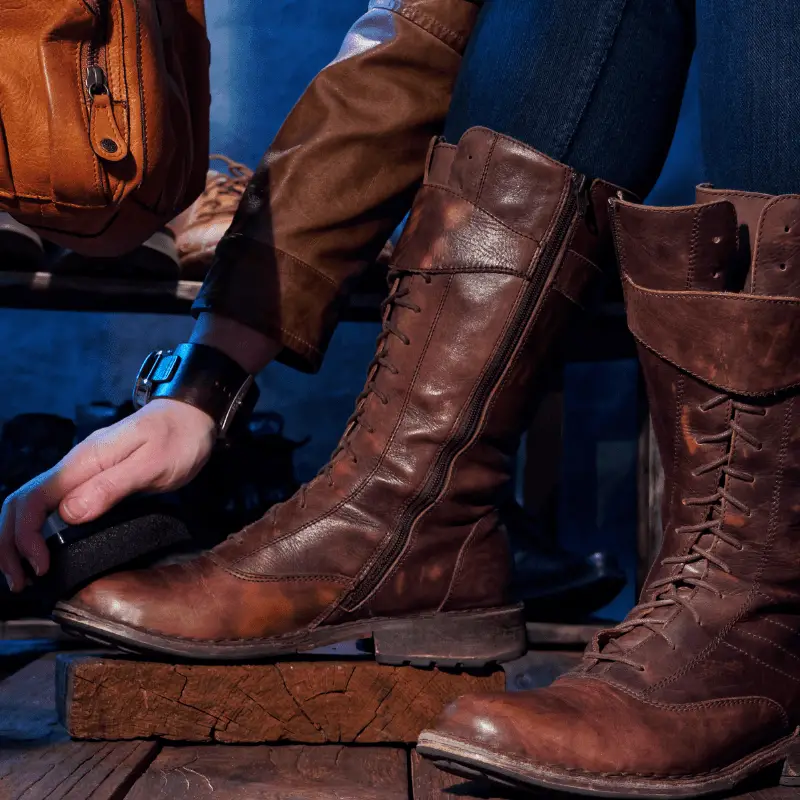 While leather conditioners are a lifesaver in prolonging the life of your boots, they are not compatible with all types of leather. Therefore, we'll discuss a few pointers to ensure you get the most out of your leather protector investment. After all, the last thing you need is to fritter away your money on a product that won't get the job done.
1. Type
The beauty of options is that there's no shortage of them, allowing users to take the best pick for them and their leather footwear. When it comes to choosing a leather conditioner for boots, you can select from three main categories:
Conditioning Oils
Oils function like creams, and because of their composition, they have the uncanny ability to replenish the natural oil that leather might have lost. Nonetheless, selecting the wrong conditioning oil can wreak havoc on your beloved leather boots and cause the fabric to develop an odor. Some like to use leather conditioning oils and others prefer mink oil.
Conditioning Creams 
These infuse oils and moisture to your leather boots and are the go-to option because they hardly alter the color. In addition to replenishing the leather from the fibers, conditioning creams also protect the surface.
Wax Conditioners 
These typically cover the pores of the leather that can be problematic. Therefore, wax conditioners are suitable for surface protection as they fortify the leather against damaging liquids such as water.
Saddle soap, for example, is a compound used for cleaning, conditioning, and protecting leather goods. It typically contains a mild soap, a softening ingredient like lanolin, and preservatives like beeswax. It works wonders on leather footwear.
2. Darkening
A major drawback of some conditioners is how they alter the color of the boots over time, which can be distressing, to say the least. Therefore, it's crucial to ensure that your purchase doesn't damage the leather this way.
A wealth of manufacturers falsely claim not to darken the leather, which is why it's essential to conduct your due diligence to make sure of the veracity of these claims before blindly buying a conditioner.
3. Type of Cleaner
It's worth noting that not all leather boots are crafted equally, as some are more delicate than others when it comes to the fabric. Therefore, when choosing a leather conditioner for boots, it's paramount to check the type of cleaner it uses before buying. General cleaners are compatible with most types of leather.
However, they might be unsuitable for luxurious and more exotic leather, in which case we recommend using an aniline cleaner that is best suited for rare leather. Additionally, you'll find nubuck cleaners used for full aniline or suede leather, among other delicate types. By knowing the type of leather your boots are made of, you can choose the most ideal conditioner.
4. Application
Nothing is more frustrating than a leather conditioner for boots which is cumbersome to apply. To avoid resigning yourself to this fate, thoroughly research the product you want to buy to make sure it offers a convenient and accessible mode of application. The best means of application for some conditioners is using wipes, whereas others spread easier with daubers or cloths.
When Leather Gets Sticky, Should You Clean or Condition It?
Weiman 3 in 1 Deep Leather Conditioner Cream (2 Pack) - Restores Leather Surfaces - Use on Leather Furniture, Car Seats, Shoes, Bags, Jackets, Saddles
Specially formulated - clean, condition, & protect leather while restoring it to its original texture & sheen
Moisturizers - instantly revitalize & restore leather, helping to prevent drying out
Use On - your favorite accessories such as leather purses, shoes, boots, briefcases and handbags
Does Not - darken leather
Recommended use on - Finished leather surfaces including car interior shoes boots briefcases handbags & coats - Do not use on suede, nubuck, Natuzzi Brand or any unfinished leather
Sticky deposits on a leather boot should be attended to as fast as possible. While your first instinct is to condition your footwear upon noticing the stickiness, you should pour some cleaner on a dry cloth then dab it onto the sticky patches. Avoid wiping as you'll make things worse.
To avoid ruining your shoes or leather boot, ensure the leather cleaner you use is compatible with the type of leather goods you have by conducting a patch test on an inconspicuous part. If you're good to go, once you apply the cleaner, allow the leather to air-dry, then condition it.
Furthermore, if you notice white marks on your leather shoes due to salt stains, water damage, or stains of dampness, they can easily be removed by applying the best conditioner during your leather care routine.
The Bottom Line
By investing in the best leather conditioner for boots, the fibers of your leather footwear can be adequately nourished to restore their natural flexibility. You no longer need to toss out your pair of leather boots when you notice cracks and scuff marks coupled with looking and feeling dry. You can clean, condition, and polish to keep your boots looking good as new.
FAQ
Can you clean leather boots with water?
Yes, you can but still will want to wait to condition them after they are cleaned, rinsed, and dried. Before you prepare your warm dishwater mixture, remove the laces. Then, apply a dry rag or soft-bristle brush to swipe away stuck-on mud and dirt. Do this before you wipe them with the soap water.
After you've removed the excess muddy or dirty debris, you can start the cleaning process. By the way, all you need is a large soup bowl for this. Be gentle as you wipe but firm enough that you eradicate unwanted debris from your footwear. Then, use a clean cloth and plain water for rinsing.
Make sure you wring out the clean rinse rag, so it doesn't drench your boots. At the same time, your rinse rag needs to be wet enough to remove away all the detergent suds.
Once you're done rinsing, press a dry towel onto the boots. Soak as much moisture as possible into the boots with the towel. Then, set the boots out to dry. This could take up to 48 hours, so plan this activity when you don't need to wear them.
Once your boots are dry, warm them with a heat source such as a hairdryer or portable heater. Indirect sunlight also works but may take longer. This prepares your footwear for the conditioning step. To start, apply an even coat of your preferred footwear care product. Let it set for 15 minutes. Then, use a clean cloth to buff your boots.
Vinegar is another product you can use for maintaining your boots before the conditioning phase. Just make sure you don't spray it directly on the leather surface. Instead, apply to your cloth and wipe your shoes clean like you would if using dish soap and water.
What can you use instead of leather conditioner?
You can make your own solution. However, olive oil will cause accelerated breakdown not restore it, and application might cause oil spotting. Instead, try flax seed or coconut oils to nourish your boots. Surprisingly, you can also treat your leather footwear with inexpensive hair conditioners. They have more wax in them than some costly leather treatments. Petroleum jelly (a.k.a. Vaseline) also works for waterproofing after you apply the lubricating substance to your boots.
No matter what solutions you try, the principle is the same. Make sure you use a clean rag when applying small amounts of preferred treatment into the leather. Furthermore, do not perform this step until after you have cleaned and dried your boots.
Should I put leather conditioner on new boots?
You can, but it's best if you use a soft brush to sweep any dust in them that remains after manufacture. Usually, horsehair bristles work best for this. Then, give them a good cleaning with soap and water or at least wipe them with a damp rag and dab out the water from them with a clean, dry towel.
Don't add any solution until your boots are dry. Usually, you don't have to maintain new boots much, but if you seal them with a waterproofing substance after the conditioning, it will preserve their lives.
Will leather conditioner soften leather?
The right solution enters the leather pores and moisturizes them, causing them to become more flexible. As the stiffness subsides, the material remains intact while softening. The surface of your footwear will appear restored without a greasy film coating it. After the conditioning phase, you can use beeswax to waterproof it.
For best results, just use a pea-sized drop to start and cover it on your footwear with long strokes. Repeat the process until you have spread a thin layer of this conditioner over the entire area. A benefit of softening your boots before waterproofing them is that your boots won't feel stiff while you walk. This prevents discomfort or blisters.
Will leather conditioner remove scratches?
It can. For boot scratch removal, you can use some methods applied when removing blemishes from leather furniture. Rub an oil appropriate for this type of fabric in circular motion while applying light pressure. This process will feed some coloring from areas surrounding the scratch into the gaps you want to cover. After the conditioning and buffing process, you could then apply a colored shoe polish.
Related Posts: