Leather is a durable material. That means it's susceptible to eventually getting dirty, particularly if leather boots are you're go-to. Keeping your footwear spick and span will ensure the leather remains in tiptop condition, preventing premature wear. Cleaning your boots frequently also keeps them looking professional and is cost-effective in the long run. In this guide, we'll walk you through the straightforward process of how to clean leather boots. Read on!
How to Clean a Leather Boot Using Commercial Products
The best cleaning products coupled with a little know-how will keep your leather boots hydrated and looking new.
1. Unlacing
Given that your laces aren't usually made of leather and we're using leather cleaners, the first step is to take out the laces from your leather boot. While you can clean your laces separately, the last thing you need is the leather cleaner staining them.
2. A Simple Wipe
You don't want to gunk up your polish or cleaner with debris or dirt, so gently wipe the boots with a relatively damp cloth. Doing so eliminates excess dirt that could scratch the leather by wiping in circular motions.
3. Brush Up
Once you wipe the boots, allow them to dry before brushing them. Next, use a shoe brush to gently remove any stubborn dirt from the boots. Ensure you get into any cracks or crevices where dirt is tucked away, after which you can sit back and revel in your efforts.
A horsehair brush is especially effective on leather footwear because its bristles are known for being soft and flexible. They can dislodge excess dirt that may be stuck in the grooves of your leather boots.
For suede, which is a pliable leather, you want to use a suede brush. A suede brush has harder bristles that can eliminate stains on your suede shoes, knock off loose dirt, and will soften the leather.
4. Condition
Like skin, leather must be moisturized regularly to keep it in tiptop condition. Losing its moisture leaves it susceptible to drying up and cracking, after which the damage is irreversible. Leather conditioners typically come with applicators. Squeeze a dime of the conditioner onto a cloth or the boots and wipe evenly. Give it up to 3 minutes for the conditioner to be entirely absorbed.
5. Polish
Once the boots have been moisturized, and the conditioner has completely dried on them, you can start the process of polishing. The polish infuses and an eye-catching shine to your boots, making them look brand new. Typically in a small container, the polish at times comes as a set containing a brush to apply it onto your shoes.
Once you dab a bit of polish onto your brush, gently distribute it across your shoes, just as you did with the conditioner, then let it sit for 30 minutes. If you want to go the extra mile, add some extra polish to a cotton swab and add shine to the toes of your boots. Do so in circular motions to create a beautiful contrast with the extra shine.
How to Clean Leather Boots Using Natural Products
If you gravitate towards natural cleaning products, most of which you probably have in your home, then you can rely on them to get the job done effectively, leaving your leather boots spick and span. To get started, you'll need:
Pour the castile soap into a large bowl and mix with warm water in a large bowl.
Take a cloth and dip it into the mixture. Wring out the cloth to ensure it is damp rather than wet. In circular motions, gently clean your boots, focusing more on any soiled or stained areas.
Wring out the cloth in the solution to eliminate the dirt.
Once the cloth is clean, wipe the boots to get rid of the remaining soapy mixture on them.
Stuff an old rag or towel into the shoes to help them retain their shape, then leave them overnight to dry.
Condition them by applying coconut oil on a cloth, then rubbing it all over your shoes evenly and in circular motions.
Let them sit for 30 minutes, allowing the oil to dry, after which you can use a clean cloth to wipe away excess oil, buffing the boots as you do so.
You're now ready to wear your shiny boots and make heads turn.
Repeat the process once every 3 to 4 weeks to keep them looking good as new.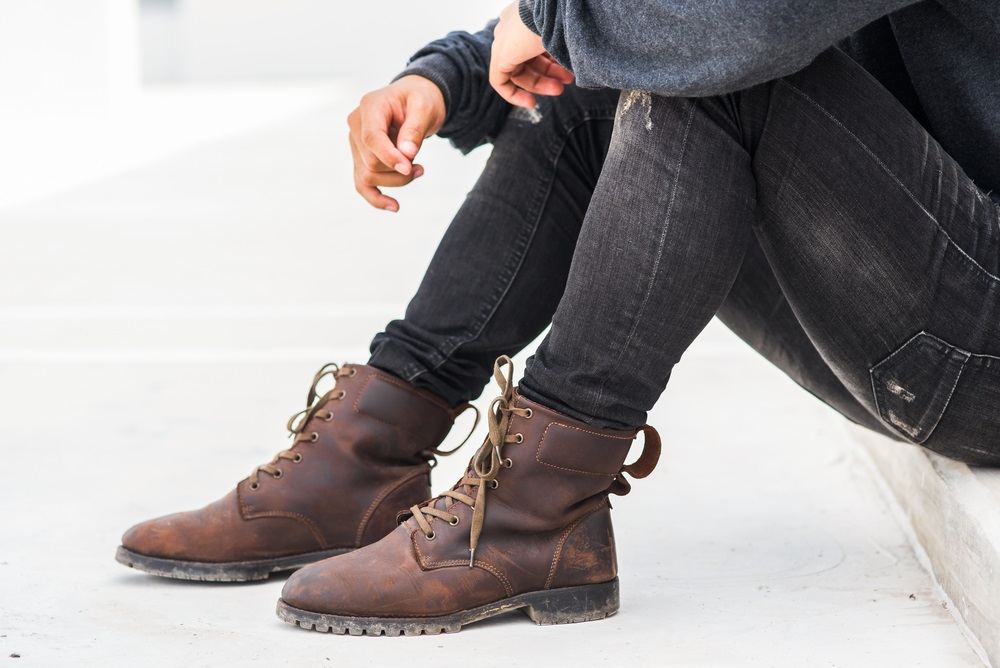 Natural Cleaning Hacks
Who doesn't like great life hacks? After all, it's inherent in human nature to prefer the most fun, simplest, and most effective ways of doing things. We've rounded up a few hacks that effectively clean black, brown, tan, and white leather.
Toothpaste
As a hack for general cleaning, toothpaste is perfect for cleaning your leather boots. First, squeeze a bit in a cloth or soft brush and spread it uniformly over your footwear. Next, rub the toothpaste into the leather and use a clean cloth to wipe any excess.
Saddle Soap
Just as the name suggests, saddle soap is mostly used for cleaning a vast assortment of leather products. Therefore, it also gets the job done in cleaning your leather boots. It's a great substitute for shoe polish. Follow the polishing instructions discussed earlier to polish with the saddle soap.
Baking Soda
Its versatility is unmatched. To get rid of grease stains or oil, sprinkle a bit of baking soda onto the stained area of your leather boots and spread it evenly using a cotton cloth. Leave it overnight and wipe off the excess.
Vaseline
Grab your Vaseline, apply some on a soft cloth and wipe your boots evenly. The Vaseline will make your boots shine and soften them. It's a useful hack for preventing cracks from appearing on your shoes.
Rubbing Alcohol
To get rid of spot stains on your leather boots, dip a cotton ball in rubbing alcohol, and massage it on the stain for a few minutes. Let the spot air-dry and repeat the process until it lifts the stain entirely.
Closing Remarks
Owning leather boots or other leather footwear is a welcome luxury in our lives. Contrary to the stigma that keeping leather spick and span and in tiptop condition, this guide proves that it's a breeze to maintain, even more so, with readily available ingredients.
Related Posts: