Moccasins, loafers, and boat shoes are all known for being comfortable, casual footwear. All three can be slipped on and off easily. But what are the differences between these three shoe types?
What Are Moccasins?
Moccasins are made up of one piece of very soft leather. Traditionally, it's deerskin but any soft leather will do. The sole is brought up and stitched to a piece of U-shaped leather on the top of the foot. They may be lined with fur or fleece if they are intended to keep the feet warm.
Contemporary "driving mocs" have rubbed tabs on the sole for traction. Traditionally, moccasins were decorated with fringe or beadwork. Today, the decoration is a simple leather strip tied into a bow.
Are Moccasins Shoes Or Slippers?
If it has a hard sole made of rubber or crepe it is a shoe. Otherwise, it is a slipper meant for indoor use. Driving mocs may have a nubby sole.
Why Are They Called Moccasins?
Like the words raccoon and hickory, the word moccasin comes from the Algonquian language, specifically the Powhatan tribe. This means Pocahontas likely wore them. The word came to be applied by white settlers to leather footwear worn by any of a number of Native American and First Nations peoples.
Each tribe had their own style of moccasins. The Blackfoot people got their name from preferring dark dyed leather. The Ojibwe people who lived around the Great Lakes fire-cured their leather to make waterproof moccasins. The Apache people who lived in rocky areas made their soles hard with an upturned toe.
The Inuit people who lived where it was very cold lined their moccasins with fur. Many Great Lakes tribes would make baby-sized moccasins with holes in them so if Death tried to lure the child away, he could say "I can't come with you. My moccasins have holes in them."
Are Moccasins Comfortable?
They are a comfortable, minimalist shoe. They are made to be soft and comfortable. It's almost like being barefoot.
Are Moccasins Good For Your Feet?
Well, Native Americans were known for having good posture. While moccasins have little in the way of cushioning or arch support, they have the ability to strengthen foot and calf muscles. They encourage a natural movement of the foot. If you really need arch support, you can always put in an insole.
How Should Moccasins Fit?
It should start off with a snug but not a very tight fit. It should feel like a thick pair of socks. The leather will stretch and conform to the shape of the foot as the shoe is broken in. It is recommended that the biggest toe should come right up to the front tip of the moccasin, even touching it.
Do Moccasins Stretch?
Cowhide leather will stretch somewhat if you put effort into it. If you can get moccasins made from wapiti (what Algonquian Natives call elk) you will find that it stretches so easily you may want to go a size down.
Bison and moose hide leather are also very supple. Buckskin may stretch slightly in time. If it was pre-stretched during the tanning process (the old-fashioned method) it will keep its shape for a longer time.
Can You Wear Moccasins Outside?
Soft sole moccasins are for indoor use or around the house, deck, or garage. A rubber sole will make the shoe more practical for outdoor use.
Are Moccasins Good For Walking?
Originally, moccasins were meant for walking on natural ground. The Natives even designed some to make their steps virtually silent to make it easier to sneak up on the animals they were hunting. (Moccasins with beads and bells were probably meant for ceremonial dancing.) However, if you walk on pavement and hard floors, you're going to have to be more modern with a firmer sole and inserts if needed.
Are Moccasins Dress Shoes?
Not in the white man's world. While some traditional moccasins were elaborately decorated and meant for special ceremonies, the modern moccasin is strictly casual. They look good with chinos, jeans, and shorts.
Are Moccasins In Style?
Always has been. Slip-on shoes of all types are always good for any season.
Do You Wear Socks With Moccasins?
It is optional. Some people are just more comfortable with socks. However, it is best to skip the socks if you wear them with shorts.
Are Moccasins Waterproof?
The Ojibwe as mentioned fire-cured their leather but many other tribes used pine tar, beeswax, or bear fat to make waterproof leather. Tribes living closer to the coastline would make waterproof moccasins out of sealskin. The beeswax method looks like the easiest way to waterproof modern mocs.
Can You Wear Moccasins In The Rain?
Get them waterproofed first. Old fashioned beeswax works, but you may find a modern waterproofing spray easier.
Can You Get Moccasins Wet?
If they are made out of suede, you'll have to act quickly so that it doesn't stain. Otherwise, as long as they aren't left to rot or mildew a little moisture won't hurt.
Which Brands Are Best For Moccasins?
The Sperry Moccasins are a blend of tradition and modernism. Sorel and UGG are also well known for their moccasins. Chaco also offers quality mocassins.
How To Clean Moccasins?
Spot cleaning typically can be done using a mild detergent and water. Squirt a bit of liquid detergent on a damp cloth and rub it in using circular motions. Rinse the cloth out and wipe the excess soap off. Allow the moccasin to air dry.
In extreme cases, suede moccasins may be washed in a washing machine on the gentle cycle. You should not put them in the dryer. Instead, let them air dry with something absorbent like newspaper or cloths stuffed inside the moccasin so that it will keep its shape.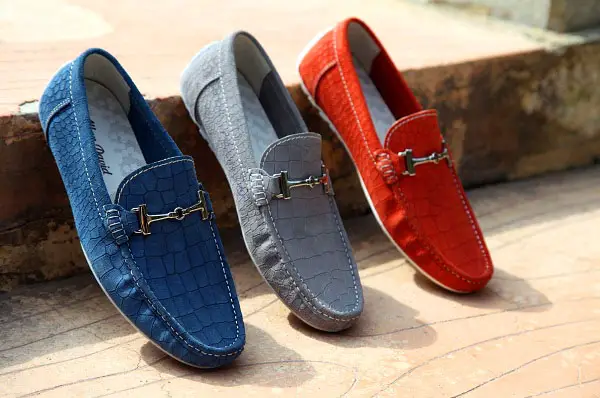 What Are Loafers?
Loafers are shoes that slip on with no lacing or other fastening system. They usually have little to no heel.
Why Are They Called Loafers?
As the name suggests, it's because they were meant to be leisurewear, for just loafing around. They're for the person who wants to look elegant but without much effort.
In the 1930s, travelers in Europe noticed the comfortable looking footwear of the local fishermen in Norway. In 1936, the G. H. Bass company introduced the Bass Weejun, the first commercially available loafer named after a corruption of the word Norwegian.
Why Are Loafers So Popular?
They are popular for their versatility and ease of use. Plus, they are comfortable as well as dependable. They are a shoe style that seems to have something for everyone.
Are Loafers Dress Shoes?
They can be either, depending on what kind are worn. They look good with jeans as well as slacks. You can wear them with a suit and tie or slacks and a sports jacket. They can be casual or dressy or something in between. Darker colors look more formal Also keep in mind that the less of your socks that are visible, the more formal the look.
Are Loafers Comfortable?
It's one reason why they are so popular. They are easy to slip on and have nothing to pinch. These are shoes that prove you can look classy and still be comfortable.
Are Loafers Good For Your Feet?
They are better than high heels. They have plenty of shock absorption and don't bend too easily. They have a lot of support on the sides. Even podiatrists love them.
How Should Loafers Fit?
Loafers are designed to slip on and off easily. Because of this, some slippage in the heel is to be expected. However, your heels must not come all the way out of the shoes with every step.
Do Loafers Stretch?
The leather will stretch a bit, but remember that you do want a comfortably snug feel.
Are Loafers Formal?
It has too much of a casual heritage to be truly formal. Some styles and colors may be more formal than others.
Are Loafers Business Casual?
This is the best choice for this style.
Are Loafers In Style?
They are becoming more popular in women's fashion. Women have recently decided that they will no longer sacrifice comfort for style. The loafer manages to provide both.
Do You Wear Socks With Loafers?
While recommended, it is optional. Some men wear them with shorts and no socks for that summer tourist look.
Can You Wear Loafers With A Suit?
Some old-fashioned people might not like the idea. However, as long as it's not ultra-formal and you got everything to match you can pull it off.
Can You Wear Loafers With Jeans?
It's good for a relaxed look with a t-shirt.
Can You Wear Loafers With Shorts?
Some people do and skip the socks.
Can You Wear Loafers To A Wedding?
As long as it's not a super formal black-tie event, you can. They're great for summer weddings, particularly if they're outdoors. If you are looking to coordinate with your date, here are some common wedding shoe dress combinations for her.
Can You Wear Loafers To Work?
Depends on where you work! If you want a professional look that's not too prep you can pair your classy black loafers with a medium brown suit, pale blue button-up, and a dashing portfolio briefcase. Put a cherry on this sundae with a crisp white pocket square. If you're going sockless, see that your pants are hemmed with no break at all.
Which Brands Are Best For Loafers?
If you want to look like a baller, you can wear Gucci, Thom Browne, and Christian Louboutin. If you want style without breaking the bank you can try Clarks or Mulo.
Dockers are very popular while still having quality and style without luxury prices. Loro Piana is good for the beach. Santoni and Robert Zur offer a black woven leather design.
How To Clean Loafers?
You can wash stained loafers using mild dish detergent mixed with water. With a soft toothbrush, scoop up a small bit of suds and affix them to the stain, but keep the shoes as dry as possible. Gently scrub the stain with the toothbrush and allow the solution to sit for a minute or two before wiping it off. Repeat the process as necessary.
What Are Boat Shoes?
They are shoes generally made with canvas or leather with non-marking rubber soles. These soles have a siping pattern much like an automobile tire to provide great traction. They have durable stitching and an oily application makes them at least water-resistant.
Why Are They Called Boat Shoes?
Hmmm…could it be because they're worn on a boat? They are also known as deck shoes. The treaded soles make them perfect for walking on damp, slick surfaces.
Are Boat Shoes Comfortable?
They are more comfortable than they look. They have a dressy look but provide cool comfort.
Are Boat Shoes Good For Your Feet?
They are not only comfortable but breathable. They have better traction than loafers and pretty much any dress shoes. They are lightweight and keep the feet dry.
How Should Boat Shoes Fit?
It shouldn't fit much differently from any other shoe. However, you may want to go for a bit of a snugger fit than you typically would as they tend to stretch out and become looser as you wear them. You may find yourself needing to go a half size down from your regular size. If you're between sizes, it's best to go with the smaller of the two.
Do Boat Shoes Stretch?
If they are made with leather, they will stretch over time. Should the boat shoes be made of synthetic materials such as canvas they will stay true to size and not stretch. Such shoes are made to hold their shape. Do remember that the break-in of your new boat shoes will only affect the width and not the length.
Are Boat Shoes Good For Walking?
The treaded sole makes them useful for walking on slippery surfaces. The padded footbed makes them good for walking anywhere.
Are Boat Shoes Out Of Style?
This iconic look will never go out of style.
Do You Wear Boat Shoes With Socks?
Most people don't. If you feel that you must-have socks, wear socks cut below the ankle that won't show much.
Can You Wear Jeans With Boat Shoes?
They look great with denim. Peg or cuff your jeans so that you can better show off your boat shoes.
Can You Wear Boat Shoes In The Winter?
They're strictly a warm-weather shoe.
Can You Get Boat Shoes Wet?
Shoes on a boat are of course going to get a little wet. The good brands are waterproof.
Which Brands Are Best For Boat Shoes?
The boat shoe was invented by Paul A. Sperry in 1935 for the purpose of not falling down while on a boat. Sperry based the grooved pattern on the soles on the patterns in the paw pads of his dog, Prince. After some trial and error, he came up with the perfect boat shoe.
Lacoste keeps its reputation of simple luxury as does Ralph Lauren. Sebago is loved by both preps and serious sailors. For classy luxury without classy price, there's always Clarks.
How To Clean Boat Shoes?
If they're canvas, you can toss them in the washer. If they're leather, you may have to do it by hand. Put a dollop of dish soap the size of a quarter on the outsole and scrub with an old toothbrush. Baking soda will deodorize them. Let them dry stuffed with something absorbent in a cool, dry place out of the sun.
Conclusion
Moccasins, loafers, and boat shoes have their similarities, but also differences. Which one is right for you?