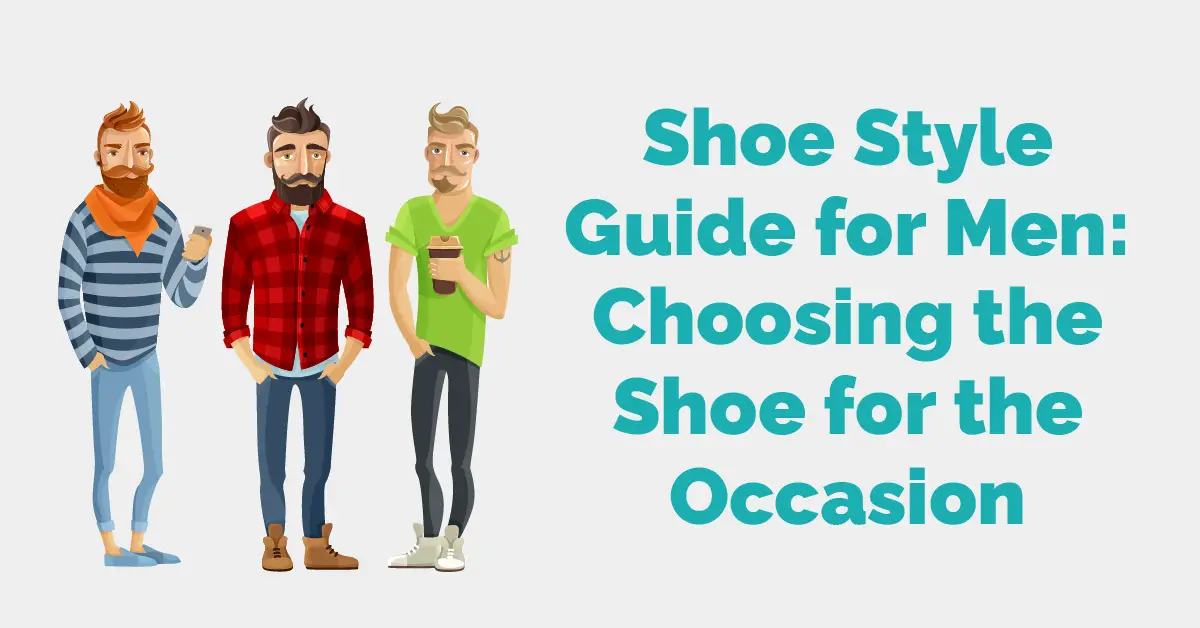 Introduction
Ever since people have been wearing shoes, there have been etiquette and fashion tips associated with them. While the distinct styles have changed over the years, a lot of the same formal dress rules surrounding men's shoes have stayed the same since the 1960s. By following timeless advice when choosing out which shoes you wear, you can tie your entire suit together and dress properly for any occasion.
This guide covers modern shoe styling for men. Whether you're looking to finish off your new work suit or impress on a specific occasion, you'll find the following advice below:
Types Of Men's Dress Shoes
How To Pair Different Shoes With Clothing Correctly
Men's Shoes Rules To Keep In Mind
Across those three sections, you should get enough information to properly choose the best shoes to wear. We have also included references to other material where appropriate, so you can read even deeper into topics related to shoe fitting, shoe styling, and footwear etiquette.
Shoes Every Man Should Have
Before we get to the main content of our guide, we thought it would be prudent to give you a list of shoes that every man should have. Americans spend more on shoes than any other article of clothing. In Britain, other studies have suggested that women own 17 to 27 pairs of shoes while men have averaged out at 12, sometimes men report buying more shoes than women.
The last thing you want to do is spend your hard-earned cash on shoes that you don't get much use out of. By making sure you have the six shoes detailed below, you'll have a pair for every style and event.
Brown Brogues: Brogue shoes in a widely compatible color like brown are the cornerstone of smart-casual wear, so every man should own a pair. If you weren't sure what broguing is, it's a decorative design that involves perforating and serrating the visible edges and seams of the shoe. You can see what they look like here.

For a first pair, you may want to go with a more muted tone by choosing shoes with a semi-brogue pattern. If you prefer a more eye-catching look, you can choose to get wingtips that have more noticeable brogue patterns. As the shoe gets more broguing, you can slightly increase the color shade to tan or cognac.
Brown Loafers: These are versatile shoes that can fit in with both casual and formal settings. They're the perfect summer shoe for many guys out there and, if the weather stays temperate all year round, nothing is stopping you from wearing them through the winter. When brown, they'll fit with most outfits and weather.

You shouldn't wear them with a full formal suit, they're better for a breezy sports coat/chino combination, or with denim for an even more casual edge. They can be made with leather or suede too, and you can choose your favorite tassel option, you decide! If you require some sophistication, we'd recommend horse-bit loafers for that flash of metal that catches people's eyes.
Brown Leather Boot: Finishing off the trilogy of brown shoes that everybody should own, you need to have a more rugged option. That's where the brown leather boot comes in. The style can vary, you can even wear cowboy boots if you can make them work, but what's important is that you have something more substantial to wear on your feet that keeps them safe, looks good, and only looks better when they get worn in. They should be brown because they go with chinos, dark denim, and most wool trousers. 
Oxford Or Derby Shoes: Every man should have a pair of Oxford or Derby shoes in black, preferably with a more pointed toe box than a squared-off one. What's the difference between the two? The Oxford has closed lacing that's much more formal than the open-laced Derby.

If you're already getting the casual/smart-casual brogue shoes and loafers above, we'd suggest getting an Oxford so you have a formal footwear option. Black is better for formal occasions while brown is more versatile.
Suede Chukkas: Chukka boots made with suede combine the ruggedness of a boot, the sophistication of suede, and the versatility of both to make a perfect fit for many occasions. They can be worn with a shirt and dark jeans or a suit, depending on what the situation demands. Neutral shades are great for versatility's sake, so go for brown again or navy if you want a change in the color palette.
Minimalist Sneakers: Finally, every man should have a pair of sneakers. Sneakers are some of the most popular footwear in the world yet are rarely considered in many formal fashion circles. There are reasons for this, of course, mainly that many sneakers have garish designs that incorporate the logos of the brands that make them. This can make them fall out of style as trends come and go.

A pair of minimalist sneakers allows you to have the comfort and convenience of a sneaker while maintaining a neutral and put-together aesthetic. Whether the shoes are made from canvas, suede, or leather, minimalist sneakers allow you to dress at your most casual without sacrificing image or repping anybody's brand but yours.

Types Of Men's Dress Shoes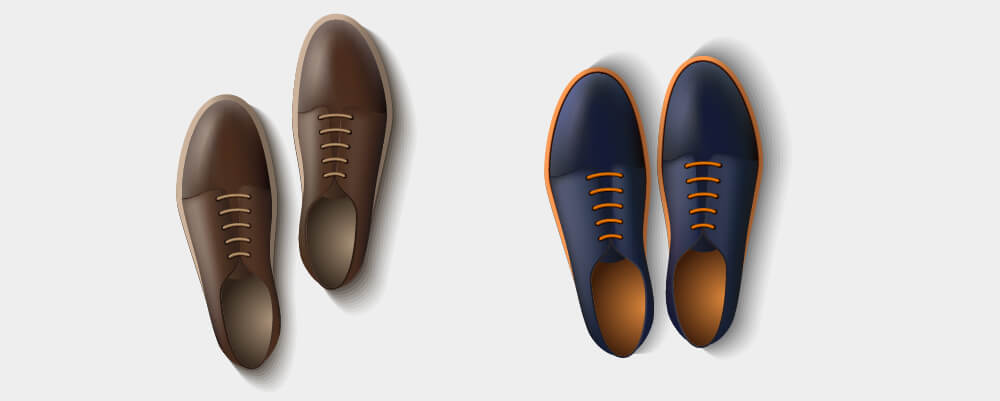 The Oxford
Oxfords are the quintessential formal shoe that gets brought up whenever somebody imagines sophisticated footwear. It is basic and timeless, especially when the toe point is tapered to a, well, point instead of boxed-off. It's versatile and, depending on style and color, can even pass in casual wear too. What distinguishes an Oxford shoe is its closed lacing, slimming the silhouette of the foot to contour the edge of the leg and portray sleekness.
When worn with formal wear, a black leather Oxford is typically your best bet to impress. If you're dressed for business and looking for a combination with a little more personality, darker browns or cordovan can still look great.
The Derby
When you like the look of an Oxford but want to tone down a notch, the Derby has you covered. They're very commonly confused even though Derby shoes have their lacing atop the vamp. This is called open lacing, which is the opposite of Oxford shoes' closed lacing and allows for a more comfortable wider fit.
As for how you would wear Derby shoes, most of the Oxford advice applies. They will never look as good as a pair of Oxfords when attached to a suit, so Derby shoes are best when complementing jeans or chinos.
The Monk Strap
The monk strap sits somewhere between the Oxford and the Derby on the formality scale. It's a lace-less shoe that has a history as the footwear of actual monks, having been used to protect their feet instead of the sandals they had traditionally worn.
To look at, you'll find these shoes are built just like Oxford shoes. The main difference is that the lacing system and eyelet enclosure aren't there, being replaced by a leather fastener across the front of the shoe. You can then adjust the wideness of the shoe's fit while the buckles that you use can glimmer away and attract people's positive attention.
Wear jeans, suits, and broguing if you like any of those things. There isn't much debate around how to wear monk straps, many agree that they should be the part of your clothing that everybody notices and pays attention to.
The Loafer
The loafer is a great bridge between the three shoe styles above and a more casual aesthetic that uses these handy slip-on shoes to make the ultimate comfort footwear. They're not just easy to put on, they're easy on the eyes and can finish off many casual, smart-casual, and formal-lite outfits.
You should pay attention to the saddle, a decoration on top of the loafer that can set them apart from the other styles. There may be a slit or tassels that fill up space. Leaving the vamp exposed creates a minimalist style that can work in muted formal settings while, on the other end of the spectrum, a metal ornament can add personality and prestige to the footwear in many formal contexts.
The Dress Boot
Dress boots combine the stability and weight of boots with the elegance of Oxford or Derby shoes. They are constructed a lot like Oxfords but instead have a longer shaft that cradles the ankle. Just like those other formal shoes, broguing and other decorative features can be included to enhance the casual or professional appeal of the footwear.
The construction of the boot is everything. Oxfords are made to be sleek because they work best with the trimmed aesthetic that a well-fitting suit provides. Following that logic, a dress boot could be perfect on paper but, if it's a large and unwieldy piece of footwear, it'll be distracting on the end of a narrow-fit pant leg. Formal dress boots should be thin and have smoothened but noticeable high-top soles that distinguish them from being Oxfords but don't look rugged and utilitarian like the average boot.
It helps if the boots are made from a material like fine leather. Suede dress boots are often considered a contradiction in terms and should only be attempted in the most ambitious outfits. If suede appeals to you, consider Chukka boots instead. That said, there are ways you can make many types of boots compatible with a suit.
The Chelsea Boot
Chelsea boots are a versatile option when compared to the dress boot. If dress boots are Oxfords then Chelsea boots are the loafers that go with pretty much every outfit combination.
They stop just above the ankles and have a tamer, rounded-off toe profile that's combined with low heels and a lace-less vamp. This creates a muted boot style that maintains a distinctive image without falling into the formal or casual camps. Elastic gussets are commonly worked into the sides to enhance the fit too.
They look more formal when made with leather (what shoe doesn't?) but they can still be paired with casual articles of clothing like jeans for a casual outing. You can get Chelsea boots in suede too, which is best used as part of a casual or smart-casual getup.
The Chukka Boot
Chukka boots were created to play polo and have since found popularity for their style instead. They're laced-up boots that have just two or three eyelets drilled into them. The minimized lace presence allows for them to complete a snug fit despite being a boot.
They're best when they're made in suede. They look better, they feel better, and they'll have more dynamic options for casual dress. They share a lot of construction qualities with Derby shoes, making them the boot equivalent. On formal occasions, you can probably do better than the Chukka boot with something else in your closet. For casual occasions, however, the Chukka boot has virtually no limitations.
The Opera Pump
You would be right to assume that any shoe with the word "opera" in its name is guaranteed to be very formal. They are essentially slip-on dress shoes but, unlike loafers, they are restricted to the most formal of events. They're quite uniform in their design, made with shiny patent leather and a grosgrain bow across the front.
Similarly, their application in men's fashion is just as limited. They go best with tuxedos or other black suits, especially if it's a full-dress event. They're not a necessary piece of footwear by any means since black Oxfords could replace them in most settings, but it's a distinct shoe that should be on your radar.
Broguing 
Pretty much any shoe style is capable of having broguing decorations punched into them. They're more common in Oxford, Derby, and monk strap shoes so that they can retain some personality and break the mold when worn in excessively formal events.
To understand broguing, you must know that there are four different styles you'll see in the market:
Full Brogue: Otherwise called wingtips, this is where the wing-shaped cap of the shoe extends in both directions to wrap around the front of the foot.
Semi Brogue: Semi or half brogues are more subtle, having broguing at the toe cap seam as well as the seam under the lacing.
Quarter Brogue: Quarter brogues just have that broguing on the seam by the toe cap, nowhere else on the shoe.
Longwing Brogue: Longwing brogues go even further than full brogues by continuing along the entirety of the shoe's sides and ending at the back ankle seam.
Sneakers
You already know what sneakers are, they're ubiquitous nowadays because they establish an effortlessly casual look that goes with most everyday wear. What you may not know is that sneakers come in many, many different variants. Here are some pointers:
The Sports Sneaker: A big family of Nike and Asics that have specific uses for running or playing other sports. Don't bother trying to incorporate them into an outfit, just keep them in good condition and break them out whenever you're running.
The Trail Sneaker: Made with hiking and backpacking in mind and offered by brands like Salomon, these are also hard to style just like sports sneakers, and are built to withstand a lot of punishment.
The Luxury Sneaker: More expensive footwear commonly made with leather or suede and fielded by brands like Tom Ford. They're passable in terms of style but you don't want to play a sport or get lost on a hiking trail with them on.
The High-Fashion Sneaker: It makes sense that the popularity of sneakers motivated high-fashion brands like Christian Louboutin or Givenchy to offer their take on sneakers. They're designed to be noticed, typically more as a statement due to their brand prestige instead of being part of an outfit.
How To Pair Different Shoes With Clothing Correctly
At this point, you may be wondering what the rules are for matching footwear with your clothing. Let's take a moment to go through how different shoe types are best paired with your existing wardrobe.
First, you should understand that the accepted fashion styles related to footwear have become less rigid in the last few years. This can be said for most fashion etiquette for both men and women. Men can and have worn sneakers while in a suit, for example. Even more surprisingly, they can pull it off! How is that possible?
While sticking to formalized etiquette is advised, you can bend the rules as long as you color match. Using the right shades of clothing and footwear, you can create a harmony between them that makes the outfit passable in the eyes of others.
Sure, you could dress in blacks and browns more frequently, but casual getups tend to work with lighter and more adventurous color palettes that can make color-matching tricky. Remember these rules as we go forward:
Darker colors are generally more formal. Lighter colors are generally more casual.
The style of shoe also matters when it comes to formality. A black loafer is more sophisticated than tan, though a brown Oxford will always be more sophisticated than simple black boots.
Block colors are more sophisticated than multi-colored outfits.
Sneakers follow different rules to smart shoes. For example, white sneakers are very versatile while white smart shoes are too distracting, very limited, and easier to get dirty, ruining your image.
Speaking of shoe cleanliness, polish your shoes with neutral polish or polish that matches their style. It helps them last longer, so you get more use out of your investment.
Light footwear can be offset with neutral clothing, assuming the shoes are worth being the most noticeable aspect of your outfit.
How To Pair Black Shoes
With those general rules in mind, let's talk about pairing black shoes. Like brown shoes, black is one of those neutral colors that should dominate every man's shoe collection. Not only are they perceived as being more sophisticated, making them a must for formal attire, but they are also very versatile.
If you need to look your best for a formal event, black Oxfords are a classic example of sophisticated footwear. Unfortunately, they're also more limited as you can't get away with wearing black Oxfords with denim jeans, at least without looking strange to many.
So, what color goes best with black? Black, of course. Whether it's your suit jacket, a suit vest, your pants, your tie, or all four, they can all go with black shoes. The shirt that you wear can then be white or a similar light color to finish off the timelessly formal design.
As for alternatives, near-black colors like charcoal can work. So can grey in professional settings. Despite the common sentiment, black and blue can also be mixed under certain circumstances. That doesn't mean you can turn up wearing sky blue, however, the blue should be very dark, like navy blue.
When it comes to wearing black shoes with more casual attire, the shoes themselves should be more casual. This means ditching Oxfords for Derby shoes or, even better, loafers. If you absolutely must wear denim with black Oxfords, Derby shoes, or loafers, you should have very dark or black denim that has a slim fit. At that point, we'd suggest ditching the smart-casual footwear and going for boots, like Doc Martens.
How To Pair Brown Shoes 
Brown shoes are just as versatile as black shoes, if not more so. It's the most forgiving shade that guarantees brown shoes can be passed off as suitable footwear in any situation. Unless you're in a remarkably professional environment that forbids brown shoes, they'll pass most smart-casual to smart occasions. You should also avoid brown shoes with a wholly black suit or tuxedo at any cost.
Broguing and other superficial decorations do well to create a less formal look than the smooth, shined surface of some Oxfords. With casual brown shoes, brown pants like chinos are typically a good fit. The brown of the chinos should be two to three shades apart from the color of the shoes.
Generally, clothing with more washed-out shades will look better with darker brown shoes. The more washed-out clothing will naturally lend itself to a casual style, so lean into that and consider wearing brown Chelsea boots. Suede boots can add a lot to this style in terms of texture, too.
Oxblood Shoes 
Oxblood is a paradox – a color that can pass off as a neutral when placed in all the right situations. It's a bolder brown that gives whatever you're wearing some personality, making a statement that doesn't venture beyond your comfort zone.
Keep in mind that oxblood becomes harder to pull off as you get more formal, so they support a more casual outfit. If you're going to attempt it, make sure they're polished to perfection. Fortunately, they go with chinos and neat jeans too, and loafers in oxblood are the perfect casual choice for summer casual wear.
Tan Shoes
Having spoken of casual tones that act like brown, tan is the most casual expression of brown where footwear is considered. If you need to wear brown while maintaining a casual aesthetic, you need to get tan shoes. They're also a must if you find yourself wearing chinos often. The texture is also important, with suede being better than leather for casual dress.
Tan adds a casual touch that you can pull off in many settings, especially if those tan shoes have broguing and other details that snatch attention away from the color.
Blue Shoes 
Blue isn't the best color for smart shoes but it's a great color for casual styles. Stay away from shiny and smooth leather, that's a little too eye-catching, but otherwise, you can treat blue like oxblood, a color that can act as a neutral in certain contexts.
It adds personality and works well when you wear navy suede or textured nubuck leather boots. It's still flashy but you can pull it off if you're wearing the right clothes. Whenever you wear blue, you need to make sure the blue is dark enough that rain won't show on them during wet weather.
How To Pair Sneakers And When To Wear Them
Sneakers may seem like a no-go for many situations but you can make them work. Whichever pair you get, make sure they're clean and without logos, and made of high-quality canvas or leather. Assuming the sneaker is minimalist enough, you can even pull off a suit with some comfy sneakers. In most cases, a polo shirt and jeans/chinos will work with sneakers much better than any suit will.
How To Pair White & Colorful Sneakers
Most recommend getting white sneakers but the hardest part of that is keeping them white. This is because brand-new sneakers that are glistening white will go with a suit much better than dirty ones. Fortunately, there are many wipes, sprays, and other products that can help you remove dirt and keep them clean.
As for colorful sneakers, the versatility of the sneaker decreases as they get more colorful. They're best worn with casual jeans, not smart attire.
Men's Shoe Rules To Keep In Mind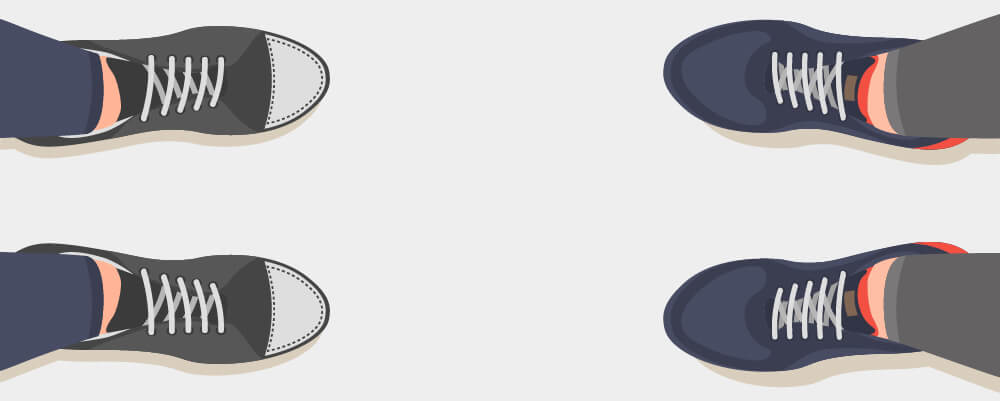 You should now have some idea of how to put together an outfit that compliments your shoe style. As we wind down this guide, let's go over six rules you should keep in mind. Remind yourself of them often when dressing for success.
Your Shoes Should Be Darker Than Your Pants: Unless you're trying the bravest and most out-there combinations, your shoes should always be darker with your pants. This is primarily a formal rule but it's still possible to create a garish look when dressing casually, too.
Match Your Socks To Your Shoes: In most cases, you'll want to match your socks to your shoes to create a natural transition to your footwear. Sometimes a bridge color that isn't quite your shoe color but close enough will also suffice. This is best implemented when your pants and shoes have different colors.
Your Shoes Should Match Your Belt: Your shoes should try and match the color of your belt. This is especially true if you're wearing leather shoes. Combining a brown leather belt with black leather shoes makes no sartorial sense.
Buy A Nice Pair Of Brown Oxfords, They Go With Almost Anything: Speaking of leather shoes, follow our advice at the head of this guide and grab some brown Oxfords if you haven't already. They go with so many styles and settings, more than any other shoe.
Always Choose Fit Over Style. You Won't Look Great If Your Feet Hurt: Presence and personality are still important when trying to impress. You can be dressed to the nines but, if your shoes are causing you pain, others will notice and you won't look great.
Your Dress Shoes Should Always Be Shined And Looking Good: Lastly, your shoes should always be maintained so they're at their best. While there's maintenance required for other shoe types, you should focus on shining the leather dress shoes that you own so they aren't dull or scuffed when you want to look your best.
Summary
With that, you have come to the end of our guide on shoe styling. We have hopefully given you some inspiration for your next formal attire. Maybe you already have many of the shoes we've talked about today and now you know what to do with them, or maybe now you know which shoes you should get to look your best.
Whichever is the case, we're sure you can take the information contained in this guide and use it to build out your wardrobe. That way, you'll always know what shoes to reach for, no matter the occasion.