You can't deny that the term 'shoes' has become generic. However, when used against sneakers, shoes comprise tennis shoes or canvas shoes. Nonetheless, you hardly refer to sneakers as shoes. So that begs the question, 'are shoes and sneakers the same thing?' What's the core difference between the two?
For starters, if you believe there's no difference at all, you've never been more wrong. While it may come as a surprise, there's a significant difference between sneakers and shoes, with the latter referring to tennis or canvas footwear.
Sneakers and shoes serve as helmets for your feet, allowing you to walk comfortably from one place to another while offering support. Even so, they're not designed uniformly, nor do they serve the same purpose. In this guide, we'll walk you through the aspects that set the two types of footwear apart.
Shoe vs Sneaker: Material
It's a no-brainer that there are countless types of footwear. However, they all share one commonality: comfort and warmth due to synthetic fabric such as polyurethane and nylon. These materials are mostly used in constructing the top and bottom of the shoes. Furthermore, maintenance and cleaning are a breeze.
A sneaker, on the other hand, is equipped with unique rubber soles for maximum comfort and durability. While the top of the sneaker is made of canvas or synthetic fiber, it is impressively lightweight. There's no doubt that sneakers have pleasantly soft soles that are quiet, making them ideal for sneaking into a room during an ongoing meeting, for instance, without making a sound.
Shoe vs Sneaker: Purpose
Some men and women wear shoes with comfort and stability in mind, whereas others also look for aesthetics which is why there are various designs and colors of shoes. In addition, shoes are sturdy enough for versatile use in training, running, and walking.
Each category constitutes shoes that deliver the ideal amount of comfort, traction, and stability. For instance, training shoes are constructed with extra rubber padding, which means additional cushioning to support your movements in the gym.
Sneakers are more on the casual and comfortable side of the spectrum. These casual shoes are outfitted with an incredible rubber sole and come in a wealth of designs. Nevertheless, sneakers are unsuitable for sports activities such as running and training.
Therefore, if you're wondering, 'can sneakers be used for running?' the answer is no! These are plain athletic footwear with rubber soles and synthetic material top. Sneakers lack the technicality of sports shoes, which entails shock absorption and lateral support. Nonetheless, they deliver flexibility and comfort, making them suitable for walking.
Shoes vs Sneakers: Comfort
It's a factor that plays a crucial role when it comes to differentiating shoes from sneakers. Shoes typically provide immense comfort for running and other sporty activities. Nonetheless, that's only possible if you select the best pair of shoes, failure to which, you'll end up with heavy and bulky footwear that triggers immense discomfort and painful movements.
Although sneakers provide immense comfort, you don't need to worry about them feeling heavy and bulky. You can wear them every day for strolls or walks.
Shoes vs Sneakers: Cushioning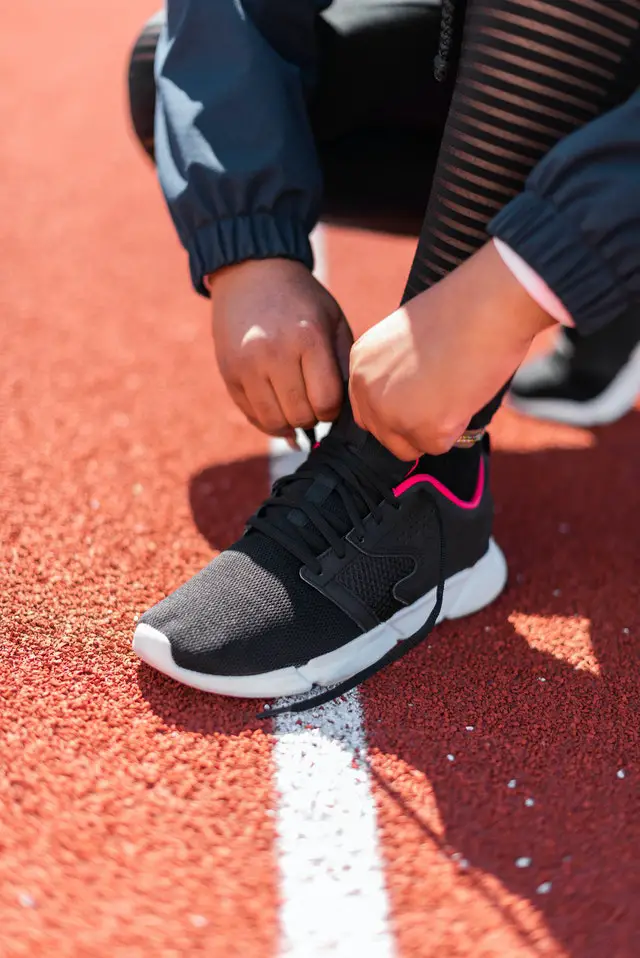 Image Source: Pexels
When you overlook the importance of cushioning, you're ushering in discomfort. Besides foot injuries and pain, lack of proper cushioning also causes adversities such as plantar fasciitis. Whether it's a pair of sneakers or shoes, cushioning is essential.
Nonetheless, sneakers don't provide much in this department. That's because they have hard soles. Nevertheless, some brands manufacture sneakers with sufficient cushioning.
For shoes, cushioning is the least of your concerns as the soles are built via thick, comfortable materials. As a result, they minimize any type of foot injuries, pain, or discomfort.
Shoes vs Sneakers: Motion Control
For starters, motion control is the level of control that shoes provide your feet with during wear. It's a major difference between sneakers and shoes. That means, for activities such as running, motion control should be tip-top. However, when it comes to general use, motion control isn't as crucial.
There's no superiority in this department, which means it boils down to the manufacturer. Nevertheless, sneakers offer better motion control compared to tennis or canvas shoes. The reason is that sneakers have built-in outsoles constructed from top-grade rubber, whereas the underside is made of unique ridges for control.
Although the rubber outsoles are visible in tennis and canvas footwear, the shoe ridges are not as sturdy as sneakers. Therefore, when running or engaging in sports while wearing these shoes, stopping becomes hard, contrary to sneakers, making the task easier with no qualms.
Shoes vs Sneakers: Stability
In addition to motion control, gripping the shoe capacity is equally as crucial. That includes that way uppers deliver a firm feel and fit. Sneakers provide impressive stability due to their laces at the top, regardless of the design. However, not all shoes have laces, as some have a Velcro strap instead.
While stability stems solely from the laces, they don't factor in a secure fit. Furthermore, they are more likely to loosen after a while. Finally, there's no denying that these shoes take the cake when it comes to durability. The rubber soles in sneakers are lightweight, which means they are not sturdy and stable enough.
Additionally, that implies sneakers cannot tolerate immense pressure and are susceptible to being easily punctured by sharp objects. Therefore, you cannot consider a stroll on rocky or bushy terrain with sneakers.
Contrarily, shoes are constructed with polyurethane that is durable, flexible, and sturdy. The material can withstand high-pressure impact and sharp or hard objects. That gives you peace of mind in knowing that you won't sustain injuries when trekking through rough terrain in shoes with durable, tough outsoles.
Shoes vs Sneakers: Maintenance and Care
Here are a few tips on how to care for your shoes and sneakers. After all, with proper maintenance, your footwear will serve you well for years on end.
Remove the Laces Before Washing
Dirt accumulates around the eyelets. Therefore, taking out the laces of your shoes and sneakers will allow the detergent and water to seep into the grimy part of the footwear.
Pre-Treat Overly Soiled Sneakers and Shoes
Mud and dirt are protein stains, which means they are best treated via an enzymatic stain remover such as the Defunkify Stain Remover.
Don't Overdo it With the Detergent
Although you might be tempted to use an extra detergent on overly soiled shoes and sneakers, fight the urge. Detergent residue will create a dingy appearance. Additionally, use cold rather than hot water.
Air-Dry Your Shoes and Sneakers
Flip the tongue over the toes box to facilitate better air circulation in the interior of your footwear. Then, stuff the toe box with a balled-up dishrag, washcloth, or hand towel for moisture absorption.
Constant Wearing
Constantly wearing one pair of shoes and sneakers can irreversibly damage their structure. As a result, no amount of cleaning can save your footwear. To avoid this predicament, rotate your shoe wardrobe frequently.
Dry Feet
It's a no-brainer but always dry your feet before wearing shoes and sneakers. Doing so prevents the footwear from getting moldy and wearing out prematurely. Additionally, moist or damp feet and socks can result in a boatload of health problems, and that's the last thing anyone needs.
Don't Use a Heater
If you want to keep your sneakers and shoes in tip-top condition, avoid placing them near a heat source such as a heater or dryer to fast-track the process. Give your footwear 24 to 48 hours to air dry.
Greasy Stains
Treat oil stains by sealing them with a bit of baby powder, leave it on for up to 30 minutes, and brush it off with a suede brush. Doing so preserves the fabric of your shoes and sneakers.
Conclusion
Are shoes and sneakers the same thing? Not exactly. Sneakers and shoes serve common purposes, but you require footwear that adheres to your needs and expectations. For example, if you gravitate towards footwear that is sturdy enough to withstand immense pressure, then shoes are your best bet.
On the other hand, if you prefer casual footwear to stroll in, then sneakers are better as they are a cushioned shoe that provides excellent stability and comfort. Regardless of the footwear you opt for, ensure you prioritize your needs to avoid unwarranted surprises and disappointment.