Owning and rocking a pair of stylish boots is one thing and taking proper care of them is another. Most of us invest a lot of money in buying footwear but we are not so keen when it comes to shoe maintenance.
Wonder balsam and dubbin are both excellent footwear maintenance products. Dubbin is mostly used to protect your boots against the elements whereas wonder balsam revitalizes leather and ensures it doesn't wear or tear faster.
The big question however is; should you go with wonder balsam or dubbin? My answer is both. As you can see these are two unique shoe care products. And despite coming off as the same thing.
They are quite different. In the article below, I am going to look into wonder balsam vs dubbin on an in-depth level and highlight the differences, similarities, and areas where each of them excels better.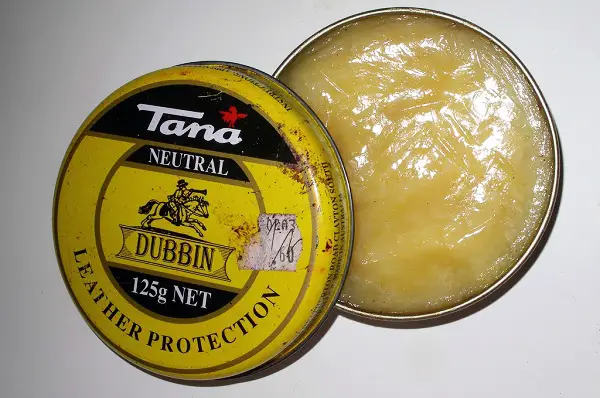 What is Wonder Balsam?
Meet anyone who loves taking care of their pair of boots and they will tell you the magical benefits of wonder balsam.
This product acts like the protector, raincoat, or even blanket of your boots. That small little pot it comes in could serve you for a significantly long period.
Wonder balsam mostly comprises beeswax, coconut oil, and lanolin. It features no color and can be used in all leather products except for suede.
The purpose of this shoe care product is to protect, clean, condition, and nourish the leather. As a result, your leather footwear will retain a soft and supple look without having to polish it regularly.
With wonder balsam in your hands, your shoes will look as good as they did when you first bought them. After using this product on your footwear, you will definitely have heads turning wherever you go.
Who Should Get Wonder Balsam (and Why)?
Everyone who owns leather footwear should get themselves wonder balsam. Other than protecting your shoes, this shoe care product comes with a lot of benefits.
For one, it's a great product to use when breaking in new boots. Wonder balsam is excellent at softening up leather. You will realize that when you get a pair of new boots, chances are the leather is quite stiff.
And no matter how great your shoes look, your heels could be paying the ultimate price of discomfort. This is the perfect time for you to reach for your wonder balsam and get to applying.
Other than that, you can also use wonder balsam to protect your boots during winter.
This great product is ideal for protecting the leather from salt and watermarks which are common elements in winter or whenever there is a lot of rain. To some extent, wonder balsam does offer some form of water resistance.
Finally, wonder balsam is the best product to use when you want to restore the original look of your footwear.
Of course, with time your shoes are going to lose shape and look slightly worn out. This should be a clear indication that they do need some wonder balsam.
How to Use Wonder Balsam?
Step 1: Clean up your leather footwear. Start with a dump rug and witch to a dry soft cloth for a more thorough cleansing.
Step 2: Remove the laces of your shoes.
Step 3: With a sponge, generously apply the balm to your shoes.
Step 4: ensure you also reach the stitching and seams. Most people tend to forget these areas.
Step 5: Let it soak for at least 20 minutes.
Step 6: Wipe off the excess balm and watch wonder balsam do its magic.
What is Dubbin?
This is one of the few shoe care products that has made it to the 21st century from the medieval era. Dubbin has been used to soften and waterproof leather.
According to Wikipedia, this product gained popularity in the 18th century, and to date, we are still using it on our leather boots. This shows you how useful this product really is.
Dubbin is known in full as dubbing wax and it's a classic footwear product made from natural wax, tallow, and oil. It is used to condition, soften, and waterproof leather.
As mentioned above, this product has been used for centuries to extend the lifespan of leather, restore its shine, and most importantly lift the look of worn-out leather shoes.
It makes leather look suppler whilst protecting your boots from stain and dirt accumulation. Because of dubbin's ability to refresh the look of leather, this should be your go-to product whenever your footwear starts looking a bit out of shape.
Who Should Get Dubbin (and Why)?
Before we get into that, it's worth mentioning that dubbin is perfect for leather boots. Nonetheless, I don't recommend using it on Nubuck or Suede.
The oily form of dubbing wax is quite harmful to Nubuck and suede materials. As a result, using it on such may end up damaging the shoe instead. Therefore, be very keen when choosing which products to use for your shoes.
Dubbin is pretty much for anyone who wants to protect their shoes against the elements. If you live in an area that experiences winter, then investing in some dubbin for your boots is of paramount importance.
Kindly note that dubbin offers your first line of protection and should be used last when applying shoe care products.
Secondly, if you have just bought a new pair of boots, apply some dubbin before heading out. This will be used for protection purposes.
If you also crave the need to retain that greasy look of leather, dubbin is the best product to use. Being waxy, dubbin does a commendable job at conditioning leather.
How to Use Dubbin?
Step 1: Obviously you need to clean the boots.
Step 2: To loosen up the wax and ensure smooth penetration, heat a small amount of dubbin.
Step 3: Rub it on your shoes. However, ensure you use it sparingly because dubbin leaves behind an oily film.
Step 4: Repeat this procedure on your other pair and ensure you cover all parts of your shoes.
Step 5: Let it settle for an hour.
Step 6: Perform some minor buffing.
Step 7: Though optional, you can apply some friendly shoe polish.
The Differences between Wonder Balsam and Dubbin
Dubbin Adds Shine, Balsam Softens Leather
If you are looking to break in a new pair of leather boots, balsam can help you soften it whilst giving your boot a fancy shine. On the other hand, dubbin is perfect for adding shine.
Each Works for a Certain Type of Leather
Dubbin has mostly been known to be useful when it comes to greasy leather. Whereas, balsam is ideal for smooth leathers.
Other than that difference, balsam features a unique characteristic which entails the way it softens leather and protects it from water and salt.
Should be Used at Different Time Intervals
To get the most out of both these two, if you have decided to buy both, use them at different time intervals. I recommend using the dubbin at least once a week to give your boots a stunning shine.
In the case of balsam, it's best you use it monthly to keep the leather fine. During winter, you can apply balsam after every two weeks so that you can protect it from water.
Kindly note that how you apply the two footwear care products is different. Please refer above on how to use both wonder balsam and dubbin.
What are the Similarities Between the Two?
Other than both being the best footwear products every leather boot lover should own, Dubbin and wonder Balsam has a lot of things in common.
Wax and leather go hand in hand. This is why both these products contain traces of wax to soften the leather.
They Protect Your Shoes Against Weather Elements
Even though wonder balsam is the go-to product for protecting your shoes from weather elements, even dubbin performs the same function.
As a matter of fact, dubbin acts as your first line of protection against water. Because of this reason, always apply the dubbin last.
Dubbin and Wonder Balsam Lengthens Your Boots Life
At the end of the day, we all want our pair of boots to last for years. Not only because we love them but some boots especially those meant for winter and made with leather are quite expensive.
Such an investment requires care and maintenance. Both these products will ensure your boot lasts longer.
What's Better about Dubbin?
One area that dubbin shines over wonder balsam is the weatherproofing advantage. Though strong, leather is susceptible to water damage. And if you live in an area that experiences a lot of rainfall or winter, your boots can wear out faster.
However, with wonder balsam, you will be giving your boots maximum protection from water and salt. You can comfortably walk around knowing that dubbin has got your back.
What's Better about Wonder Balsam?
On the other hand, wonder balsam is well-known for prolonging the life of footwear as well as reviving the aesthetics of an old pair of leather boots.
Wonder balsam is designed to nourish the leather and make it supple and strong. As a result, when used regularly, wonder balsam can bring well-worn shoes back to life and extend its life for longer.