For the modern gentleman, owning a pair of quality dress shoes is compulsory. However, in this day and era, finding the best shoe that will ensure you make a fashion statement is not easy.
There are hundreds of shoe brands out there, all promising you elegance and value for your money. You must be able to see through the various marketing tactics of shoe brands and get a pair that meets your requirements.
In your search for the best shoes, have you come across, Allen Edmonds and Meermin? Is your interest leaning more towards these brands but you can't settle on one.
Despite both being popular shoe brands, by the end of this article, you will know which suits you best.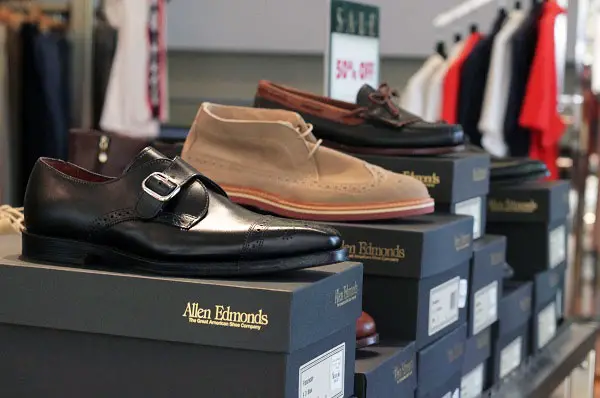 Allen Edmonds
Just by reading out the name of this brand, you can already get a picture of how classy their shoes are. Their price tag is a bit higher but this is compensated by the regular discounts offered by the manufacturer.
Being one of the oldest shoemakers in the US, Allen Edmonds has been in this industry since 1922. And for the last century, they have been consistently manufacturing a pair of bespoke gentleman shoes.
Despite their shoes being so high-end, Allen Edmonds uses the finest quality of materials. They are keen on style and durability.
They have a wide range of shoes for the customers to choose from, and plenty of designs to explore. Being one of the powerhouses in the US market, Allen Edmonds continues to provide quality Goodyear welted shoes.
Meermin Shoes
This Spanish shoe brand was founded in Mallorca back in 2001 by a small family of artisan shoemakers, Meermin is one of the most popular shoe brands in the world and is known for their cheap Goodyear Welt Shoes.
This brand has a unique business model where they sell directly to the consumers online. They have a couple of physical stores, but most of their business is handled online.
Because there are no middlemen, Meermin shoes happen to be quite affordable. To also cut down on costs, Meermins are made in China and then sent to Spain for finishing touches.
That shouldn't worry you because the brand is very keen on upholding quality. Meermin does not compromise on quality and that's why they source their materials from Italy, France, and Japan.
A key area that this brand excels over the rest is the 'Made to Order' service. As a client, You can get in touch with Meermin and design your own pair of shoes. How great is that?
The Differences:
Design and Type of Shoes
Coming from two different shoemakers, the design of these shoes is quite different. Both have various designs for buyers to choose from; for example, Meermin makes stunning Chelsea boots, loafers, derbies, and handmade belts.
On the other hand, Allen Edmonds's popular shoes include the Park Avenue, Strandmok Brogue, Addison Penny, Dalton Wingtip, and Sullivan Boot.
If you compare the designs, they are quite different and you have to look at both and pick which blends with your style.
Cost
Even though most people are against using cost to determine whether a shoe is right for you, I have a different opinion. A lot of us have to adhere to budgets.
So, if you want a quality shoe that won't dig deeper into your wallet then Meermin's are your best pick. If you are looking for luxury in a pair of shoes then Allen Edmonds has got you covered.
Location of Manufacture
Allen Edmonds are made in the US. So if this is your country of residence then you should own a pair, because it will be easier and affordable to purchase.
Those in other countries may not be so lucky because of the high shipping fees and costs added by middlemen.
Meermin has eliminated the need for middlemen when selling their shoes. So, you can place an order online or visit one of their physical stores. The company is based in Spain.
Sizing
Both fit true to size but their availability of sizing does differ a bit. For instance, Meermin size ranges from 6 to 12 according to the UK shoe size chart.
Whereas, Allen Edmonds range from size 6 to 16 according to the same chart. And other than going a size upper, their shoe width ranges from EEE (extra wide) to AAA (extremely small).
Return Policy
Meermin's shipping policy dictates that damaged shoes or wrong deliveries should be returned within 15 days after purchase. Allen Edmonds has a longer returning policy of 90 days after purchase.
The Similarities:
Availability of Customization Options
Meermin and Allen Edmonds hands both offer shoe customization services. At both brands, you can create your own shoe design and have it delivered to you. This is unlike other brands where you just have to go with what's available.
Quality
Allen Edmonds has stuck to using premium quality calfskin ever since the company was founded. As a result, all their shoes are of high quality.
Meermin on the other hand is very serious about leather and looks for it in countries such as France and Italy that are well-known for their quality leather. The overall build of Meermin shoes is of top quality as well.
Comfort
Both shoes are equally padded and cushioned to offer comfort. The only slight difference is in the breaking in period. Meermin shoes have a longer break-in period compared to their counterparts which are just broken in with two or three wears.
Workmanship
I love how perfect and consistent the stitching is with the two brands. And so is the workmanship. It is next to impossible for you to find an imperfection in these shoes.
Other than the minor creasing which mostly occurs due to poor packaging, there isn't much I can complain about Allen and Meermins.
What are the Pros of Allen Edmonds?
There are several reasons why you should get yourself a pair of Allen Edmonds. And they include;
They manufacture shoes that feature exceptional construction. Despite being expensive, with Allen Edmonds, you get style, quality, and durability.
Allen Edmonds has a wide range of sizing (6-16). This means that everyone can be assured of finding a shoe that fits perfectly.
They also ensure their shoes offer maximum comfort.
Guaranteed value for your money.
With so many impressive features, Allen Edmonds is remarkably among the best shoemakers in the US. However, their prices are quite high compared to Meermins.
Both make quality shoes and that's why it's shocking to find out that Edmond's cost more. They do, however, make up for their high prices by offering regular discounts.
So, if you are considering getting a pair of Allen Edmonds then always be on the lookout for offers.
What are the Pros of Meermin?
Meermin also have their benefits. And they include;
Freedom to customize your own shoe.
A wide range of shoe styles, designs, and sizes.
They ship shoes to customers from all corners of the world.
The company deals with customers directly thus no middlemen.
Great prices for quality shoes.
An impressive customer support system.
Having looked at the pros, let's also look at the downsides of this shoe brand. There isn't a lot of negative things to say about the shoe brand only that they need to update their website.
Being one of the giants in the shoemaking industry, their website should be well organized and visually appealing.
Some might argue that they invest most of their time in making beautiful and stylish shoes, but because their business is mostly done online, the website should be presentable.
Who Should Get Allen Edmonds?
Allen Edmonds are ideal for anyone who desires a sophisticated and elegant look. Thanks to their durable construction, this is a shoe that will last for years.
So, if you also wanted something durable, then Allen Edmond has got it. They have a factory in Port Washington where you can send your Allen Edmonds to be re-crafted so that they can last even longer.
Compared to Meermin shoes, Allen Edmonds feature a higher level of elegance and its shoes will have heads turning wherever you go.
From this brand, you will also be getting comfort, durability, and style. So, don't hesitate to give their shoes a try.
Who Should Get Meermins?
Do you crave quality and still want to get value for your money? Then Meermin should be your go-to shoe brand. With lots of shoe designs to choose from, Meermin will ensure you are satisfied with your purchase.
They have shoes for all budgets. And for a company that directly deals with its clients, you can be guaranteed excellent customer service. If you also have a shoe idea in mind, the team at Meermins can create it for you.
All you have to do is get in touch. The company receives tons of positive feedback for their impressive shoe designs, quality, and being true to size.