Are Birkenstocks Good For Flat Feet?
Birkenstocks are great for flat feet if your feet are flexible due to the excellent arch support in their footbeds. Birkenstock footbeds have superior arch support compared to most shoes due to the lateral and metatarsal arch support.
Here's another generic trademark. Birkenstock is the brand name for German-made sandals made with a foot-hugging wood or rubber sole. Similar American made products are called Arizona sandals or Boston clogs.
The sandals are named after the Birkenstock family of Frankfurt, Germany, a long line of shoemakers. They became extremely popular with returning soldiers after World War II due to their superior orthopedic support.
It was in 1966 that the Birkenstocks were introduced to the United States by dressmaker and designer Margot Fraser while she was on a spa vacation in Germany. She was so impressed by how comfortable these shoes were that she contacted Karl Birkenstock to discuss importing these unique designs to distribute from San Francisco, California.
The design was hard to catch on in the States, at first. Then the Seventies happened and with it a counterculture of "flower children" who wanted to get back to nature. The natural fitting sandal caught on quickly among them. At first, they were mostly sold out of health food stores. In 1986, they were available at high-end department stores such as Nordstrom.
What makes the Birkenstock so comfortable? It is likely the four layers that make up the sole and footbed. The bottom is a textured and shock absorbent sole of natural latex. Next comes two layers of stabilizing and moisture regulating jute. A natural cork footbed for both insulation and cushioning.
A soft suede lining finishes it off. For people who want vegan shoes, a patented material called Birko-Flor is available. Any dyes are all vegetable-based. The corks are made from leftovers from cork stoppers, so there's a waste reduction in action. Birkenstock prides itself on using only topquality and renewable all-natural materials that were obtained from sustainable sources.
Are Birkenstocks Good for Feet?
Birkenstocks can indeed be an investment in your feet's health. The cork and latex that make up a Birkenstock contour to the natural shape of your foot. This ensures proper distribution of the weight and solid arch support.
The toe bar lets your toes naturally grip and flex which stimulates circulation as well as exercises the leg which aids in maintaining balance. The deep heel cup secures the foot's natural padding underneath the heel to offer better stability. Because of all of this, the proper bones bear the weight of the body to correctly align the spine and legs.
Are Birkenstocks Good for Fallen Arches?
Birkenstocks have footbeds that offer superior arch support. They provide both lateral and metatarsal arch support. Footwear with ample arch support can aid in guarding against injury as well as supplementing recovery. Relief from fallen arches starts when you wear footwear that delivers stability and comes with the proper medial arch support.
Should Birkenstocks Fit Tight or Loose?
Keep in mind that these sandals fasten with a buckle and so the fit is adjustable as with a belt. The strap closest to your toes should have a comfortable fit that is not too tight. The other straps need to be slightly more loose-fitting to allow your heel to lift somewhat off the footbed while you walk. Birkenstocks must never be worn with the straps buckled tightly.
How Long Does It Take for Birkenstocks To Break-In?
It should take about two to three weeks. The footbed is made of cork so naturally, it will take some time to conform to the unique contours of your foot. It is a time-consuming process, but well worth it. To properly break in your Birkenstocks, follow these instructions.
Start by having the right size. No amount of breaking in will make shoes fit if the size is all wrong.
Unhook all the straps completely.
Bend the shoe a few times to loosen up the cork.
Place your foot on the footbed. Make sure your heel is securely in the heel cup.
Buckle the straps as directed above. There should be a gap between the strap and your foot enough to wiggle a finger.
Go for a short walk around the house. Your feet should not touch the edge of the footbed. If they do, you need a wider size.
Your feet should be able to move freely while walking. This is the purpose of Birkenstocks.
Wear the shoes for at least thirty to forty-five minutes every day. Take them off if they hurt.
Work your way up to wearing the shoes for an hour or two before taking them off.
Keep this up for a couple of weeks, wearing the shoes for longer blocks of time.
How to Break In Birkenstocks Faster
Two to three weeks is a long time to break in a pair of shoes. You can reduce the break-in period to a week to ten days by following some of these tips. First, you need to walk in them every day so the cork will more quickly take shape. A softer footbed will break in more quickly.
While you are usually dissuaded from wearing socks with sandals, but you can while breaking them in while the shoe is soaked with water. A few taps (not smashes!) with a hammer can move things along. Turning the hairdryer on your shoes while wearing them can also help. (Make sure you have the socks on.)
Are Birkenstocks Good for Walking Long Distances?
While Birkenstocks are in no way recommended as hiking shoes, they are suitable for urban exploration. Now to say that they can't handle uneven terrain! The cork footbed will make your feet feel cushioned while providing firm arch support as you walk. This makes them comfortable enough to wear for very long periods while you explore cities or wander about the countryside.
Can I Wear Birkenstocks To the Beach?
The supportive and light Birkenstock makes it easy to walk in comfort on uneven terrain such as a sandy beach. The new line known as "Essentials" are your best bet as they are made with the waterproof EVA material rather than suede. It will also keep your feet from feeling sticky or sweaty. They come in a wide range of colors sure to match any swimwear.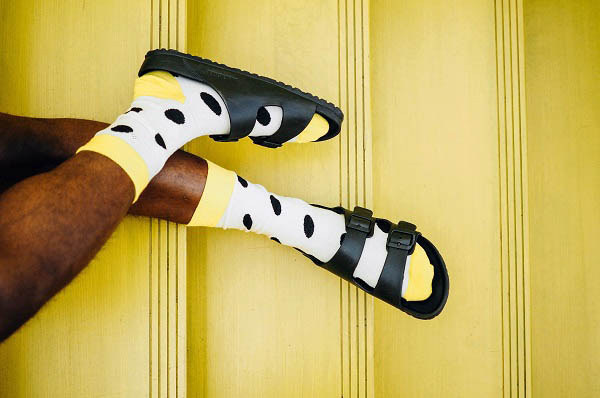 Do Birkenstocks Give You Blisters?
This can happen if the Birkenstocks are still being broken in. Prevent them by putting a little padding on your hotspots. This padding can be moleskin, Band-Aids, or white fabric tape. Giving the shoes a good stretch first can help.
If your Birks are broken in but still giving you blisters there could be a couple of possible reasons. The fit could be too loose, which can be fixed by tightening them. Grit, san,  or other irritants may be getting in, which can be fixed with a moleskin barrier.
Why Are Birkenstocks So Expensive?
Even though the cork used to make them is, essentially, leftovers, they're expensive leftovers! Also, the shoes are crafted by hand and designed to fit the foot in every way.
Besides quality materials and fine craftsmanship, these are durable shoes that will last a long time, making the hefty price worth it. The laws of supply and demand also come into play here. When something is so popular it taxes the ready supply, it becomes more valuable.
How Can You Tell If Birkenstocks Are Fake?
Look for the logo. It should be on the sole of the shoe. The brand name should be printed in Bernino Sans Compressed Extra Bold. It should have the registered trademark symbol with "Made in Germany" just below it.
If you have any suspicion that the shoes were made somewhere else, they are most likely not real Birkenstocks. An authentic Birkenstock is lightweight, a major selling point of the product. If it feels hefty, it's probably a knock off.
You might also want to look at the box. If there was no box, you've got fakes or, at best, stolen Birks. (Not sure how bad that is, considering it means you might have the police knocking on your door wanting to ask some questions.)
Real Birks will have a photograph of the shoe style in question on the outside of the box. They should match. Birkenstock prints their shoes with a singular barefoot stamp to inform customers whether the shoes are wide fit or narrow fit. Look for that as well.
Do Birkenstocks Last Longer?
While Birkenstocks are sturdy, nothing lasts forever. The tread of Birkenstocks eventually wears down but can be resoled. The heel and toe tab can also be replaced, which can bring the Ship of Theseus argument into play. (Is it the same shoe after all the parts have been replaced?) Some people have claimed to have the same pair of Birkenstocks for more than a decade.
How to Take Care of Birkenstocks
Concentrated heat and extreme temperatures can damage anything. Try to keep your Birks out of those situations. Other than the water-friendly EVA styles, most Birks should not be immersed in water. This can compromise the integrity of the sealants as well as the overall look. If they do get wet, allow them to dry slowly, away from direct heat.
Birkenstock does supply a variety of shoe care goods recommended for maintaining their shoes. A cork sealer protects the cork from drying out and protects it from the elements.
A cleaner and refresher is available to be sprayed on the footbed to keep the shoes fresh. The footbed can be brushed with a Nubuck/Suede brush to restore the nap. Water and stain repellants will further protect the shoes.
Podiatrist Opinion on Birkenstocks
The superb arch support and deep heel cup make these shoes podiatrist approved. The cork is not only comfortable, but it also becomes like a custom made footbed over time. On the other hand, the rigid sole may cause some podiatrists to give pause. The Birkenstock must be shaped perfectly, or it will be your foot that's conforming instead of the cork.
Are Flat Feet A Disability?
It depends on how flexible the feet are. Rigid flat feet can severely hamper movement. Depending on your age and just how difficult it is for you to walk, you may be able to file for Social Security Disability. Famously, the military will not take recruits with flat feet. However, a veteran who develops fallen arches can be approved for VA benefits.
Can Flat Feet Cause Problems?
Flat feet can make it hard to walk, run or stand for several hours. A tight Achilles tendon can cause the heel to lift prematurely while walking or running. Acquired flat feet, known as posterior tibial tendon dysfunction, can cause pain in the ankles. Among other things, flat feet can lead to bunions, hammertoes and shin splints.
Do Flat Feet Affect Balance?
Very much so. Even if your flat feet do not cause you pain, they may affect your balance in subtle but noticeable ways. Orthotics can help some as can strength training exercises.
Are Flat Feet Curable?
Though flat feet cannot be cured, the symptoms can be treated to make the condition more bearable. Orthotic devices such as arch supports are often recommended. Stretching exercises can work the Achilles' tendon. Supportive shoes are recommended. Physical therapy can also help. If a tendon tear or rupture occurs, surgery may be necessary.
Can Walking Barefoot Help Flat Feet?
There is no scientific evidence for this. It might strengthen your foot musculature, but it will not affect the arch by much. However, it is recommended that infants who are not yet walking be barefoot to allow the foot to grow and develop normally.
Can You Fix Flat Feet with Exercise?
Perhaps not "fix" so much as "treat." Exercises can reduce painful symptoms. You can roll a golf ball with your foot for exercise, or a frozen water bottle if you are in pain. Heel stretches can work as can calf raises and arch lifts. Scrunching a towel with your toes can work. Consult with a doctor before taking part in any physical exercise regimen.
Conclusion
Birkenstocks are an unusual shoe company with a unique perspective. The shoes do offer good arch support, though their long break-in period means they are not suited for people with debilitating foot disabilities. If your feet are flat but flexible, Birkenstocks may be the way to go.
References:
https://en.wikipedia.org/wiki/Birkenstock
https://footwearnews.com/2017/business/uncategorized/birkenstock-margot-fraser-dies-342412
https://www.birkenstock-group.com/de/en/brand/quality-and-function
https://www.happyfeet.com/blog/birkenstock-faqs
https://myshoeshop.ca/pages/the-foot-health-benefits-of-birkenstock-products
https://www.happyfeet.com/arch-support
http://birkenstock-lover.blogspot.com/2016/08/how-to-fit-birkenstock-sandals.html
http://www.ilovebirkenstocks.com/blog/how-to-break-in-your-birkenstocks
https://www.vbmbestreviews.com/how-to-break-in-birkenstocks-faster
https://www.travelfashiongirl.com/beach-sandals
https://www.businessinsider.com/birkenstock-eva-review-sandals-2018-3
https://community.ricksteves.com/travel-forum/best-travel-shoes/second-summer-with-birks-still-getting-blisters
https://www.quora.com/Why-are-Birkenstock-shoes-so-expensive-What-makes-them-worth-the-expense
https://www.hercampus.com/school/virginia-tech/birkenstocks-are-they-worth-hype
https://www.investopedia.com/terms/l/law-of-supply-demand.asp
https://typographyfall2016.wordpress.com/2016/09/14/identifying-fonts-3
https://oureverydaylife.com/how-to-tell-an-authenic-birkenstock-from-a-fake-12285204.html
https://www.wellandgood.com/good-looks/how-long-can-birkenstocks-last
https://www.birkenstock.com/us/us-service-caretips.html
https://www.mic.com/articles/177853/a-podiatrist-weighs-in-on-popular-shoes-and-whether-they-re-good-for-traveling
https://youlookfab.com/welookfab/topic/bye-bye-birkenstocks
https://wecapable.com/disability-certificate-flat-feet
https://www.charleshallfirm.com/can-i-get-social-security-disability-for-a-foot-problem
https://www.hillandponton.com/can-i-get-va-disability-for-flat-feet
http://www.militarydisabilitymadeeasy.com/thefoot.html
https://www.healthline.com/health/pes-planus
https://www.medicalnewstoday.com/articles/168608.php
https://www.huffpost.com/entry/coaches-beware-flat-feet-_b_1518278
https://flatfeetpro.com/flat-feet-and-poor-balance
https://www.mayoclinic.org/diseases-conditions/flatfeet/diagnosis-treatment/drc-20372609
https://www.quora.com/Can-walking-barefoot-correct-flat-feet
https://flatfeetpro.com/barefoot-walking-with-flat-feet
https://www.healthline.com/health/flat-feet-exercises