"What would you be willing to trade for the flying car?" Randal once asked Dante from Kevin Smith's "View Askew" universe. Dante agreed he would trade his left foot. He specified his left foot because it had an ingrown toenail, much to Randal's disapproval. If you've ever had an ingrown toenail, you may have been willing to trade it off for just about anything.
Even if we did have the flying car, we'd still have ingrown toenails. As long as there are ill-fitting shoes, improperly cut nails and people dropping pans on their feet while making Christmas stolen (personal story) there will be ingrown toenails.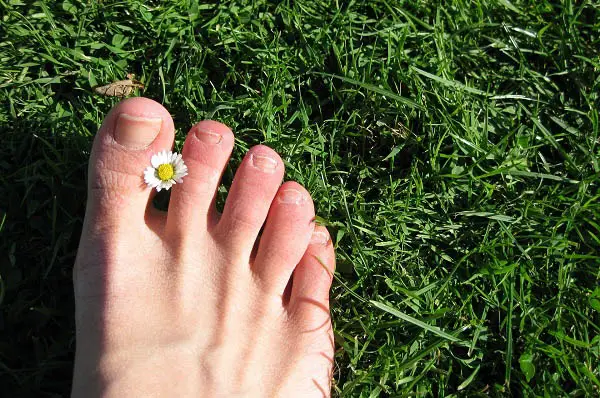 What is an Ingrown Toenail?
If you have one, you know it! This very common condition happens when the side or corner of a toenail grows into the flesh. It is accompanied by pain, swelling, redness and sometimes infection. Usually, this ailment can be cared for at home. If the pain is severe or there looks like an infection, you may need a doctor to look at it. Diabetics and people with poor blood flow to the feet are at a great risk of ingrown toenail.
The symptoms of an ingrown toenail include the following:
Pain or tenderness in the toe along one or both sides of the nail
Redness about the toenail
Swelling of the toe about the nail
Infection in the tissue about the toenail
Usually, an ingrown toenail can be handled at home. Seek medical help if the discomfort is unbearable or accompanied by a discharge of pus or redness that seems to be spreading. If you have another medical condition that can affect the blood flow in your feet you may need to report it to your doctor. Even a minor foot injury can become infected if it doesn't heal properly.
The Reviews:
While you recover from your ingrown toenail you might want to wear something that will encourage healing. A roomy toe box is the first thing you should look for. the upper part should be flexible.
It should be soft, breathable and able to wick away moisture. You also need stability and shock absorption. Cushioning also helps. Compare the following and see what works best for you.
1. Dr. Comfort Carter Men's Casual Shoe
The sophisticated design and classic craftsmanship with a two-way contact closure for extra flexibility and stability make this therapeutic shoe look more like a casual shoe. They are a durable, versatile and machine washable pair that can be worn just about everywhere while keeping your feet pain free all day.
Features and Benefits:
The Carter is constructed with lightweight breathable stretch Lycra that allows the shoes to be machine washed. The seamless design including padded heel and tongue helps to prevent skin irritation. The firm heel counter will provide you with extra medial and lateral support and stability for daily activities.
Built ¼ inch deeper, the Carter is designed to accommodate extra volume for severe edema and other foot deformities such as bunions or hammertoes while still keeping its comfort and support.
What We Like:
They provide relief from painful ailments such as arthritis and harsh bunions
The shoes are very comfortable and relaxing.
The inner is removable and machine washable.
What We Don't:
It is not good for people suffering from edema.

2. Dansko Women's Professional Mule
This is a professional and iconic clog beloved by countless people because it offers unsurpassed comfort and support that lasts all day. Nurses love them and patients with foot problems may too.
Many nurses have to limit themselves to black or white to fit a uniform standard but Dansko has a range of colors and patterns to choose from. They're not very sleek in design but they are very easy to walk in.
Features and Benefits:
The toe box is roomy and reinforced to provide better protection. The polyurethane outsole has a rocker bottom for shock absorption. The instep collar is padded for comfort. The wide heel strike makes for greater stability.
The PU outsole has a rocker bottom that propels the foot forward and offers better shock absorption. The PU inner frame delivers reduced torque and offers more stability. The memory foam footbed provides maximum cushioning and support.
What We Like:
The slip-on style makes them easy to put on and take off.
The shoes are very easy to clean.
They are made out of breathable leather.
The shoes are very supportive.
What We Don't:
The fit is not always true to size.
The enamel exterior tends to crack.

3. Skechers Performance Men's Go Walk Walking Shoe
The Skechers GoWalk makes walking easier by responding well to any surface while providing the extra benefit of true protection. It is designed to let the feet just rock off the surface with every stride.
In this design, the traditional lacing system is eschewed in favor of an easy slip-on method. It's a great shoe for everyday wear.  The color choices are mostly conservative neutrals, save for one aqua option.
Features and Benefits:
The mesh fabric upper is engineered for breathability. A lightweight resalyte cushioned insole provides supreme comfort and support. The durable and thick rocker bottom rubber outsole delivers both stability and a superb grip. The Ortholite insole inhibits odors. Individual circular sensors provide flexibility to offer a more responsive walking experience.
What We Like:
The shoes are very lightweight.
They are flexible.
The shoes are quite comfortable.
There is plenty of shock absorption.
The arch support is good.
The fit is true to size.
What We Don't:
These shoes are not good for running or steep hills.
The grooves in the outsole tend to pick up debris.

4. CLARKS Women's Sillian Bella Mary Jane Flat
This Mary Jane flat from Clarks is sporty and slim and surprisingly lightweight. People who have foot problems may appreciate these comfortable shoes greatly. This innovative shoe that is the latest from the Clarks Cloud steppers Collection comes with many comfort features.
For example, the Sillian Bella comes with stretch fabric panels for facile and agile movement. The color options are solid and conservative but that may be what you're looking for.
Features and Benefits:
The flexible rubber outsole is durable and shock-absorbing. The lightweight fabric uppers are soft and flexible. The Ortholite foam offers optimum comfort. The high-density foam with Strobel cloth offers durability. The super-soft EVA is inserted into the outsole. The EVA outsole absorbs shock.
What We Like:
The strap has enough Velcro for an adjustable fit.
There is ample room in the toe box.
The rubber sole has just the right amount of thickness to it.
The shoes are comfortably cushioned.
The shoes are lightweight.
What We Don't:
People with flat feet may want to remove and replace the insole.

5. Apex Men's Athletic Shoes


Apex Foot Health has health in the name. And more importantly, it's in practice. For nearly fifty years Apex Foot Health has been making shoes that are health conscious as well as comfortable and supportive. It was designed by health experts and recommended by health experts.
Features and Benefits:
A slip-resistant and flexible rubber outsole supplies increased traction. The carboplast footbridge delivers motion control and stability. An X last is included for superb motion control. 
What We Like: 
The quality is good.
The shoes are very stable.
The toe box is roomy.
They are available in wide sizes
What We Don't: 
There's no arch support.
They take a while to break in.

What Causes Ingrown Toenails And How to Prevent Them
Improperly fitting shoes that crowd the toes can cause an ingrown toenail. Toenails that were cut too short or improperly can be a cause as can getting a pedicure from someone who does not follow proper hygiene protocol. An injury to the toe can cause the nail to be ingrown. An unusual curve in the toenail can also be problematic.
There are steps you can take to avoid getting an ingrown toenail. Granted, some of these methods are easier than others. For example, no one wears steel-toed boots in the kitchen.
Get the stereotype out of your head; I was not barefoot in the kitchen when I got my stollen related injury. I was wearing socks. Anyway, here's a list of things you can do (or not do) in order to keep your toenails from being ingrown.
Trim your toenails straight across. Do not curve your nails in a shape that matches the front of your toe. Save the fancy trim jobs for your fingers. Should you have a condition that results in inadequate blood flow to your feet or you are unable to trim your own nails you should see a podiatrist periodically to get your nails trimmed.
Take charge at your pedicure. Should you prefer to have your toenails done at a salon, make sure to tell your pedicurist that you would like your nails trimmed straight across. The tools must be sterilized. If the pedicurist is doing anything that makes you uncomfortable feel free to speak up.
Keep toenails at a sensible length. Trim your toenails so that they are even with the tips of your toes. In the event that you trim your toenails too short the pressure from your shoes to your toes may physically force a nail to grow into the tissue.
Wear shoes that fit correctly. Shoes that put too much compression on your toes or pinch them may force a nail to grow into the surrounding tissue. If your feet have nerve damage you might not be able to feel if your shoes fit too snugly. Make sure to purchase and wear correctly fitted shoes. It is preferred that you get such shoes from a shoe store that concentrates on fitting shoes to people who have foot problems.
Wear protective footwear. If your work puts you at risk of injuring your toes, wear protective footwear, such as steel-toed shoes.
Check your feet. If you have diabetes, check your feet daily for signs of ingrown toenails or other foot problems.
How to Treat an Ingrown Toenail
Some of the methods a doctor uses for treating an ingrown toenail frankly read like something out of a manual on torture. True, the doctor surely means well and will try to make this as painless as possible. Still, it's a little stomach-churning. Let's hope if you have an ingrown toenail it is something that can be treated at home. Here are some ways to treat an ingrown toenail at home.
Soak your feet in warm water. Try doing this for fifteen to twenty minutes three to four times every day. Soaking can reduce swelling and relieves tenderness. Epsom salts may help.
Put cotton or dental floss under your toenail. If you can stand it. After a good soaking, put a fresh bit of cotton or waxed dental floss underneath the ingrown edge. This will aid the nail in growing above the skin edge.
Apply antibiotic cream. Gently rub some antibiotic ointment on the tender spots and bandage the toe. This will reduce the chances of infection.
Choose practical footwear. You may want to wear open-toed shoes or sandals to help your foot air out and not be crowded until your toe starts to feel better.
Take two aspirin and you know the rest.  Aspirin is a very common pain reliever. There are options if you have an aspirin allergy. An over-the-counter pain reliever such as acetaminophen (Tylenol is one name brand), ibuprofen (Advil being a name brand) and naproxen sodium (Aleve for example) may aid in the easing the toe pain.
Conclusion
Having an ingrown toenail is a very painful experience. There is no need to make things worse by wearing uncomfortable shoes. In fact, uncomfortable shoes can be a leading cause of ingrown toenails. Wear shoes that treat your feet right and remember to always cut your toenails straight across.
Even with the best of precautions, things happen. Maybe you just couldn't wear sensible shoes for that wedding. Children sometimes get ingrown toenails when they outgrow their shoes. Sometimes pedicurists forget to soak their tools. If you know how to treat an ingrown toenail as well as how to prevent one, you'll have nothing to worry about.
References:
https://www.mayoclinic.org/diseases-conditions/ingrown-toenails/symptoms-causes/syc-20355903
https://www.medicalnewstoday.com/articles/326025.php
https://www.runnersworld.com/health-injuries/a21528690/ingrown-toenails
https://blog.nagyfootcare.com/types-of-shoes-to-wear-to-avoid-getting-an-ingrown-toenail
https://topshoeswomen.com/best-shoes-for-ingrown-toenails
https://themenshoes.com/skechers-gowalk-4-incredible-pros-and-cons
https://www.wanderluststorytellers.com/the-most-comfortable-flats-for-women
https://www.healthline.com/health/ingrown-toenail-remedies
https://www.webmd.com/skin-problems-and-treatments/understanding-ingrown-nail-treatment
https://intermountainhealthcare.org/blogs/topics/live-well/2018/06/caring-for-an-infected-or-ingrown-toenail
https://health.clevelandclinic.org/how-you-can-prevent-and-treat-painful-ingrown-toenails