It's an Italian name so it is pronounced fee-la with an accent on the first syllable. Ettore and Giansevero Fila began their company in 1911 in Biella, Piedmont, Italy. Originally, the company's purpose was to provide clothes for people who lived in the Italian Alps.
Long underwear was their primary product. They changed their focus to sportswear in the Seventies with an endorsement deal with famous Swedish tennis player Björn Borg. Diversifying into a wider market made the Fila company far more popular than it had ever been.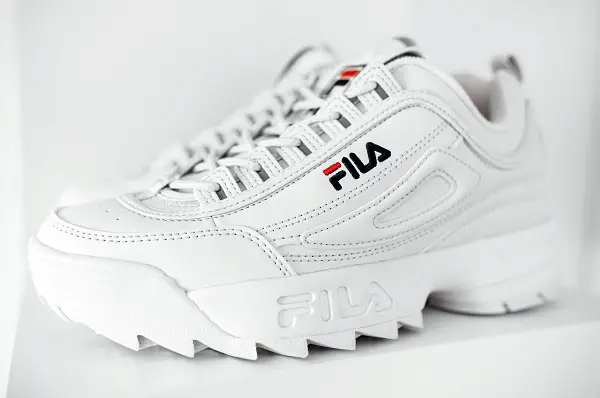 Is Fila A Good Brand?
It has its pros and cons, but the pros outweigh the cons. The prices are good for what they are. They provide a vast line of products fit for men, women, and children. While they cater mostly to tennis players, people who enjoy basketball, running and golf will find something for their sport.
Their online store allows customers to track the order, which is very convenient plus there's free delivery for all orders over $80. The company, however, needs to tell their marketing department to get on the ball. They're a bit slow in letting users know about new styles. When a company's biggest flaw is being too modest, that's saying something.
Why Are Fila Shoes Popular?
They are making a comeback. They're riding that Nineties retro train, making the Seventies the tender, going with the railway metaphor. For a long time, they were known as chunky "dad" sneakers, due to the company paying more attention to comfort than style and for not being very expensive. Fila is taking advantage of its resurgence and establishing itself with some innovations sure to give them a toehold to stay popular in the future.
What Does Fila Shoes Stand For?
Some people who like to debate which brands are better than others joke that it stands for Finally I Left Adidas. The truth is, it's an Italian family name held by the brothers who found the company. The name Fila may come from the Greek word for 'friendship".
The Fila logo takes its colors from heraldry. It is mostly a deep blue to represent trustworthiness and reliability. The splash of red in the F represents vitality, vigor, and passion.
Who Owns Fila Shoes?
ANTA Acquired rights to the brand in 2009. In 2011, Fila acquired the Acushnet Company which makes golfing equipment including Titleist golf balls.
Where Are Fila Shoes Manufactured?
While Fila styles are still designed and adapted in Italy, the bulk of the manufacturing is done in China.
What Are Fila Shoes Made Of?
The uppers are made out of leather for durability and a soothing feel. The outsoles are rubber for flexibility and longevity. The cushioning is Ethylene-Vinyl Acetate and the insole is memory foam.
Are Fila Shoes Vegan?
The fabled Fila Disruptor has vegan editions. Check to make sure they're from the Heritage line. Remember to check the description for "synthetic" if you don't like the idea of wearing leather.
Are Fila Shoes Good For Your Feet?
The Fila Disruptor II was made to provide superior arch support. Good arch support improves your balance and lessens foot pain. Chunky, but it works.
Are Fila Shoes Comfortable?
The Fila 96 shoe is the style you want to go to for comfort. It has not only great traction on the outsole but a super comfortable cushioning that is unbeatable. Something like this will always keep the feet comfortable.
Are Fila Shoes Good For Walking?
The Fila Disruptor ii comes to bat again. It looks chunky but is actually quite flexible. It was designed to work with the feet. This makes it great for walking, jogging, running, or aerobics.
Are Fila Shoes Good For Hiking?
They do not look like your average hiking boots. However, these shoes are extremely durable. Because of the texture of the materials that are used plus the makeup of their outsoles, they can stand up to craggy terrains better than most regular running shoes.
Can You Work out In Fila Shoes?
This is pretty much their purpose. The reliable Disruptor II is the go-to for this purpose as it is suited to many different types of exercise.
Do Fila Shoes Run True To Size?
This is the one drawback of the Disruptor II. Many consumers report that the Fila Disruptor II fits a bit on the small side. It's hard to believe, considering that they look big. However, it is good to know this if you plan on buying them online rather than trying them on in a brick and mortar store.
Do Fila Shoes Stretch?
After you break them in, the leather uppers may stretch somewhat.
Popular Fila Models
The Disruptor II has already been mentioned a couple of times. It's lightweight and has good traction even if it does run narrow.
The unconventional F-13 is durable and classy if it does carry the standard Fila flaw of running on the small side.
The Capture looks good and is lightweight and breathable.
The Disruptor SE is much like the Disruptor II only with synthetic materials and more streamlined and breathable.
How Much Are Fila Shoes?
The men's shoes can be anywhere from $60 to $90, depending on style. Women's styles run in the same range. Kid's shoes run from $50 to $75. They occasionally have clearance sales.
Fila Vs. Nike
Nike's got a better marketing department; give them that. Fila is less expensive. There are concerns that Nike has become more about selling a brand than selling a shoe of late. Fila is more substance than style. They're a very straightforward brand, which can be a pro or con depending on how you look at it.
Fila Vs. Adidas
And we though Ford and Chevy fans had a rivalry! Adidas has more brand recognition and more in the way of discount policies. Fila has a better money-back guarantee policy. For the most part, though, they are on par with each other.
Fila Vs. Puma
Like Adidas, Puma has more in the way of discount policies than Fila. Otherwise, they're on par. Fila may want to look into gift cards as well as amping up their marketing and offering more discounts.
Do Filas Make You Taller?
Those Disruptor II's are platforms disguised as athletic shoes. They can add a good two inches to height. They are white so they go with everything, but wear white trousers or leggings to make your legs look longer while wearing them.
Are Fila Shoes Cool?
Define cool. The Pilota Memory Foam is amazingly breathable. With summer coming to an end, now is the best time to get breathable athletic wear that will keep your feet cool. This includes their MB Basketball shoe, the At Peake 21 Trail Shoe, and the Oakmont TR Sneaker.
If you mean "cool" as in "trendy and popular", right now, comfortable clothes are very popular. Sweats have never been more popular and Fila goes great with them. Bright multicolors are in, so the Oakmont TR Sneaker will stay popular for a while, at least in places where warm weather is going to stick around awhile.
How To Tie Fila Shoes?
It's a good idea to pull the tongue forward and tie the laces rather low. This way, the Fila logo is prominently displayed. You may want to take the laces out of the top eyelets for this and keep it rather loose. Once you've done that, just do bunny around the tree or however, you learned how to do it.
How To Clean Fila Shoes?
Fila suggests using a warm washcloth and mild soap. Your shoes of course should be completely dry before wearing. If you have heavy mud on your shoes, let it dry so it will be easier to knock off before cleaning.
Squeeze a pea-sized bit of mild soap on a washcloth. Soak this washcloth with warm water then wring it out over a sink. Some dish soaps are suited for this job.
Wipe down your shoe using the soapy rag. Pay attention to particularly dirty sections such as the outsole, midsole, and outer surface of the shoe. Apply a light amount of force until your shoes start to look clean again.
Stuff your shoes with wadded up newspaper, cloths, or paper towels. This will absorb moisture and help the shoe keep its shape as it dries.
Let the shoes air-dry completely before you put them on. Leave your shoes in a cool, dry spot where they will not be exposed to humidity or moisture for a day or so until they feel dry to the touch.
Do not put your Filas in a washing machine. Tough stains can usually be taken out with a little vinegar, particularly if they're fresh. There are also special sneaker cleaner solutions you can buy to make your Filas look like new.
You can use baking soda on dry shoes to neutralize odors. Ignore all how-to's telling you to mix baking soda and vinegar unless you like volcanic eruptions.
How Long Do Fila Shoes Last?
Durability is one of Fila's strong suits and they are backed by a six-month guarantee. The Fila Axilus Energized Men's Shoe, for example, has better sole durability than would be expected from such a lightweight shoe.
The Capture, on the other hand (or foot as it were), rates fairly low in terms of durability though it is comfortable with an appreciable amount of traction.
Conclusion
Fila shoes are pretty good for what they are, particularly when you consider their comparatively low prices. However, their marketing could use some work. For starters, Fila's biggest competitors (Puma, Nike, and Adidas) all have their own YouTube channels. The only Fila ads I could find on YouTube were Nineties nostalgia. Fila is a good brand, but they need to stop hiding their light under a bushel.
References:
https://www.fila.com
https://veann.com/vegan-shoes
https://www.abbreviations.com/FILA
https://www.famouslogos.us/fila-logo
https://www.wikihow.com/Clean-Filas
https://bestlegitreviews.com/fila-review
https://knoji.com/compare/puma-vs-fila
https://knoji.com/compare/adidas-vs-fila
https://prezi.com/uhrat4k5zva8/nike-vs-fila
https://www.walkjogrun.net/fila-disruptor-2
https://en.wikipedia.org/wiki/Fila_(company)
https://runrepeat.com/fila-disruptor-2-premium
https://www.whowhatwear.com/fila-sneakers-outfits
https://www.shoes.com/fila-breathable-sneakers.htm
https://business.inquirer.net/275923/fila-revamps-image
https://runnerclick.com/best-fila-running-shoes-reviewed
https://lifestyle.inquirer.net/313624/10-best-fila-shoes-reviewed
http://thechilltimes.com/the-best-sneakers-for-your-health-and-style
https://www.tennis-warehouse.com/reviews/FMAELEP/FMAELEPreview.html
https://www.likely.com.my/petite-girls-here-are-platform-sneakers-that-will-add-height
https://www.thezoereport.com/p/the-2020-sneaker-trends-to-pair-with-sweats-right-now-22663500
https://www.businessoffashion.com/articles/intelligence/how-sportswear-brand-fila-is-rebooting-itself