Many people think of knee pain as something that affects elderly people but the truth is this is something that can affect anyone of any age. It can come from an injury such as torn cartilage or a ruptured ligament. I can also come from a medical condition such as arthritis, gout, or an infection.
Such symptoms as swelling, stiffness, instability, or inability to fully straighten the knee can hinder a person's ability to take part in activities such as hiking. However, there are ways to manage knee pain such as diet, exercise, and, among other things, wearing the right shoes.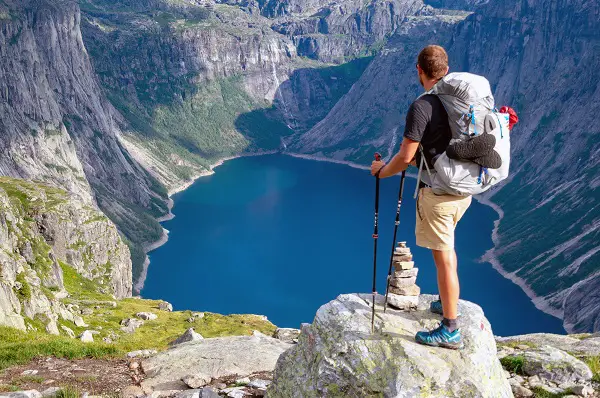 Is Hiking Good For Bad Knees?
If you have pain in your knees that is mild to moderate because of osteoarthritis, walking, hiking, and other similar exercises may aid in mobilizing your joint fluid and lubricating the joints. You should hike and do other exercises that get your knee joints to move. You are apt to discover that the stiffness, pain, and fatigue ameliorate with exercise.
How Can I Hike With Bad Knees?
First of all, remember to do warm-up exercises before hiking. You also need to wear shoes that are stable and have a thick sole. You may find a knee brace helpful. The same can be said of walking poles.
Losing a little weight helps, both from you and your pack! Remember to take things easy. Don't rush things and take an easy path. You should take a first aid kit with you in any case but if you have bad knees yours should come with ointment.
Our Picks:
Here is a list of the five boots that we believe could be of good help to your knees during your hiking trip. Comparison shop to find out which one is best for you.
1. Danner Mountain 600 EnduroWeave Hiking Boot (Men / Women)
Here is a pair of boots heavily inspired by generations of legendary hiking boots. Danner has partnered with Vibram to create a new example of hiking footwear. The Mountain 600 redefines a new category in hiking boots known as Performance Heritage. It is the perfect combination of classic styling and lightweight innovation.
Features and Benefits:
The leather and textile material keeps the foot protected and dry.
The rubber sole provides great traction.
The Vibram SPE midsole offers not only maximum rebound but comfort and support.
The TPU heel frame enhances both support and stability.
It has ample cushioning with an open-cell PU OrthoLite footbed for maximum comfort.
The Vibram Fuga outsole with Mega grip technology delivers a superb grip on wet and dry surfaces.
What We Like:
The boots are exceptionally flexible.
they are lightweight.
They are waterproof.
There is plenty of room in the toe box.
What We Don't:
Runs a bit big.
Rubber separates easily from leather.
2. Salomon Quest 4D 3 GTX Hiking Boot (Men / Women)
When your hiking takes you over the most challenging of terrain, the Quest 4D GTX Forces 2 provides you with all the support and grip of a mountain boot, and yet it comes with all the flexibility needed to take a knee or dash over to shelter in the toughest of weather.
Features and Benefits:
The dual-density midsole offers superb cushioning, stability, and motion control.
A high-performance EVA foam delivers shock attenuation.
A tight anti-debris mesh keeps debris from getting trapped between your foot and the footbed.
The boot is fabricated with quality full-grain leather material that provides long wear and durability.
The gusseted tongue is connected to the upper on either side, keeping debris from getting into the shoe.
What We Like:
The shoes are lightweight.
They are comfortable.
They are waterproof.
What We Don't:
Runs a bit narrow.
There are some durability issues.
3. Lowa Renegade GTX Mid Hiking Boot (Men / Women)
Perfect for day hikes and short-haul weekend pack trips, the LOWA Renegade GTX Hiking Boot brings together versatility and comfort. These all-terrain hiking boots are engineered with the ability to support lightweight packs up to twenty-five pounds.
Features and Benefits:
The Vibram sole is both safe and supportive.
The speed lacing hardware provides a secure fit.
The padded tongue and collar offer additional comfort.
The climate-control footbed keeps the foot comfortably dry.
The Polyurethane Monowrap frame at the midsole offers extra support.
The full-length nylon shank adds to stability.
What We Like:
The collar is comfortable.
It overall provides great support and stability.
The boots are very lightweight.
What We Don't:
It needs stronger laces.
The soles are rather hard.
4. Vasque St. Elias Gore-Tex Backpacking Boot (Men / Women)
The Vasque St. Elias FG GTX is just what many people think about when they imagine the words "hiking boot". This boot provides stability, protection, and waterproofness making them great for hiking in rugged conditions or lugging heavy loads. While it may like a bit old school, the St. Elias is constructed with modern materials.
Features and Benefits:
The boot is pure leather making it both durable and comfortable to wear.
The synthetic sole is slip-proof making it safe to walk in slippery areas.
The GORE-TEX waterproof construction combined with Performance Comfort Technology will keep the foot dry.
The 2.3-millimeter Waterproof Nubuck leather upper adds to the waterproofing.
The molded rubber toe cap keeps the foot safe without sacrificing comfort.
The A.S.E Midsole with EVA Cushioning Pods provides ample shock absorption.
What We Like:
The boots are very durable.
They are quite stable.
They provide great foot protection.
What We Don't:
They are rather heavy,
They are not very breathable.
5. Zamberlan Men's 996 Vioz GT Hiking Boot (Men / Women)
The Zamberlan Men's 996 Vioz GT Hiking Boots are high quality, Italian made boots meant for serious hikers. They do come at a bit of a high price. However, this is justified due to the fact that they also come with a good deal of high-quality features.
Features and Benefits:
The pure leather makes the shoe durable and easy to wear.
The rubber sole is grippy so that it will not slip easily in damp situations.
An effective design plus an exclusive Zamberlan Vibram 3D outsole provides a great grip, superior downhill braking, wide lugs for ease of debris removal plus an energy-producing, rock-forward motion
The Zamberlan Vibram 3D soles are resoleable for convenience.
Gore-Tex Performance Comfort membranes deliver ultimate protection and breathability.
The Microtex wicking nylon collar lining aids in controlling excess moisture about the ankle.
The ZFS (Zamberlan Flex System) lets the boot comfortably bend forward without compromising lateral support.
What We Like:
The boots are highly durable.
They are completely waterproof.
The boots provide both excellent support and cushioning.
What We Don't:
Can Hiking Cause Knee Pain?
If you feel a sharp, shooting pain either above or below the knee while hiking, it may likely be tendinitis, an inflamed tendon due to overuse. The most common cause is a sudden increase in hiking mileage.
This is commonly followed by tight hamstrings and weak quadriceps. As soon as you feel this sort of pain, ice the area, and rest. If the pain is not yet gone after a few days, you should see your doctor.
On the trail, you can treat the pain by taking an anti-inflammatory, dunking your knee in a cold stream during breaks, and lightening your load by asking your hiking partner to carry some of the heavier items. This is why it's recommended that you bring a buddy while hiking.
How Do I Strengthen My Knees For Hiking?
It is a very good idea to strengthen up both your quadriceps and glutes before a hike as this can aid in taking the pressure off your knees. Lunges, for example, are a good way to not only strengthen both muscles but to allow you to increase stability and stamina for those long downhill and uphill hikes on the tougher terrain.
How Do I Prepare My Knees For Hiking?
First, you must strengthen your knees. Here are the three best exercises for knee strengthening:
Work the Quads. Put a pillow under your thigh. lift your toes and press down on the pillow with your leg. Hold it for ten seconds. Do ten to fifteen reps.
Work the Hamstrings. Lie on your back and bend your knees so that your toes point up. Dig in with your heels and push back without moving your bottom. Hold it for a count of ten seconds. Do ten to fifteen reps.
Work the Legs. For this, you need your shoulders and one heel on the ground. Lift one leg straight with your toes flexed. Lift and lower your leg without bending the knee ten times. Keep your hips aligned all through it.
Try to do three or four sets of this per week.
How To Wrap A Knee For Hiking?
Ace bandages are recommended for this job. Circle the leg at the midcalf level a few times. Wrap the bandage diagonally up behind the knee and then around the leg above the knee joint. Keep wrapping behind the knee diagonally creating a figure eight.
Repeat this pattern several times. Finish wrapping around the leg above the knee several times. Secure the bandage with the elastic clips or smoothing down the end of the self-adhering bandage.
How Do I Protect My Knees When Hiking?
There are five good ways to do it. Doing this will keep your knees from being injured.
Watch your weight. Remember that your knees bear a force of three to six times your body weight with each level step you take. Keep yourself at a healthy weight and don't overpack your bag.
Be extra careful going downhill. Don't lock up your knees while going downhill and walk in a zig-zag motion whenever possible.
Wear the right shoes. This can make a world of difference. Make sure that you are wearing well-cushioned shoes. When the heel strikes the ground, the shoe should be able to absorb the majority of the body's weight.
Work on strength and flexibility. You are less apt to have knee problems if you keep up strong leg muscles to aid in supporting the knees. Take care to perform weighted exercises that work on your hamstrings, inner thighs, quads, and calves.
Eat lubricating foods. Foods rich in omega-3 such as salmon, walnuts, or olive oil aid in keeping your joints well lubricated so that you will find yourself experiencing less friction, grinding, and pain.
Can Bad Shoes Make Your Knees Hurt?
They don't help. What you have on your feet makes a big difference. See to it that you always wear correctly fitting hiking boots or shoes. If your feet are hurting, it can affect how you walk.
This can seriously damage your knees. Select boots that have ample cushioning. This will aid in absorbing the impact of your steps as you hike. What's more, it will decrease some of the pressure on your joints.
Will Minimalist Shoes Help Knee Pain?
A 2013 study that was accepted for publication in Arthritis & Rheumatism says patients who walk barefoot or wear minimalist shoes have reported not only a reduction in knee adduction but also reduced pain. You may want to try it.
Do Walking Poles Help Knees?
Poles do offer little extra stability that can lessen the amount of stress on your legs and knee joints. This is because they take the weight onto themselves through your arms. By utilizing walking poles or even just one pole you can lower knee pain and raise both your hill-climbing power and endurance.
What Is Hiker's Knee?
Hiker's Knee, also known as Patellofemoral Pain Syndrome, is a fairly common symptom caused by overuse that is particularly painful when walking downhill, thus the name. This issue is often the result of weak quadriceps or by not stretching or training in a proper manner. It can occasionally lead to grievous knee problems if not taken care of immediately.
Is Hiking Downhill Bad For Your Knees?
Hiking downhill does put quite a bit more strain on your knees and ankles than hiking up a hill or across level ground. This is because your feet hit the ground harder with each step. What's more, the angle does no favors for your knees.
How Can I Hike Downhill Without Hurting My Knees?
When you are hiking downhill, it is usually a good idea to remain upright. Take care to keep your torso above your hips and knees. Some people find that it helps to lean slightly forward in order to improve stability. In any case, make sure that you keep your knees somewhat bent with each and every step.
Why Do My Knees Hurt After A Hike?
There are many different reasons why your knees may hurt after a hike. If could be bursitis, should your knee feel warm, tender, and swollen. Knee tendinitis comes with sharp, shooting pains and tenderness above or below the kneecap and sometimes a swelling and a burning feeling in the kneecap.
Tendinosis on the other hand is marked by stiffness and restricted movement because of the tendons starting to break down. Should you feel or hear a popping sensation in your knee while on a hike, it's quite possible that you have a meniscus tear.
It may be synovial plica syndrome, the result of the plica becoming inflamed due to stress or overuse. There are other possible reasons why your knee hurts after hiking. Take note of all of your symptoms and consult a doctor.
Conclusion
Having bad knees may slow you down, but it is no reason to stop entirely. In fact, some exercising may be beneficial for your joint issues. Just remember not to overdo it and to take reasonable precautions. First and foremost, this means hiking boots that are supportive and comfortable.
References:
https://thetrek.co/save-your-knees
https://arizonapain.com/knee-pain-after-hiking
https://www.cicerone.co.uk/bad-knees-walking-poles
https://gearuphiking.com/how-to-hike-with-bad-knees
https://www.theadventurejunkies.com/hiking-knee-pain
https://hollandboneandjoint.com/blog/prevent-hikers-knee
https://www.verywellfit.com/how-to-walk-downhill-3435572
https://www.backpacker.com/skills/the-cure-treating-knee-pain
https://leconteortho.com/5-ways-to-protect-your-knees-while-hiking
https://www.rmhp.org/blog/2018/july/how-to-fix-knee-pain-when-hiking
https://www.verywellfit.com/tips-for-walking-when-you-have-bad-knees-4147680
https://www.mayoclinic.org/diseases-conditions/knee-pain/symptoms-causes/syc-20350849
https://backpackerspantry.com/blogs/news/how-to-protect-your-knees-when-hiking-downhill
https://www.podiatrytoday.com/blogged/can-minimalist-shoes-be-beneficial-osteoarthritis-related-knee-pain