Do you find it hard to fit different shoe styles and wondering what the problem is because the only shoes you can fit in are the specialty width shoes? Don't worry because you are not alone. You could be among those people whose feet fit the length of the shoe but leaves extra space on the sides.
If this is the case with you, then chances are that you have narrow width feet. On the other hand, if your feet fit the length of a pair of shoe but it is exceedingly snug on the foot bed's side, then yours could be wide width feet.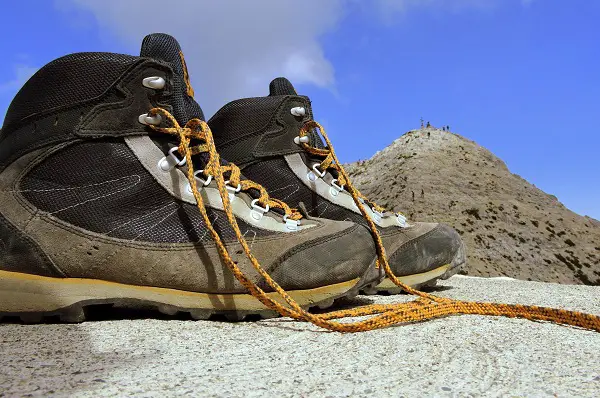 What Hiking Boots Are Best For People With Narrow Feet?
It is imperative to choose the most suitable hiking boots for narrow feet. As you look for hiking boots, knowing the features they have is essential. There are unique features that you should look out for. They include:
Boot weight – When hiking boots are light, it is easier to walk in them. Hiking boot manufacturers constantly work to create lighter hiking boots as they also maintain the support and the other features required.
Water-resistance – Moisture is a big enemy when hiking is concerned. Moisture can cause blisters. Therefore the boots should have water-tight and breathable materials that allow moisture to leave the inners of boots and prevent water from entering. Look for boots with fully gusseted tongues that cover the openings of the uppers.
Longitudinal rigidity – Your hiking boot should support the feet from overbending when you place too much weight on the heel or toe side of the foot. Simultaneously the boots should have adequate longitudinal flexibility to support the natural spring action of the arches.
Lateral rigidity – They should support the ankles and feet so that they do not twist when one is hiking on uneven surfaces. Higher boots featuring stiff ankle support offer a significant portion of the lateral rigidity.
Arch support – They should also support the arch of the feet in a way that ensures the feet do not get flattened out under heavy pressure. Typically, hiking boot manufacturers insert a curved shank between the midsole and insole to offer arch support.
Our Picks:
Here is a list of the five boots that we believe will be suitable for people who have narrow feet. Comparison shop to find out which one is best for you.
1. Lowa Renegade GTX Mid Hiking Boot
2. Vasque Breeze 2.0 Gore-Tex Hiking Boot
3. Salomon X Ultra 3 Mid GTX Hiking Boot
4. Danner Mountain Light II GTX Hiking Boot
5. Scarpa Kinesis Pro GTX Hiking Boot
What Is Considered A Narrow Foot?
The narrow foot is the kind of foot that fits the length of a pair of shoes but leaves added space on the sides. After measuring your foot and finding out that the width of your foot is a 3 1/16 in a size 7 pair of shoes or width of 3 3/8 in a size 9 pair of shoes, then you definitely fall under people with narrow feet.
Are Narrow Feet Common?
According to research carried out by the Narrow Shoe Retailers Association, almost thirty-three percent of ladies have narrow feet. According to the director of this association, chances are that the percentage could be higher than thirty-three.
Narrow Feet Vs. Wide Feet
Finding the appropriate size of shoes for your feet might seem like a simple task. Right? However, the pain that comes with looking for the right pair of shoes can well be explained by people who have either wide or narrow feet.
If your feet fall under any of the two categories, you can agree with me a hundred percent that finding the most appropriate pair of shoes is not a walk in the park. Even with the task of finding your right shoes being not that easy, you have to look for them otherwise you will suffer discomfort, ingrown nails, corns, calluses, and Morton's neuroma among others.
Knowing the kind of foot width you have is very important because it will not only save you time but also money. This is because you will not have to look for shoes that do not fit you. This is not the only benefit because you will avoid the stress, discomfort, and pain that come with having to fit ill-fitting shoes.
Could you still be wondering whether you have wide feet or narrow feet? Let me quickly give you a list of the differences and similarities between the two and you will find out whether your feet fall under any of the two.
Narrow Feet:
They are feet with a narrower fitting. People with such feet often find that they leave additional space on the sides of the footwear. If you have narrow feet, you can choose to buy insoles that fit on the exterior of the foot width to take up the additional space. This way, the additional space will be taken up and the shoes will fit more snuggly.
However, this technique is better for sneakers or sports shoes. The letter B is used to indicate narrow shoes for men and the letters AA or 2A are used to indicate narrow shoes for women. Narrow fitting shows are ½" less than wide shoes and ¼" less than medium fitting shoes.
It is imperative to know your shoe size. To do this, measure the length and width of your feet and then compare the measurements against a standard measuring table. Besides, if you have wide feet, opt for should with extra spaces instead of opting for tightly fitting ones. If suitable shoes are unavailable, send your measurements directly to a shoemaker to get custom-made shoes.
Wide Feet:
They are feet with a wider fitting. A major cause of wide feet is age, genetics, pregnancy, and foot deformities. Other causes of wide feet include improper footwear and edema. The common complaint among people with wide feet is discomfort.
The other conditions that people with wide feet complain about when they wear non-fitting shoes include bunions, calluses, crossover toe, and hammer toe. A letter D is used to indicate women's wide shoes and the letter 2E is used to indicate men's wide shoes. Wide-fitting shoes are ¼" more than medium shoes and ½" more than narrow shoes.
Generally, it is more difficult to find wide feet shoes. Nonetheless, many brands now provide wide shoes. You can find wide shoes at orthopedic shoe firms.
Narrow Feet Problems
It is not easy to find shoes that offer the perfect fit for individuals with narrow feet. Therefore, most people with such feet suffer when they wear regular-width shoes that can cause various issues, including discomfort and irritation.
When shoes do not fit well, the feet might slip around them. This in turn can cause corns, blisters, irritation, and calluses, among other issues. Other foot problems can also occur. If the shoes are too large, it is easier to trip and fall or be clumsy.
If the shoes are too wide, they can cause a person with narrow feet to twist an ankle if the space in the shoe is excessive. This is particularly risky for people who engage in strenuous physical activities like running or jogging.
The other narrow foot problem is that arch support pressure gets displaced throughout the foot, leading to strain. If the arch support gets placed on the improper area of the foot, it can lead to bruising of the muscles and an unnatural shape may form in the foot.
You can use several techniques to ensure that narrow feet fit in regular footwear. However, the most essential thing you can do is to wear shoes that provide the proper kind of snug fit, support, and cushion to protect your feet. If you do this daily, it will help keep the natural shape of your feet over the years and help them feel comfortable.
How To Measure Narrow Feet?
You can take 3 easy steps to measure your foot width (circumference). You need to use a thin strip of paper or flexible tape measure. Also, you need to know your shoe size. This process can be easier if you ask a friend to assist you. The steps to take include:
Take the piece of paper that you can stand on with both feet and place it on an even surface.
Stand on the pace and trace your foot's outline on the paper.
Note down the measurements.
The distance between the widest parts of the foot is the width of your footbed.
What Does A Narrow Shoe Mean?
For ladies, the letter sizes that will be used to refer to narrow shoes is 'A'. If something else is put before A, for instance, 2A the show will be considered to be extra narrow. On the other hand, the letter used to indicate narrow shoes for men in 'B'.
An A width for men is usually considered an Extra Narrow. The other name used to refer to Narrow/Extra Narrow is the Slim/Super. There is only minimal difference between A and 2A and therefore manufacturers typically have 2A and 4A sizes to offer.
How Should I Tie Shoes For Narrow Feet?
You may be wondering must I know how to lace my shoes? After all, this is common sense. I agree with you but lacing your shoes appropriately plays a great role in ensuring a good fit. Simple changes in your shoe lacing process can be of great help, especially if you have wide or narrow feet.
It is important for you to note that changing the shoe lacing pattern can affect the way your shoes fit. I would therefore advise you to be cautious and whenever you make a change, ensure that you try to walk with the pair of shoes for like ten to fifteen minutes and make adjustments for any tension.
When lacing shoes for a narrow foot, this is the best procedure to use. If the sneakers you want to tie has 2 sets of eyelets both sides lace through the eyelets that are furthermost from the tongue.
This way, you will be drawing both sides of the sneakers together in a more snug way. After tying your shoelaces, you can walk around for a few minutes. Note that it is during these ten minutes that you will decide whether to tighten or loosen the laces.
How To Make Wide Shoes Fit Narrow Feet?
Could be you have ever fallen in love with a pair of shoes but unfortunately it was wide for your feet and you had no otherwise but to leave it. This was painful I guess. Next time when you come across a pair of wide shoes and you do not want to leave them and your feet is narrow; you don't have to leave them.
This sounds good but which is the solution? If you have narrow feet you do not have to always leave the shoes that you fall in love with simply because they are wide. Try the following techniques:
Reinforce your shoelaces – make sure you close your shoes more tightly over your foot's bridge by ensuring that you lace through the eyelets that are furthermost from the tongue.
Use insoles – the insoles will not only ensure that your feet fit on the wide shoes but it will also help in the overall reduction of friction. In addition to that, it will make your feet feel stable.
Use Arch Supports – all you need to do is to stack on arch support on top of the other and they will take up the extra space making you fit in them.
Heel inserts – I would advise you to purchase them if you find that the back of your foot is slipping around the shoes you have bought. With these inserts, you will not slip or slide in your shoes.
What Can I Do For Narrow Feet?
Is there really anything that you can do for your narrow feet? There is actually nothing much you can do because the fact is that you have been created that way. So the thing is:
Start by accepting that you have narrow feet, which is a fact and cannot be changed.
After accepting the above, try looking for shoes that have been designed to fit individuals' whose feet are narrow.
Finally, if you come across a pair of wide shoes and there are no narrow feet shoes for this design, then apply the tips mentioned above to make your narrow feet fit on the wide shoes.
Conclusion
If you have narrow feet, finding the right pair of hiking boots can be daunting. As a result, your heel might slip and ride up as you hike uphill. To prevent this issue, make sure your buy hiking boots designed for narrow feet.
Also, take advantage of items like insoles, which can fill up a boot's heel and help you avoid slippage. It is also essential to use appropriate lacing techniques, and choose hiking boots designed to offer the best fit and comfort to people with narrow feet.
References:
https://www.footpetals.com/tips-narrowfeet.html
https://www.footmedicalcentre.com/lacing-techniques
https://vanelishoes.com/do-i-have-wide-or-narrow-feet
https://www.samuelhubbard.com/blog/wide-width-shoe-sizes-explained
https://www.leaf.tv/articles/what-is-the-difference-between-narrow-medium-shoes