Car salesmen are often stereotyped as badly dressed. The stereotype could stem from used car dealerships being generally too flashy to get people's attention. TV ads could get very obnoxious. And then there were the Seventies when everyone thought oversized plaid was just the very height of fashion. (Seriously, who outside of Scotland thinks that's a good idea?)
Oh, and the Seventies was accompanied by a gas shortage meaning everyone wanted a fuel-efficient car which meant said tackily dressed salesmen put the squeeze on everyone. Times have changed. No one likes the brash and flashy salesman anymore. (If they ever did.) Today, a car salesman (just as likely to be a saleslady these days) is expected to be polite and helpful.
The dress code for a typical used car salesman is business casual. Because car dealerships are an outdoors business, some dealerships, particularly those in warmer places, will allow their salesmen to wear polos and khakis on the job. Generally, a button-down shirt with a tie and slacks is expected. Leave the loud, plaid blazer to someone wanting to do a Mitchell cosplay.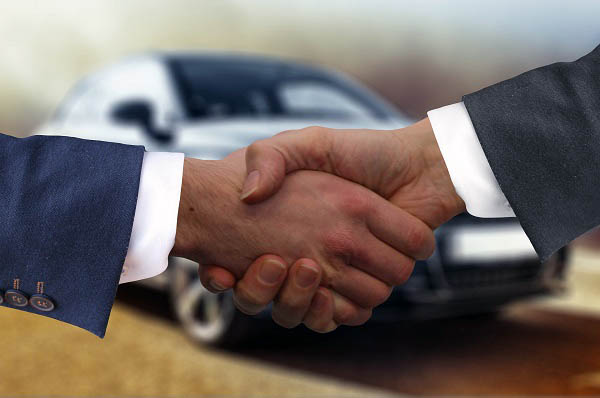 The Car Salesman Dress Code
A car salesman needs to look neat and pulled together. This means combed hair, an ironed shirt and of course polished shoes. While clothes need to look good, they must also be comfortable. You are outdoors as often as indoors so dress for the weather.
Wear white and other light colors in warm weather and navy and other dark colors in winter. (Don't wear black unless you're selling a hearse.) You will often be in and out of cars so you need to wear something flexible.
Shoes of a Salesman
The kind of shoes you wear can greatly affect your comfort level at work. If your feet hurt at the end of the day it will seem like everything hurts. An Oxford should give you comfort plus a polished look. This stylish shoe has a rubber sole that is flexible and absorbs shock.
The rubber sole is hard to replace but the top of the shoe will probably wear out first anyway. A polished pair of Oxfords in a color that matches your outfit can bring things together.
Loafers have a respectable air to them while still being comfortable. And when no one's looking, you can slip them off under your desk and right back on when you need them.
You don't have to polish them to a mirrored shine. A matte finish will do. Go with a neutral palette so people can connect better with you. There are three basic things you should look for in salesman shoes.
They must look professional.
They must be able to handle diverse weather conditions.
They must have the ability to handle the asphalt on the car lot.
The shoes need not be expensive. They just need to be reliable black or brown leather. Burgundy may go well with navy or olive. Just don't wear anything that will make you tired, frustrated or cranky. That will not work in your favor.
How you dress can affect not only how others think of you but how you think of yourself. Remember that you are the dealership's representative. Make a good impression and you will be selling cars like hotcakes!
The Reviews:
Here are the five best Oxfords for salespeople. Comparison shop and find out which one is best for you. Remember that Oxfords should pair well with your suit and should match your belt. Remember that your socks should not show unless they are the same color as the shoes.
1. Allen Edmonds Men's Park Avenue Cap-Toe Oxford
Here is a pair of shoes crafted by hand in Port Washington, Wisconsin with premium European calfskin leather. The famous recraftable Park Avenue cap-toe oxford is manufactured on Allen Edmond's own 360 Goodyear Bench Welt. This offers stability plus their celebrated long-lasting comfort. This classic style is sleek and very versatile. The Park Avenue is Allen Edmond's number one best-selling style for a reason.
Features and Benefits:
This timeless cap toe oxford comes with subtle details in the seams. It has a welted construction for both support and durability. The cork footbed molds to the foot over time for a one of a kind fit. The upper is made of premium calfskin leather for better quality.
What We Like:
The fit is true to size.
The sheen is distinguishable but not too glossy.
They are durable as dress shoes go.
Smooth stitching makes a shoe look good as well as lasts long.
They have a solid feel.
What We Don't:
It can be uncomfortable if you are on your feet for a long time.
There is a break-in period.
Creases easily.

2. CLARKS Men's Raharto Plain Oxford
The Raharto Plain by Clarks Collection is a perfect blend of casual shoes and dress shoes. These men's lace-ups are fabricated from versatile leather. They have the classic oxford shape with clean lines coupled with a contrasting rubber sole to provide traction.
Clarks has been making shoes for over a century creating the finest men's dress shoes in a myriad of styles. Clarks offers you the choices you want in the quality you need.
Features and Benefits:
The Ortholite footbed with Cushion Soft technology offers supreme comfort. The soft padding surrounds the foot for better comfort. Soft uppers provide easy movement and full flexibility. The full cushioning delivers complete comfort. The footbed is removable for convenience.
What We Like:
The shoes are lightweight.
They are very comfortable.
The traction is decent.
What We Don't:
There is a bit of a break-in period.

3. ECCO Men's Helsinki Oxford
Ecco is a shoe company that designs shoes for every need including car sales! These shoes deliver durability, flexibility, support and a perfect fit. Their state-of-the-art manufacture techniques and unending exploration in materials and technology all come together to create the comfort you can rely on. At the end of the day, you will notice and appreciate the superior comfort that Ecco provides.
Features and Benefits:
This bike toe Oxford comes with blind eyelet lacing and double-stitched seams for durability and support. The moisture-wicking lining keeps the foot dry and comfortable. The direct-injected one-component PU outsole along with the shock point absorbs shock to make walking more comfortable.
The rubber sole is flexible and has suitable traction. The rubber outsole melds into the leather to create a watertight seal. The insoles are removable for convenience.
What We Like:
The shoes are comfortable with minimal tread.
They are durable as dress shoes go.
They accompany wide feet adequately.
The watertight seal can handle rain and puddles.
The shoes are lightweight.
What We Don't:
There is a considerable break-in period.

4. Florsheim Men's Medfield Cap Toe Oxford Dress Shoe
Florsheim's Midtown Collection fuses perennial styles and the most recent in comfort technology. With up to date profiles and features such as Ortholite high rebound foam insoles plus rubber Comfortech soles, these upgraded classics are specially made to feel every bit as great as they look.
You'll know you've done well with the Florsheim Midtown Plain Toe Oxford. This simple yet elegant styling makes it one of the most versatile shoes anyone could have.
Features and Benefits:
The genuine leather is breathable. The Ortholite rebound material has an elasticity rating of over forty percent. The cushioning is long-lasting. The one of a kind open-cell structure of Ortholite insoles directs moisture away from the foot to offer a drier and healthier environment for the foot.
It also allows air to pass easily through the insole which keeps the foot dry while regulating a comfortable foot temperature. A patented antimicrobial compound inhibits the buildup of odor-causing bacteria. The heel cup provides stability and shock absorption.
What We Like:
The fit is true to size.
The shoes are comfortable.
There is almost no break-in period.
They are lightweight and comfortable.
What We Don't:

5. Johnston & Murphy Men's Melton Cap Toe Shoe
Johnston & Murphy is known for a traditional aesthetic and high quality that is well worth the investment. For people with wide feet who are often walking and standing these have proven very comfortable.
Their classic style comes in black, brown, burgundy and tan so you are sure to find something that matches your outfit. This timeless and classic look is perfect for the salesperson.
Features and Benefits:
The Goodyear welt construction lets leather conform to the foot shape over time to create a custom fit. The full leather lined insole is perforated to cause moisture dispersion and extra breathability. The cork heel filler is lightweight.
The PORON foam-cushioned forepart plus insole and the Trampoline cushioning system make for a comfortable shoe. The tongue is stitched on both sides to the upper to keep it from sliding from the center.
What We Like:
The shoes are breathable.
They are flexible.
The shoes provide great support.
They are durable as dress shoes go.
What We Don't:
The laces are a bit too long.
The break-in period is very long.

A Trustworthy Car Salesman Can Make A Difference
Go back to the explanation for the badly dressed salesman stereotype. In the Seventies, it was common to con customers into believing affordable fuel-efficient cars were scarce. Today, people are just fed up with the hard sell. Remember, if someone is on a car lot, they are already intent on buying a car so there's no need to pressure.
Think about it; when was the last time you saw someone at a car lot "just to browse". In this day of information at the fingertips, your customer likely already knows what they want and you just have to point them in the right direction.
They will likely be very straightforward with you and would appreciate it if you returned the favor. Don't forget them when they drive off the lot! Call them up and ask how they like the car. Being dressed well is but the tip of the iceberg, but it's the first tip your customer encounters.
Some Further Tips
Do not assume people will not notice your shoes. Shoes are part of the whole package you are presenting. Do not wear ragged or dull-looking shoes and expect to be taken seriously. And it isn't just how your outfit looks, it's about how you look.
If you wear uncomfortable shoes you will look uncomfortable, as if you don't really want to be there. That can make a customer feel disrespected. You can prevent this tired and haggard look by wearing shoes that provide body alignment and support.
Alternate your shoes so that you are not always wearing the same pair every day. This way, you will avoid overusing certain joints and muscles as you stand and walk. If you are a saleslady leave the stiletto heels at home and invest in an Oxford with a sensible heel.
Conclusion
Oxfords are a comfortable yet professional looking shoe that is suitable for sales work. It is classy and versatile. The clever boys at Oxford University were onto something when they started wearing these sensible shoes in 1825 when everyone else was staggering around in high heeled boots done up with buttons.
Today, this low heeled, closed laced shoe is considered the ideal when you want to be a little dressy while still being comfortable. One of the pairs reviewed today should be just what you need to get your sales career going.
References:
https://carsalesstory.com/car-salesman-dress-code
https://www.autoraptor.com/best-car-salesman-tips-new-hires
https://www.reddit.com/r/starterpacks/comments/a1j5yk/actual_trustworthy_car_salesman
https://carsalesstory.com/best-dress-shoes-for-car-salesman
https://www.artofmanliness.com/articles/how-to-dress-for-sales
https://spotio.com/blog/salesman-dress-tips
https://www.gentlemansgazette.com/oxford-shoes-guide
https://m.wikihow.com/Wear-Oxford-Shoes
http://www.zachsmithwick.com/product-review-allen-edmonds-park-avenue-cap-toe-oxfords
https://comfortabledressshoes.com/ecco-mens-helsinki-cap-toe-oxford-dress-shoes-review
https://www.themodestman.com/johnston-and-murphy-review