Let's start with what not to wear as a housekeeper. A domestic named Magenta is featured in the forty-four-year-old cult classic The Rocky Horror Picture Show. They are black button-up boots similar to the type common in the Victorian era; the kind often called "granny boots". Magenta's boots had a spike heel and they came up to midcalf with a V dip in the front.
There is some debate over whether the shoes are satin or suede. Even Patricia Quinn would be hard-pressed to remember that detail. (Ask Sue! She's to blame!) Magenta's costume was likely meant to parody a hundred or so "Whodunit" films where the French maid (she was always French) would wear black stiletto shoes and fishnet stockings. The only exception would be if the maid was an older lady like Mrs. Rogers from And Then There Were None or Mrs. White from the board game "Clue". (The film version of the game re-imagined Mrs.
White as a wealthy socialite and the maid was named Yvette. Take a guess.) Then she would usually be as British as everyone else and would wear something more sensible and closer to realistic. Oddly enough, it was housekeepers in comedies that dressed most realistically. Examples would be Alice from The Brady Bunch, the eponymous Hazel and a long line of housekeepers from Diff'rent Strokes.
Spike heeled shoes are cute if all you plan to do is dance the Time Warp once or twice (three would be pushing it) and spend the rest of the evening in a theater seat occasionally yelling comebacks at the screen. Now, if you are seriously going to clean a house you need some serious shoes for the job. Lucky for you, this article will help you figure out what kind of shoes would be best. (Say it with me!) "You're lucky, he's lucky, I'm lucky, we're all lucky!" (Insert maniacal laugh.)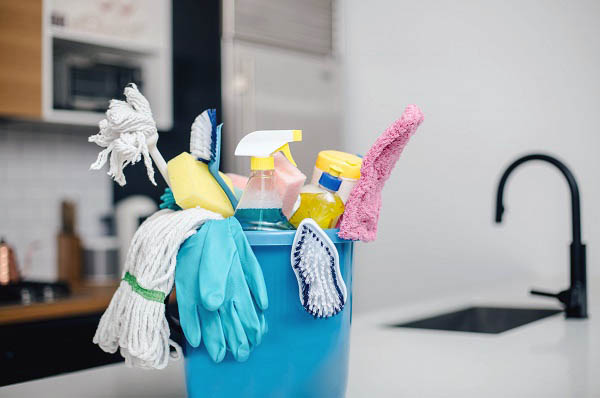 When Offering Hospitality
Hospitality? All we wanted to do was to use your telephone, Go- wait, can't say that word here. All hospitality workers including housekeepers should wear slip-resistant shoes. Whether you work in a hotel or private domicile, you may find yourself switching from a variety of floor surfaces from carpet to tile to hardwood to concrete.
If the floor is messy, that's a slip risk. If the floor was only recently cleaned, that's a slip risk. If you don't fall and hurt yourself on a recently cleaned floor, the person who did the cleaning might hurt you for spoiling their work. Remember to put up the wet floor signs.
It is also important that the shoes be well padded. On an average day, a single member of a housekeeping staff can clean about sixteen rooms a day. This can lead to a lot of steps in one day. This is the type of work that can result in strains in your lower back, legs, and arms. You will also need shoes with ample support to keep you upright.
You do not want to risk a sprained ankle or worse. The good news is modern mops and weepers mean maids no longer have to get on their knees to scrub floors. (Singing "Sweet Nightingale" from Disney's Cinderella is still an option.) The bad news is that means there's more time on your feet. At least there's always the bathtub and the toilet. (Joy.)
The Reviews:
These comfortable and supportive shoes are perfect for anyone who is on their feet all day. They are softly lined and comfortable. There are some variations. Comparison shop to find what suits you best.
1. Clarks Women's May Marigold Slip-On Loafer
Due to the smart shape and convenience offered; Clarks Women's May Marigold Slip-On Loafers are quite popular. They are available in black, brown or crocodile leather. They also have some amount of style to them with the strap across the instep and the little decorative rhinestones.
The shoe comes with a two-inch heel for a little height, which is perfect for those who would rather not have to settle for flats. This cushioned shoe is so comfortable it is recommended for pregnant women.
Features and Benefits:
The shoes come with stretch gore to improve the fit and fabric linings for comfort. The ortholite footbed, tpr outsoles, and sculpted low heel all provide support. There is ample cushioning to combat fatigue. The slip-on style makes the shoe easy to put on and take off.
Things We Like:
They are versatile shoes with a classic design.
They are available in half sizes and wide widths.
They look dressy but can be worn for serious work.
The extra cushioning makes the shoe very comfortable to wear
Things We Don't:
The fit is not always true to size.
The heel wears out easily

2. Skechers for Work Skech Air Slip Resistant Lace-Up
The Skechers Air Slip Resistant Lace-Up is featured in the Skechers for Work series of shoes that are always growing to meet the requirements of female workers. Look for the giant S on the heel! This is certainly one of the most casual looking shoes that the company has innovated up to now.
It has a relaxed look in the materials, a simple lace-up closure plus a thick sole. In the end, it looks exactly like the kind of shoe women could wear to stand and work all day at work in any environment. It is mostly black, meaning it should meet most dress code standards.
Features and Benefits:
The smooth leather and synthetic upper make a breathable and attractive shoe. The padded collar and cushioned tongue make the shoe more comfortable. The mesh fabric collar and heel panel provide a cooling effect.
The stitching accents keep the shoe together. The midsole is lightweight, flexible and absorbs shock. The cushioned insole is capped with Memory Foam for superb all-day supportive comfort.
The soft fabric shoe lining adds to comfort. The nitrile rubber traction outsole is slip-resistant. The sole is tested utilizing ASTM F1677-96 Mark II standards to meet or exceed a .5 coefficient on oily and wet surfaces.
Things We Like:
The fit is true to size.
The shoes are very comfortable.
The shoes are durable.
They have a stylish design.
There's no break-in period.
Things We Don't:
They are a bit heavy.
The laces can come undone.

3. Rockport Cobb Hill Women's Parker CH Flat
Here is a shoe great for people with bunions. The open design is also great for people who need a breathable shoe. It looks like something dressy with its lattice pattern but it really is a good, practical work shoe.
The minimalist design makes this a lightweight shoe that is easy to wear all day. The instep strap can be adjusted for a custom fit. It comes in black but also bold blue, linen and tan.
Features and Benefits:
The adjustable Mary Jane strap with a touch of gore and a hook-and-loop closure makes a secure and custom fit that can be adjusted. The microfiber lining is breathable. The soft pigskin and textile-lined footbed make the shoe comfortable.
The lightweight and impact-absorbing EVA cushioned footbed makes walking safe and easy. A stability shank is embedded into the midsole for additional support. It also features a lightweight EVA outsole with TR forefoot pods to make every step comfortable.
Things We Like:
The neutral colors are great for everyday use.
The shoes are versatile enough to switch from daywear to evening wear.
The shoes are slip-resistant.
Things We Don't:
There is a bit of a break-in period.

4. Grasshoppers Women's Windham Slip-On Flat
These shoes tout themselves as comfortable enough to wear without socks, though people who are on their feet all day are encouraged to wear compression socks all the same. It is a casual looking fabric shoe. While not as dressy as previous models it is very lightweight and comfortable.
If you work for someone who is relaxed on dress code, these are great shoes for you. They come in seven colors, guaranteeing you'll get something to match your outfit. These are shoes that celebrate a woman's uniqueness and confident individuality.
Features and Benefits:
The boat shoe-inspired flat features an around-the-collar lacing and elastic gores at the tongue to ensure a snug yet relaxing fit. The footbed is removable for convenience. The Ortholite dual-layer memory foam sockliner brings the wearer not only superior comfort but wicks away moisture and controls odors. Jersey lining on the arch and the padded collar add to the comfort. Anti-microbial properties aid in odor control.
Things We Like:
There is no break-in period.
They go with many different outfits.
The shoes are of good quality.
The shoes are lightweight and flexible.
Things We Don't:
They run a bit on the narrow side.
The durability of the straps tends to be questionable.

5. Dansko Women's Shani Clog
Dansko is a favored brand for people who spend a lot of time on their feet. The Dansko Shani Clog is a classy, traditional-looking slip-on. It is simple looking, but it gets the job done.
They are great for everyday wear. The slip-resistant outsole will keep you upright on a variety of surfaces. It is a simple and straightforward shoe for people who need to get the job done.
Features and Benefits:
The triple-density ethylene vinyl acetate footbed makes a comfortable shoe. The stain-resistant uppers make it easy to keep the shoes clean. The footbed is removable for convenience. The slip-resistant outsoles prevent falls.
The rubber sole is flexible. The moisture-wicking fabric lining and sock lining add long-lasting comfort. A lightweight EVA midsole and ABS shank make for good support.
Things We Like:
The shoes are warm.
They are lightweight.
They are easy to put on.
The shoes are very comfortable.
Things We Don't:
They are not very breathable.
There is not a lot of arch support.

Throw the Fishnets Back
Does anyone even wear these unironically anymore? Are they acceptable housekeeper wear? To quote Consuela from Family Guy, "No…no…." The fishnet stockings of film noir do absolutely nothing. A maid in Victorian times would either do without stockings or save her money to get a pair of wool stockings for winter or she may knit her own. Silk stockings and elastic were pricey luxuries only the lady of the house could afford.
Nearly all women in World War II had to paint their legs to look like they had stockings. The housekeeper in the "Tom and Jerry" cartoons (who had a name too embarrassing to type) had patched and sagging socks and house slippers that could not have been offering her any support at all. Today, people who spend a lot of time on their feet are encouraged to wear compression stockings.
Compression stockings gently apply pressure to the lower legs. This aids in maintaining blood flow and reducing swelling and discomfort. Blood is encouraged to flow upwards and not just pool in the feet and ankles. This may prevent the formation of spider veins and varicose veins. If you or anyone in your family has a history of Deep Vein Thrombosis, compression socks may be a good idea. They can also combat the discomfort of leg ulcers.
The Victorian Housekeeper
In the Victorian era "Housekeeper" was the title of the chief female servant in a household. All of the maids, cooks and other female staff answered to her and she answered the lady of the house, who was in charge of hiring her. Most maids would be referred to by the first name but the housekeeper would be called Mrs. Surname regardless of her marital status.
Because this job required a good deal of experience and references a housekeeper was often a woman of mature years. The Bronte sisters, Jane Austen, and Agatha Christie often wrote housekeepers as supporting characters. Televised dramas such as Downton Abbey and Upstairs, Downstairs have brought them in more pivotal roles.
Because the housekeeper was in a position of authority she had to be of high character because she would be setting an example for the others. She had to be clean, orderly and punctual. While she may have had some experience in house cleaning, she'd be more of a supervisor, making sure it was done properly.
She would often take over accounting and bookkeeping duties for the household. She had to be healthy and strong with a neat if somewhat roughened appearance. Today, live-in servants are a rarity even in wealthy families. Most people just want someone to show up while they're out for the day, tidy up, take the money and leave.
Still, some people who can afford it do like an assistant living with them. In this case, the modern housekeeper is often expected to have a clean driving record as she may be expected to run errands. A housekeeper in a hotel or working for a maid service needs to be neat, thorough, honest and respectful of another's property.
Conclusion
Housekeeping is an exhausting job that can be hard on the feet. The shoes Cinderella wore in the Disney film as a housemaid looked too flat to be supportive and were so ill-fitting from years of wear one slipped off as she went downstairs. (Foreshadowing.) Look around and find shoes that are neither too high nor to flat and fit just right. Slip resistance is important as is comfortable padding. Don't forget the compression hose!
References:
https://comfortingfootwear.com/most-comfortable-shoes-best-for-standing-all-day-at-work
https://bestmomproducts.com/best-shoes-for-pregnancy
https://www.modells.com/skechers-womens-skech-air-slip-resistant-shoe/1026690749.html
https://www.feetgenius.com/buyers-guide/best-shoes-for-bunions
https://www.developgoodhabits.com/shoes-walking-standing
https://www.srmax.com/education/blog/shoe-requirements-for-hospitality-workers
https://www.cleaningtalk.com/f2/what-shoes-do-you-wear-17104
http://www.rockyhorrorcostumelist.com/category/00-the-usual-suspects/05-a-domestic