Today, we're going to be comparing Bobs versus Toms. And no, I don't mean a bunch of guys named Bob and Tom. Rest easy, Bobs and Toms of the world; we won't pit you against each other today. I'm talking about the shoes, and in particular, the classic slip-ons both brands are known for. The shoes look similar, the names sound similar–how are you supposed to choose? Well, while the brands and styles do have some things in common, they also have key differences, which I'll break down in this article.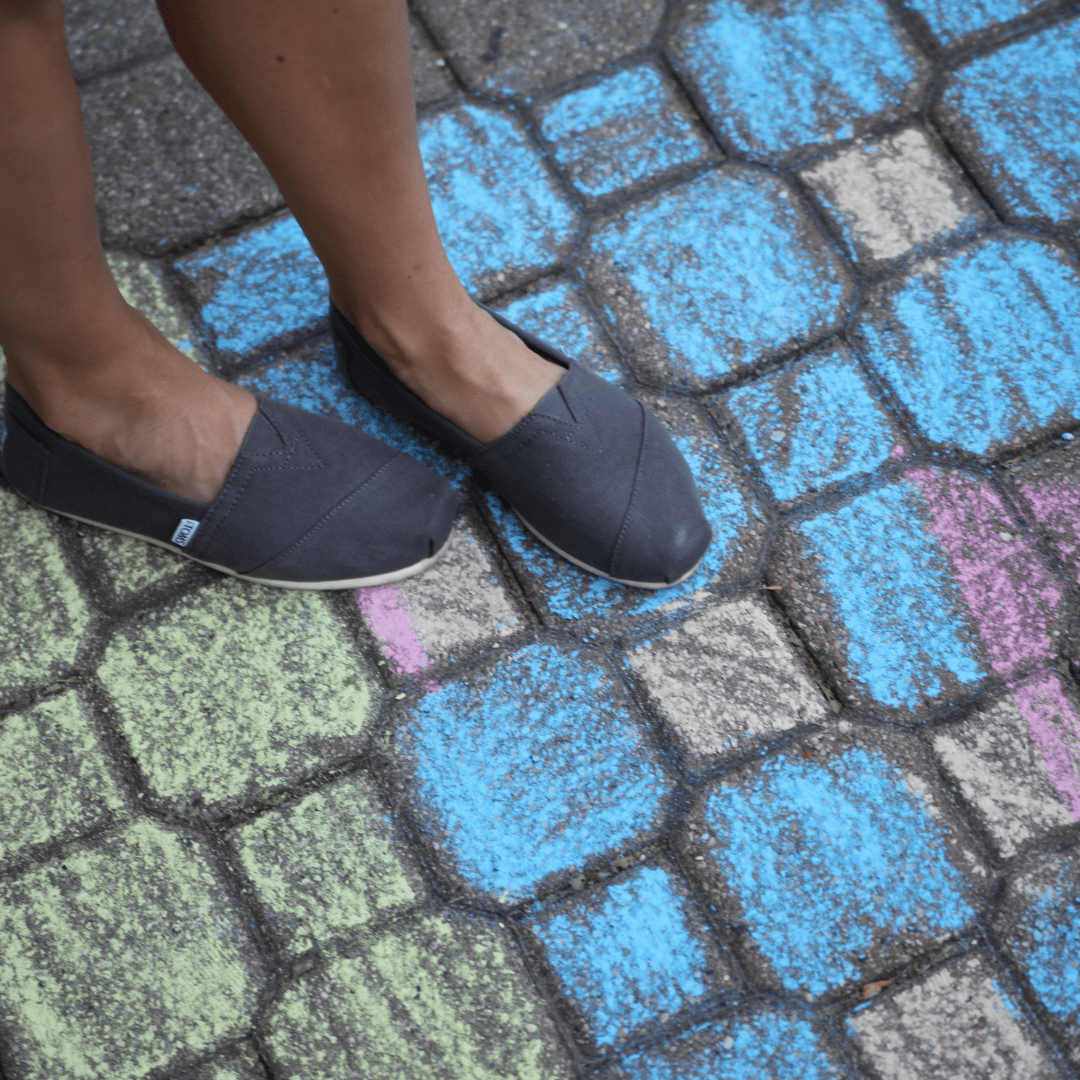 Company Stories
Despite their similar appearance, Toms and Bobs are not made by the same company. Let's take a look at the origin story and social impact of each brand.
Toms
Founded in 2006, Toms is the original "One for One®" company. One for One® refers to the business model founder Blake Mycoskie designed, in which for each pair of Toms shoes sold, one pair was donated to a child in a developing country. Mycoskie came up with the idea after traveling in Argentina in 2006, where he frequently saw children growing up without shoes.
The Toms company followed this model for many years, before switching over to a new model in 2019, in which they invest one-third of their profits into what the company calls "grassroots good". This means that Toms invests in initiatives spearheaded by local leaders in the communities they serve since those leaders are in the best position to know what their communities really need.
Toms developed this model in response to concerns that the One for One® model might actually disrupt local economies and negatively impact small businesses that produce shoes or related materials. Toms had actually moved into giving beyond shoes long before making the switch official, investing in everything from sight restoration and safe water to birth services, bullying prevention, and solar light.
Toms is also now a certified B Corp, which means the company has undergone a rigorous assessment process to ensure it is operating ethically. Oh–and if you are wondering why the shoes are called Toms when the founder's name is Blake? It's a play on an early name for the concept: Tomorrow shoes. Toms is short for tomorrow (and catchier than the original name, if you ask me).
Bobs
Unlike Toms, Bobs is not an independent company; rather, it is a sub-brand of the larger footwear company Skechers. While Skechers has been around since 1990 (big chunky dad sneakers of the early aughts, anyone?), Bobs came on the scene in 2010, looking an awful lot like Toms.
Like Toms, the name Bobs is not in honor of a real person. Rather, Bobs stands for the brand's mission, "Benefiting Others By Shoes". Bobs started off working with Soles4Soles to donate two pairs of children's shoes for each pair of Bobs sold (trying to up the ante on Toms, perhaps?). Though they still donate shoes, these days Bobs also focuses much of their charity efforts on animal rescue, donating millions to shelters around the country.
Customers did notice the strong similarities between the business model and shoe styles in the early days–the classic design for both brands is based on the Argentinian Alpargata–but the general consensus has been that Bobs isn't doing anything legally wrong. The shoe design is based on a long-standing, traditional style, and it would be hard to make the argument that multiple shoe companies can't have a charitable component.
Toms' founder has even stated that he hopes other companies will take on similar charitable goals. Still, Bobs evoked the ire of some Toms fans, who felt that the company wasn't coming from a genuine place. From their perspective, Toms had originated from a desire to help, while Bobs was just hopping on the bandwagon.
In the end, both companies make an effort to give back, but if you want to go with the original do-go alpagarta shoe, Toms is your man (or more accurately, as we established earlier, your shoe company).
Styles and Materials
Some of you probably didn't come for the company history and are just waiting to find out which shoes are going to fit in better with your wardrobe, or which are higher quality. Don't worry, we're getting to that now. Once again, be warned that there are some overlaps between Toms and Bobs–but also some key differences that will help you make your choice.
Toms
The classic Toms shoes, the one that probably pops into your mind when you hear the name "Toms", even if you aren't very familiar with the brand, is the alpargarta–see below.
Tom's alpargatas are based on a classic Argentinian shoe design, once again inspired by Blake Mycoskie's trip to Argentina back in 2006. It's the design that started it all.
Since then, however, Tom's has expanded their shoe line to include a huge variety of styles, from sneakers to boots to slides and even heeled sandals. In addition to the original alpargata flat, they make shapes from ballet to d'Orsay. In short, you can get just about any shoe style you are looking for from Toms, and still know you are doing good while you shop.
As for materials, Tom aims for many of their shoes to be made of materials they deem earthwise™, i.e., eco-friendly. This means options like recycled polyester, organic cotton, TENCEL™ Lyocell (sourced from trees), and eco-fibers like hemp, linen, and jute for the shoe uppers. They also use Green EVA outsoles, made from sugarcane, and OrthoLite™ insoles, which are made of sustainable materials like recycled rubber.
All of these carefully chosen options mean that Toms have a reduced carbon footprint compared to most popular brands–good for your feet, and good for the planet. Toms also offers leather options for many of their shoe designs, for those who prefer leather in terms of wear or style. However, for any vegans looking to buy Toms, nearly every design is available in vegan-friendly materials.
One important thing to note about Toms is that they offer styles for men, women, and children. If you want to change up your holiday card with matching shoes instead of matching pajamas, they've got you covered. They even sell a Toms shaped dog toy–truly a brand for the whole family.
Bobs
Like Toms, Bobs come in a variety of styles. Overall, though, the selection is smaller and leans more casual. They don't have as many of the leather boot and heel varieties Toms stocks or offer as many different shapes for their flats.
Of particular note: Bobs only carries designs aimed at women and girls. While a man could certainly try to find his size match, most designs only go up to a women's 10 or 11. Because of this, their selection is innately more limited than that of Toms. That said, there's still a variety of styles–check out the eyelet pair below.
Bobs provide less information on their shoes' materials than Toms does. Each pair of Bobs includes a memory foam footbed–super comfy, but less likely to be environmentally friendly when compared to the ortholite, so green shoppers, take note.
Overall, Bobs does show some environmental concern in their choice of shoe materials for select designs, which use between 26% and 100% recycled fabric (varying by part of the shoe). Many designs, however, do not indicate the use of any recycled materials, so if this is a concern for you, that may be something you want to consider.
Production and Ethics
With rising awareness about factory conditions around the world, more and more people want to know exactly where their shoes and clothing are coming from, and whether the workers making them have fair conditions. Let's explore where Toms and Bobs fall in terms of transparency.
Toms
Toms is a member of the Fair Labor Association, so they are already held to a high standard when it comes to workforce accountability. In addition, they hire third-party auditors like Elevate to make sure their CSR requirements are being met. Toms keeps all of this information displayed on their website and easily accessible.
The code of conduct prohibits child labor, requires that employees are paid a fair wage, not discriminated against, and not forced to work excessive hours. Toms also provides a list of their main factories on their website, which you can view here. All the main factories are based in China, Cambodia, and Vietnam, and their addresses are provided.
Bobs
Since Bobs are a sub-brand of Skechers, we'll take a look at Skechers' production methods. Like Toms, Skechers has a page on their website sharing their code of conduct and code of ethics. Skechers is not a member of the Fair Labor Association but does note that they adhere to the California Transparency in Supply Chains Act of 2010, and have made a commitment to the UK Modern Slavery Act.
Skechers states, "Our products are manufactured at independent factories around the world – and we're committed to working only with vendors who conduct their business ethically and are socially responsible." They do not provide a list of factories and addresses, so I am unsure about where their shoes are produced.
Skechers does have a statement about the Uyghur forced labor situation, stating that they do not condone it in any way and did not find evidence of forced labor in the factories they use. They do not indicate the use of third-party auditors.
The Good, the Bad, and the Comfy
I know not everyone reading this article is an eco-warrior or a fashionista, so let's talk comfort, too. Some of you just want to feel like you are walking around in slippers all day, or know that your feet won't sweat, right? I'm not the only one who wants to feel like I'm walking on pillows, am I?
Toms
Toms are known for being lightweight, breathable, and easy to slip into. They are the go-to summer shoe for many! While the OrthoLite® prides itself on being featherlight, Toms also has some options with what they call the TOMS CloudBound™ sole, which gives extra cushioning and support.
Bobs
Bobs shoes have memory foam soles, so they are perfect for those who like that squishy, mold-to-your-feet feel. Like Toms, Bobs are lightweight, with breathable uppers. One thing to be aware of is that memory foam compresses over time, so you may have a little less squish in your step as time goes on.
Sale
Bestseller No. 1
Sale
Bestseller No. 2
Skechers Women's Bobs Plush-Peace & Love, Taupe, 7.5
Classic slip-on with flexible goring wedge insert and layered construction
Memory foam footbed
If the W is before the number it's termed as Women's, if the W is after the number it's termed as Wide (Example: w7 is women, 7 w is wide)
Shock absorbing low profile midsole
And Now, The Choice is Yours
As you can see, despite their initial appearance, there are some notable differences when you compare Bobs vs Toms.
Toms are the original do-go shoe, the first company to mass-market the alpargata design in the USA. They came from the founder's desire to support developing countries. As they've continued to self-reflect, they've shifted to a model of grassroots funding to help communities at their core.
They are committed to eco-friendly manufacturing and materials, as well as fair labor conditions, and are backed by a number of organizations in that area. They're a classic slip-on shoe, cool for warm weather, with a variety of year-round options and even dressy options as the brand has grown.
Bobs came on the scene a little later, from well-known sneaker leader Skechers, and adopted the alpargata style and a two-for-one donation policy. They've moved into also donating some profits to animal rescue efforts. They use some recycled materials and indicate concern for labor conditions. The thing that differentiates them most from Toms stylistically is their squishy, moldable memory foam insoles.
Now, as far as which one wins the showdown? That's up to you. Perhaps you can decide based on their business models, environmental practices, or ethical practices. Perhaps you prefer the more casual style of Bobs, or the variety of options at Toms.
Maybe you're all about the comfort and just want to try a pair of each on and decide which feels more like little clouds are cradling your feet. Maybe you hate comfort and want to pick based on whether you like the sound of "Toms" or "Bobs" better, and if so, I am concerned about you and want to check-in, because you are missing out on a world of amazingly comfy sneakers and flats.
Whatever choice you make, I hope I've given you a good breadth of information to help you decide.