Calling your shoe company, Indestructible, is a ballsy move. It's going to attract a lot of attention and inspire a lot of disbelief, so you have to be incredibly confident in your products to pull it off.
But even steadfast belief won't be enough to win over the hard-working members of the public these shoes are aimed at. They need to make good on the promise the company name insinuates.
An Indestructible History – Who Are Indestructible Shoes
As is the case with a lot of notable creations, the first Indestructible shoes were dreamt up because the person designing them, one Mr. Nyugen, couldn't find a suitable option for himself on the market.
Having worked on his feet for his entire career, Eric Nyugen would often have to purchase work shoes, but could only ever find them in three distinct categories: sneakers, heavy-duty work boots, and non-slip shoes.
He wondered why the defining features of these different shoes had to be mutually exclusive. Would there not be a way to combine all these traits into one super shoe?
Well, my friends, this question is the very foundation of Indestructible Shoes.
Eric wanted to make something that was as stylish and comfortable as sneakers, as rough and ready as steel toe-cap work boots, and as stable as slip-resistant footwear, an all-in-one shoe suitable for numerous industries.
This combination of style, safety, and comfort lies at the core of every Indestructible design.
They've been featured in such media outlets as Military Times and Futurism, which helps to give credence to their claims, but are they really changing the world from their Washington headquarters, or are they just another company trying to pull the wool over our eyes?
The Pros and Cons of indestructible Shoes
We're all busy people, so I understand if you don't have time to take in this full review, which is why I've condensed the key details into this digestible pros and cons list.
Pros
Stylish – Indestructible Shoes certainly make good on this third of their design DNA.
Advanced Safety Appointments – We're talking Kevlar, steel toes, shock protection, and fire resistance.
Versatility – They do have a wide application range for single pairs of shoes.
Pricing – It's not extortionate.
Free International Shipping – A nice touch.
Cons
No Lifetime Warranty – You can't put their "Indestructible" claims to the test.
Mixed Customer Reviews – Someone has even created a Facebook page claiming that Indestructible shoes are poor quality products and that they're scammers.
Indestructible Shoes – Reviews
That's enough of a preamble, I believe. Now let's get down to what's important…the shoes!
Indestructible Shoes Waterproof CamoX
The CamoX was Indestructible's first foray into waterproof footwear for work environments. Crafted mostly from military-grade Kevlar, they do appear to be incredibly tough.
Despite their rugged construction and steel toe caps, each shoe weighs only 1lb.
The outsole is a shock-resistant, puncture-resistant, and non-slip design supplemented by a supportive insole featuring 3D arch support and a squishy heel cup, ensuring those lengthy overtime shifts don't completely destroy your feet. 
A perma-laced, slip-on design, you don't have to worry about them coming loose in compromising positions in the workplace, but it does mean you have to get the sizing just right.
Promoting even weight distribution across the length of the foot, you can tell they've paid a lot of thought to ergonomics with the CamoX, and they don't shirk when it comes to style either.
The slick camo graphics and numerals will help anyone bring a little personal flair to an otherwise bland work environment.
Indestructible Shoes Ryder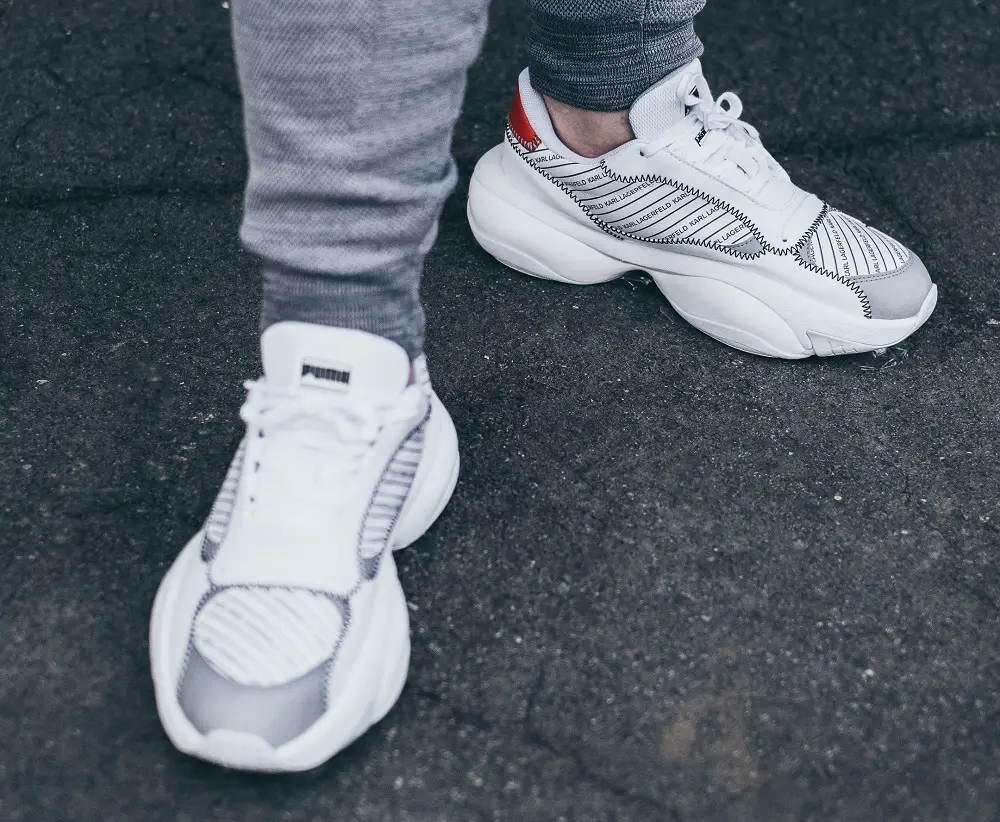 Indestructible Shoes' Ryder design was the star of the show in the Military Times feature I mentioned earlier.
Like the CamoX, they're insanely light, one pair weighing only 2lbs, yet they're stacked with tons of safety features such as puncture-resistant Kevlar outsoles, and heavy-duty steel toe caps for crush-protection.
The upper is made out of a tough but breathable Kevlar mesh that allows for the constant passage of air, preventing excess sweating, keeping your feet feeling fresh from Monday through Friday.
Their midsole isn't as good as the one found in the CamoX, but it still provides plenty of cushion and support.
They're also incredibly flexible, facilitating natural biomechanics and reducing fatigue, so you can work more efficiently than ever.
Indestructible Shoes Airwalk
The Airwalk design is true flex from Indestructible. In many ways, it's the epitome of what they set out to try and create.
Featuring a steel plate midsole, they prevent sharp objects such as nails and broken glass from getting anywhere near the sole of your feet, yet they remain highly flexible, allowing your feet to move naturally. Below, we see a slip-resistant rubber outsole to keep you on your feet on slick terrain.
Steel toe caps protect your feet from heavy falling objects, while a shock-proof layer reduces impact transmission to your joints. 
Topping things off, the Airwalk boasts special insulation to keep you safe in the event of an electrical incident. 
Indestructible Shoes Military Battlefield Shoes
The Military Battlefield model is essentially just a reworking of the Airwalk but with a military aesthetic.
They have all the same features, including steel midsoles and toecaps, slip-resistant rubber outsoles, electric shock insulation, shock-reducing insoles, and vented Kevlar uppers. The only real difference to speak of is the military camo theme.
Indestructible Shoes J3
The J3 is Indestructible Shoes' take on the classic work boot, and as you might have guessed, they have quite a sneaker-esque look to them.
But that's not to say they lack classic work boot safety features such as steel toe caps and puncture-resistant midsoles.
All they've done is take everything that made the traditional work boot great and made it better by incorporating modern materials.
Take the highly breathable Flymesh Kevlar upper, for example. By increasing airflow to the foot, excessive sweating is no longer an issue. They also only weigh 1lb a boot, which is pretty impressive if you ask me.
Oh, and did I mention that they're flame retardant? No, well they are…not that you should put this to the test if you value your health.
Indestructible Shoes Hummer
Probably my favorite shoes of the bunch, the Hummer are an incredibly stylish and protective option for the workplace.
They cover all that classic Indestructible ground such as steel toes, puncture-resistant midsoles, and Kevlar Flymesh, but they offer even more flexibility than the other shoes in the Indestructible catalog.
They also have the advanced midsole with 3D arch support and the improved heel cup found in the CamoX, making them a truly comfortable prospect. 
If, for some reason, you ever wanted one pair of shoes for both running marathons and using power tools, these are the ones for you.
What Are Customers Saying About Their Indestructible Shoes?
Looking at Indestructible's website, you'll find a plethora of shining 5 and 4-star reviews, with customers stating that Indestructible shoes are "game changers" and that they're "extremely comfortable, lightweight, and breathable". 
Another happy customer writes, "I bought one pair to try them. A week later, I bought two more pairs! They are comfortable, lightweight, and cover all the requirements my job has for safety shoes. Huge difference at the end of a 12-hour shift".
The only real complaint any on-site reviewers had was that they needed to invest in an insole.
The problem here is that we can't rely on the manufacturer's website to get the full customer satisfaction story.
Reviews on Reddit aren't quite as glowing, with people claiming that the outsoles don't protect against nails, and that "they are coming apart from the soles" after less than 200 hours' use.
Indestructible has a 3.9 rating on TrustPilot, which isn't bad, but some negative reviews are truly scathing, claiming incorrect products were received and that the company only provides resolutions at the customer's expense.
It's definitely a mixed bag on the review front, but there are definitely some (not so) Indestructible knock-offs doing the rounds, so it's hard to say exactly whether this brand is worthy of our trust.
Quite a few customers use the word "scam" pretty frequently, which, rightly, sends alarm bells ringing, but the fact that they've been covered by reputable media outlets confuses the situation leads me to believe this can't be completely true.
Indestructible Shoes – The Final Verdict
Although I like the sound of a lot of their shoes, taking into account the negative customer backlash, I wouldn't feel comfortable telling you that Indestructible Shoes is a completely trustworthy brand.
However, there's no way of telling where these customers purchased their shoes from and if said shoes were the real deal, as there have been a few knock-off replicas found on sites such as Amazon and AliExpress.
So, If you are willing to give a pair of Indestructible Shoes a try, my advice is to purchase them directly from their website, indestructibleshoes.
One last thing worth mentioning is that their overall reviews are becoming more favorable as time goes on.
For example, their Trust Pilot score has risen to 3.9 from 1.5 in just a few years, so they must be doing something right. Here's hoping they continue in this positive direction!
Related Posts: