Suede is a type of leather, just the kind made from the underside of the animal skin rather than the outer side. It is less expensive than full leather and doesn't take on the glossy shine but it still has its own charm plus unbeatable comfort and a pleasant texture. Some people think it's fragile but if you take care of it, suede can actually last a very long time.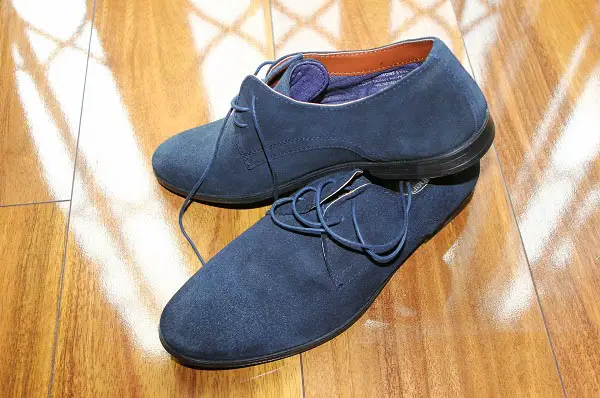 Can You Wear Suede Shoes In The Summer?
Unlike full-grain leather, suede is rather breathable. If you want to dress sharp in the summer but don't want your feet to sweat it out in leather, suede is the way to go. It's especially good on dry days when you don't have to worry about them getting wet.
Can You Wear Suede Boots In The Summer?
Desert boots (you know, the kind that is made to be worn in the desert) are certainly appropriate for summer. Ankle length booties are great to wear in the summer.
What Suede Shoes Colors Are Best For Summer?
Suede shoes come in other colors besides blue! Midnight or navy color is good for semi-formal occasions if you dress to match. For a casual mid-day look, go with azure or baby blue if you must have blue. Turquoise is amazingly versatile.
White after Memorial Day is traditional, but you can wear it before Memorial Day in some warmer climates. Champagne, pale peach or cream-colored goes with everything without being stark white. Metallics and animal prints are very recherché if you style them with dark blue denim.
How To Wear Suede Shoes In The Summer?
Suede sandals make for a casual-cool look for either gender. The gentleman can wear brown suede boots with navy colored jeans. Gray loafers will create a laid back yet put together image.
Navy suede with a matching suit and crisp white shirt is a little more dressy. For a formal look, you can wear a navy suit, olive tie, and brown suede loafers. Make sure your belt matches.
The ladies can wear suede flats with a matching dress. Suede pumps and booties are also a nice option. Why stop at shoes? Go for a suede purse or vest as well.
Can You Wear Suede Shoes In The Rain?
That's a hard no. There's not even a conditioner you can put on to make suede waterproof. With shoes, it's even worse because they're right there on the ground and you can't even turn them inside out as you might do with a suede jacket.
Can You Wear Suede Shoes In Spring?
As long as it's not raining, go ahead. April showers might bring May flowers but they also ruin suede. Try neutral-toned wingtips for a semi-casual look. Tan desert boots look good with white. Suede shoes can also make chinos look dressy.
Can You Wear Suede Shoes Year-Round?
As long as it isn't raining or snowing, suede can be worn at any time. Maybe don't pair it with velvet or leather in warm weather as that's just heatstroke waiting to happen. Linen or chiffon works. Suede booties go with anything and can be worn in any season.
Can You Wear Suede Shoes With A Suit?
They don't have much polish to them and so would be woefully inappropriate for a tuxedo. However, they do work for a smart casual look. If your suit has a belt, the color should match your shoes regardless of material. This could be one time you could break the no brown shoes with black suit rule.
When To Wear Suede Loafers?
Loafers are by nature casual shoes. The ones with the little tassels are as casual as they get. You can wear them in the club with chinos and a blazer. Belgian loafers have a bit more polish plus a little bow on the front. You can wear them with corduroys.
Penny loafers are so-called because they have a little pocket up front big enough to put a penny in. You can wear them to a job interview. Horsebit loafers have a metal bar across the instep. They can be worn to a business meeting but not to anything black or white tie.
How To Wear Blue Suede Shoes?
As said before, dark blues are for nighttime wear and light blues are for day time wear. Patterns with blue in them will make a nice look. Blue suede shoes go great with chinos or jeans or for a more formal look, a linen suit.
What To Wear With Grey Suede Shoes?
Grey is a neutral color that goes well with just about everything. They go great with a charcoal suit or for a more casual appearance, chambray. Most gentlemen might like to layer on the neutrals but you would be surprised what a pop of color here or there could do. Cool tones of purple, green or blue go well with grey. Just don't have too much grey on grey or people will think you're a statue or something.
When Should You Stop Wearing Suede Shoes?
You should not wear suede shoes if it is damp outside. You might want to keep track of which colors to wear when, but otherwise, suede can be worn at any time of the year.
How Do You Treat New Suede Shoes?
No matter how careful you are you can't avoid all moisture so it is a good idea to treat your new suedes with a waterproofing spray so that they'll be protected. There are also suede erasers for small stains. Store your suede in a cool, dry place out of direct sunlight.
When your suede starts to show its age, you can freshen it up by holding them over boiling water and letting them be coated in steam. A little going over with the suede brush and they'll be good as new.
How To Protect Suede Shoes From Scuffing?
Make sure you put on that sealant! Suede sealant repels stains and some damage. Give your suede a good brushing after every use. Nylon bristles are best. A suede eraser will get out minor scuffs but a pencil eraser can do in a pinch. You can also touch up scuffs with a crayon in the right color.
Can Suede Shoes Be Waterproofed?
It's the first thing you should do with a new pair of suede shoes. It is recommended that you use a spray that is not silicone-based. Even then, try to keep your suede away from moisture as much as possible. Do not let them get too hot either as this can cause them to stiffen.
Do Suede Shoes Stretch With Wear?
Very much so. Suede by its nature stretches easily. A major selling point of suede is that it gives easily, making it very comfortable. It won't stretch beyond maybe half a size but it will mold to the size and shape of the feet.
Can You Use Shoe Polish On Suede?
This is neither necessary nor recommended. Polish will change the suede's color and cause damage that cannot be undone. The fuzzy nap of suede is not absorbent for shoe polish to do anything but make a sticky, pasty mess.
Suede is supposed to be soft, not shiny. If you want to change the color, use dye specifically for suede, not shoe polish. Never the twain must meet.
How To Remove Shoe Polish From Suede?
OK, so the twain have met. Maybe it was an accident, maybe you didn't read that above paragraph. Don't be too quick to get shoe polish off the shoe too quickly. This is one of those things that's easier to clean when it's dry.
You can, however, take a paper towel and roll it up into a ball to blot off some of it. Once the polish is dry (a hairdryer can speed things up) Once dry, you can get as much as you can off with a suede eraser. A bristle suede brush can help to break things up.
Can You Wash Suede Shoes In The Washer?
It is not recommended that you do this often. On the rare occasion that you do, use the only detergent designed to be used on suede. Use the gentle cycle with no fabric softener. To dry, pull them back into their original shape, lay them flat on a clean towel, and leave them to air dry. This should not be done often. Regular cleaning should be done with a nylon brush.
Suede Vs. Leather Shoes
While suede is more durable than cloth it is not as durable as leather. It is softer, more flexible, and creates a more casual look. Suede is also more susceptible to water damage. Both materials are good for certain purposes.
Are Suede Shoes Durable?
Suede may be very soft and smooth but is also more durable than it looks. It is more durable than cloth while still having a delicate drape. If well taken care of, suede can last a very long time.
Conclusion
To wrap it up, suede is an attractive shoe material that adds charm to the one who wears. When choosing your next pair of suede shoes, make sure to pick the right style and color for your character and you will guarantee yourself a special look.
References:
https://en.wikipedia.org/wiki/Suede
http://hespokestyle.com/suede-shoes-spring
https://www.wikihow.com/Protect-Suede-Boots
https://en.wikipedia.org/wiki/Blue_Suede_Shoes
https://blog.samuel-windsor.co.uk/how-blue-suede-shoes
https://blog.samuel-windsor.co.uk/wear-mens-suede-shoes
https://lookastic.com/men/grey-suede-derby-shoes/looks
https://www.gq.com/story/suede-season-southern-california
https://savvyaboutshoes.com/can-i-use-shoe-polish-on-suede
https://www.realmenrealstyle.com/dress-loafers-formal-casual
https://lookastic.com/men/suede-shoes/looks/summer?page=31
https://savvyaboutshoes.com/do-suede-shoes-stretch-with-wear
http://www.desertboots.com/blog/2013/09/suede-vs-smooth-leather
https://www.icanstyleu.com/how-to-fix-scuffed-or-stained-suede-shoes
https://blacklapel.com/thecompass/5-essential-suede-shoes-for-summer
https://putthison.com/q-and-answer-how-should-you-protect-your-suede
https://youlookfab.com/welookfab/topic/best-color-shoes-for-springsummer
https://fashionista.com/2018/12/how-to-protect-suede-leather-boots-winter
https://www.samuelhubbard.com/blog/caring-for-nubucks-and-suede-shoes
https://www.hunker.com/13422724/how-to-clean-suede-in-a-washing-machine
https://www.stitchfix.com/women/blog/ask-a-stylist/can-i-wear-suede-in-hot-weather
https://www.eonline.com/news/772834/suede-isn-t-just-for-winter-these-style-stars-agree
https://www.tomboytoes.com/blogs/news/the-tomboy-s-guide-to-what-to-wear-with-gray-shoes
https://www.tomboytoes.com/blogs/news/the-tomboy-s-guide-to-what-to-wear-with-blue-shoes
https://www.styleforum.net/threads/at-what-time-of-the-year-do-you-stop-wearing-suede-and-cordovan-shoes.292527
https://www.masterclass.com/articles/what-is-suede-fabric-learn-about-the-difference-between-suede-leather-and-nubuck