The biggest selling point of the Nike Huaraches is that they fit and fit well. It is composed of a neoprene bootie and exoskeletal upper that provide a snug feel and unbeatable balance. The lace-based customization would cause the shoes to wrap firmly around the feet. The Huaraches were a result of Nike FitAdapt technology that created shoes meant to hug the foot and stay in place.
This innovative technology allowed the consumer to have a vast array of personal choices when it came to shoes for different situations and environments. They first became popular in the '90s. Since everything 90's is getting popular again, let's learn about the Huaraches.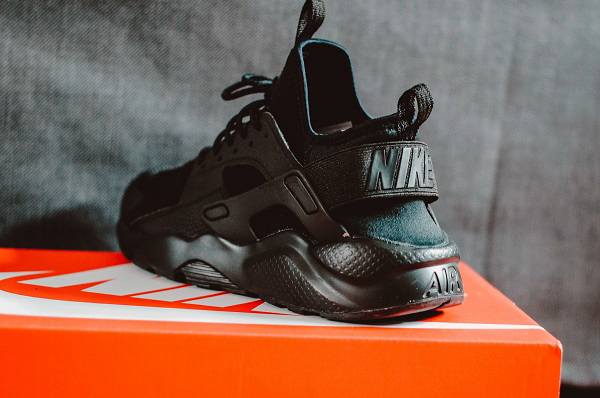 What Kind Of Shoe Are Nike Huaraches?
It is a running shoe made by Nike. It was designed to stretch along with the wearer's foot.
Why Are Nike Huaraches So Popular?
Some of that 90's retro trend might have something to do with it. However, a lot of it has to do with what made the Huaraches popular, to begin with. According to Oliver Mak, co-founder of the sneaker shop Bodega, "Some silhouettes become the foundation for whole movements and new ways of designing sneakers. Huarache is one of them."
When Did Nike Huaraches Come Out?
They made their big debut in 1991. The ads for it went "Have you hugged your foot today?"
Why Are Nike Huaraches Called Huaraches?
They were named after a type of Mexican sandal. The original huaraches predate Columbus and are made of woven leather. The Nike Huaraches bear little resemblance to such shoes. The inspiration seems to be from a rather violent sport played in ancient Mesoamerica that had some similarities to basketball.
Do Nike Huaraches Fit True To Size?
The fit is unusual. Some have compared it to the fit of a sock. Like many Nikes, they are somewhat on the small and narrow side. You may find them being half to a full size too small. Try ordering up one size but expect them to be a bit narrow.
Do Nike Huaraches Run Big Or Small?
They are a little on the small side.
Are Nike Huaraches Supposed To Be Tight?
They are meant to have a close fit. Some consumers believe the new Huaraches fit even closer than the original.
How Do You Size Nike Huaraches?
You could go up half a size and the fit will still be fairly snug. Go up a whole size if you like a loose fit. This may be a shoe that you need to try on in a brick and mortar store.
Do Nike Huaraches Stretch Out?
The sock element of the shoe means they should stretch but perhaps not "stretch out".
How To Loosen Nike Huaraches?
If they fit just a little too tight, what you can do is put them on over a pair of thick socks and turn a hut blow drier on them. The old ziplock bag of frozen water trick might work. Spraying the interior with alcohol while breaking them in could help.
How Do You Break In Nike Huaraches?
Just put them on and sit back. They'll conform to your foot on their own. Maybe do a little bit of walking or jumping to get them broken in. It can take a while so just hang in there.
How Much Do Nike Huaraches Weigh?
They are rather light. An Air Huarache in a woman's size seven weighs about 8.3 ounces. You read right, that's ounces. They weigh about half a pound. The new Air Huarache Ultra is even lighter at 6.8 ounces in the same size. This update features lightweight foam tooling that has been cored out to make it feather-light.
How Comfortable Are Nike Huaraches?
It is a major factor that consumers like about Huaraches. Many users comment on how much they like the almost airy feel the shoes have and the stylish design.
What Are Nike Huaraches Used For?
While celebrated shoe designer Tinker Hatfield has used similar designs for running and basketball shoes, the Huaraches are ultimately a casual shoe to be worn with jeans in relaxed situations.
Are Nike Huaraches Running Shoes?
The Nike Air Huarache makes a tolerably good running shoe. They are very stable and comfortable. They do a great job of protecting the feet. However, they are lacking in breathability. The Ultra gets a few extra points for being lighter yet roomier. Still, as running shoes go, they're good but not great.
Are Nike Huaraches Good For Gym?
Eh, on a scale of one to twenty-five, they rate a fourteen. They're not the worst, but there are other, better Nike models out there. It's practically custom fit but there's more to be desired.
Are Nike Huaraches Good Basketball Shoes?
Not strictly speaking. It wasn't designed with any specific sport in mind. In fact, Hatfield got the idea while waterskiing. (Not that you should waterski in these either!) You won't be like Mike in these, but you can wear them to a game of Horse in the driveway.
What Are The Different Types Of Nike Huaraches?
Of all the different types of Nike Huaraches, your best bet is either Nike Air Huarache Ultra or Nike Air Huarache SD. The Nike Air Huarache Drift SE rates barely as decent, rather disappointing compared to others of this make.
And then there's the Nike Air Huarache Gripp, a model so new there isn't much that has been said about it. The design is certainly ambitious if a bit off the wall. (Frankly, it looks like the shoe is wearing a surgical mask.) Only time will tell if this oddball looking shoe gets results.
What Material Are Nike Huaraches Made Of?
The materials used to make the Huaraches include leather, textile, spandex, neoprene, and thermoplastic (TPU).
Are Nike Huaraches Waterproof?
While Nike does have several models of water-resistant shoes (and a few jackets just for fun) the Huaraches do not seem to be among them.
Are Nike Huaraches In Style?
As of now, they're riding a wave of 90's retro chic. Four years ago, a poll from The Tab voted them the ugliest sneakers ever. Ask again in a few months.
Are Nike Huaraches Unisex?
The Air Huarache Premium is unisex. Many models in this line come on both men's and women's sizes.
Do You Wear Socks With Nike Huaraches?
They practically are socks. You do not need to wear socks with them.
Are Nike Huaraches Good For Flat Feet?
These shoes feature a removable insole that can be replaced with custom-made orthotics. It is a lightweight shoe that even people with flat feet will find very comfortable.
Are Nike Huaraches Good For Standing All Day?
The Nike Air Huaraches Ultra are very comfortable and supremely lightweight making them good for standing for long periods of time.
Do Nike Huaraches Make You Taller?
The sole is fairly thick. You may look an inch to an inch and a half taller.
Can You Put Nike Huaraches In The Washing Machine?
Nike does not recommend that you put any of your footwear in the washing machine. Nor do they recommend that you use anything harsh like bleach either. They do recommend cleaning your shoes just as soon as they get dirty. Nike recommends following these steps to clean your sneakers.
Use a dry brush. Remove the dirt from the outsole, midsole, and uppers utilizing a dry, soft-bristled shoe brush. It doesn't have to be a professional shoe brush. An old toothbrush will work very well.
Mix up a mild cleaning solution. Combine warm water and a little bit of laundry detergent.
Wash the laces. Take out the laces and soak them in a small amount of this mild cleaning solution. Rub the laces until foamy, rinse them off, then dry them off with a soft cloth.
Wash the soles. Apply the mild cleaning solution to a soft-bristled brush. Brush off the outsole and midsole. Dry them off with a soft cloth.
Wash and blot. Use the mild cleaning solution and a soft-bristled brush or a soft cloth to clean up the uppers. You can then utilize a dry microfiber towel or a soft cloth to blot and lift away as much of the soapy moisture and dirt as you possibly can. Repeat as needed.
Air dry. Allow your shoes to air dry at room temperature.
How Can You Tell If Nike Huaraches Are Fake?
Check out the logo on the heel cage. There should be an embossed Nike logo on the heel strap. The embossed letters should have somewhat rounded edges. Check out the laces. The laces should be of a high-quality weave.
The aglets should have a tight and clear cap. Make sure the correct typeface font is used on the lettering. The soft sockliners should have a molded shape that fits the curve of the foot. Know who you're buying from. If the price is way lower than it should be, it is almost certainly counterfeit.
How Long Do Nike Huaraches Last?
Nike Huaraches are quite durable. If they are well kept and used appropriately in the right conditions a pair of Nike Huaraches could last anywhere from two hundred to three hundred miles.
Conclusion
So to wrap it up, are Nike Huaraches worth it? They are very comfortable if you like a snug-fitting shoe that is a little on the narrow side. (Some people have very slender feet.) The construction is lightweight, so they will be comfortable enough to use for a long stretch of time.
They are breathable shoes that your feet will not overheat in. It does have a nostalgia value and as Nikes go, they are rather reasonably priced. If this is what you want in a casual shoe, the Huaraches are worth it.
The Huaraches were designed to have a snug, close fit comparable to socks. If you don't like your fit to be too tight you can order a size or half a size bigger than you usually get.