In the late Eighties, a husband and wife duo of horse trainers, Mandy Cabot and Peter Kjellerup went on vacation in Denmark. They found that the traditional Scandinavian clog made the perfect barn shoes.
In 1990, they started a company called Dansko for "Denmark Shoe". They have since added different types of shoes to their line such as heels, sandals, boots, and flats but their supremely comfortable clogs are what keep the customers coming.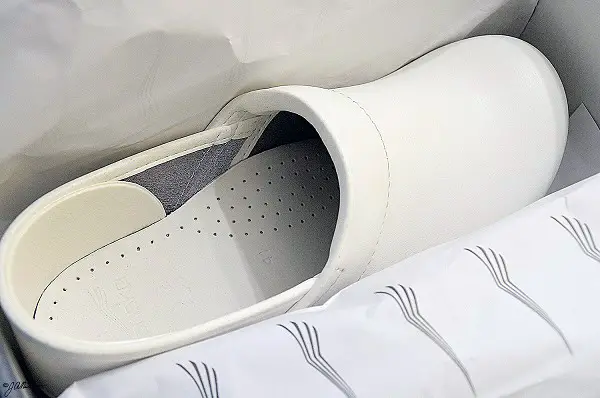 Do Danskos Run Big Or Small?
They do run a bit on the small side. They also use European whole sizes. If you are a half size you are advised to go up to the closest whole size.
Are Danskos Supposed To Be Tight?
While a snug fit is to be expected, the toes should not be touching the front of the clog. There should be enough room in the heel to slip in a pinky finger.
Why Do Danskos Hurt The Top Of My Feet?
Danskos can hurt the top of the feet of some women who have high arches. This is due to the fact that though the shoe truly fits, the throat is relatively narrow because of the vamp being too low.
How Do I Know If My Danskos Are Too Big?
People wearing the Dansko for the first time may feel that it's too big. There should be just enough room for you to slip a pinky finger into the heel. Do not press or curl your toes to hold the shoes in place as you walk.
Dansko Sizing Tips
Keep in mind that many of the styles are made in medium width. Dansko provides quite a range of designs to cater to a variety of foot types. Dansko provides both narrow and wide clogs as well for women plus narrow and wide clogs for men.
How Can I Make My Danskos Fit Better?
It is possible that you need to go a size up. You may be able to take your shoes to be cobbled to fit better. A shoe tree may be able to stretch your Danskos a little. Shoe stretching liquids can also help
How Long Does It Take To Break In Danskos?
According to Dansko, their shoes do not have a break-in period. However, some people find them more comfortable after a little stretching.
How To Break In Dansko Shoes?
You can turn a hairdryer on them while wearing them with thick socks. You can also stretch them on a shoe tree. However, just wearing them for a couple of days may be all you need to get them to conform to the shape of your feet.
Do Dansko Shoes Stretch Out?
As Dansko clogs are made of leather they will of course stretch after some time. You may want to try breaking them in a little and see if that makes them more comfortable. You might also try wearing a pair of thick socks when you first put them on to get them to stretch out.
How To Stretch Dansko Shoes?
First, you will want to spray them down with shoe stretching spray. While the shoes are still damp you should put in the shoe stretchers and tighten them. Let it sit overnight. Try them on in the morning and see if they fit. Repeat as needed.
Where Are Dansko Shoes Made?
They are made in Asia and Europe. The individual shoe will have a tag inside saying where it was made.
Are Danskos Good For Your Feet?
Danskos are made with a supportive sole that does not break down easily. More recent models are softer, lighter, and more flexible. Because they are so supportive and comfortable people who have to stand a lot on the job wear them often.
Are Dansko Shoes Comfortable?
Danskos are so comfortable nurses wear them on the job. As well as comfort focused materials, Dansko clogs also have anti-fatigue rocker bottoms that aid in the reduction of fatigue in people who are always on the go.
Which Dansko Clogs Are The Most Comfortable?
The XP 2.0 has quickly become a favorite. It has a supremely soft footbed plus Dansko Natural Arch™ technology so that they will be supportive as well. It is also very light so that it can be worn all day with no fatigue.
Dansko Vs. Crocs
Crocs are less expensive. The holes certainly make them breathable but not safe for people who work with sharps. Some types of Crocs don't have the iconic holes but are still comfortable, lightweight, and waterproof not to mention very budget-friendly. Danskos are very comfortable and more professional looking. It has long been a popular brand, but it seems the quality is going down.
Dansko Vs. Sanita
For the most part, Sanita clogs tend to be narrower than Danskos. On the whole, both brands are meant to have a comfortable, somewhat loose fit. People with wide feet may prefer Danskos.
Dansko Vs. Birkenstock
Danskos and Birkenstocks are both durable and last a long time, making them worth the money spent on them. The biggest difference is that the Birks are open sandals, exposing the foot even more than the Crocs do.
Dansko Vs. Calzuro
Calzuros are basically more streamlined Crocs. Like with Crocs, some have holes and some are closed. Like Crocs, they are also lighter than Danskos.
Dansko Vs. Alegria
Because of the materials needed to build such sturdy shoes, Dansko clogs tend to be on the heavy side. This can impede the ability to walk. Alegria is more comfortable, lighter, and less expensive but the sole is thinner. This means that you may find yourself replacing your Alegria clogs more often.
Dansko Vs. Klogs
At first glance, Klogs look like knock-off Crocs with smaller holes. However, Klogs are more slip-resistant.
Are Dansko Clogs Good For Walking?
Dansko makes the claim that wearers can walk five to six miles in them comfortably. Keep in mind, this is for professional clogs and not fashion clogs.
Are Dansko Shoes Good For Standing All Day?
For this, the Emma Work Shoe is recommended. It is a versatile lace-up shoe that excels in day-long support, comfort, and everyday style.
Are Dansko Shoes Good For Plantar Fasciitis?
The Dansko Professional Clog is just the thing for this case. The lightweight polyethylene heel will not weight down your feet.
Do Dansko Shoes Have Good Arch Support?
They do have built-in arch support. The shoes also have a supportive construction, a cushioned footbed, and a slip-resistant outsole.
Are Danskos Good For Bad Knees?
Clogs are not good for people with bad knees. However, Dansko does make some sneakers with a rubber sole that makes them good for bad knees.
Are Dansko Shoes Slip Resistant?
Dansko does carry some slip-resistant styles that are sole tested using the Mark II Standard.
Are Dansko Shoes Unisex?
Dansko carries sizes for both men and women. Many people assume they are only for women because they're such a favorite among nurses. They are also worn by doctors, chefs, and guess what? Men can be nurses too.
Why Do Nurses And Doctors Wear Dansko Clogs?
They have so many reasons. They are comfortable, supportive, and breathable. There are no laces that can be tripped over or need to be tied (followed by scrubbing up, of course.) They reduce back pain. They are durable and easy to clean. It's easy to just slip them off and kick them into a locker.
How To Walk In Dansko Clogs?
Put one foot in front of the other and soon you'll be walking out the door. Some people feel the urge to press or curl their toes to hold the shoe in place. Don't do this. Just walk normally. The Dansko clog is made to move up and down freely at the heel, much like a backless clog.
Do You Wear Socks With Dansko Clogs?
You don't really have to. Socks are for socks that don't have much ventilation and Danskos are very breathable. Socks can also make a slipping hazard.
What Socks To Wear With Dansko Clogs?
If you need something to wick away sweat, a half sock is recommended. Clogs are not good for cold weather in any case.
How Do You Take Care Of Danskos?
They are made with Napa leather which looks dressy with minimal care. To clean them you just wipe them with a soft cloth. A damp cloth can be used if you need a more thorough cleaning. Occasionally buff them with Dansko Leather Cream and a soft clean cloth or a Dansko Anytime Shoe Shine sponge.
How Do You Keep Danskos From Smelling?
Sneaker Balls are a good way to ward off smells. You may want to try baby powder, particularly the kind with cornstarch. A Clorox wipe should take out anything that causes odors. If all else fails, try putting them in the freezer for a day or so.
How Do You Get Scuff Marks Out Of Danskos?
First, find out what kind of leather your shoes are made out of. Danskos tend to be made with box leather, pull-up leather or oiled leather. In any case, start by removing dirt with a soft, damp cloth.
If you have box leather scuffs can be treated with shoe polish that matches the leather. Let the polish dry and then buff it. Scuffs in pull-up and oiled leather shoes can be taken out just by rubbing them with your fingertips.
How Do You Stop Danskos From Squeaking?
Try some baby powder in the toes.  This is one remedy to keep your Danskos from squeaking.
How Long Should Danskos Last?
Many people find they last about six years.
Can You Replace Dansko Insoles?
They are removable and replaceable. Dansko sells replacements.
Can Danskos Be Resoled?
This is not recommended.
Do Dansko Shoes Have A Lifetime Warranty?
No, but they do guarantee their footwear will not have any manufacturers' defects within a reasonable amount of time and wear.
How To Spot Fake Dansko Shoes?
Let's face the facts. Counterfeit Danskos aren't exactly being hawked on a corner with "Lucci" and "Huey Vitton". If you are concerned that your Danskos might not be the real deal remember that Dansko has a wide heel, athletic quality shock absorption, and clean construction from high-quality leather.
Are Danskos Worth It?
Some people started looking into the Sanita brand after Dansko stopped being manufactured in Europe. Many others find that Danskos work well with compression socks and inserts. Some people stand by athletic sneakers but for ease of cleaning with no laces to fuss with, it's Danskos all the way.
Conclusion
Danskos should fit comfortably with enough room to slip a pinky finger in the back. They are a utilitarian shoe with a professional look, making them popular with medical staff and chefs. You will be laying down three figures, but that first figure will be a one and they will last for some time.
References:
https://www.dansko.com
https://www.facebook.com/dansko
https://www.englinsfinefootwear.com
https://en.wikipedia.org/wiki/Dansko
https://solecentral.com.au/pages/dansko-sizing
https://blog.sfceurope.com/best-clogs-for-nurses
https://theflatfeet.com/dansko-vs-alegria-vs-klogs
https://www.zappos.com/product/review/7988356
https://www.footgearlab.com/how-do-dansko-clogs-fit
https://www.allheart.com/blog/sa/b-nurses-love-dansko
https://www.leaf.tv/articles/how-to-stretch-dansko-shoes
https://www.theshoemart.com/blog/dansko-clog-materials
https://www.happyfeet.com/blog/five-myths-about-dansko
https://luckyfeetshoes.com/comfortable-shoes-standing-day
https://allnurses-breakroom.com/my-danskos-stink-t23498
https://www.footgearlab.com/sanita-vs-dansko-clogs-reviews
https://www.health.com/style/best-shoes-for-plantar-fasciitis
https://comfortableshoeguide.com/best-shoes-for-bad-knees
https://shoesfordoctors.com/danskos-hurt-the-top-of-my-foot
https://luckyfeetshoes.com/plantar-fasciitis-shoe-brands-trust
https://www.leaf.tv/articles/how-to-fit-dansko-professional-clogs
https://sewing.patternreview.com/SewingDiscussions/topic/45144
https://www.quora.com/Should-you-wear-clogs-with-or-without-socks
https://bestnursingshoes.net/danskos-hurt-the-top-of-my-foot-how-to-fit-it
https://www.leaf.tv/articles/how-to-fix-a-scuff-on-dansko-professional-shoes
https://shoesfordoctors.com/alegria-vs-dansko-shoes-an-in-depth-comparison
https://nymag.com/strategist/article/most-comfortable-clogs-calzuro-review.html
https://www.wanderingeducators.com/marketplace/apparel/dansko-shoes-review.html