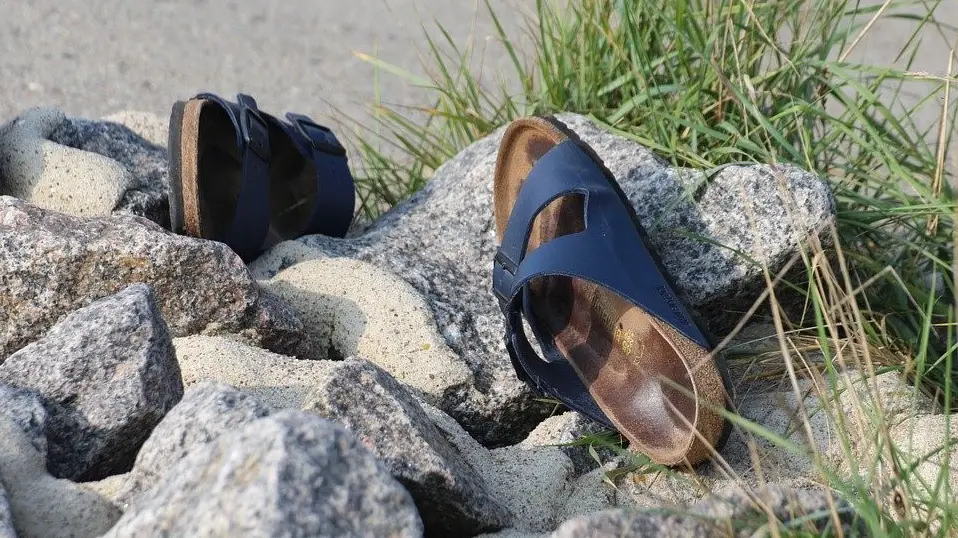 In time, your brand new Birkenstocks will be some of the most comfortable footwear you have ever owned. In time! However, when you first get them and put them on your feet, they will feel as though you were wearing a slab of concrete-hard, unyielding, and not comfortable at all. Like most shoes, your brand new Birks need breaking in, which takes a lot of commitment. It can, however, be done.
Why Do You Need to Break in Your Birkenstocks?
Birkenstocks are a type of sandal made out of leather or non-leather uppers, a contoured footbed made out of cork or latex, and a shock-absorbing sole. This cork or latex footbed is designed to mold itself around the shape of your feet in time. At first, you will feel as if the footbeds of your Birkenstock sandals are not only rigid but also quite uncomfortable. However, with time, the footbed will start contorting and conforming to the shape of your feet, making these some of the most comfortable shoes you own. The footbed will become soft and correspond perfectly to the arch of your feet. The toe bar will also fit very comfortably under your toes. All this, however, takes time and commitment.
Tips on How to Break in Your Birkenstock Sandals
It should be noted that the process of breaking in your brand new Birkenstocks for maximum comfort could take up to 3 weeks. Yes, it's time-consuming, but the commitment is well worth the effort. If done correctly, your Birks will feel as if they were customized to your feet. That being said, here are some of the steps you need to take to break in your Birkenstocks:
Start by buying the right size and width of shoes for your feet. Your feet should fit snuggly within the footbed.
Once you have taken them out of the box, unhook all of the straps and put the shoes on your feet to get a feel for them and how they fit.
Once you have gotten a feel for the footbed and how the shoes fit in general, take them off and then bend and flex each shoe to slowly loosen up the cork.
Put the shoes back on your feet and then close the straps. Be sure to leave enough room between your feet and the straps enough room to push a finger through. This will give your feet some freedom of movement.
Spend some time walking in the shoes. While doing so, make sure that your feet aren't hitting the edge of the shoes' footbed. If they are, you might need to get bigger shoes or a different-sized pair.
During the walking process, ensure that your feet move freely within the shoes; otherwise, you might be missing the whole point of buying Birkenstock shoes.
Wear the shoes for about 45 minutes and then take them off. That should mark the first day of breaking in your Birks.
On the next day, do the same thing but wear the shoes for about 2 hours while walking or doing chores around the house before taking them off.
On the third day, wear your shoes for a little longer than the previous day, maybe 3 hours. Do this consistently, slightly increasing the time you wear your shoes each day for about 2 to 3 weeks until they begin to feel comfortable.
After about 3 weeks, your Birkenstocks should begin to feel customized to your feet. In fact, you won't even notice that you are wearing them anymore.
Why Are Birkenstocks So Difficult to Break-In?
Brand new Birks are so difficult to break in because it takes time for your feet and the shoes to conform to one another. Your feet will gradually get used to the kind of support offered by the shoes as well as the buckles and the straps. Another reason why it takes so long is that the cork footbed needs a bit of time to soften up. This can be achieved by the continued bending and flexing of the shoes as well as continued wearing on a daily basis. This cork will become molded to the natural shape of your feet, offering you incredible support thanks to its continued interaction with your body weight.
Issues You May Face During the Breaking-In Process
As you can imagine, there might be some issues faced during this break-in process. After all, brand new Birks are incredibly uncomfortable at first, and you have to wear them every day for 3 weeks before they are fully broken in. Here are some issues you might face during this period and how to fix them:
Sore calves
Achy feet
Sore legs
Tender regions on the soles of your feet
Whenever any of these issues occur, you can do the following to relieve the pressure:
Take them off immediately if your feet start aching.
Begin by reducing the amount of time you wear the shoes, then gradually increasing that period day by day.
When you begin to experience hot spots on the soles of your feet, apply moleskin, band-aids, or white fabric tape to prevent Birkenstock blisters.
Wear socks, in addition to your Birks, for the first few days.
Adjust the straps accordingly. Note that you don't necessarily need to loosen them up; sometimes, you might need to tighten them to prevent your feet from moving around too much. However, if you need to make them tighter, you can simply add extra holes to your straps.
If you find a specific area that's causing you extreme distress, such as the toe bar, you can simply use a hammer to soften it up every day.
If the straps are causing hot spots on your feet, you can use sandpaper to sand down those specific areas.
Yes, it does take quite a bit of work to break in your Birkenstocks, but once they are properly broken in, you might not need to
buy as many insoles for fallen arches or flat feet
as you normally would because Birks perfectly mold to the shape of your feet.