Basketball shoes have been considered fashionable for years. If you're a basketball fan, there's no doubt that you've noticed some of the stylish shoes that players wear as they fly up and down the court. In fact, you've probably coveted some of those shoes yourself at some point, even if you don't play basketball.
If you don't see yourself wearing them on a basketball court anytime soon, then you may be wondering if you'd be able to rock a pair off of the court. Can you wear basketball shoes casually?
The short answer? Absolutely! Whether they realize it or not, people have been wearing basketball shoes in their day-to-day lives for a long time, as generally popular sneakers like Converse All Star Chuck Taylors were originally designed with basketball in mind.
That being said, not everyone has been pulling them off, as even the most stylish basketball shoes can look inappropriate and sloppy if they're not being paired with the right clothes.
Fortunately, we're here to help! If you want to know the right way to wear basketball shoes casually, then look below for our guide.
Can You Wear Any Kind of Basketball Shoe Casually?
There isn't necessarily one style of basketball shoe that's considered more fashionable than others – it all comes down to individual preferences.
If You Want to Stand Out from the Crowd
If you really want your basketball sneaker to pop, then try to pick a pair with vibrant colors and/or eye-catching patterns to make a bold statement. Also, look for different stylistic choices, such as oversized tongues, unique sole shapes, lifted heels, and different lace types.
High tops also tend to stand out more than low tops as they have more surface area, giving you more space to show off the more striking features of your shoes.
A good example of a basketball shoe that fits the bill here is the LeBron 18 shoe from Nike, as it comes in a variety of bright colors and patterns. Now, you may find that the more eye-catching shoes like these cost a bit more than others, but sometimes you have to pay the price for more unique fashion.
If You Prefer an Understated Look
White, grey, black, and navy-blue basketball shoes are more neutral and versatile colors you may want to consider if you want to be able to seamlessly integrate them into your wardrobe. Choose a simple shape if you want them to blend in with the rest of your outfit.
Check out the popular Converse Chuck Taylor All Stars for a basketball sneaker that comes in more simple block colors, silhouettes, and styles. Chuck Taylors and similar options also tend to be more reasonably priced than some of the fancier-looking shoes out there, which is an added bonus.
If You're Looking for a Classic Basketball Shoe
The thing about Chuck Taylors is that even though they are technically basketball shoes, they don't exactly have that classic look. If you're looking for a simple silhouette with minimal accents that's unmistakably a basketball shoe, then you're going to want to go with some of the more enduring favorites.
Air Jordans, Air Force 1s, and Reebok Questions are just a few of the most well-known names in basketball shoes. However, if you're looking for a more modern style that still fits the bill, then check out some New Balance OMN1S or Nike Kyrie 5s. Pricewise, these can range from pretty reasonable to fairly expensive, so make sure you shop around to find a pair that fits within your budget.
A Note About Basketball Shoe Prices
Though there are some fairly affordable options out there for a casual look, basketball shoes are known for being pricey. If the ones you have your eye on won't work within your current budget, you may want to see if you can find the same pair used in good condition.
Can You Wear Basketball Shoes with Pants?
Indeed, you can! Just be sure to keep the following tips in mind.
Wear a Pant with a Slim Fit – But Nothing Too Tight with a Bulky Shoe
While some people like a baggy pair of pants, they are certainly not going to be doing you any favors if you're looking to show off your basketball sneakers, especially if they're too long and obscure your feet. Instead, opt for a more modern slim-cut straight leg jean or tailored pant that rests on, but doesn't cover, the tops of your shoes.
You could technically go with pants that are as skinny or slim as possible, but if you do, then make sure your basketball shoes also have a slim silhouette, like Air Force 1s or Air Jordans. If you pair skinny jeans with chunky sneakers, it tends to give off a bottom-heavy look, which typically isn't something that most people are after.
Pair Joggers with High Tops for a Classic Athletic Look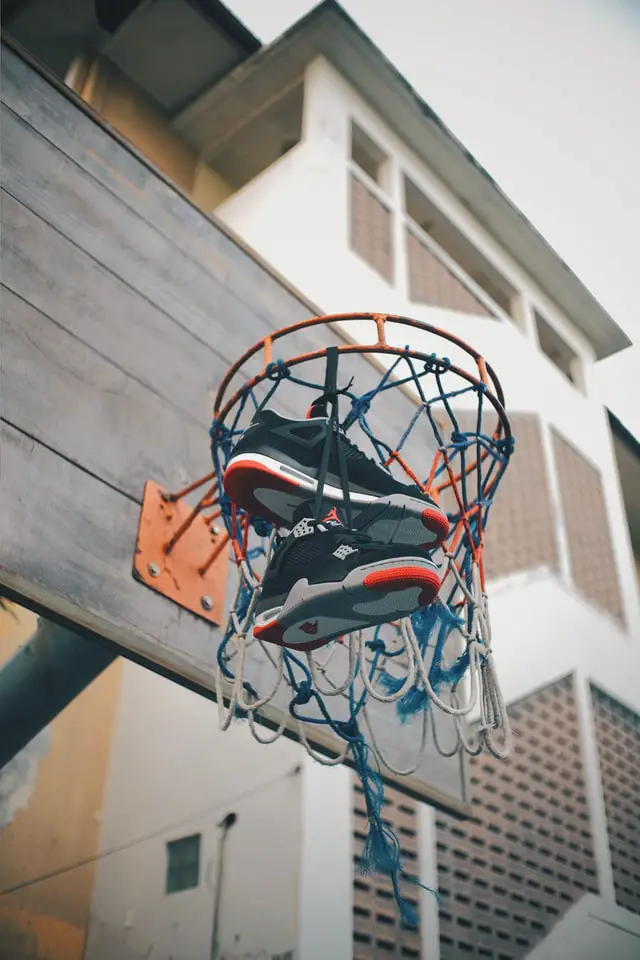 Photo by Hamza NOUASRIA on Unsplash
Joggers are a great choice if you're looking to show off your shoes, especially high-tops, as the elastic cuffs at the bottom keep the material close to the bottom of your legs and off of your feet. They also come in various colors, materials, styles, and cuts, making it easy to find a pair suitable for just about any occasion.
While joggers are typically a pretty safe choice, if you do decide to go that route, take a look in the mirror before pairing them with your basketball shoes. Since they can come in different lengths and cuts, some styles may not work as well with especially high- or low-cut shoes. Use your discretion.
Hate Slim-Cut Pants and Joggers? Roll Away!
If you don't see yourself sporting skinny jeans or joggers any time soon, then try rolling or cuffing your jeans to produce a similar effect. Try rolling them, so they fall about an inch or two above your basketball shoes – any more than that, and people may think you're heading out to dig up some clams.
Now, when rolling your pants, you may be tempted to go for more of a pinroll effect. Of course, this is certainly an option, but be careful with pinrolling if you're sporting high-top sneakers. The pant leg tends to get pushed up too high when pinrolling with high-tops, which isn't always the greatest look. So again, use your discretion!
Choose a Pant Color that Complements Your Shoes and Casual Look
While it's fairly easy to pair sneakers with more neutral tones like black, white, grey, and tan, what about pants in other colors? If your pant collection looks like a rainbow, then keep in mind complementary colors. For example, purple tends to go well with green and yellow, and blue usually looks good with oranges and reds.
When it comes to something like blue jeans and the many shades there are to choose from, try to choose contrasting colors, like pair shoes with lighter colors with darker-colored jeans. If you have especially bright shoes, then choose really light or really dark jeans to make the colors in your shoe pop.
If All Else Fails, Stick with Shorts
You may find that your basketball shoes just do not work well with any of the pants that are currently in your wardrobe. If that's the case, and you don' have the money to go shopping, then you may have to admit defeat and forgo the idea of wearing pants with your sneakers altogether. Instead, you'll have to pair them with their natural partner: shorts.
Really, basketball shoes were designed with a basketball player in mind, and they just about always play in basketball shorts. If you do the same, you'll achieve a more natural and casual look. Besides, basketball shorts provide you with an even wider variety of options than pants do, as you don't need to worry about them running into your shoes.
Yeah, it's unfortunate that wearing your outdoor basketball shoes will be limited to days with warmer temperatures on the outside courts. However, by wearing them less or making them indoor basketball shoes, they'll likely last you much longer.
Can I Wear My Casual Basketball Shoes to Play Basketball?
Photo by Mr BIMSKY on Unsplash
Well, you can, but it's not recommended.
Typically, you'll want to keep your casual basketball shoes looking as pristine as possible for as long as possible, and this probably won't happen if you're using them to play basketball. On the other hand, you'll likely get a lot of wear-and-tear and scuffs on your sneakers if you're running them up and down the court.
Instead, buy a separate pair of shoes for playing basketball. Then, you'll still have the style and performance without having to worry about them falling apart on you the next time you're casually walking down the street.
So, Can You Wear Basketball Shoes Casually?
Not everyone manages to pull off basketball shoes in their casual wardrobe. However, if you follow the above guidelines, you'll be casually – not to mention fashionably – strutting around in your basketball shoes in no time!