The name "Gucci" has become so synonymous with luxury and quality that some people say "Everything is Gucci" or "It's all Gucci" when things are going well. They started out as a company that made artisanal leather luggage. Guccio Giovanbattista Dario Maria Gucci bought the shop in 1921 located at 7, Via della Vigna Nuova in Florence, Italy.
Gucci hired local craftsmen to create quality leather luggage. Saddlebags were their flagship product and other equestrian equipment was sold. In 1935, leather became scarce so Gucci started using other materials such as raffia, wicker, wood, linen, and, jute. In 1937, handbags were added to the line.
The next year introduced accessories such as gloves, belts, wallets, and keychains. In World War II, the company temporarily ceased using leather altogether in favor of cotton canvas, which was embroidered with a double G that became the company's logo.
After the War, Signore Gucci was ready to retire and leave the company to his sons; Aldo, Vasco, and Rodolfo, who decided that the company's motto should be "Quality is remembered long after price is forgotten." In 1952, Gucci celebrated their return to using leather with the iconic Gucci loafer.
The famous horsebit charm on the shoes was a call back to Guccio Gucci's humbler days when he worked on leather for riding tack. Guccio Gucci passed on early in 1953, the first Gucci store in the US opening eleven months later on 5th Avenue in New York City. The New York MoMA considered the Gucci Loafer such a work of art they put one in its permanent collection in 1985.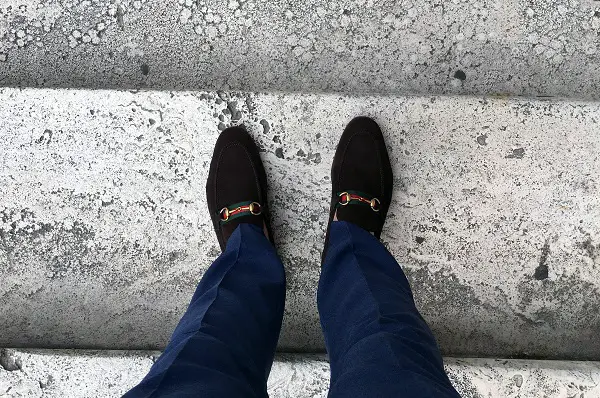 Why Is Gucci So Popular?
Gucci has been making high-quality products since the beginning and in the Sixties, it got popular with fashion influencers like Jacquline Kennedy and Grace Kelly. It's still a luxury brand but it markets itself to be millennial-friendly. As always, Gucci keeps up with the current zeitgeist.
In 2015, Gucci took on Alessandro Michele as their new creative director. Under Michele's direction, Gucci has come to include streetwear in the line and take on the influences of popular culture. Quality is remembered long after price is forgotten
What Makes Gucci So Special?
Gucci manages to be timeless yet innovative all at once. The colors, patterns and overall design of a Gucci tends to be very bold. It's not something that quietly waits in the wings. It gallops out into the ring in a shower of glitter. Part of the allure (as well as the price tag) is that all the items are handmade with care and precision. This is what is meant by the motto that the Gucci brothers came up with.
What Is Gucci Known For?
Gucci is well known for their high-end Italian leather goods, particularly the horsebit loafer designed by Aldo Gucci. Incidentally, Aldo Gucci also designed the iconic company logo, utilizing his father's initials. Gucci has come to be associated with opulence, boldness, and luxury. However, while Gucci has been taking on louder designs of late, the simple elegance of the Horse Bit loafer remains as it has since the Fifties.
Are Gucci Loafers Comfortable?
They are supremely comfortable. The soft leather and cottony lining make them fit like slippers to the point that socks are strictly optional.
Are Gucci Loafers Slippery?
The soles of Gucci loafers are made of leather, notoriously slippery. However, there are a few models called "driving loafers" that have a textured rubber sole for a better grip.
How Do Gucci Loafers Fit?
The loafers run true to size if a little on the narrow side. Many consumers report the fit as being glove-like.
Do Gucci Loafers Stretch?
If you have wide feet, you might want to size up a little but do keep in mind that they stretch somewhat.
Popular Gucci Loafers Models
The 1953 Horse Bit is still as popular as it was in the Eisenhower administration. There is a men's loafer with a smaller horse bit for people who like more understated doo-dads. The newest on the line features red and green webbing and interlocking gold-toned G's.
For those who prefer a more low-cut silhouette, interesting prints, and a velvety texture there's the Jordaan.
These styles are available in women's sizes as well as some with a bit of heel to them.
For right now, thick, chunky heels are de rigueur, if worn at all.
The plat has also made a big comeback.
Are Gucci Loafers Still In Style?
They've been in style since the Fifties and aren't going anywhere anytime soon. Even with all the passing trends, Gucci knows not to mess with a classic. Recently, Gucci showed off their newest designs at Palazzo delle Scintille during Milan Fashion Week. Some of the models were strutting in the old school Horse Bit loafers.
How To Style And Wear Gucci Loafers?
Many of the male models at Gucci's show in Milan were going for a bit of an androgynous look. If that's not your style, you can still look very dapper in Gucci. Go for a design that is simplistic and make use of classic colors and materials. You may want to stick to a more traditional approach with this style. Standard browns and blacks will do the job.
Do You Wear Socks With Gucci Loafers?
It's optional. You really don't need to as they are comfortable enough without them. Many of the male models at the recent fashion show at Palazzo delle Scintille were wearing their loafers with knee socks and shorts along with a tie and jacket, creating a bit of an Angus Young look. Socks usually create a more formal look. The sockless look can work with casual styles.
Can You Wear Gucci Loafers With A Suit?
The Horse Bit Gucci loafers are very formal. A lot of other loafer manufacturers try to imitate the metal bit look, but only a Gucci is a Gucci. Black leather Horse Bit Gucci's look good with a sharp business suit, but they're not quite enough for a black-tie event.
How Much Are Gucci Loafers?
If you have to ask, you can't afford it. The price, fluctuates, of course, as does everything in this unpredictable economy. As of this writing, the newest models of Gucci's women's shoes are around $850 to $980.
If you're a big spender (or got a sugar daddy who is) then the mid-heel loafer with pearls in the heel goes for $1150. Comparatively, the Classic Horse Bit loafer goes for a more reasonable $750.
The newest models for men go for between $790 and $850. The big spender can spend a little time with a zebra print calfskin Jordaan for $980. The androgynous Mary Janes for men sported by many of the male models in Milan go for $950.
Why Are Gucci Loafers Expensive?
Well, when you stud something with pearls, you're going to charge at least four figures for it! It is a high-end brand, so the logo itself is going to account for the price. Add on overhead, supply and demand, and all that other stuff you learned about (or were supposed to) in your high school economics class and it gets pretty expensive.
A lot of the reason why Gucci's cost so much is that they're handmade. The puckering on the edges tells you this was hand sewn. The high-quality leather is hand-stained. No glue here! It's all either hand stitched or brass nails.
Where Can You Buy Gucci Loafers?
Gucci has an online store, of course. Any place that sells designer shoes is going to sell them. Bloomingdale's and Nordstrom sell Gucci on their online stores and brick and mortar locations as does Saks Fifth Avenue. Speaking of Fifth Avenue, you know that very first Gucci store that opened way back in 1953?
It's still operatorial, but you have to book an appointment. That's just how popular they are. There are about one hundred Gucci stores across the continental United States plus three in Hawaii. Some are by appointment and some will take walk-ins.
Do Gucci Loafers Go On Sale?
Not very often. But they have Christmas sales sometimes. The retailers, of course, have their own sales, particularly around Black Friday. VIP customers can use discount codes.
How To Spot Fake Gucci Loafers?
Gucci is a brand so often counterfeited that Gucci has a gimmick in their new line up that consists of the words "Not Fake" printed on the item in bold yellow letters. While Gucci put some sneakers and sandals in this line-up, the loafers have an elegance that would be ruined by ironic messages. One good method is to look for the star.
Real Gucci loafers will have what looks like a tiny asterisk carved into the outsole. The interior should be lined with supple leather and stamped clearly with the Gucci name followed by "made in Italy" in all lowercase. There should be a style number that matches the box they came in.
Did it come with the Firenze 1921 card? This is a brown and gold card that states in both Italian and English that you have purchased a "genuine product Gucci". Also, remember that Gucci only uses authentic leather and perfect hand stitching.
Can Gucci Loafers Get Wet?
They can take a little moisture but too much will damage them. They're too thin and too slippery to be very useful in rainy conditions anyway.
How To Clean Gucci Loafers?
Start by using a soft brush to gently get rid of dust and dirt.
Take out the laces.
Wipe them down with a damp cloth. You can use a little liquid soap or leather cleaner. Diluted vinegar will take out salt stains.
Baby wipes are good for spot cleaning.
How To Take Care Of Gucci Loafers?
You may want to have a rubber sole over the leather sole to make it more durable. Brushing them every once in a while, keeps them looking neat. What makes the biggest difference is how they're stored.
How To Store Gucci Loafers?
Always hold on to the box, tissue paper, and dust bag that comes your shoes came with. Store them in their boxes and stuff them with tissue paper when they're not in use. In seasons where you would use them regularly, store them on a shoe shelf inside your closet. When you travel, always pack them in their dust bags.
How Long Do Gucci Loafers Last?
They could last as long as fifty years, provided you never take them out of the box and never wear them. Otherwise, there's no way of knowing.
Can Gucci Loafers Be Resoled?
Most models can. In fact, Gucci will do the resoling for you if you have proof they were bought from an authorized dealer and they haven't been previously resoled by another cobbler.
Conclusion
When Guccio Gucci was a young man he had a job as a porter/elevator operator at London's Savoy Hotel. He handled the baggage of the most well-to-do people in Europe and when he came back to Italy, he made something that could compete. Necessity forced his business to expand into greater areas. Today, Gucci has become a style all of its own that is often imitated but never duplicated.
References:
https://www.gucci.com
https://en.wikipedia.org/wiki/Gucci
https://www.highsnobiety.com/tag/gucci
https://www.yournextshoes.com/fake-gucci
https://www.nordstrom.com/sr/gucci-loafers
https://www.bloomingdales.com/buy/gucci-loafers
https://nypost.com/2020/10/01/dsw-gucci-sale-deals
https://realstyle.therealreal.com/spot-real-gucci-loafers
https://www.quora.com/What-does-gucci-mean-in-slang
https://www.gearpatrol.com/style/a676105/gucci-loafers
https://coutureusa.com/pages/designer-shoe-fit-guidelines
https://www.thelist.com/188808/why-is-gucci-so-expensive
https://www.whowhatwear.com/how-to-clean-leather-shoes
https://www.quora.com/What-is-the-Gucci-brand-known-for
https://www.gentlemansgazette.com/is-it-worth-gucci-loafers
https://www.whowhatwear.com/5-gucci-facts-you-never-knew
https://www.realmenrealstyle.com/dress-loafers-formal-casual
https://www.quora.com/How-long-does-Gucci-loafer-shoes-last
https://www.thetrendspotter.net/dapper-mans-guide-wear-loafers
https://www.saksfifthavenue.com/style/gucci-loafer?site_refer=BLMR
https://www.pursesandpugs.com/how-to-take-care-of-designer-shoes
https://www.styleforum.net/threads/do-gucci-loafers-go-on-sale.151883
https://www.emilyjanehardy.com/2017/10/gucci-jordaan-need-to-know.html
https://www.gentlemansgazette.com/loafer-guide-penny-gucci-tassels-weejuns
https://www.styleforum.net/threads/how-to-get-my-gucci-loafers-re-soled.537989
https://www.businessinsider.com/gucci-millennials-teens-love-designer-comeback-2018-11
https://www.jandrewspeaks.com/2017/11/06/why-gucci-is-the-most-loved-and-desired-brand
https://askandyaboutclothes.com/community/threads/gucci-shoes-do-they-hold-against-british-weather.119956
https://www.theglobeandmail.com/life/fashion-and-beauty/fashion/what-gives-gucci-products-their-unique-value/article17640605