You don't need to burn a hole in your pocket to get the perfect work boots. The best cheap work boots will serve you for many years to come, regardless of their low price tags.
Considering how many designer names are available, it is easy to get overwhelmed when choosing work boots. However, high price tags don't necessarily translate to good quality, so price shouldn't be the only determining factor when buying work boots. The market has many affordable work boots that are as good as their expensive counterparts. This article will review the best work boots under $150 that will offer the same level of protection, durability, and comfort provided by expensive options. There is no disputing the fact that low-quality materials won't give value for money. However, you can confidently shop the affordable work boots on this list because they were carefully selected using certain criteria that guarantee longevity and optimum comfort.
Review of the Best Cheap Work Boots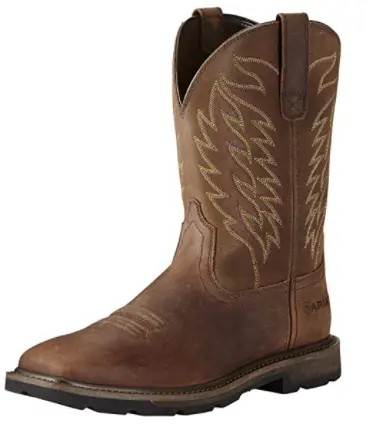 Need an ideal work boot under $150? The Ariat Men's Toe Work Boot might just be the right boot for your needs. This groundbreaker by Ariat is true to its name, giving you the strength and support for all sorts of hard labor, such as factory work, farm work, and construction site duties. The boot features an impressive cushion and durable metatarsal protection, ensuring peace of mind as you move around on site. It is a solid choice for people who engage in rigorous manual labor and needs maximum support and traction no matter the terrain. Don't worry about foot and toe protection, thanks to the boot's ASTM ratings. In addition to providing maximum protection on-site, it features a 90-degree heel that offers increased stability alongside mesh lining for improved airflow.
Pros
Strong rubber sole
Comfortable
Maximum protection for your feet
Extra support thanks to the comfortable insole
Price is good
Makes for an impressive gift for hubby or brother
Cons
You need to get the right size to avoid pain
Ariat Mens Groundbreaker Wide Square Toe Work Boot Brown 10.5 Wide
WORKS AS HARD AS YOU DO: The Groundbreaker by Ariat are made for the long haul: strong, sturdy and styled with western detailing. The supportive cushioning, extra metatarsal protection and stability technology make them ideal for construction, warehouse, factory or farm work.
THE SUPPORT YOU NEED: The Duratread outsole is both oil and slip resistant and the 90-degree heel gives you added support. Built for the hard-working man, these work boots provide maximum support and traction on any terrain without sacrificing comfort.
EVERYDAY COMFORT: Along with the 4LR (Four Layer Rebound) technology for added comfort, these men's work boots also feature a mesh lining for added air flow and comfort and a 90-degree heel for extra stability. The extra comfort insole with 4LR technology has maximum cushioning with a higher rebound for added support.
GREAT GIFTS: Shopping for your husband or boyfriend shouldn't be difficult, and with these durable work boots for men from Ariat, it won't be. Perfect for any task, indoors or out, the hard-working man can wear these comfortable boots all day long.
Wolverine stands out as an iconic American brand that delivers the best using classic and reinforced materials. Anyone who wants a cheap work boot under $100 will find this option from Wolverine quite suitable. You can wear these boots all day long without pain as it provides long-lasting comfort, and the rubber sole adds a superior soothing effect. The boots can withstand even the harshest environment as they are made for strength and rigidity. It uses complete leather, which will stand the test of time. The boot features a Dura shock system, which adds an extra level of protection. You get optimum stability no matter the terrain.
Pros
Made with complete leather
Rubber sole
It keeps your feet dry
Wide opening, measuring 13 inches
Suitable for long hours of use
Cons
The boot is a little bit heavy
WOLVERINE Men's Nation Waterproof Comp Toe Pull-On-M Work Boot, Dark Brown, 8 M US
The new Wolverine Dura shocks add comfort into every step so you can power through any job.
A unique cushioning design optimizes comfort with cushioning in the heel and flexibility through the step
Wolverine h-plate suspension system stabilizes your foot while creating four independently responsive quadrants to harness the energy of your step and propel you forward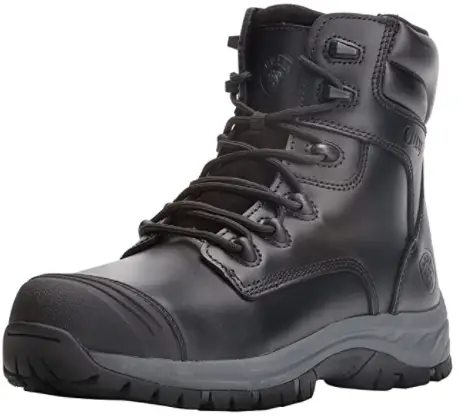 This option by OUXX is one of the best cheap work boots under $100 in terms of functional design. While OUXX is a pretty new brand, it is rapidly becoming synonymous with excellent quality by offering durable, comfortable, and fashionable products. The work boot meets the needs of all, no matter the field. Plus, it provides the best possible protection for your feet. The inner mesh and top layer use full leather material, which is waterproof, breathable, and comfortable. While it looks rugged, it is actually light, so you can move about without being dragged behind. Your feet enjoy maximum protection thanks to the steel toe cap alongside the
TPU
. Wearing and taking off the boots is pretty straightforward as the side zipper eliminates the need to struggle. The insulated design ensures you are protected from any electric shock if you accidentally step on a conductive material. This option is ideal for construction workers or those who work on the manufacturing floor where nails and lots of other sharp objects are common. The clever midsole design includes an anti-piercing feature that protects the sole from sharp objects.
Pros
Insulated design protects from electric shock
The rubber sole offers impressive durability
Anti-piercing function
Strong friction prevents slips
Side zipper makes it easy to wear and remove
The outsole features silicon oil to prevent damage
Cons
Only available in two colors
OUXX Work Boots for Men, Waterproof Steel Toe YKK Zipper Non-Slip Rubber Leather Shoes, Puncture-Proofe(Black, OX2720, US 7)
【Steel Toe Cap &TPU Protect & Side YKK Zipper】The steel toecap can prevent your toes from being injured, The steel toe covered with TPU makes it more durable. The side zipper makes it easier to wear and take off.
【Confirm to ASTM F2413-18 Standard, EH(Electric Hazard)】This work boots have Insulated design, which can prevent electric shock (current from passing from the body to the ground), such as use or repair electrical appliances.
【Oiled Full Grain Leather & Mesh Design】The boots are made of top layer leather and mesh inner. Leather is waterproof, and inner is breathable and comfortable. At the same time, avoid heavy boots and reduce the burden of footsteps.
【Kevlar Mid Sole & EVA & Rubber Sole】 KEVLAR has anti-piercing function to prevent feet from being pierced by nails. EVA provides shock-absorbing to release foot pressure and make it more comfortable. RUBBER Sole provide strong friction to prevent slip on, and makes more durable.
【Ideal Gifts, 6 Months Guarantee】All OUXX brands supports 7 days free return, 30 days free exchange, 6 months manufacturer guarantee. If you have any questions, please feel free to contact us.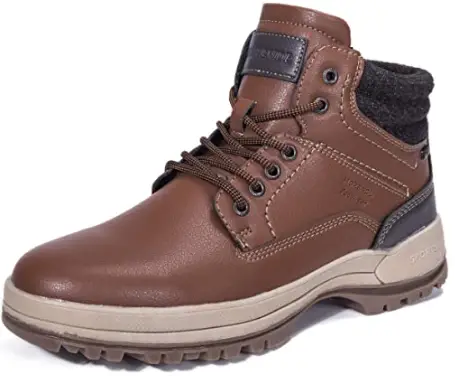 Morendl's option is a hard-to-beat choice if you need a work boot under $50. Designed for people on a tight budget, this reliable model can serve users for years to come. It features a steel shank that provides the ideal support for the high traction grip sole. As a result, you can walk freely without much fatigue or losing traction on various terrains, including rocky surfaces. The work boot comes with remarkable safety features that protect the feet from sharp objects and from falling. The boots are comfortable, right out of the box, meaning there is no break-in period. Plus, you can walk steadily both on snow and other surfaces while enjoying a solid grip. It is highly resistant to water, so your feet will not get wet from walking on the snow. The stylish and classic look makes it fit nicely with your jeans or any work pants.
Pros
Resistant to water and oil
Reinforced toe and heel construction
Complete rubber sole
Impressive safety features
Side zipper provides added comfort
Cons
It is essential to get the size right
This pair of best cheap work boots is one of the best out there that will not break the bank. It is ideal for anyone who wants a lighter work boot with a soft toe cap without sacrificing comfort and protection. It features a carbon fiber toe cap that offers advanced safety for your toes and improves performance. It is available in a variety of colors, so you can get a boot that will match your work outfit. The dual-density
PU outsole
provides good impact absorption and is comfortable on the feet. The sole is insulated, offering added protection from electric current. Rockrooster's boot is a great choice if you work in environments that pose electrical hazards. The boot will perform excellently on various surfaces due to the Goodyear welt construction, which gives added strength. Users will appreciate the comprehensive shoe profile that accommodates wider feet and reduces any form of pain. You even get the needed ankle support thanks to the padded collar so you can avoid any stiffness on your heels. Durability and strength are the definitions of these boots, as they are for heavy work. The premium thick leather keeps your feet dry no matter how long you work. Maintenance and cleaning are pretty straightforward, so the boot will, indeed, serve you for many years to come.
Pros
Impressive safety features (water-resistant, slip-resistant, insulated, anti-fatigue, etc.)
Cleaning is easy
Safe and comfortable
Shoes will match most fashion
It keeps your feet cool and dry
Optimum stability
Variety of color to choose from
Cons
Might be a tad big for some people, so ordering a half size down might be necessary
ROCKROOSTER Work Boots for Men, Soft Toe Waterproof Safety Working Shoes(F1-AP360-soft, 10.5-BRN)
【Stylish Mens Work Boots】(✅►Suggest going down a 1/2 size) Our work boots are both stylish and comfortable, which will make your work life so much easier. They are also durable enough for hiking and wearing on an everyday basis. With the fashion world of menswear's thirst for anything vaguely heritage, it was only a matter of time before the humble work boot went from functional workwear stomper to must-have footwear staple.
【Comfortable & Cool Tech】Are you still worried about the discomfort and fatigue in your feet and legs? These lightweight mens work boots comes with a dual-density, shock-absorbing footbed that will cushion you with every step, massage your feet as you walk, and promote greater blood flow to reduce fatigue. Also engineered with COOLMAX fiber technology, the breathable work boots will transport moisture away from your feet so they stay cool and dry.
【Incredibly Durable】All work boots provide 180-day warranty. Are you looking for a pair of solid work boots that can last a long-term use? Our working boots are built with goodyear welt construction and durable enough to hold up to oil. As these lace up work boots made of premium thick leather are pretty sturdy and waterproof, your feet will always keep dry while you work.
【Lightweight & Abrasion-resistant Outsole】These SOFT TOE work boots are equipped with long wearing Dual density PU / PU injection outsole, which is antistatic and has acceptable slip resistance. The soft PU midsole also provides good impact absorption and wearing comfort.
【Enhanced Toe Support】The casual working boots for men offer a wide profile shape to suit your foot, and there won't occur the kind of fore foot pain. It appears that this safety boot will only need a minimal break-in period to get that ultimate comfort.
Golden Fox Men's Work Boot defines performance combined with comfort, durability, and reliability. In addition to its classic and stylish look, it features a polyurethane outsole and tanned leather that resists oil and chemical erosion. Thanks to the steel shank, it is light, durable, and strong enough to resist damage to your toe from any fall. The lined fabric absorbs all moisture and sweat to prevent odor, keep your feet dry, and supply the necessary insulation during winter seasons. Goodyear Welted shoes are known for strength and excellent performance. This option comes with a foamed structure that encapsulates some tiny air bubbles. As a result, the material is flexible, lightweight, and excellent in absorbing shock. The slip-resistant qualities make the boot practical in various work conditions. The steel shank provides outstanding support around the arch, reducing the pressure associated with standing on rigid surfaces, uneven surfaces, climbing, etc.
Pros
Made of the complete leather
Maximum protection due to the steel sole
Steel shank for additional protection
Affordable and lightweight
Classic and stylish
Resistant to erosion, oil, and chemical
Cons
No information on warranty
Golden Fox Steel Toe Work Boots Men's 6" Moc Toe Wedge Comfortable Boots for Construction Size 7 D(M) Brown
Steel Toe - ASTM Certified and impact tested to the standard F2413 M/I-75/C-75.
Comfortable Dual Density Insole - Fights fatigue and offers shock absorbing qualities. The insole supports your lower back and legs offering dependable comfort during long work days.
Lightweight & Durable - The lightweight polyurethane wedge outsole resists oil and chemical erosion and offers superior traction and support.
Steel Shank - provide extra support around the arch of your foot. Shanks help alleviate the pressurecaused by standing on rigid, uneven surfaces, climbing ladders, or kicking a shovel.
Insulated - Lined fabric wicks away sweat and moisture to prevent odors and provides more warmth during cold days
The work boot comes in a stylish and classic design, featuring a thick rubber sole that can get you going steadily on any surface. If you do many outdoor jobs, especially in winter, you will find this work boot helpful. Also, it can even serve you on rainy days because Morendl does not compromise its quality construction. The possibility of experiencing any irritation or soreness is low as the comfort is top-notch. It comes equipped with some furs, making it a great choice to keep your foot warm in winter or rain. It is perfect for all industrial and heavy-duty jobs. This boot features optimum traction that protects you from falling, making it suitable to wear for rock climbing, hiking, and mountain climbing. The steel shank and anti-fatigue technology support your feet as you walk all day on different surfaces.
Pros
Comfortable and stylish
Steel shank offers superb protection
The fitting is true to size
Waterproof, applicable to all seasons
Cons
MORENDL Men's All Weather Premium Water-Resistant Outdoor Hiking Mountain Climbing Construction Performance Comfortable Soft Toe Work Boots…
Anti-Slip Reinforced and Thicken Rubber Sole: Protect your feet from sharp items, such as nails from work, rocks while hiking, sharp grass while gardening. Reduce the risk of falling off when you are doing jobs at oil industries. Safe for rock climbing , mountain climbing and hiking.
Anti-Fatigue Technology: The high traction grip sole and the arch of the boots are supported by a steel shank, allowing you to walk freely on various working environments and rocky surfaces, providing you with comfort throughout the day.
Durable Water-Resistance&Oil-Resistance Upper: Easy to deal with light rain. Easy to clean oil if it sticks to the upper.
Protective Toe.Working boots for woodworking, industrial job.
Applicable scene: normal work, snowfiled, grassland, forest, mountains.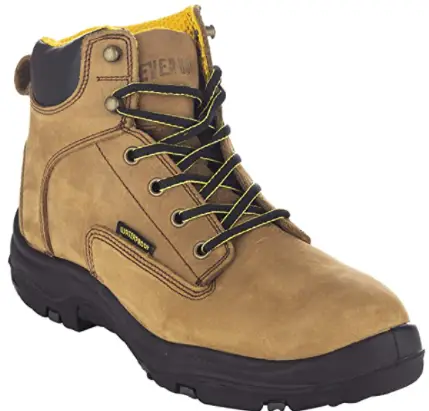 The waterproof leather keeps your feet dry all day long, even when working in light rain. Not only does it keep water out of the boot, but it also features a waterproof membrane that wicks moisture away to
prevent obnoxious odor
. The boot is lightweight and features speedy hooks alongside a back loop, all of which enhances comfortability. The stability is top-notch; thanks to the rubber outsole that provides additional support in all terrains. With the steel shank, you can comfortably climb ladders and staircases without unnecessary pressure.
Pros
Lightweight, durable, and waterproof
The rubber outsole provides impressive stability
Easy lacing, comfortable to pull tabs
Optimum traction on all surfaces
Size runs true for many users
Strong polyurethane keeps foot fatigue off, ensuring all-day comfort
Cons
Sale
EVERBOOTS ULTRA DRY Men's Waterproof Hiking Work Boots, Lightweight Ultility Leather Shoes, Water Proof Tactical Military Outdoor Ankle Mens Boot for Construction, Roofing, Hunting, Winter Trails(13 D(M), Copper)
EverDry Waterproofing Technology 35,000 Steps - Unique 4 layer protection in the membrane, bootie, glue, & stitching to ensure your feet will stay warm and dry. Our premium quality leather is built for heavy duty work & other recreational activities.
EverFit Anti-Fatigue All Day Comfort- Soft cushioned and lined engineered for anyone standing or working long hours. Insole removal option offers custom insole of your own to ensure ultimate comfort. Big mens fitting runs 1/2 size bigger than others.
Easy to Wear & Break In Free- Light weight working shoe comes with speedy hooks and backloop for convenient everyday on off wear. Designed for immediate pain-free comfort and can be worn straight out of the box, with no need to break them in.
Ultimate Safety Support - Rubber sole offers oil, slip, and abrasion resistant. The minimal dirt tracking tread provide strong grip traction on wet/dry surfaces. The steel shank helps balance and alleviates pressure when climbing stairs or ladders.
Tough As Ever 90 Day Guarantee - Trust in the reliability of EverBoots botas de trabajo para hombre. You can count on the durability of our footwear. If you have any daily performance concerns within the first 90 days of use, we are here to help.
The boot features a genuine leather insole that is soft, smooth, and comfortable. Thanks to the nylon fabric mesh design that offers incredible breathability, your feet will undoubtedly be dry all day long. It is stylish, easy on the feet, and will provide the perfect match with a variety of outfits. The upper part features yak wool that can withstand even the harshest conditions without a scratch. The shoe boasts Goodyear Welt construction, so it stands out as one of the toughest work boots, even at its insanely low price. You will love the lace-up closure that secures your feet inside the boot. Don't worry about bacteria buildup since it has a moisture-wicking lining that also improves the overall breathability. You get the necessary ankle support, too, and the padded collar and tongue remove any stiffness from the heel.
Pros
Lightweight and comfortable
Provides excellent ankle support
Resistant to oil and water
Good traction, especially on uneven terrain
Can blend with most work outfits
Cons
It might be tight for the first couple of days. It will normalize with time.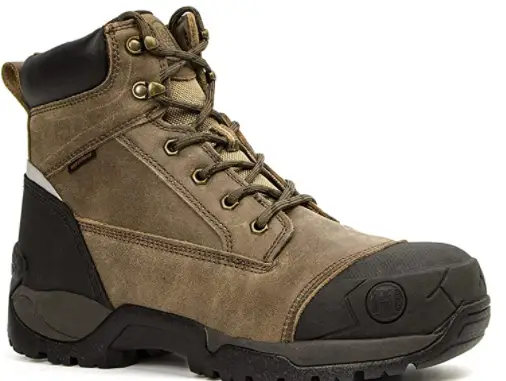 This boot is a great investment for anyone looking for a reasonably priced work boot that does not sacrifice comfort. The lace-up design makes wearing and removing the shoe easy. Your ankle gets the needed support thanks to the tongue and padded collar. The boot comes with Poron insoles that allow for maximum performance and instant relief on hard impact. It is a pair of boots to have your feet in during long shifts because it is highly breathable due to the full-grain leather and mesh lining. This design ensures that your feet remain cool and dry throughout, and there is no need to worry about offensive odor. It stands out from many work boots as the reinforced toe is molded rubber rather than metal. With Montwell work boots, you can work comfortably in the snow and winter without worrying about getting your feet wet. The high abrasion provides a firm grip on all surfaces and terrains in wet and dry conditions.
Pros
Full-grain leather
Lace-up design with arc design
Anti-fatigue technology
Little tendency for odor
Cons
Might fit too big and slightly heavy for some people
Montwell Mens work boots, 6" Composite Toe Waterproof Lightweight Work Boots for Men, Slip & Puncture Resistant Safety EH Wide Working Shoes 2E-9, (M127)
【Safety=ASTM & Composite Toe & Puncture-proof Midsole】Do you want to get rid of bulky, heavy working boots without sacrificing safety? Unlike heavy steel toe footwear, these non-metallic composite toe waterproof work boots are built streamlined for greater comfort in the toe box and maximum mobility. They're ASTM F2413-18 M I/C EH rated and KEVLAR penetration resistant midsole will provide you with flexible underfoot protection.
【Comfortable= Lightweight& Arch Support】Guard your feet with the lightweight yet ultra-durable mens work boots. The non-slip mens work boots are convenient to wear on and off with lace-up design. ►Padded collar and tongue provide you with outstanding ankle support and you will never feel stiff on the heel. ►Anti-fatigue technology in the midsole will reduce shock and returns energy to the foot.►PORON insoles can provide maximum performance cushioning and immediate relief and impact absorption.
【Breathable=Full Grain Leather & CoolMAX Tech】Are you still worried about excessive sweating when wearing work boots throughout the long tiring shifts? ►The crazy horse full grain leather and mesh lining remain extremely breathable, resulting in less moisture from prolonged contact. ►Also with COOLMAX fiber technology, the breathable work boots for men will control the odor and transport moisture away from your feet so they stay cool and comfortable all the time.
【Durable= Reinforced Toe & Abrasion-resistant Outsole】These mens working boots are with molded/reinforced rubber toe protector for increased abrasion resistance and durability. Premium leather with waterproof membrane can keep your feet dry even when tackling outdoor work in rain or meeting deadlines during snowfall. And the lightweight, abrasion-, oil-, acid, alkali and slip-resistant rubber outsole also infuses confidence into every step
【Warranty= 90-day】►The Montwell composite toe waterproof work boots have a 90-Day warranty. These mens work boots are sturdy and fashion enough for the electrician, sanitation worker, mason, construction worker, landscaping, gardening, farming and outdoor hiking. If you have any problem with these dark brown mens safety work boots before or after ordering, just feel free to contact us via Q&A or email.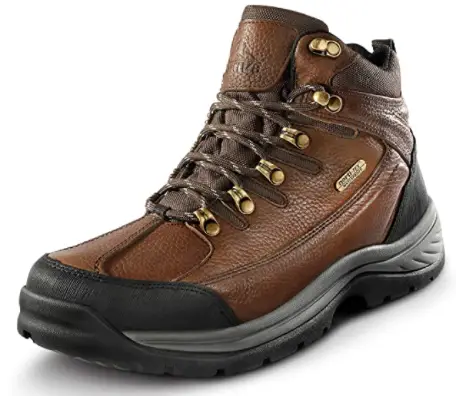 The upper part of this Nortiv 8 boot comes in full-grain cow leather, which provides added strength and durability. It also features double stitches, making the boot tough and resistant to wear and tear. It stands out with a dynamic 4-sole system:
Aosolite material for the insole, making it breathable and absorbs sweat all-days
The midsole has a puncture-resistant steel plate that prevents any sharp object from piercing through.
You are also protected from foot fatigue thanks to the MD midsole system.
The full rubber outsole makes it resistant to slip and works well on all terrains.
The waterproof membrane ensures your feet are dry all day. The Nortiv 8 Work Boot is suitable for both indoor and outdoor activities. It will also perform optimally even in the
toughest outdoor condition
.
Pros
Durable
Water-resistant design
Outstanding comfort with good support
Good value for the money
Dual color design for superb aesthetics
Cons
The shoe is a little loose at the top
NORTIV 8 Men's Steel Toe Work Boots Waterproof Safety Construction Boots Brown Litchi Size 8 M US Hiker-st
Protection & Security: Work boots with steel safety toe protect the toes, Meets ASTM F2413-18 safety toe standards. Ankle-high protection wraps & supports the ankles.
Dynamic 3-Sole System: (1)The insole of construction boots are made of aosolite material with linen upper that is sweat-absorbent and breathable for all-day comfort. (2) Flexible MD mid-sole reduces foot fatigue and absorbs shock; (3) Slip, oil, and abrasion-resistant rubber out-sole is the flexible response to various outdoor terrain.
Durable & Waterproof: These steel toe boots feature durable waterproof crazy-horse leather with a waterproof membrane to keep your feet dry. This combination structure provides maximum comfort and ensures breathable and long-term protection at the same time.
Perfect For Outdoor & Indoor: Designed for both daily work and outdoor sports and always feel secure in numerous work environments like construction, yard, welding, prospecting, roofing, and so on.
What You Get:our worry-free warranty and friendly customer service,NORTIV 8 is an American brand that aims at providing high-quality outdoor shoes.
How to Choose the Best Cheap Work Boot – Buying Guide
Getting the best cheap work boots that offer the needed protection without sacrificing comfort might not be a walk in the park. While cheap boots might not measure up to their pricey counterparts, they should also offer some features like protection, durability, comfort, etc. Here are essential features you should look for when selecting a reasonably priced work boot that will serve you for long.
Comfort (Most Important)
Because you will likely spend hours in your work boot it is not advisable to compromise on comfort. This is especially true because, in many cases, you will assume awkward positions, climb steep angles, and work in different terrains. As a result, you should make sure to prioritize your comfort when choosing cheap work boots. Keeping this in mind, look for boots with a steel shank, as they are pretty comfortable with the extra support they provide. Before reaching a final choice, check the size and buy a boot that is true to size, as this will give you the perfect fitting.
Protection
What is the point of using a pair of work boots if they cannot protect you from various hazards like falls, electrical shocks, sharp objects, etc.? Protection features are very critical in any work boot. Thankfully, these accessories and protective features are not restricted to expensive boots. Keep an eye out for features such as steel toes, safety composite covers, slip-resistant outsoles materials, and insulated boots that protect you from electrical charges. The type of work you do will be the ultimate deciding factor for the protection you will need in a work boot. However, you should be protected from various simple mishaps that are common at the workplace.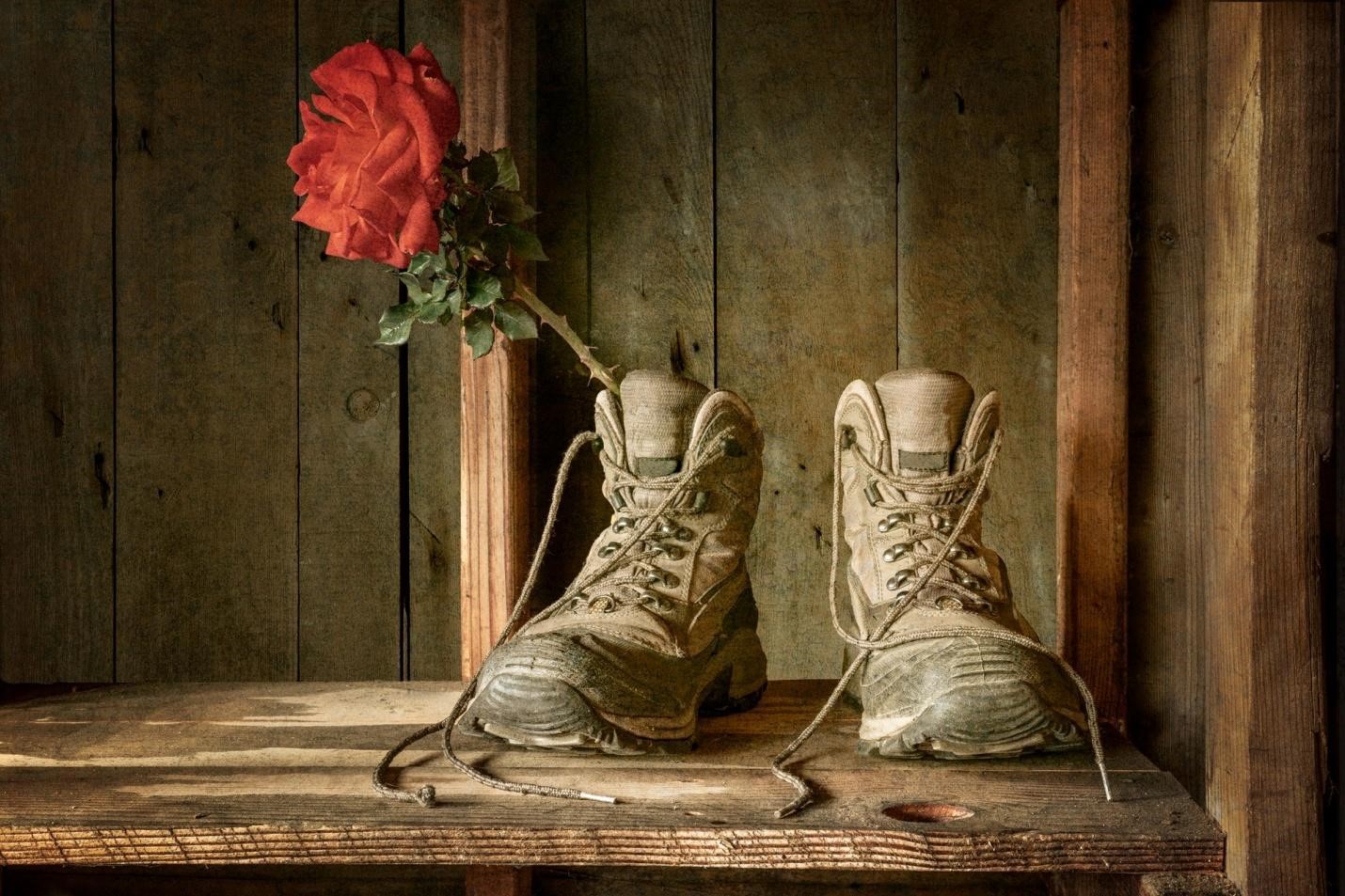 Ankle Protection
The amount of ankle support a work boot provides is measured using the distance between the back of the boot and the sole to the shaft. The ankle support increases as the distance between these points increases. This means you are better off with high-tops as they offer optimum ankle support. Many of the cheap work boots on this list provide adequate ankle support.
Fabric
You can make work boots from a few different materials. The following are the most common materials alongside what makes them unique:
Leather: Leather stands out as the most common work boot material. Full-grain leather is recommended for its durability, which also provides optimum comfort during use. It is waterproof with the tendency to last longer.
Rubber/PVC: This material is resistant to water and is easy to clean and maintain. However, it is not excellent in terms of comfort.
Fabric: You can expect optimum comfort, breathability, and lightness from a material such as nylon. They are cheap but not as durable as a leather boot.
Some work boots are a blend of two materials, such as nylon and leather, to improve the look of the shoe and provide strength. The material for the sole is also worthy of attention. Typically, soles use either rubber or TPU. TPU soles are lighter compared to rubber soles, with excellent resistance to oil and abrasion. As a result, people who work with chemicals in uneven terrains that pose a greater risk of slipping will find them incredibly helpful. While rubber soles are slightly heavier than TPU, the durability is excellent, and they have outstanding resistance to slipping compared to TPU soles.
Reinforced Toes
You cannot rule out the possibility of heavy objects falling in a work environment, making it essential to choose boots with solid materials that offer adequate reinforcement and protection in the toe area. The toe area can use different materials, and the most popular ones are:
Steel: Robust, heavy, and tough enough to withstand severe impacts and falling objects. It is not expensive as you can get the best cheap work boots with steel toe areas at reasonable price points. However, make sure to get the right size as the steel's thickness can lead to mild discomfort in some cases. Also, expect some issues with metal detectors if you ever wear these boots to airports.
Alloy: This is often a combination of two lightweight materials, such as titanium and aluminum. As a result, they can provide the same thickness as steel toe boots, even at a better weight. However, they might be a little expensive compared to steel options.
Composite: A composite is the union of non-metal materials, including plastic and fiber-glass. These work boots are recommended for people who work with extreme temperatures, such as welders, as it prevents the boot from getting too hot or cold. They are lighter, so the protection they offer is limited compared to steel and alloy.
Above all, make sure the work boot has the
ASTM F2413 – 11
 specifications.
Closure
In terms of a boot's closure, there are three options to choose from:
Lace-Up: You will find this option in many work boots. It is common in ordinary shoes even though they might have extra loops located at the ankle for additional support. Putting them on is easy, and they give a good fit. However, laces allow water to sip in, making them a poor choice in extremely wet conditions.
Pull-on: While pull-on closures do not have laces, zippers, or ties, they come with elastic bands for the perfect fit. They are easy and quick to put on and work great in deep water since there are no openings.
Zippers: This is the easiest to put on, even though it adjusts hard. Some work boots might feature zippers and lace to allow for a perfect fit.
FAQ on the Best Cheap Work Boots
To further help you in choosing the best cheap work boots, here are a few commonly asked questions and answers that can help you make the right choice.
What makes up the best men's work boots?
Ideally, the best work boot should meet your needs of safety, protection, comfort, and durability. It should be rugged enough to withstand various working conditions. The feature will be a function of your work style and environment. In other words, someone in the construction industry or law enforcement will be better off with boots designed to offer maximum protection and comfort.
Can one trust brands that produce cheap work boots?
Most reputable brands will give their products some warranty. This gives you some peace of mind knowing that you are buying a product with the manufacturer's full backing. Even though cheap work boots are not made from premium materials, many of them will serve you for a pretty long time and offer decent protection and comfort.
How can you know a comfortable, cheap work boot?
To ensure you have a comfortable pair of boots, make sure you are aware of the following:
Ensure optimum fit. You can achieve this by buying either a size up or size down the boot. Working with an ill-fitting shoe can make you miserable, besides triggering issues like bruises, athlete's foot, or blisters.
Also, consider a cushioned insole, which might cost you only a few extra dollars. Your insole will absorb foot pressure whether you are walking, standing, running, or whatever position you assume. It is the ideal choice for people who work at heights or carry a lot of heavy objects.
Insoles also add to the durability of your boot, so it doesn't break down too quickly. With this, you get to save money while enjoying optimum comfort at the same time.
How long can I expect cheap work boots to last?
A few different factors affect work boot durability. However, good-quality work boots should last for at least a year with heavy use and consistent exposure to wear, tear, and extreme conditions.
Can cheap work boots provide optimum safety?
Manufacturers that produce cheap work boots do not sacrifice safety. For less than $200, you will get work boots with many essential safety specifications. Many of the cheap boots in this review are between $50 and $200. They also come with many essential safety features like steel toe, water-resistant, ASTM requirement, etc. You can also expect slip-resistant capacity and high insulation.
What should I look for in a durable work boot?
Expect a durable work boot to be a little heavy as it likely uses leather for the body, steel for the toe, and rubber for the sole. These features allow the boot to resist the elements, with minor susceptibility to wear and tear.