As the Greek myth goes, Achilles was the son of a Nereid named Thetis and a mortal named Peleus who was king of the Myrmidons. Thetis, being an immortal ocean nymph, may have had reason to fear for the life of her half-mortal son who would no doubt be pushed into the dangerous life of a warrior prince. In an attempt to make the boy as immortal like her, Thetis dipped him in the River Styx. However, because she held him so tightly by the heel that was the one part of Achilles that was not protected.
Flash forward a couple of decades, after Thetis fails to keep her son out of combat by dressing him in drag, Achilles is fighting in the Trojan War. The details differ; depending on who tells the story, but at some point Achilles got hit fatally with an arrow. It is generally conceded that he was hit in that one part of his body that was still mortal, the back of his heel. And that is why any point of weakness is called "Achilles' Heel".
Interestingly, the name "Achilles" is Greek for "brings distress to people". (He was probably named by his dad.) And it is the Achilles tendon, named after this Greek warrior that often brings distress to people. A damaged Achilles tendon can make it difficult, painful or even impossible to move the leg and foot in a normal manner. If you feel a sharp pain in the back of your heel or calf you may want to read further for more information.
What Kind of Shoes Would be Best for Achilles Tendonitis?
You can prevent it altogether by selecting the proper shoes, to begin with. The shoes that you have on while exercising should give thoroughly adequate cushioning at your heel and should provide firm arch support to better aid in reducing the tension in the Achilles tendon. Replace your old, threadbare shoes. Should your shoes be in top condition yet do not support your feet, you might want to try arch supports in both shoes.
Here is what you should consider when changing your footwear. Purchase shoes that will somewhat elevate your heel, but not too much. This will lower the pressure on the tendon and thus the pain will lessen. You may also use shoe inserts to offer your heel a proper elevation.
Another important factor is always wearing shoes that control the inward rolling of your foot. There is a myriad of footwear on the market that is manufactured with the purpose of controlling overpronation and provide the best of arch support. You may even use inserts in order to prevent discomfort and pain.
The Reviews:
If you shop around, you will most definitely find a host of running shoes for Achilles tendonitis. Be on the lookout for something that is soft yet supportive that is tight in the heel but loose in the toes. Here are the reviews for the five best running sneakers available to treat and prevent this ailment.
1. Brooks Ghost 11 (Men / Women)
Brooks has nothing but the runner in mind when they design their shoes. All of their running shoes are engineered and manufactured with smart technologies to provide you with the precise fit and function on every run.
Ghost 11 is soft and cushiony, protecting your foot with every step. Perhaps it should be called the Friendly Ghost! Though soft, the shoe is also designed for a secure fit and responsiveness. The ride should prove smooth and stable for a better running experience.
Features and Benefits:
The specially designed mesh upper provides a vastly improved breathability and necessary stretch. The synthetic overlays are lightweight. A traditional lace-up closure makes taking it on and off easily. The plush tongue and collar make a comfortable fit. The soft fabric lining makes for a supreme in-shoe feel.
The removable foam insole provides a good deal of underfoot comfort and support. BioMoGo DNA is a hybrid of earth-friendly BioMoGo and responsive Brooks DNA, providing softness without sacrificing durability and responsiveness. The segmented crash pad absorbs shock.
Pros:
This shoe is recommended for all types of running, be it long distance, cross-training, treadmill or on the road.
The shoes are very comfortable and stable.
The toe box is wide and high.
Though spacious, the fit is secure.
Cons:
Overall, the shoe is heavier than it need be.
It is also not good for marathoners.
2. Asics Gel-nimbus 18 Running Shoes (Men / Women)

After a good eighteen years of innovation, the Nimbus series keeps up a reputation as the most recognizable high performing footwear by ASICS. The new gel® placement provides the wearer a modern geometry of cushioning, engineered with adaptability and brisk impacts in mind.
Improved guidance line® technology perfectly synchronizes components to bring together the motions of the runner's gait cycle. Mr. Kihachiro Onitsuka chose the name ASICS for his company in 1977, basing it on a well known Latin phrase "Anima Sana In Corpore Sano," which translates into "A Sound Mind in a Sound Body."
Making an acronym of this phrase, ASICS was founded on the idea that the best way to maintain a healthy and satisfying lifestyle is to promote total health and fitness. Today, ASICS provides the consumer with a full line of performance-driven athletic shoes, technical active sports apparel, and accessories with the purpose of bringing harmony to the body and soul.
Features and Benefits:
The patented FluidRide Midsole provides the ultimate combo of bounce back plus cushioning properties along with reduced weight and superior durability. Rearfoot and forefoot GEL Cushioning Systems reduces shock during the impact and toe-off phases which makes for better movement in multiple planes as the foot makes its way through the gait cycle.
The FluidFit Upper technology binds together multi-directional stretch mesh and stretch reinforcements to better adapt to the athlete's foot, making it fit like a glove. The heel clutching system technology provides better support and makes for an improved heel fitting environment. The use of seamless materials lowers the potential risk of irritation and friction resulting from traditional stitches and seams.
Pros:
This shoe has a comfortable yet secure fit.
The rubber outsole is durable.
Cons:
The toe box is on the shallow side.
The ride is not sufficiently responsive.
3. Mizuno Wave Rider 21 Running Shoes (Men / Women)

Since their founding in 1906, Mizuno has taken extraordinary pride and pleasure in their participation in the exciting world of sports, making the entire world the stage for their activities. It is reflected in their corporate philosophy "Contributing to society through the advancement of sporting goods and the promotion of sports."
This philosophy is clearly evident in their strong support of many global sporting events and in their dedication to advancing sports via state of the art technology and research. These technological advancements make Mizuno's sporting equipment and apparel exceed expectations and keep you in prime playing form no matter what.
Your comfort and performance are what drives innovation at Mizuno. Whether your sport is baseball, track, tennis, basketball or golf, Mizuno's commitment to resolute performance shines through. These days, the superior quality equipment that only Mizuno produces is counted on by athletes worldwide.
Features and Benefits:
Mizuno Wave provides both cushioning and energy return. Mizuno Cloud Wave gives the wearer the ideal amount of softness in a lightweight ride as well as shock absorption, guidance, and energy return.
The soft anatomical sock liner makes for added arch support and cushioning. The fit in motion upper brings flexible support. The triple-zone engineered mesh offers breathability and movement.
Pros:
These shoes are breathable, lightweight and extremely comfortable.
The traction is efficient.
The cushioning is soft but supportive.
People in need of pain relief will enjoy this shoe.
Cons:
The fit is not always true to size.
The color options are rather limited.
4. Saucony Men's Triumph ISO 4 Running Shoes (Men / Women)

The Men's Triumph ISO 5 has a greater amount of EVERUNTM under the foot than ever before in order to make your longest run zip by. Engineered jacquard, breathable mesh upper, merged with Saucony's ISOFIT technology will maintain the temperature of your feet while feeling comfortable and locked in.
FORMFIT contoured footbed conforms to the shape of your foot, giving you that custom fit and pillowy comfort you need in a neutral running shoe. What's more, the Triumph ISO 5 is beneficial to runners who suffer from underpronation, AKA supination.
Features and Benefits:
The full-length EVERUN midsole provides enhanced energy return plus constant cushioning throughout the run. The EVERUN top sole's construction leads to enhanced energy return as well. The form-fitting performance footbed contours offer reflective elements on the heel, benefitting runners who suffer from underpronation.
Pros:
It breathes well and has great support.
The cushioning is quite ample.
The shoe is very flexible, so feel free to push your pace.
The upper is supportive and soft.
The upper is made with ISOFIT technology to adapt to your feet as you run.
Cons:
The tongue has a tendency to bunch up.
There are only three colors to choose from.
5. Hoka One One Bondi 6 Running Shoes (Men / Women)

The whole purpose of Hoka One One is to make running easier. This is a company that does things a little differently regarding the appearance of the shoes as well as the state of the art technologies that make it all possible. The light and cushiony midsoles absorb shock while giving the wearer comfort and support.
A runner's natural gait cycle is always kept in mind when engineering a new design. Hoka One One has many patented methods of shoe construction with the purpose of making the wearer able to keep running for a very long time.
Features and Benefits:
It has maximum cushioning. The open engineered mesh uppers with synthetic overlays provide maximum breathability plus structural support. The Lycra® comfort frame heel enhances support. A lace-up closure makes it easy to put on, take off and adjust. The heel pull loop further aids in putting it on.
The padded tongue and collar add comfort. It comes with a comfortable fabric lining. The molded Ortholite® footbed cradles the feet. The internal heel counter offers a locked-in fit and support. Early-stage Meta-Rocker promotes propulsion. A full-length EVA midsole provides high-performance cushioning.
Pros:
There are several colors to choose from.
Runners who frequently turn corners or run down steep hills fill find this shoe surprisingly stable.
The ride is soft and the upper is comfortable.
The new heel design is also a great boon.
Cons:
It is not very durable.
The mesh could stand to be more breathable.
What Is The Achilles Tendon?
It is also called the calcaneal tendon or simply the heel cord. It is located in the back of the lower leg from mid-calf to heel. It is attached to the gastrocnemius and soleus muscles. It is the largest tendon in the human body. Its purpose is to provide plantar flexion of the foot at the ankle. Any activity that requires moving the foot depends on the Achilles tendon.
Whether you're charging into battle, dancing Swan Lake or just jogging down the street, you need your Achilles tendon to keep your foot moving. Frequent movement can eventually cause inflammation at the end of the Achilles tendon. The first symptom of Achilles tendinitis is stiffness and pain in the back of the heel, usually in the mornings.
How Do You Treat Achilles Tendonitis?
As with most ailments, rest seems to be the great panacea. (That is another Greek myth for another day.) Icing the area eases the pain as can some gentle stretching. An over-the-counter anti-inflammatory such as ibuprofen or naproxen might help with the pain. Remember the RICE acronym!
Rest Do not attempt to play through the pain. That may result in never playing again! Low impact exercise such as swimming that doesn't stress the tendon is encouraged.
Ice This will decrease spasms, pain, and swelling. Prevent frostbite by covering the skin before applying the ice pack and never do it for more than twenty minutes at a time.
Compression You may want to try compressing the area until the swelling stops. Use a compressive wrap for the best results.
Elevation Reduce the swelling by elevating the affected area above your heart. A few pillows may be all you need.
Because this ailment is so commonly found in "weekend warriors" who save their energy for playing sports on the weekend, the best prevention is to give your muscles a good warm-up before doing anything strenuous.
Maybe you could try to get in some exercise in the middle of the week by taking the stairs or getting some walking in. Instead of jumping right into a strenuous physical activity, gradually amp it up. This is especially true for people who are getting on in years as the tendon weakens with age.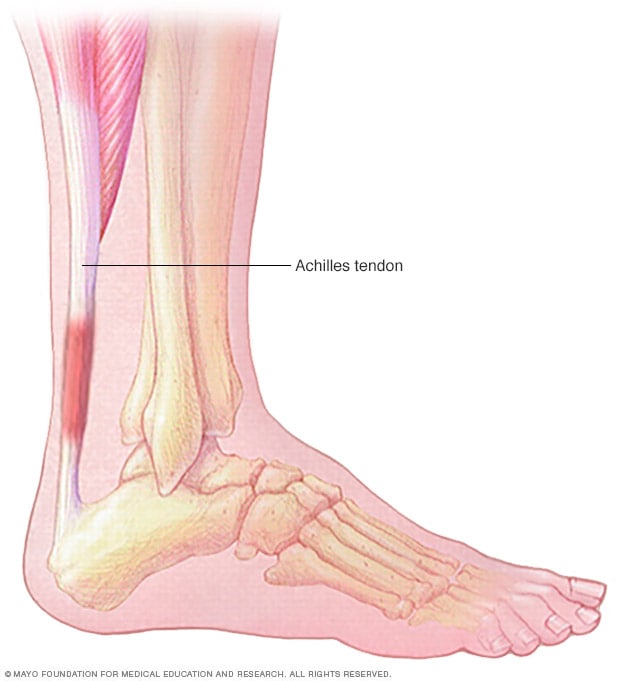 Other Risk Factors for Achilles Tendonitis Include:
Gender Men are more likely to have problems with their Achilles' tendon. Of course, this could factor with the fact that men often tend to take on more physical activities than women. A woman who takes part in sports or dance may be just as much at risk. If she wears high heeled shoes, she may put herself at more risk for straining her Achilles tendon.
Physical problems If you have a naturally flat arch in your foot that can put an awful lot of strain on the Achilles tendon. Obesity and tight calf muscles can also add to tendon strain.
Medical Conditions If you have psoriasis or high blood pressure, you may be at an increased risk of developing Achilles tendinitis. A sensible diet and exercise regime can keep your weight and blood pressure in check.
Medications Certain kinds of antibiotics, known as fluoroquinolones, have been found in association with high rates of Achilles tendinitis.
Blood Type For some reason, people with type O blood seem to be at high risk for Achilles tendonitis. It is unknown why this is, but type O's have a tendency towards Achilles tendonitis as well as ulcers. According to Japanese superstition, a person with type O blood is daring, active, always trying to push themselves and do not worry over little things. It sounds like something that could lead to Achilles tendonitis.
Poor training choices Tendon pain happens more often in cold weather than in warm weather. Also, running on hilly terrain can predispose any runner to Achilles injury. If you run in worn-out shoes that can greatly increase your risk of Achilles tendinitis.
And it is precisely that last risk factor that we can help you with! You do not want to tear up the one tendon you depend on for any foot movement at all by wearing unsuitable footwear! Shoes with extremes in heel sizes (high heels are too high, flip-flops are too low) are the biggest culprit. Here are some reviews for the best running shoes for Achilles Tendonitis.
Features You Should Be Looking For
Running shoes for Achilles tendonitis must offer you adequate cushioning and be strong enough to help lessen the impact on legs. The supportive structures should prevent any shifting movements of the ankles and feet which can put undue pressure on Achilles tendon.
Keep reading to learn more about the features that should be found in the ideal running shoes for those with Achilles tendonitis.
Achilles tendon protector While shopping around, you may well find a number of shoes that can offer good protection to Achilles tendon. These shoes have a tendency to lock your heel and thus lower the stress on the tendon.
Heel collar Running shoes that have an elaborated heel collar provide premium cushioning to the ankle and provide the best fit.
Insole A good insole provides adequate support and cushioning for your feet and arch.
Foam, Gel or Air Midsole The latest shoes utilize numerous leading midsole technologies. However, to see to it that your tendon does not pain you, stay with foam, gel or air midsoles. These midsole materials offer great cushioning and also keep your feet from being harmed by the impact caused when feet strike the ground.
Outsole Shoes that feature treads and grooves on the outsole provide superlative traction.
Upper Shoes that come with a mesh upper are the most ideal as mesh material is lightweight and offers perfect ventilation.
Toe Box You will want round and wide toe box to better allow for free movement of the toes.
Other Important Facts to Consider
It is strongly recommended that you take into consideration the following important factors listed below before purchasing running shoes for Achilles tendonitis.
The shape of your feet All too often we purchase shoes only considering their size, not the shape. Hence, when you plan to purchase running shoes for the purpose of treating or preventing Achilles tendonitis you should see to it that they conform not just to the size but the shape of your feet as well. This will keep the majority of foot problems at bay.
Length and width of the shoes For plainly obvious reasons you should not buy shoes that are either too wide or too narrow. What's more, you should pay attention to the toe box. It should be spacious enough to comfortably fit all of your toes and you should be able to freely move them without any restriction. Purchasing an incorrect fit can exacerbate problems such as calluses, blisters, hammertoes, and bunions.
Arch type Here is something that many people just do not notice very often. However, since you a runner, you must keep your primary focus on your arch type. You will need running shoes that can support you while running. You will find that there are plenty of shoes for every possible arch type on the market. Get yourself the one that fits best with your arch type.
Exercises to Prevent and Treat Achilles Tendonitis
The straight knee eccentric heel drop is good for treating Achilles tendonitis. Stand up straight on a step with a hand on a banister; ledge or whatever is handy for keeping your balance. Shift your weight to the injured leg. You should slowly and evenly use your calf muscles to lower your body, dropping your heel under your forefoot. Use your good leg to return to the upward position. You must not use the injured side to get back into the "up" position. When you can do this with no pain start using ankle weights.
The straight knee calf raise is a good way to build strength in the tendons and muscles. First, you must stand with your feet hip-width apart. Then, just stand on tiptoe. Lift your heels as far as you possibly can then lower back down to the ground. Three sets of ten reps should do it.
Remember to go slow. You can do this while holding weights, but start small. Do not forget to keep your shoulders above your hips and feet and do not lean forward. What you need is to rise evenly through the balls of your feet. You should also try to avoid tilting your foot in or out.
An easy exercise you can do while sitting in a toe stretch. Sit in a chair and extend your afflicted leg so that the heel sits on the floor. Reach down and pull your great toe up and back. Pull it toward your ankle away from the floor. Hold it in this position for fifteen to thirty seconds. Do two or four reps of this several times a day.
When Is It Time To Go To The Doctor?
If the pain is persistent and just will not go away, you may need to see a doctor. If there is no rupture, you may be given a corticosteroid injection for the pain plus advice on how to speed up healing. Be prepared for the "eat right and do not smoke" speech.
If the pain is unbearably severe (granted, everyone has their own threshold) or there is bruising or deformity in the area and you can't move or bear weight on the leg, the tendon may be ruptured. If you hear a pop or snap, it is almost definitely a rupture.
Your doctor will likely do the Thompson test. All you have to do is kneel on a chair and dangle your foot over the edge. The doctor will give your calf a squeeze. Your toes should point downward on reflex.
Otherwise, there may be a rupture. You may be asked to move your feet while your blood pressure is taken. X-rays, MRI's and ultrasounds may be utilized to determine the severity of the rupture.
If you want to stay active and have all your original leg strength, surgery is the only way to fix a ruptured Achilles tendon. The surgically repaired Achilles tendon will be even stronger than before and unlikely to rupture again. (Disclaimer: Do not test it.)
After surgery, your foot will be immobilized for three to four weeks with the toes pointing downwards. After that, the foot will gradually be brought back to a neutral position over two to three weeks before they'll see if you can bear your weight on that leg.
In other words, you may spend nearly two months sulking in your tent just like Achilles. In The Iliad, Achilles got all pouty when Agamemnon took away Briseis, a slave girl who was spoils of war. He only came out of his tent to fight when his boyfriend Patroclus got killed in battle. (Achilles, like a lot of Greek heroes, swung both ways.)
Smoking and Drinking and Overeating
More bad news for smokers. A study at the University School of Medicine in St. Louis has found that exposure to nicotine delays tendon to bone healing. More bad news for people who like to drink beer and eat pizza. The Orthopedic Journal of Sports Medicine has found that moderate weekly alcohol consumption and being overweight or obese can all lead to a higher risk of developing Achilles tendinopathy.
Unhealthy habits can lead to any of a myriad of health conditions. If you smoke, find a way to stop that works. Watch your food portions as well as your food choices. A healthy lifestyle leads to a healthy body that heals faster or, better yet, does not become injured so easily to start with.
Conclusion
So, what have we learned other than Thetis was a bit of a ditz for not realizing she should double dip her kid? We've learned that in order for your feet to move at all, your Achilles tendon must be in good shape. Pain in that area can feel like someone is constantly punching you in the leg.
There are different risk factors for Achilles tendonitis and rest, ice, compression, and elevation are the best initial ways to treat it. After a while, you can use some mild stretching exercises to get back in condition. Of course, the first place to start when concerned about your Achilles tendon is with your shoes. The shoe interior needs to be soft yet supportive with a good heel lock.
Check the heel collar and the insole. You will need a well-cushioned midsole. Check the treads to make sure this shoe will provide good traction. You need something lightweight and breathable. Inspect the toe box as well to see if your toes have enough wiggle room. Keep in mind not only the size of your feet but their shape including the type of arch.
As always, lead a healthy life with a proper diet and sensible exercise. Achilles tendonitis can usually be treated at home, but do see a doctor if the pain isn't going away or you notice something out of the ordinary like swelling or discoloration.
Achilles Tendonitis infographic by the team at orangecountyorthopediccenter.com
References:
https://en.wikipedia.org/wiki/Achilles_tendinitis
https://www.mayoclinic.org/diseases-conditions/achilles-tendon-rupture/symptoms-causes/syc-20353234
https://theathleticfoot.com/activity/how-to-find-the-best-running-shoes-for-achilles-tendonitis-a-comprehensive-guide
https://runnersconnect.net/achilles-tendonitis-and-insertional-achilles-tendinopathy-in-runners
https://runnersconnect.net/how-to-strengthen-your-calves-and-achilles-to-prevent-injury
https://www.coachmag.co.uk/running/7116/runners-look-after-your-legs-with-these-achilles-tendon-exercises
https://journals.sagepub.com/doi/full/10.1177/2325967113492707
https://source.wustl.edu/2006/10/cigarette-smoking-impedes-tendontobone-healing
Related Posts: