The most annoying thing about trying to research something on the internet has got to be typing something into the search engine only to get pages of advertisements and online stores with no attempt to inform or educate you on the subject. Your search engine doesn't know the difference between women running for health or running for office unless you tell it!) Your best bet is to look at someone's blog.
A blog is someone writing about their personal experience. Ideally, a blogger will have no reason to sell you anything, they just want to share what they've learned through personal experience. If you are a woman who runs, these blogs would help you greatly.
The Importance of Running for Women
There are four main health benefits to running:
To Lose Weight One hour of running can on average burn about 850 calories. That makes it one of the best exercises for burning calories for weight loss.
To Help with Depression In many people, running releases hormones called endocannabinoids that make a person feel good. For the unlucky people who never get a runner's high, at least they'll feel better when it's over with.
To Prevent Certain Diseases A running regimen may be suggested by your doctor if you are in the early stages of osteoporosis, diabetes, or high blood pressure. It may prevent arthritis and reduce the risk of heart attack.
To Strengthen Muscles and Joints It was once thought that running was bad for your knees. More recent research has shown that running stimulates the cartilage, causing it to fix minor damages toward the knee joints.
The Blogs:
Here are some of the most informative blogs on the net geared towards the female runner:
The blog's title "Women's Running" says it all. It covers stories about women who take part in marathons and ordinary women who just make running a part of their lives. It balances running in the news along with a bit of inspirational personal interest. You can get informed here on nutrition, fitness and the latest in technological developments towards running. Here you can find recipes for healthy eating and tips on how to prevent injury.
And here's something for the fans of Women's Running who live across the pond. Here is where you can find info on the London Marathon and other running events in the United Kingdom. An American reader can get something out of this as well. Just remember that when they speak of a mummy running, they're not talking about a horror film, they're talking about a mother who runs. A "kit" is an outfit and "trainers" are sneakers. Be prepared to see random U's in some words.
Oiselle touts itself as "by and for women athletes" and has a silhouette of a swallow for a logo. The title and image bring to mind a French lyric from the famous "Habanera" aria from the Bizet opera Carmen, "L'amour est un oiseau rebelle." which translates as "Love is a rebellious bird." Carmen warns her potential lovers that she is like a wild bird and cannot be kept in one place. Neither can a woman who lives to run.
Salty Running might need to get up to date with modern slang. In today's slang, a salty runner would be someone who doesn't take losing a race gracefully. Since their logo is a snail, they were probably thinking about what salt does to snails, a universal symbol of slowness. This blog seems dedicated to the unity of female runners, letting everyone involved have a voice, share their experiences and help each other.
Run to the Finish is a running blog managed by one Amanda Brooks, a certified personal trainer and running coach who likes to concentrate on the casual runner who is out for self-improvement. She does all the research and tests the latest gadgets so you don't have to. Her focus is more on feeling better than about beating the clock. Among the informative articles on nutrition, gear and self-care you may find some amusing memes, suggestions for signs and various tips on how to deal better with running.
Another Mother Runner is contributed to by Denise, Sarah, Jonna and Dimity. It covers a broad number of topics such as work-outs, body image, marathoning and juggling it all with child care. This is a place for women runners with children to find support as well as entertainment and enlightenment. All mothers that run will find both community and resources here.
Eat, pray, love? Nope! Run, Eat, Repeat is the name of the game in this blog dedicated to runners of the half marathon. This is a blog strictly dedicated to fitness, and not as in "Fitness whole burger in my mouth." This blog has recipes for healthy meals plus weight loss and training tips. You'll also find podcast recommendations, celebrity pics, cookbook recommendations, info on the best places to run in sunny So Cal and much more!
Her name is Laura and she is an RRCA certified running coach who wants to help you go the distance! She loves the outdoors in her hometown of Seattle, Washington and is ready to help you be the best you can be with an arsenal of coaching services, training tips, and nutritious recipes to provide fuel for your running. As the title hints, there will be plenty of recipes for meals fit for an athlete but there are also good tips on work-outs and general health concerns that pertain mostly to women.
The Hungry Runner Girl hungers for more speed! And for salad! Janae also has an amazing amount of dessert recipes, more than you would expect an athlete to have. Not to mention a couple of Tex Mex recipes that are surprising finds on an athletic blog. Of course, there are suggested work-out regimes to burn off all those calories. There are also posts about good suggestions for workout gear from shoes to supplements to stopwatches.
Meet Debbie! She is both an RRCA certified running coach and personal trainer who finished her thirty-seventh marathon in 2014. She wants to share her thoughts on running, racing and training and listen to yours as well. Her goal is to inspire and motivate the reader to live the healthiest lifestyle possible while juggling a family and career. If you like vegan recipes, Debbie will not disappoint!
Charlie is a dietetics student who lives in Henley on Thames (a suburb of London, England) and is living proof that anyone can be a runner. Charlie is a girl who wants to have her cake and eat it too, preferably with a glass of gin. Her blog sets out to prove that it is possible to live a healthy lifestyle without missing out on anything good. Her goal is to run in all of the Marathon Majors and share her experiences with you.
Lora once hated running, but now she's done twenty marathons and wrote a blog about it. Somehow, she manages to find time for recreational reading and suggests some of her favorite titles on her blog. There are also race recaps, recipes and training tips. Lora promises to keep the cat content down to a minimum.
Here's a blog all about laughing and running your way all through the Garden State. (Yes, that's the nickname for New Jersey.) Hollie's a sassy gal with a lot of experience with exercise and nutrition that she wants to share with everyone on the Net. She admits to being socially awkward, but that's not a problem for writers. (Trust me.) Here you can have a look at her training log for some ideas and tips on how to eat, exercise and look cute in your Instagram photos.
Ali knows from personal experience how running can intertwine with the rest of her life and she's ready to share it with you. Running has made quite an impact on her life, as it does on many other athletes. She also writes about spinning, yoga and working out with the November Project. Ali also struggles with Crohn's disease, so someone who wants to know how to balance exercise with a chronic illness may find her story inspiring.
Do you want to live beyond your wildest expectations while exploring the world of running, personal fitness and food? Then Suzlyfe is the blog for you! They also have a series on living with Crohn's disease. You can also find a little bit of everything else from food, exploration, lifestyle, running and other exercises. It's a mixed bag, but it's a very fun mixed bag.
The Cookie Monster is real! Her name is Katie and she has been struggling with food and her weight most of her life. Becoming exhausted while trying to teach her son how to ride a bike made her realize she had to get her weight under control. Long story short, she's now all about running the 5K's and has lost a hundred pounds. Besides the usual challenges of a family woman, Katie struggles with bipolarism. She has found that the secret to everything is living a balanced life and you can live one too!
She Can And She Did is Kelly Robert's storytelling platform that she dedicates to forming a community of uncontrite, susceptible, hopeful, varied, and united women. You'll find everything from how to begin running and hilarious running memes to advice on managing career and family plus articles on body image and weight loss. Sharing your stories can be an unbelievable vessel for change. Here you can find training plans, coaching strategies and a podcast called Run, Selfie, Repeat.
Beth Risdon has been running for eight years. She just dove into it one-day full force and hasn't stopped! Shut Up and Run is in no way connected to the motivational book by ultramarathon runner Robin Arzon, but both are women with a passion for running. Beth is proof that age cannot keep you down, but she knows that fear can. She doesn't hold back in life and she doesn't hold back from this blog!
Here we have a website that is related to all things pertaining to running, marathons, racing, fitness, and healthy living. Dorothy Beal is the creator of both Instagram hashtags #irunthisbody and #dreambigrunlong. Dorothy has run a grand total of forty-one marathons and has appeared on the cover of such athletic themed magazines like Women's Running and Competitor. When not running, Dorothy likes to peruse thrift stores and share her new treasures on her blog.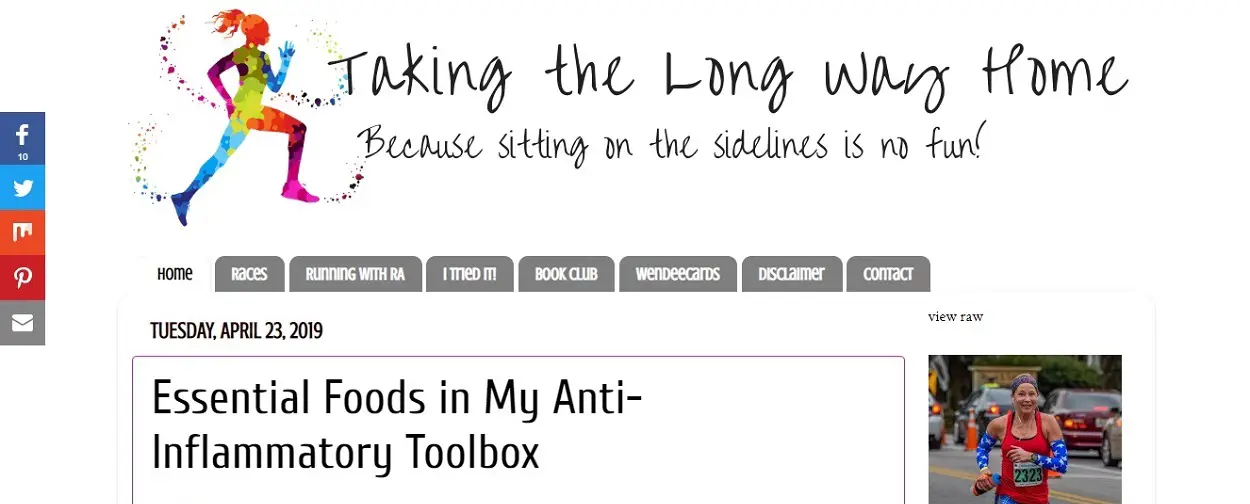 Taking the Long Way Home is a blog all about running, training and pushing yourself beyond what you thought you could do. Wendy has been a runner throughout much of her adult life. She started her habit of running over twenty years ago to relieve stress and was pleasantly surprised with the results, both to her mind and body. Not only will you find work-out tips and what the best food is to fight inflammation, but there are some interesting book reviews.
Heather Montgomery is all about running, running and more running. She has the race recaps, stories, and pictures. This Florida resident is a big Disney fan often takes part in runDisney, a marathon hosted by Disney World where many participants dress in Disney themed costumes. Now that it's technically a Disney property, Star Wars costumes are welcome too. Heather will show you how to run, be healthy, manage your family and have fun all at the same time.
"Adventure may hurt you…but monotony will kill you." is the motto of both Heather and Geoff. Heather is a long-time fitness trainer and a certified Exercise Physiologist with the American College of Sports and Medicine. Heather and her husband are both members of the Road Runners Club of America and are certified in coaching, CPR, First Aid, and AED. They believe even the ordinary can achieve the extraordinary with just a little motivation.
Michelle has been running since childhood and continues to run competitively all through high school, college and today. She blogs about her affinity for running, healthy eating, her husband and son and their life in Alaska. Follow her as Michelle shares her stories on online coaching, marathoning and recipes for healthy eating. You can also learn how she manages to marathon while pregnant and how to find fuchsia tights at a bargain price.
Jesica D'Avanza runs, does triathlons and coaches marathon runners. She is on a divine mission to find her most extraordinary self and to help you do the same. Running has been a family tradition for Jesica that she keeps to this day. She has eight marathons, sixteen half marathons, two half Ironmans and a number of short-distance races and triathlons on her resume. You can read all about them on her blog along with her experience running through many of America's National Parks.
Kate is an eager marathon runner, a Certified Running Coach, San Diego transplant, plus a full-time marketing professional. She runs marathons for fun, sweats for her sanity, and noms down food that feeds both her body and soul. Besides her half marathons and running adventures, there's her reflective moments and book reviews to peruse. It is definitely a blog worth looking into.
For those who always thought a run in exotic India would be fun! Anupriya Kapur discovered running in 2009 and hasn't looked back since. She has participated in a good number of races in India and the Philippines, this has included half marathons, full marathons plus ultra runs on both the road and on the trails. She has been averaging over one hundred kilometers a month. (No conversions, Americans! Learn metric!)
Here we have a mother and daughter act in Jayne and Bibi. Come see their blog where they write mouthwatering vegetarian recipes for fueling your life. You'll also find some handy training tips and inspiring running tales. They strive to create content that is both exciting and innovative. Their posts are not only about running and vegetarianism but family life and ethical activewear. (That means no leather, wool or other animal products.)
On the Run Far Girl blog, you will find everything and anything pertaining to running, motherhood and healthy living. It is indeed a crazy, mixed-up world but Sarah wouldn't have it any other way. She is impassioned about her family, running, raising funds for the Children's Hospital at Dartmouth-Hitchcock and aiding other people in finding liberty away from the addiction inherent to an eating disorder.
A fit and healthy lifestyle can start for you today! Carly Pizzani is an ACSM certified personal trainer and running coach who shares her expert advice and personal experience with running, strength training, and making all those little changes that add up to give you that fit, healthy and happy lifestyle you've always wanted. This Australian ex-pat loves trail running and has two sons.
Kathryn has been dancing since she was four and had been told that dancers don't run. After watching her, now husband Preston takes part in the Walt Disney World Marathon in 2013, Kathryn was inspired to take up running herself. Her updates have been sparse of late as she's been devoting more and more time to her training.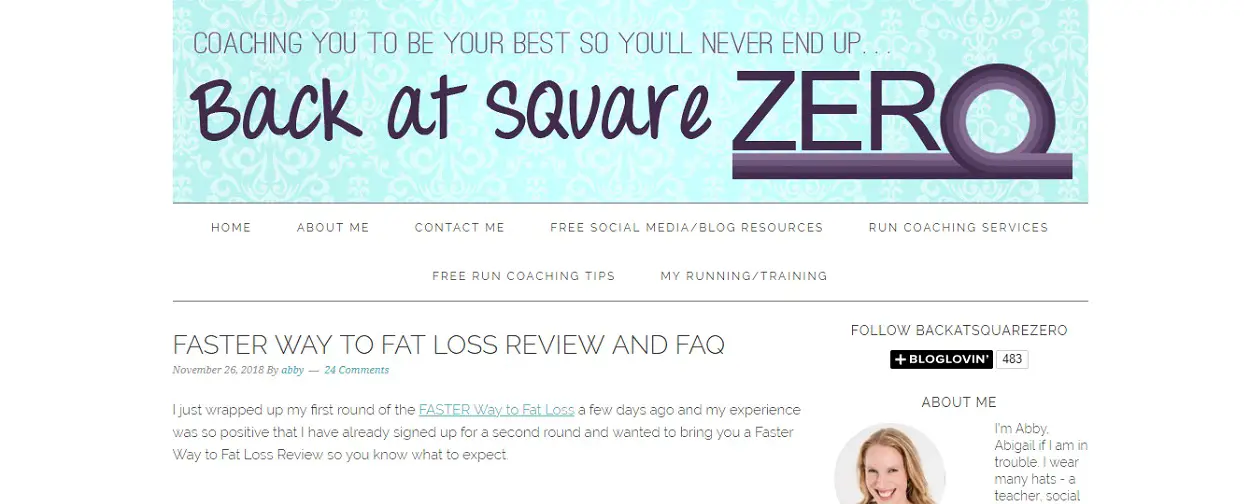 Say hello to a teacher, social media influencer, runner, blogger and running coach named Abigail. Abigail started blogging as a method of documenting her long and eventful journey towards becoming a healthy and fit distance runner. To her surprise and delight, it has changed into something so much more. Abigail tells you how it is. She expounds on the ups, the downs, and all of the in-between with no sugar coating.
Her name is Carlee Padot McDot and she is here to smile and brighten up your day! She opens her blog with a quote from Gandhi "Be the change you wish to see in the world." She explains how this means to live diligently, to love deeply and walking the walk (running the run?) more than talking the talk. To make a difference in the world, one must start with oneself. Carlee shares her thoughts and experiences so others can learn from them.
You Signed Up For What is a humorous title for a blog. It feels like it should be accompanied by the laughing cartoon figures from the "You want it when?" poster found in many offices. But rest assured Cynthia is serious about running and triathlons. She shares running tips and how she deals with running, family life and the unexpected changes in life.
Eat Pray Run, DC is a blog that celebrating some of Courtney's favorite things in her life. Courtney lives in Washington DC and loves running, food, her dog, wine and Jesus. The last two are not mutually exclusive; check the Bible for a wedding at Canaan Christ went to. This blog serves up articles on marathon training plus recipes, slices of life, and some pretty good blogging tips. Courtney values the community she has gathered and always welcomes more.
The Great Lakes State presents the perfect backdrop for running. Michigan Runner Girl lists all the reasons to sign up for the summer's Ragnar Trail. (As though one was needed.) There are also inspirational stories and tips on how to be a better runner. A podcast is also available so get your earbuds ready! If you subscribe to their newsletter, you'll be updated with recipes, fitness tips and much more!
Chic Runner provides the reader with all they need to know about running. This includes info such as how to get race-day ready, good nutrition tips, training strategies, reviews for running products, recipes and race recaps. Danica prefers coaching cross country to track. She very much enjoys running longer distances.
Here's a blogger named Meredith with relatable stories of food, exercise, running and handling a child after a divorce. Come for the running tips, stay for the food porn. Learn a new workout routine and read some reviews on skincare products. This blog is simple yet relatable with lots of good tips mixed in among the photos of decadent desserts.
Erika describes herself as a crazy running mom with two growing boys who like to keep her on her toes with their wild antics and hectic schedules. She is an adult-onset runner who began to run as a coping mechanism when she suffered postpartum depression after the birth of her first son. Her running has led to a struggle towards a better life and is well worth the read.
London calling again! Laura Fountain is a marathon and ultra runner plus tri-athlete, personal trainer and run coach. She loves nothing more than teaching people to run. She has also written two books; The Lazy Runner and Tricurious. According to her, the trick is making running enjoyable.
Her name is Emelia and Half Crazy Mama is a community for running mothers who want to live life to the fullest. This is an active mother's guide to life. The blog covers a wide range of subjects including running, cooking, traveling, crafting, and tales of parenthood. Emelia has also taken part in runDisney, cosplaying as Rapunzel and is currently planning an Alice in Wonderland costume for the next race.
Her name is Sharon and her blog is Mommy Runs It. Sharon has always been into yoga and ballet and started her first marathon in 2012. She prefers the Galloway training method and her father, a lifelong runner, sometimes contributes articles to her blog. Currently, Sharon is struggling with the after-effects of surgery for her spondylolisthesis. Follow her journey in recovery and adventures in motherhood on her blog.
Say hello to Jess Underhill, a freelance fitness writer, and certified run coach. It is her mission in life to help others pursue their own personal bests and meet their goals so that they also can alter their perceptions on life and fitness and reach hope and empowerment. Take a look at Jess's training diary, look over her running trips and try out her fifteen-minute strength training workout.
Not to be confused with the hip-hop group Run DMC. Run DMT refers to Denise, a mother of three with a running blog and a penchant for Broadway musicals. She lives in Tampa Bay, Florida, and trains for a variety of races. Follow her adventures as a mom, runner and musical aficionado on her blog.
Here is a blog by a Vegas lady named Jill who is a distance runner. The blog is a chronicle of Jill's running experiences. With this blog she shares information all about running and health. She also reviews products and promotes a positive body image. Jill Whitaker is a certified running coach, am advocate of positive body image, a self-described telecommuting web geek and a mom.
Brittany Charboneau is known for two things; her running and her fabulous sense of humor! She's been running track since she was thirteen and qualified for the 2020 Olympic marathon with a time of 2:36:34. She is also the star of her one-woman sketch comedy show "My Long Distance Relationship with Running: From the Early Miles to the Olympic Trials". Her logo is a woman who doesn't look like she knows if she's coming or going, but you'll know you're going to have fun on Brittany's blog!
If you've followed other blogs, you may know her as Teamarcia, Running Off at the Mouth and The Studly Runner. Now, Marcia Slice heads The Healthy Slice, a blog about living healthy and running in the Chicago suburbs. There is so much she wants to share with you! Her blog has reviews, recaps, recipes and other things that start with R! And a few things that don't.
Were you "Born to Run"? Are you "Ready to Run"? Well, my little "Runaway" Running With Music is the blog for those who are "Running Down a Dream" while listening to their favorite music. You may "Run for Your Life" as well as a healthier, more enjoyable lifestyle. Whether you're "The Running Kind" or just the music kind this blog is for you. Get some good fueling tips so you're not "Running on Empty" as you "Run to the Hills".
Up and Running is a blog that offers e-courses for both novice and seasoned runners that take on 5K, 10K, and half-marathon runs. You may appreciate the training guides to keep your momentum rolling in between races. They coach marathoners and aid exercise beginners in getting up and moving. There is a forum so you can communicate with other runners and learn your potential.
Shelley decided in her mid-forties that she needed to start taking better care of herself. She had been a smoker for twenty years before stopping. After about a year as a nonsmoker, she decided to give running a try. It didn't take long for running to go from a fair-weather Saturday morning hobby to a permanent lifestyle fixture. Running helped her make lots of friends and see some of the most beautiful and interesting locations. She feels healthier at fifty than she was at thirty.
Gabrielle is a young adult grad student, an RRCA certified run coach, a native of New York City, a marathoner, and dessert aficionado. Follow her on her blog Marathons and Macarons (Spelling is not her strong suit.) as she runs and bakes her way all through NYC. Gabrielle has written for Fitness Magazine and the Girls on the Run blog. Her blog is about running, traveling, product reviews, recipes, and discount codes.
Related Posts: