What kind of shoes do you wear when you don't really want to wear shoes? Shoes such as Birkenstocks and Crocs come to mind. They are casual, minimalist shoes.
If you're going to the beach or just somewhere with a "No shoes, no service" sign, these are the things to wear. Who can say which is better?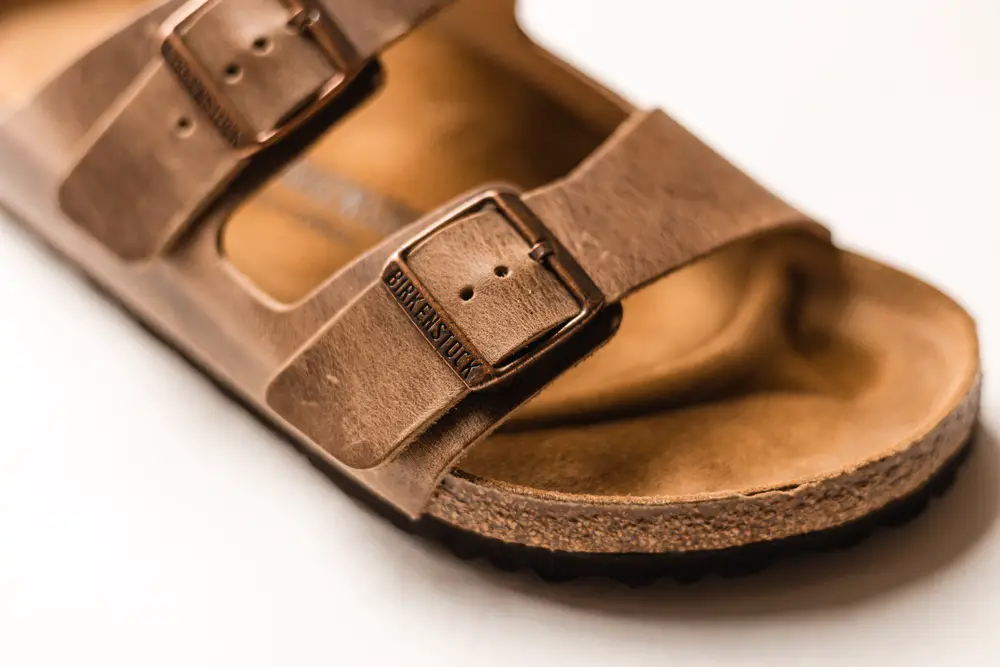 What Is Birkenstock?
Birkenstock is a brand name for sandals made in Germany. Their footbeds are made out of cork and the rest of the shoe is suede and jute. It is made to conform to the wearer's feet. They first came to America in 1966.
They became more mainstream as shoes when Nordstrom started selling Birkenstocks. In 2018, PETA awarded Birkenstock as "Most Animal-Friendly Shoe Company.
Recently, as comfort has taken the forefront of fashion, Birkenstock has lately experienced a surge in popularity.
What Are Crocs?
Crocs is a brand name for foam clogs made in Colorado. They were first made to be boating shoes. They are made from a special closed-cell resin called Croslite.
The manufacturing process of Croslite is a carefully guarded corporate secret. The Fort Lauderdale Boat show in 2001 is where Crocs got their debut, and they managed to sell their entire stock, about 200 pairs, in one day.
Crocs have since put more variety into the color and style of their shoes. They also make Jibbitz, decorative charms that can be put in the ventilation holes found on the insteps of Crocs.
The closed-toe variety is particularly popular with health care professionals because they are so comfortable.
 How Are They Different?
To start with, they are made from different materials. Birkenstocks are leather, cork, and jute. No one but the higher-up at Crocs knows exactly what they're made out of.
They won't say what goes in Croslite, only what's not in it. Birkenstocks have more of an open structure, as a sandal does. Crocs are clogs with ventilation holes.
They do have some closed-toe models for people who love the comfort of Crocs but don't want to run the risk of dropping a hypo full of who knows what onto their bare toes.
How Are They Similar?
Both shoes slide on easily and gradually conform to the unique contours of the wearer's foot. Both shoes are worn primarily for comfort. Both are more secure in fit than flip flops. Both are notorious for getting stinky real quick but can be easily cleaned with baking soda. They are both very casual shoes. Both have surprisingly good traction.
They have both been recommended for people convalescing from foot injuries or surgery. Their names sort of rhyme with each other. Neither one has ever been in my kitchen.
What's Better About Birkenstocks?
Birkenstocks have a simple look to them where Crocs are just homely. They can paint them every color in the rainbow and decorate them with all the kawaii charms they want.
That doesn't change what they are; Playmobil toys pretending to be shoes. The Birks also have unbeatable arch support. For this, they've gained a reputation sliding from "youth shoe" to "old people shoe."
But, what works, works. Come to think of it, the first wearers of Birkenstocks could apply for senior citizen discounts by now.
What's Better About Crocs?
Well, they certainly are different. There is nothing in the world that is like a Croc. There are counterfeit Crocs, colloquially known as "Croc-Offs". (Seriously, how ghetto do you have to be to wear counterfeit Crocs?)
Crocs are easy to sterilize and will keep your feet from getting dirty. The shoes themselves are waterproof and wipe clean easily. They also don't have the break-in period that Birks require.
Who Should Get Birkenstocks (And Why)?
Birkenstocks are very comfortable yet supportive so people with foot problems such as plantar fasciitis or fallen arches may benefit from them, provided that they are already broken in.
If you don't like or can't wear sandals, Birkenstock has made slip-resistant clogs that are popular with people who work in food service or the medical field.
They're a bit more streamlined than the typical Croc. Someone who needs a little help in improving their posture may benefit from wearing Birks.
Who Should Get Crocs (And Why)?
Now, that's a tricky one. Some kids seem to like them, you should give them a try!
People who are on their feet all day and are more concerned about comfort than style like medical professionals may find them welcome. People who are easily distracted by shiny objects might like collecting and wearing Jibbitz.
Because they are easy to clean, Crocs are good for dirty jobs like gardening, tending dairy cows, or taking the kids to Disney Land. They're great for anyone who wants to prioritize comfort.
Frequently Asked Questions
Q: Are Birkenstocks unisex?
A: Arizona is. The Mayari and Madrid are made with a woman's foot and styling in mind.
Q: Are Crocs unisex?
A: The classic clog is. All of their colorways are sized for both men and women. If you're a man who'd like to rock a fuchsia zebra print, go on with your fabulous self.
Q: How to spot a Croc-Off?
A: The fastening axel of the ankle strap will have the Crocs mascot, a smiling crocodile. If there's no logo or even no ankle strap, it's a fake.
The ventilation holes should be perfectly round and should have a rubbery feel. Crocs stamp their web address on the bottom of every shoe.
Q: Are Birkenstock's vegan?
A: They do offer vegan models. They are made of polyester, nubuck, or their own patented material called Birko-Flor.
Q: Can I wear Birkenstocks on a plane?
A: Yes. In fact, you'll be in and out of security more quickly if you wear something that can be easily removed and put back on.
This isn't a written rule, but once you're on the plane, you should be considerate to other passengers and keep your Birks on.
Q: Can I wear Crocs on a plane?
A: Jibbitz might set off a metal detector, but you may have to take your shoes off at security anyway. As with Birks, they are easy to put on and take off. Same etiquette rules apply.
Q: Are Birkenstocks high maintenance?
A: Not exactly, but regular maintenance will make them last longer. The cork footbed will do well with a yearly sealant. Birkenstock does make a line of shoe care and cleaning products that may work best on your Birks.  You can also use household items to clean these sandals.
Q: Are Crocs high maintenance?
A: Not really. You can toss them in the dishwasher to clean them if they're a bit on the big side to start with. Coldwater is recommended. Let them air dry.