In 1917, Cristóbal Balenciaga opened up his first boutique in San Sebastián, Spain. Before long, he had stores in Madrid and Barcelona. The Spanish Civil War forced Balenciaga to close up shop and move to Paris, France. He started over with a couture house on Avenue George V in August 1937.
The loose and fluid silhouettes and contrasting colors of Balenciaga's gowns made his fashions so popular, people were willing to risk getting blown up for them in World War II. In spring of 1968, Balenciaga decided he had a good run and closed up shop, dying four years later.
The brand seemed to die with him but was revived in 1968 by Jacques Bogart who added miscellaneous items to the fashion line such as perfume and cosmetics. The Balenciaga brand presently belongs to Kering, which is a French multinational conglomerate.
As of 2017, they have added designer sneakers to the shoe fashion line that already included boots and high heels. This included the chunky Triple S and the sock-like Speed Trainer.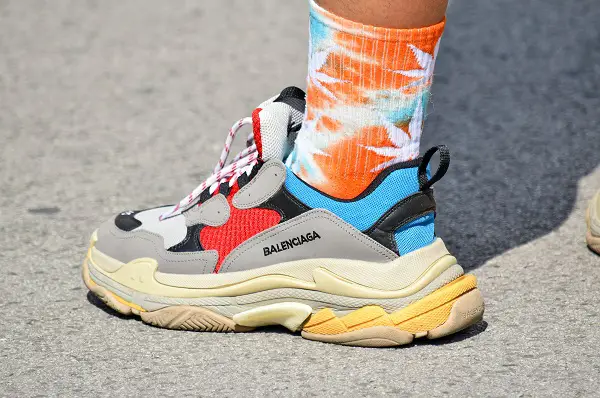 What Kind Of Brand Is Balenciaga?
Balenciaga is a luxury brand that charges ninety dollars for a pair of socks. Their Speed Sock is actually a sneaker with sock-like construction. The oversized articulated sole establishes a sporty and "forward-looking" profile.
Their pumps now include the scrunch stilettos, which rather resemble drawstring pouches with heels. Balenciaga's current designer, Demna Gvasalia, is looking to "destruct to create" with a focus on the modernity of functionality, comfort, and technicality
Why Is Balenciaga So Popular?
That's something Ralph Rucci has trouble figuring out. Balenciaga's new athletic shoes are clunky "dad shoes" in rather hideous colorways. Rucci has expressed disgust at the current Balenciaga brand using its name to sell "such mediocrity, such tastelessness, and such ugly ideas." Balenciaga is currently popular due to appealing to the streetwear culture and pandering to nostalgia and historical touchstones. In short, they sold out.
What Is Special About Balenciaga Shoes?
You can plainly see in the heart of the Balenciaga athletic sneaker notes of a classic mesh-and-leather running shoe. The big difference is that it appears to be oversized with superfluous bits of leather. The base sports a number of wave-like layers of rubber. The sole has the appearance of a shoe Frankensteined from the soles from a myriad of sneakers smashed together under a large weight.
Where Are Balenciaga Shoes Made?
Many of their goods are made in China, including athletic sneakers. Specifically, they are made in Putian of the Fujian province, a city notorious for counterfeit sneakers. The pumps and boots are labeled as "Made in Italy".
How Much Are Balenciaga Shoes?
These are the prices featured on the official Balenciaga online store. Some retailers may charge more. The Triple S sneakers can be between $975 and $1090. The Vibram heels go for $1290. Pumps are between $695 and $795.
For the lady who could never decide if she wanted to be Barbie or a superhero, the fluorescent pink Knife Shark 110mm over the knee boot goes for $2250. Most of their other boots are at a comparatively reasonable $950 to $995. The sandals range from $295 to $695.
For the gentlemen, the basic black Coin Rim loafer goes for $695. For men who'd like an extra inch or so in height, the Tractor 65mm lace-up derby costs $950. The boots for men range from the $850 Excavator to the $1350 flat rimmed zip bootie.
Why Are Balenciaga Shoes So Expensive?
It's all about production. The Balenciaga Triple S is made by cold cementing leather uppers onto rubber sole units. Balenciaga moved their sneaker production to China because Italy did not have the sneaker technology needed.
And, let's face it, people just like a brand name. It gives them a perceived value. They are not awful sneakers, but there are sneakers of similar quality colorways not ripped off from Bozo the Clown that do not cost as much.
Do Balenciaga Shoes Ever Go On Sale?
They do have half-off sales in the summer. Be aware that if a retailer is putting luxury brands on sale they were likely returns or they were a seasonal item. Some places will reduce the price of Balenciaga items for Black Friday.
What Are Balenciaga Shoes Made Out Of?
The Speed Trainers made by Balenciaga are made out of a nylon double-knit jersey upper and have a sculpted rubber sole. The sockliner is made out of terry cloth. Their high-end boots, such as the Tiaga, are pure calfskin leather. Some of the pumps are satin lined. While the satin pumps must be kept out of the water at all costs, the Excavator is made of waterproof rubber.
Are Balenciaga Shoes Comfortable?
Of all the shoes Balenciaga makes, the Triple S is probably their most comfortable model. The materials and construction of this shoe are said to be of outstanding quality by quite a number of sneaker fans.
How Do Balenciaga Shoes Fit?
The Balenciaga Speed sneakers fit very close just like a good pair of socks. The sneakers run a bit on the large side. You may want to go down a size.
Do Balenciaga Shoes Run True To Size?
While the sneakers run large, the mules do run true to size. The Triple S for the most part fits true to size. Do keep in mind that they use French sizing.
Where To Buy Balenciaga Shoes?
For a high-end brand, they can be found just about everywhere, even your local Wal-Mart. The sneakers can be found in any place that sells athletic apparel such as Foot Locker or Finish Line. Typical mall department stores like Dillard's and Macy's carry them as do higher-end places like Nordstrom and Saks Fifth Avenue.
There are nine Balenciaga brick and mortar stores in the United States (including one in Honolulu), one in Vancouver, and three in Mexico. There is, of course, an online store. More on that monstrosity later.
GOAT offers Balenciaga's Speed Trainer and Triple S. Net-A-Porter has everything by Balenciaga. Italist has, as you expect, Italian-made boots, mules, sandals, and pumps but they also offer sneakers.
How To Clean Balenciaga Shoes?
How to clean your shoes all depends on what kind of material they are made out of. Let's say you have Speed Trainers. The uppers on Speed Trainers are mesh so you would use a soft bristle brush.
If you take out the laces and put them in a tree they will be easier to clean. You can use a commercial cleaning solution or make your own out of one tablespoon of baking soda, one-half tablespoon of hydrogen peroxide, and half a tablespoon of warm water.
Use that all over the surface of the shoe. Use a medium bristle brush on the sockliner as that gets particularly dirty. You can then clean the midsoles. If they are still dirty, you can put them in a laundry bag and clean them in a washing machine set on a cold normal cycle. Allow them to air dry.
How To Spot Fake Balenciaga Shoes?
If they are not made of the material they are supposed to be made of, something's up. There should be no visible glue. Stitching should be tight and even. For the Speed Trainer, the back should be heavier than the front.
The tread on this shoe should also be circular and smooth. The knit upper, back counter, rubber outsole, and sockliner should all bear the Balenciaga logo. As for the Triple S, a real one will have smooth leather and thick embroidery. The stitching and lace holes will be rather smooth. The tongue will be highly detailed.
Are Balenciaga Shoes Worth It?
If you're looking for something to seriously run and jump in, look elsewhere. If you just have to have shoes with a fancy Italian name without the fancy Italian look but definitely the fancy Italian price, then Balenciaga sneakers are for you.
Conclusion
To end this, I have to say Balenciaga has the worst website I have ever seen for a fashion company and that is saying something. Call me crazy, but shouldn't a fashion site open with, oh, I don't know, fashion photography? You would think a high-end brand like Balenciaga could afford something that looks better than a box of generic macaroni.
Gucci is currently going through a 70's retro phase. American Eagle's site looks like the end credits to a slice-of-life anime. And they both look better than what Balenciaga has! There's minimalism and then there's just lazy. Someone is doing flip flops under their white geraniums. If the current Balenciaga brand wants to reach out to online buyers they have to get a better web programmer.
Oddly enough, Balenciaga has hired a video game programmer to promote their product in a game titled Afterworld: the Age of Tomorrow. The genre is supposedly post-apocalyptic survival, not something usually associated with high-end fashion. Pretty underwhelming, to be honest.
At the end of the day, Balenciaga tries to keep up with trends rather than setting them. They would do well to follow the original vision of their founder and create that which both looks and feels beautiful.